Who needs Batman when you have Robin?
December 29th, 2011 | by: Jan |

Comments(39)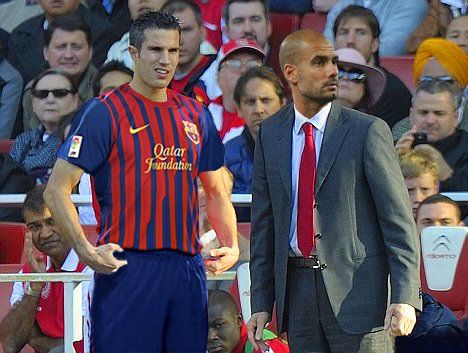 Thanks Ferenc, good find!
With as many goals as games, Robin van Persie is at the head of the strikers' list in the English Premier League. The Dutchman has been instrumental in giving the Gunners a fresh momentum.
Football essentially is a game of 11 players, of a team where collective effort is always given precedence over individual opulence (of skills). Though the present day Barcelona side — which is believed to be the greatest of all time — boasts of the best player in the world in Lionel Messi, Barca or Messi would not be the same without team-men like Xavi, Andres Iniesta, Puyol or Gerard Pique.
But there have been teams that have thrown this idea into the bin and unimaginably galloped to the finishing line, riding solely on the individual brilliance of one gifted player. Like the World Cup-winning Argentine side of 1986 (remember Diego Maradona), and possibly the Arsenal side of the current season.
Robin van Persie, like most Dutchmen, boasts of a sound technique and is often compared with other Orange legends such as Marco van Basten and Dennis Bergkamp for the fluidity of his movements. Deceptively quick over short distances and with a footballing brain that works a nanosecond faster than the others, van Persie's awareness and vision puts him in places (read goal-scoring positions) which ordinary strikers won't even think of. His positional play has been sublime of late with almost all his strikes coming from within the 18-yard box.
Van Persie's manager too acknowledges his effort. "Robin is on fire at the moment and his class means he is taking advantage of being in a team that wants to attack a lot and create chances. The intelligence of his movement and the accuracy of his finishing are exceptional," says the Arsenal manager, Arsene Wenger. "He is always in the right place at the right moment. He just understands the game so well."
With Arsenal losing two of its other world-class stars, Cesc Fabregas (Barcelona) and Samir Nasri (Manchester City), at the start of the season, the onus of carrying on the Gunners' legacy has fallen on the fragile forward. As Wenger faced unprecedented pressure, the club looked like it had hit a trough, the 8-2 drubbing at Old Trafford signalling a horrific and painful season ahead. Arsenal looked doomed.
But 14 goals from as many games by van Persie, Arsenal's new captain, and suddenly the Gunners have gained a new momentum in the EPL. The team that was always low on confidence at the start looks almost unbeatable now.

The striker has notched up an incredible 32 goals in 31 EPL games in the 2011 calendar year. Only Alan Shearer with 36 goals in 1995 and Thierry Henry with 34 in 2005 stand ahead of him in the all-time list. The 28-year-old star from Rotterdam, however, still has five more games before the New Year to knock them of their perch.
Arsenal's revolution has been masterminded by van Persie who is on a new high. His every touch seems perfect, every run seems to find the space, every pass seems to find its man, every trick threatens to split open the defence and every shot almost finds its mark. For the Gunner, football now seems to be as easy as riding a tricycle.
Van Persie, whose both parents are artists, is by nature imaginative and obsessive, always keen to express himself and innovate. He enjoys pressure, every intense test and the fiercest of scrutiny. "I live on having a challenge when the line is really thin," he explains. "I like it the most when you have no clue what is going to happen. Everyone is on top of their toes, totally excited. These situations get the maximum out of me."
Over the past 10 years he has plied his trade as a playmaker, a marauder down the wings. Now, at last, he plays as an advanced target man. Each little experience has made him the compact player that he is. "If you look at really special players they can play everywhere. Look at Zidane," he says. "He was the master of every aspect of the game. He could make the game, explore."
Van Persie too, finally, is able to do that. He has carved a niche for himself in the team and is no longer compared to his predecessors at Arsenal, Henry and Bergkamp. "He is a mixture. He is less of a runner than Thierry Henry and he is not completely Dennis Bergkamp because he plays higher up the pitch," Wenger correctly points out. "At the start they (Henry and van Persie) were not goal-scorers, they were footballers. You expect them to create and not to score too many goals. You have some players like Alan Shearer who was a goal-scorer but they are more link players, creative and not at the end of things. People ask why Robin plays at centre forward, because he is not a centre forward, but in the box he is clever and intelligent."
No doubt the fans at the Emirates Stadium hail: "We don't need Batman… We have Robin." His efforts to resurrect Arsenal this year have indeed been superhuman.
It is not just his strike-rate that makes van Persie the fulcrum of his team. The Dutchman has also become a leader of men. He values the armband and motivates his team-mates with words as well as deeds, something that is unimaginable now given his early penchant for run-ins with the authorities, fights during training and hot-headed outbursts on the field. But since moving over to Arsenal in 2004, he has knuckled down and become a more mature player. A lot of credit for this should deservedly go to Bergkamp, whose boots van Persie was slated to fill following his GBP2.75 million move from Feyenoord. The ageing statesman mentored his compatriot when their careers coincided in north London; Bergkamp's calm seems to have rubbed off on him.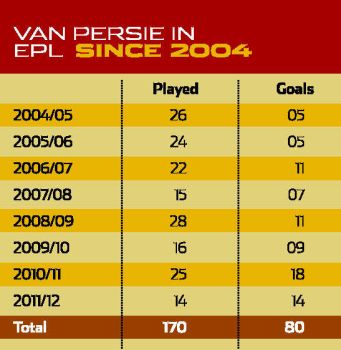 Those who believe in fate would argue that van Persie deserves his time under the sun. His career had so often been wrecked by one injury after the other. In four out of the past five seasons he has been sidelined for prolonged periods, his body breaking down without a warning.
Since joining the Gunners, van Persie has only played 251 games, an average of just over 35 matches per season across all competitions. If we take only the EPL into account, he has featured only in 170 matches — a poor average of 21 games per season over the last seven-and-a-half summers (2011-12 is still far from over). Over the same period Wayne Rooney has played almost 100 games more and scored at least 50 more goals compared to him. That Rooney (nine goals) is trailing the Gunner so far this season is because of a change in fortunes. While van Persie has remained fresh and fit from the start of the season, the Manchester United forward has struggled with a hamstring injury which at times has confined him to the bench. Other high profile goal-scorers in the League — Andy Carroll (Liverpool) and Fernando Torres (Chelsea) — still don't look match-fit and hungry, blighted as they are by long injury layoffs from last season. Staying fit has been van Persie's key to success this year.
However, his detractors have ceaselessly wondered whether van Persie would ever have the chance to move freely, for long enough, to make the most of his extraordinary talent. His current injury-free run has been his longest and his resume, at last, is looking bright. But to be counted amongst the world-class players or for Arsenal to mount any serious challenge to any title whatsoever this season (the club is yet to win a trophy since the 2005 FA Cup) van Persie needs to be physically more enduring. He should continue to play long enough to make a lasting impact.
However, his contract situation is like an elephant in a room. At 28, the Dutchman is facing the biggest pay day of his career (he reportedly earns only GBP90,000 a week compared to the usual GBP1,50,000 earned by Rooney and other top players) but as of yet he has nothing to show as far as silverware is concerned. With his contract running out in a year's time and his steadfast refusal to hurry into a new one, Wenger and Arsenal are in a stroppy position — of seeing successive captains leave in real quick time.
As a player, van Persie, in his current form, will have no dearth of suitors. Petro-rich City has already made its intentions clear for a possible January transfer. Real, Barca are watching closely too.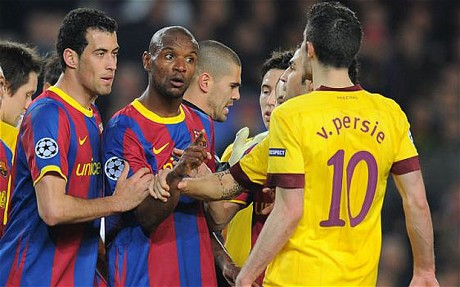 "Pssst….come play for us….you'll like it here… Tapas! Tangos! Tarts!"

No matter how much we revel in his first real long-running rich vein of form, it can be a scary few days ahead for the Arsenal fan.
Van Persie has been linked to a move, like Cesc and Nasri, but candidly said in an interview some time back that he wouldn't move to a club that plays "less adventurous" than the Gunners. This rules out many clubs
.
But… "I think Barcelona is the only other club in the world, that can top what we do here. I don't like watching football on tv, for instance, but I love watching Barca play." And rumours are rife at the moment, with Barca making a play for Van Persie. With David Villa sidelined for a while and other injuries ( Afellay), it might even happen sooner than later.
RVP doesn't want to comment and neither does Wenger. And although Arsene Wenger might sleep safely, knowing the former Feyenoord man would never go to Man City or Chelsea or even Real Madrid, a real offer from Catalonia might change things….
Thank you Ayon Sengupta.
Subscribe

Netherlands World Cup Blog RSS Feed

Share
Comments

Orange Rules and Tiju…let it rest. You both have very good points always. I'll take a stab at Joris whenever I can…. Tiju doesn't always make sense but Kuyt really has NO touch, he doesn't deserve to play for Oranje at this time.
Hey, I think De Jong really doesn't have a true Ajax Dutch Touch but he's has other talents that outweigh Kuyts footballing talents

I like what OranjeRules say about where Robin is playing left or center. I think Van Persie is more like Van Basten or Kluivert, not Bergkamp who I think is more like Gullit (and Henry will be in the role of Kluivert if compare Arsernal to Oranje). Yes Jan can compare his skills to Marco and Dennis but somehow I still prefer a striker like Hunterlaar or RVN, a poacher who can score ugly goal. I think we will see Strootman/Van Bommel as defensive pair and Dejong (who has not played much) is the sub for these 2. I have not seen BVM experiences change except for Van Der Vaart replaced one of defensive mid in Sweden game. If Bert does not have a couple of back up plan, Oranje will lose to a stronger tactical coach (Del Bosque) the way Van Basten lost to Hiddink. I understand he sticks to what worked but in friendly games he needs to try different game plans or different players. Beside Peter replaced Gio, the only player breaks through is Strootman. You can say Oranje is almost like Spain but Bert has to see that Spain has 8 Barca players who played with each other weekly while Oranje is a collection of players. If JC has his way with Ajax perhaps 8 years down the road we may have 8 Ajax players starting for Oranje (like 98 team). I know it is wishful thinking. For Euro 12 then here is what I hope will happen. Germany wins group B, Orange runner up. Italy upsets Spain to win Group C so Germany will meet Spain in semifinal. Oranje will win the cup by defeating either Spain or Germany. What do we need if Bert does not call up young players? We need a fit, healthy starting 11, some decent subs (Van Der Vaart, Hunterlaar, Afellay, De Jong, Elia,…), no referees against Oranje and last, some luck. It is one game, not home/away, not a long season so if Oranje play well on the day and bringing the mentality/hunger to win with them, we will have the 2nd Euro title.

Pieters not Peter (typo).

Damn… The FIFA has invited a Nigerian ref for the World Cup 2012. Problem is, the ref died a year ago…. This says it all doesn't it?
And Gerard Pique is in Florida, holidaying. He is visiting a game of the Miami Heat NBA team and bumps into….Ruud Gullit.
Pique tweets: "In Florida watching an NBA game and bumping into one of the greats of the game….Ruud Gullit".
Pique takes a pic with his mobile and publishes it on his FB page.
http://www.ad.nl/ad/nl/1053/Primera-Division/article/detail/3097535/2011/12/29/Pique-Tref-ik-in-Miami-een-van-de-beste-spelers-aller-tijden.dhtml

hein..orange need some fresh leg in the team..i mean fresh blood who has stamina,intelligence and charisma..i would love to see some young players in team.But when i look in to youngster who are eligible to play for orange are very limited..those are Adammaher,Jordy clasie,wijnaldum,deguzman,douglas thats it…Bruma was lucky coz BVM was forced to take him..coz of lack of defenders.Out of 23 man squad orange has only 5 attackers.Fab4+afaleey….I would not blame BVM for dropping elia..while spain/germany and even new england and italy has more than 8 attackers(i mean pure talented attackers.
Orange state is pathetic in attack,we may create enough chances against sanmarino but,its not the same with a stronger team…in fact orange playing with 7 defenders and gk in every game…ie while germany is 5+5 and spain is 5+5…so they will create more chances and they will score from that..the equation is so simple ,THE MORE YOU CREATE CHANCES,THERE IS MORE CHANCE FOR SCORING GOALS.

@ Oranjerules :
NO , strootman can't play as a winger actually
, i just put him on the left side to make some balance in the line-up . i thougt about afelly , but this will put Bommel/de jong alone in the defensive midfeilder position .
Kuyt can replace stroorman , but kuyt is not in his best lately , so i think strootman will be more valuable in this spot . he has a great fitness , excellent long-passing , good vision , can help in defense & offense and will give more freedom to sneijder to concentrate on play-making .
The point is , with that form , we need a better LB than pieters tbh . well , i know he is a very good player , really . but we need a van der weil-like style , a wing-back who can attack and defend , pieters is just not that good when he goes upfront .
@ Ilir :
Van der vaart needs to concentrate on his fitness . it's very bad he can't play 90 mins with the same performance .
unfotunatly , vdv is almost 29 y.o now . no player can improve in such age .

@Jan ,
strootman in the CB position really sounds great
worth trying .
BVM never tries new strategies .
we don't need new players ( Only Douglas
) , we just need to try new line-ups .
why don't try persie and hunter both as CFs ? they will make troubles for any defensive line , especially with robben and sneijder behind them .

Tiju – if it were up to you, the U-21 team would compete in the Euro's. I agree with Mohamed, on Douglas needs to be added. I would like to see KJH and RVP work together up top and perhaps have Robben flipping back and forth on the wings.

RvP aint leaving the gunners, sorry ference i know you'd like to have him but he's gunners for life just like Bergy…
Posted from
Australia

btw Jan, great article! i definitely see a Bergkamp's calmness and composure in RvP's game that he didn't possess before. Wish Bergkamp can do the same to Ajax's dutch players…
Posted from
Australia

why Barcelona's modern success is thanks to Dutch legend Johan Cruyff! hell yeah about time ppl credit Cruyff.
http://www.goal.com/en/news/3846/barcelona-making-of-the-greatest/2011/12/30/2811446/without-him-there-would-be-no-lionel-messi-xavi-andres
Posted from
Australia

@jalpinho…..Van persie is a clever player,thats why he listened to bergkamp…offcourse dennis can do the same in ajax if the players are clever
Cryuff is the Einstein of football,Such kind of birth occurs in 100 years of time…dutch can be proud that he is dutch…but he is very pessimistic over our chance in euro….and he is right and his intuition doesnt go wrong.
@orange rules yes it up to you also…taking 4 young players doesnt make the team like u21 team…infact we will have a better balanced team like we had in 1998 etc…if you beleive that kuyt and bommel is going to win the EC for us then,carry on…time will prove

Checking out now until after New Years…best of luck to Oranje, Ajax, Feyenoord, AZ, PSV and all the other Dutch clubs in '12; and more importantly, best wishes and best of luck to all of you for, and in,the New Year—and please be safe. Blog wouldn't be the same if any of you went missing…
…and special thanks to Jan for keeping it going and for all great topics and stories.

happy new year my friends,successfull european championship and good health to everybody
Posted from
Hungary

Happy new year to all of you , my friends .
I wish you all a year full of success
.

Last time Barcelona got demolished – guess who was was on the scoresheet?
Posted from
United States

Sadly enough without Cruijff at Barca Oranje would have been World Champions. The prophet never prospers at home.

@Tiju: I agreed with you we need to take some young players to prep for WC as well, but do we have 4 or 5 players like that new kid from Germany or Thiago from Spain? Bert will stick with what he has and only add small pieces to complete his puzzle.
@Jalepinho: you are right that we all know this. In fact Spain won the WC can be attributed to the same reason. I like these parts: Cruyff told his employers that a) every youth level must be trained based on the same concepts and in the same 3-4-3 formation, b) the top kids needed to be pushed out of their comfort zone and played at an age group one, or even two years ahead, and c) that those 'perlas de la cantera', the jewels of the youth system, needed accelerated promotion into the first team. They worked on positional play, one- or, at most, two-touch circulation of the ball, the concept of the sweeper-keeper, squeezing space – all principles which have thrived under Guardiola and Rijkaard. This strategy, plus an adherence to all his teams playing attacking, creative, rapid football based on pressing and accurate passing, is his most enduring legacy. Nothing like Van Gaal's. Not even close.

I don't think Douglas will be a member of oranje.Maybe ,he'll leave holland in this winter.I also don't think FIFA would give him amnesty.
EURO2012,maybe is the last chance to win the big cup for oranje!
Oranje will hit rock bottom in the next 10 years.

@ruudking: you are a bit pessimistic. I think we'll be fine. It'd be nice if Douglas can make it, but if not, it is not the end of the world. Euro12 and WC14 is the last chance for the current generation: Wesley, Robin, Robben to win as they are in their prime and not getting younger. About tactic, I understand that 4-2-3-1 was agreed between the players and Van Basten back in Euro 08. Bert just took it and made it better. We cannot play 3-4-3 or the way Spain way as they are lucky because of Barca and what Cruyff has created. We cannot play like German because we are not have the physique/robot like they do. I just hope whoever Bert takes as sub, can contribute (like the way Rinus decided to put Marco and Erwin in the England game after the loss to USSR in Euro88). There are only 3 games so the margin of error is very small, considering we are in the group of death. With a bit of luck we will win.

http://www.thesun.co.uk/sol/homepage/sport/football/4029404/Newcastle-want-Robbin-Ruiter.html
haha who the hell is this guy?
Posted from
Bosnia And Herzegovina

wishing you a very happy new year 2012
Posted from
India

Jan, thx for all the articles,oranje blog is my favourite football blog,keep continuing and your articles will entertain us as much in the future than in the past!

Thanks for srahing. Always good to find a real expert.

Stekelenburg
VdW – Heitinga – Douglas – Pieters
Leroy Fer – Strootman
Sneijder
Robben – Huntelaar – Wijnaldum
Subs: Vorm, Krul, Bruma, Gouweeleuw, Martins Indi, Vormer, Schaars, Afellay, Van Der Vaart, Ola John, De Jong, v.Wolfswinkel
v.Persie is Arsenal's only hope in scoring goals but since Oranje play a 4-2-3-1 we need a Poacher/Finisher and The Hunter is a better "9″ than v.Persie.
Comments are closed