Who is Jetro Willems?
June 7th, 2012 | by: Jan |

Comments(53)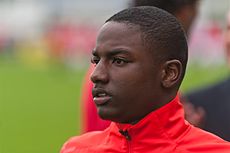 Joris Mathijsen was shaking his head at practice and it does look like Holland will need to start without the Malaga man. I'm not too fussed. Joris is a mainstay, but it's not like we have to try and win a game without Bommel, Van Persie or Sneijder.
So, this might mean Vlaar will make his start and this might also mean that speedy Willems gets the nod. As Vlaar has a tendency to stay put at the back, young Willems might be allowed to take the game to speedy Rommedahl.
There is a saying in Holland: "what is good, will present itself quickly". And another one: "When you are good enough, you're old enough"…. Two statements that apply to 18 year old Jetro Willems. He was 17 years old when he made his debut in PSV. Sure, PSV was suffering with injuries, but coach Rutten did have other options. He picked the athletic and speedy Willems.
When Netherlands Under-17s were crowned European champions in May 2011, it was clear to see that we had a number of fine talents coming through. It wasn't too much of a surprise then when players such as Karim Rekik (Man City), Terence Kongolo (Feyenoord), Jetro Willems (PSV), Tonny Trindade de Vilhena (Feyenoord), Memphis Depay (PSV) and Anass Achahbar (Feyenoord) all made their first-team debuts at their respective clubs during the 2011-12 campaign.
With first-choice left-back Erik Pieters being forced to withdraw from the provisional squad due to injury, Bert van Marwijk called up a number of players who could replace the PSV man. Surprisingly, the more experienced heads such as Vurnon Anita, Alexander Buttner and Urby Emanuelson were all cut from the list at one stage or another as the Oranje boss decided to put his faith in young Willems.
Jetro is a product of street football in Rotterdam. And this is where his passion for defending started. Defending, because he simply hates losing. "I am fast, so I was always able to track back quickly and stop forwards from scoring. I always wanted to kill off the opposition. I became a defender, not because I wasn't good enough to attack, but because I loved defending…"
The youngster speaks of a little boy's dream, when reflecting on his young career. "It all went very fast. Last year I played for Sparta. Two years ago I watched the World Cup finals in a pub in Rotterdam. Illegally. I was only 15 years old… And now, Jetro Willems is the youngest player on this Euro 2012 tournament.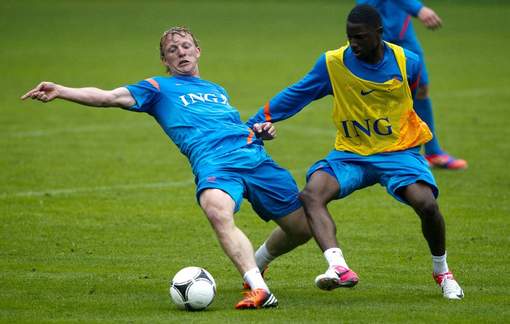 "I liked playing at Sparta but I felt I had to make a move to develop myself better. Playing Jupiler league was not my thing. So physical. I moved to PSV and was lucky to be able to present myself. But I know I have a long way to go still. I remember playing in De Kuip with PSV this season and being tricked by Feyenoord… I made my mistakes alright. But I'm with the best of the best now and I'm proud to be part of this. But, I'm still simply Jetro. I won't let this go to my head…"
Willems still visits the little squares in Rotterdam where he learned to play football. "We played 5 aside and we went through the city to play different groups. And you need to pass quickly as the space is so limited. And if you lost a game, it took a while before you could enter again. I hated that. I never wanted to lose, as I simply wanted to play. There's a lot of lads from Rotterdam West in pro football. At Sparta, Excelsior, ADO Den Haag, Feyenoord, NAC and RKC…. Everyone developed their skills in those squares."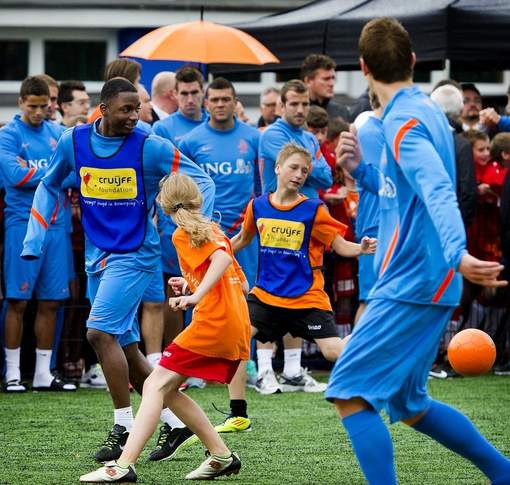 The left back impressed with his cocky attitude. He has a self assured way of playing and loves adventure. But, he copped criticism as well. Like after the Northern Ireland match. Van Marwijk told him he lost his opponent too often. "Hey, those moments are important. That is where you learn, not when you do it right. I always say: people make mistakes and mistakes makes the people. I can always trust my speed, but it won't be enough at this level. And I failed a couple of times. I need to work on that."
The 18 year old has no problem holding his own in Oranje. Which says enough about his talent. "I play with the European top. World top. I'm not saying it's easy, but I don't have to stretch myself either. I make progress fast." But will it be enough for a starting position? "I don't know. We'll see. I have demonstrated my worth, and I think I didn't do too shabby?".
Subscribe

Netherlands World Cup Blog RSS Feed

Share
Comments are closed