Who is Jetro Willems?
June 7th, 2012 | by: Jan |

Comments(53)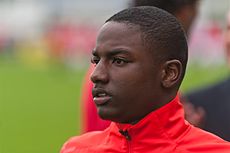 Joris Mathijsen was shaking his head at practice and it does look like Holland will need to start without the Malaga man. I'm not too fussed. Joris is a mainstay, but it's not like we have to try and win a game without Bommel, Van Persie or Sneijder.
So, this might mean Vlaar will make his start and this might also mean that speedy Willems gets the nod. As Vlaar has a tendency to stay put at the back, young Willems might be allowed to take the game to speedy Rommedahl.
There is a saying in Holland: "what is good, will present itself quickly". And another one: "When you are good enough, you're old enough"…. Two statements that apply to 18 year old Jetro Willems. He was 17 years old when he made his debut in PSV. Sure, PSV was suffering with injuries, but coach Rutten did have other options. He picked the athletic and speedy Willems.
When Netherlands Under-17s were crowned European champions in May 2011, it was clear to see that we had a number of fine talents coming through. It wasn't too much of a surprise then when players such as Karim Rekik (Man City), Terence Kongolo (Feyenoord), Jetro Willems (PSV), Tonny Trindade de Vilhena (Feyenoord), Memphis Depay (PSV) and Anass Achahbar (Feyenoord) all made their first-team debuts at their respective clubs during the 2011-12 campaign.
With first-choice left-back Erik Pieters being forced to withdraw from the provisional squad due to injury, Bert van Marwijk called up a number of players who could replace the PSV man. Surprisingly, the more experienced heads such as Vurnon Anita, Alexander Buttner and Urby Emanuelson were all cut from the list at one stage or another as the Oranje boss decided to put his faith in young Willems.
Jetro is a product of street football in Rotterdam. And this is where his passion for defending started. Defending, because he simply hates losing. "I am fast, so I was always able to track back quickly and stop forwards from scoring. I always wanted to kill off the opposition. I became a defender, not because I wasn't good enough to attack, but because I loved defending…"
The youngster speaks of a little boy's dream, when reflecting on his young career. "It all went very fast. Last year I played for Sparta. Two years ago I watched the World Cup finals in a pub in Rotterdam. Illegally. I was only 15 years old… And now, Jetro Willems is the youngest player on this Euro 2012 tournament.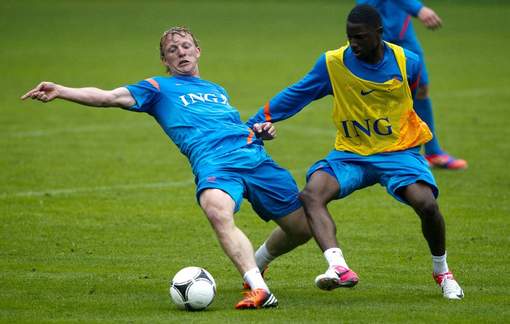 "I liked playing at Sparta but I felt I had to make a move to develop myself better. Playing Jupiler league was not my thing. So physical. I moved to PSV and was lucky to be able to present myself. But I know I have a long way to go still. I remember playing in De Kuip with PSV this season and being tricked by Feyenoord… I made my mistakes alright. But I'm with the best of the best now and I'm proud to be part of this. But, I'm still simply Jetro. I won't let this go to my head…"
Willems still visits the little squares in Rotterdam where he learned to play football. "We played 5 aside and we went through the city to play different groups. And you need to pass quickly as the space is so limited. And if you lost a game, it took a while before you could enter again. I hated that. I never wanted to lose, as I simply wanted to play. There's a lot of lads from Rotterdam West in pro football. At Sparta, Excelsior, ADO Den Haag, Feyenoord, NAC and RKC…. Everyone developed their skills in those squares."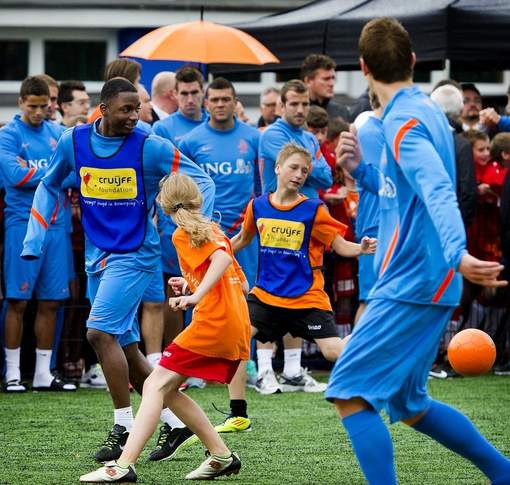 The left back impressed with his cocky attitude. He has a self assured way of playing and loves adventure. But, he copped criticism as well. Like after the Northern Ireland match. Van Marwijk told him he lost his opponent too often. "Hey, those moments are important. That is where you learn, not when you do it right. I always say: people make mistakes and mistakes makes the people. I can always trust my speed, but it won't be enough at this level. And I failed a couple of times. I need to work on that."
The 18 year old has no problem holding his own in Oranje. Which says enough about his talent. "I play with the European top. World top. I'm not saying it's easy, but I don't have to stretch myself either. I make progress fast." But will it be enough for a starting position? "I don't know. We'll see. I have demonstrated my worth, and I think I didn't do too shabby?".
Subscribe

Netherlands World Cup Blog RSS Feed

Share
Comments

@True Onzie racism is everywhere. But as it seems it is starting to play a role in this tournement we have the right to talk about it. And when homophobia creeps in this blog I can happily protest.
WHen you look at the absolute numbers of camps of WW II you will be shocked when you read the numbers of Eastern europe and Ukraine especially.
Posted from
Netherlands

One of the best ways for Oranje to combat racism is to win – and then have a big group hug including one of the vans, Affelay and Willems. That kinda says it all .
I believe that one of Holland's greatest traditions was acceptance of diversity and using it from independence to now. That is a history and a tradition to be very proud of.
Posted from
United States

Oh dear…… only what…. 12 hours to go????

it's the calm before the storm
uncertainty looms, and with it, hope
Nederlands EK 2012!!!!
Posted from
United States

I think the issue with racism in the eastern European countries is to do with the lack of response from the clubs/officials/governing bodies to deal with it. Dick advocaat made some comments about the problems he faced within his own club in russia signing black players.
If you think racism is going to be a problem in the next few weeks, wait until the world cup in Russia when teams from Africa, Asia, etc will be there!

SO CLOSE BOYS AND GIRLS (SUSANNE)!!!!!!
ITS ALL I CAN THINK ABOUT, EVEN THOUGH I AM NEWLY UNEMPLOYED…I CAN NOW BE HOME WEDNESDAY FOR HOLLAND-GERMANY!!!
MY father returned from Amsterdam and said the city is going crazy already. People in tents, etc. My cousin is building a tent w a bar in his backyard to watch all the games.
I love the country, the people and most of all Oranje.
Cheers to a great tournament, and Holland's second trophy.
BRING IT ON BITCHES

To distract from our own defensive issues, I like to bring up the frailties of our opponents in the same department. Here is an interesting statistic from an article in goal.com that shows just how vulnerable the Germs are (putting aside that one of the clean sheets was against our boys in a friendly with key players missing):
"In all 13 matches played in 2011, Germany kept only two clean sheets, one in the aforementioned friendly against Netherlands and the other against Kazakhstan in qualifying. They conceded 17 goals in those 13 games, not exactly a tally befitting a potential title contender."
http://www.goal.com/en/news/2898/euro-2012/2012/06/07/3154598/germanys-achilles-heel-can-defensive-inconsistency-threaten
Let's bring the game to them….
Posted from
United States

IN other news: Aaron Winter was released as coach of Toronto FC after a last place start to the season. Despite having a strong striker in Koevermans the team was not able to adapt their personnel to the 4-3-3 formation.
Posted from
Canada

@Guillaume vB… happy birthday mate! i also just picked up my new home and away jersey's. on my home one i got Huntelaar 9 looks great on the away i onky had Van der Vaart and Sneijder to pick from and seeing as though i got sneijder for the world cup 2010 i decided to go for VdV. So looks like im supporting the super subs.
Posted from
Australia

Hup Holland Hup.
Posted from
United States

From ESPN
Germany vs. Netherlands (June 13, 2:45 p.m. ET) — No matter how much swagger and skill the Dutch have brought to the game over the years, they have long played second clog to the Germans, who stunned a heavily-favored Johan Cruyff side in the 1974 World Cup final. So when the Oranje eliminated the hosts in the semifinals of Euro 88, Ronald Koeman made sure Germany understood the depth of animus between the teams. When the game was over, the Dutch defender pretended to wipe his butt with Olaf Thon's jersey right in front of the German fans. Two years later during Italia 90, Holland's Frank Rijkaard further escalated the hostilities by famously moisturizing German striker Rudi Voller's perm with a huge gob of phlegm for which he was suspended for three games.
While no spit takes are expected this time around, the prospect of another Germany-Holland showdown — and one that will likely decide Group B — has the soccer world salivating.
[At the 2006 World Cup, Portugal and the Netherlands were more brutal than beautiful. What will happen on June 17?] At the 2006 World Cup, Portugal and the Netherlands were more brutal than beautiful. What will happen on June 17?© Alexander Heimann/Getty Images
Netherlands vs. Portugal (June 17, 2:45 p.m. ET) — While their respective levels of excessive nationalism are fairly low (Dutch enmity toward the Germans notwithstanding), the soccer grudge-o-meter is tastily high after the 2006 Battle of Nuremberg during which the two sides crunched and thugged to a World Cup-record four red cards and 16 yellows in a single 90-minute game. Though the whistle-happy ref, Valentin Ivanov, bears a large part of the blame, the likelihood of both sides fighting for second place means we could see similar mayhem as each scrambles to book a quarterfinal spot. Look for Mark van Bommel and Nigel de Jong to make a sandwich of Ronaldo's spleen and eat it raw.

If you love the Miami Heat: THE NETHERLANDS. Young, athletic and sexy as hell, the Dutch have game-changers throughout the squad. Brash and cocky, they are capable of blowing out opponents — except when it counts and they fall fabulously short.

Holland HAS to beat Denmark–that is crucial if Holland aims to win this tough group.
Posted from
United States

some friendly banter between Sneijder and de Jong in the tunnel before the inter v man city game.
http://www.youtube.com/watch?v=v0NAVMHWxmM&feature=related
Posted from
Australia

Heard Brian Roy interviewed on talkSPORT, a British 24 hr radio station.
http://www.talksport.co.uk/radio/how-to-listen
His take, VanderVaart needs to start, If Holland struggles in the first game, take it a omen they will go all the way. Strange thinking but apparently based on history.

Feels like game time already. Can't f-ing wait. Lots of nerves and high expectations. The more people that root against us, the better.

Can't wait anymore!! I am on a flight from Detroit to Seattle right now and I am lucky this flight offers wifi so that I can be on the blog the whole time:) 36 more hours and 7minutes for our Denmark match!
Posted from
United States

http://msn.foxsports.com/foxsoccer/eurocup/lists/euro-2012-top-ten-strikers-gallery-060112#photo-title=Robin+van+Persie%252C+Netherlands&photo=31066531
Fox soccer showing RVP respect!
Foxsoccer.com has some great articles about our boys

Not just Persie! They are showing respect to the Hunter too. Its a shame they probably wont start together.
I feel for the Hunter… It seems to me he is not part of any big clan there (Feyenord or Ajax, even PSV), so they are treating him without the respect he deserves.
Posted from
Greece

fast stekelenburg highlight
http://www.youtube.com/watch?v=gOnBCtE3PLs&feature=channel&list=UL
Posted from
United States

Im sure hunterlaar would get on with the Ajax boys he was a star during his days in Amsterdam.
Posted from
Australia

Oooh Great only 2 years to the World Cup !!! (duuuhhhhh)
Where's that Poule Jan was getting ready ?
maybe he'll have it for the World Cup ?
Posted from
Singapore

IOHLVw Very informative article post.Thanks Again. Keep writing.

jkOlHb I think this is a real great blog article.Thanks Again. Fantastic.

I'm speechless. This can be a sueprb blog and very attractive too. Nice work! That's now not actually a lot coming from an newbie publisher like me, however it's all I may just say after diving into your posts. Nice grammar and vocabulary. Not like other blogs. You actually recognise what you?re talking about too. Such a lot that you made me want to discover more. Your blog has develop into a stepping stone for me, my friend.
Posted from
Pakistan
Comments are closed