Wes Sneijder: analysis of world class player
October 31st, 2010 | by: Jan |

Comments(111)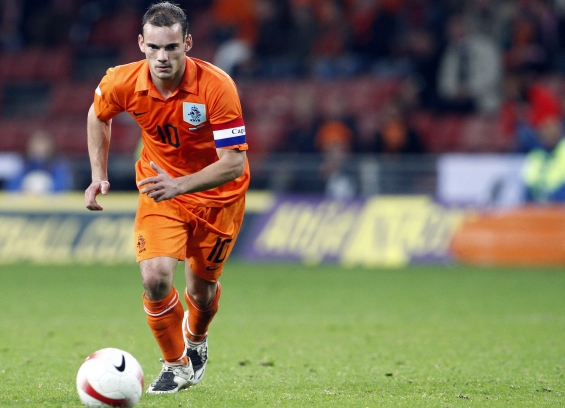 Wesley Sneijder might be crowned the World Footballer of the Year soon. With VI, he analyzed the qualities of the player Sneijder. Yours truly gracefully took the liberty to share with you.
Physical
Sneijder's role models for the physical side of football are John Obi Mikel and Michael Essien. "Two beautiful specimen of players. I can really enjoy watching them for that, although they're both great players too. They do play more in a holding position though, not really on my spot. But still…"
Is physical strength important for a player on your position?
"It is. It always helps. The stronger you are, you know…it helps in challenges, in duels, even in the air. Players can't just push me over and I also think it protects against injuries. But players are always different. Take Jon Dahl Tomasson. He plays on my spot but does it totally different. His strength is his penetration, his timing and his capacity to use a split second to score. I'm more a position-loyal player. I can engage in a duel or take a player on, while a player like Beckham hardly ever did that…"
How do you train this particular aspect of the came: tenacity, condition, power, speed…
"I think the best practice is playing matches. There is no practice or fitness method that can copy the match as good as a…well…a match. I play two games per week now at top level, top speed, etc. And I would not have been able to do this at Ajax when I just started. I do use the fitness room and practice helps in particular to get to the right level but once you're there, it's all maintenance via playing matches."
When did you develop most?
"I think when I was around 23 years old. The thing is, you need to get intelligent and I might have been strong and fit when I was 21 years old but I lacked the smarts to listen to my body and to know what I couldn't do. Remember the training pre-Sweden? I decided to stay inside. Not train. I don't know how it works, but my body was aching a bit and I just knew I didn't need to train. It was better to rest. No doctor or coach could have convinced me that I was wrong and now, coaches like Mourinho, Benitez or Van Marwijk trust me 100% in this. When you're 20 years old, you simply don't know this."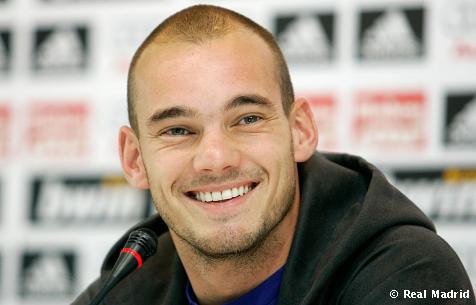 Do you think Rafael van der Vaart is overdoing a bit now?
"Rafael is trying to find his new balance. He made the move to England and he needs to prove himself a bit, you always have that, and he needs to find the new balance with the pace and intensity against English opponents. You know that many hamstring issues are also mind or stress related? Rafael put pressure on himself by saying he would score against Van der Sar. Raf needs that, obviously, but sometimes it works against you. Remember my second season in Madrid? I wasn't doing well, both in my private life and in my football life and the result is little muscle injuries. That's never a coincidence. I know this now."
Is it hard to determine which knocks or aches you can ignore and which you need to give a rest?
"Yeah, see normally you train in order to convert those pains. If you take a knock, it's sometimes good to run it off. But the older you get and the more you play, the harder it gets. When I was 20 years old, a knock would be gone within a day, now it sometimes takes a week. But I hardly ever rest and Rafael is also not a player to bail easily so we are getting in that phase where you actually need to. I asked Gio in South Africa how often he trained at Feyenoord and he said "only in pre-season time, never during the season….".
Look at Oranje: Kuyt, Van der Vaart now, Elia, Robben, Van Bommel, Van Persie… Do you think it's getting too tough physically?
"The calendar is the problem. I see it at Inter too. We have many players injured and all players who played the World Cup. It's an issue."
You are the playmaker at the CL winner. Do you feel opponents try to take you out, physically. Do you feel attacked every now and then?
"Actually, no. It's getting less and less. Maybe they know I probably play better when they try to hunt me, but when I was younger, in Holland, it was tougher than now. I remember players in the Eredivisie doing really silly things. Trying to squeeze me, or grabbing me in my crotch… Maybe thinking, he's a youngster, we'll intimidate him, but it was meaner then than now in Italy. Weird eh?"
Really? Which players did that?
"Nah, I won't name names, but they were always players in low-level teams. Relegation teams. Maybe it was typical Dutch, haha. Dirty…"
When you were a talent in Amsterdam you were pretty skinny. Now you're one big muscle? How come?
"Just normal development. And nutrition. I don't spend a lot of time in the fitness room. There's not a lot of time for it. But I never was really skinny. When I was younger I had muscles too, but we played in wide shirts and shorts, so…"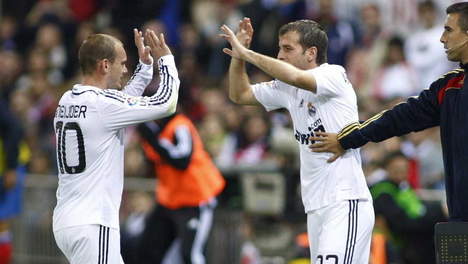 Do clubs follow similar methods and concepts in practice and fitness?
"No, actually it's pretty different. Which is what I hear from the lads in England too. In Madrid, it's looser than here in Milan, but I think that's also the coach' influence. So, now with Mourinho in Madrid they probably have a bit more protocol. I spent time in the fitness school in my apartment building. But too much muscle is not good either. You become slower, actually. And less flexible."
Technical Skills
Sneijder's role model: "Barcelona's Xavi. Always perfection. Pure perfection. The right foot, the right first touch, always aware of what's around him, always the perfect paced pass…. The man is a genius. Scary."
Your kicking technique is phenomenal. Do you still perfect that?
"No. I think the technique is there. The basics are there and then you can perfect it but once you're at that level, you need to support it. The key thing now is, to be able to use to perfection at the right time. It's 0-0, finals Champions League, 2 minutes to go. You get a free kick. What do you do, haha…"
And you're two-footed… Which foot is the real natural kicking foot?
I'm right oriented. I had a pretty well developed left for passing, but Ajax' youth coach Jan Olde Riekerink kept on pushing me in the youth system. Constantly he said "Wes, develop the left, if you do you will be significantly better than your peers. You'll be quicker in execution, you can open left, right, you can score more, etc…" He deserves some credit, haha… I do think I had a talent already, because I developed my left foot really quickly. Others needed more time and effort for it."
Ajax always uses you and Rafael to boast that the youth system works well, but seriously…you would have been great anyway, right?
"Well… I don't know…. Sure, Raf and myself and others have that basic level of quality but Ajax really added a lot to our awareness and our skills. Don't underestimate that. At Ajax, they made us do aerobics, judo, all sorts of things and that's all based on a philosophy… No, I don't think it's fair to say that Ajax shouldn't claim this. Who knows where you end up otherwise. You know, at Madrid, when Cannavaro came to the club it took him some weeks to get to know me I guess, but he couldn't wait to ask me if I could ask Ajax for a youth development DVD. He was so keen to learn from what happened at Ajax. By chance, Ajax had just released a DVD and Cannavaro was over the moon with this and really studied it. And I thought, this guy captain Italy to the World Cup and wants to learn from my old little club. Cool."
Ok, the big question now: how come that the man with the best kicking technique doesn't take penalties?
"Whoa… haha…. I'll tell you. It's simple. I took two penalties for Ajax once and missed them both."
Come on! That's silly. You curl balls in the net from 20, 25, 35 and even further away from goal…. With goalies, walls and what not? And you're scared to hit a penalty?
"Well, I haven't overcome that yet, haha. True. I'm just not a penalty guy. It's a mental thing, I know. It's weird… Sorry…"
And in practice?
"I always take penalties and I always score. Shit, I always score when I take them in penalty series too. You're right, I should leave that behind. I remember them so well, you know. The first was stopped by Dennis Gentenaar, but Maduro still scored the re-bound so I didn't feel that bad. But the second… It was in a European game against Tel Aviv. I hit the ball so hard, it hit the post and it bounced back on the grass on our half! And that's when I said, "fukc it, no more for me". But you are right, I should grow up. I was 20 years old back then, I'm 26 now."
Ok, free kicks then. Ideal distance?
"Twenty meters. Perfect. Closer is getting tough due to the distance between wall and goal."
How many % chance to score from that distance?
"80%".
What? That's four out of five??
"Correct. But that's only the actual 20 meter balls. That is the ideal distance. If it's 22 meters or 19 meters it's already harder. You know, the speed I can give a ball is too much for a goalie to respond at that distance and I can drop the ball or curve it around the wall. If it's 26 meters, the goalie has much more chance and if it's 18 meters a well positioned wall will stop you."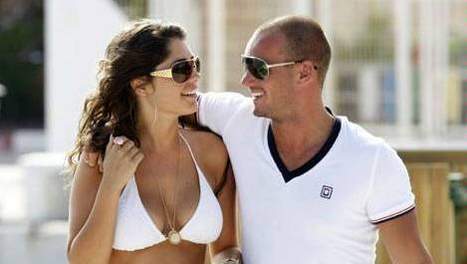 How often do you train this?
"Once a week."
Huh??
"I'm not allowed to train it more. It takes too much power. Seriously, after training we are all obliged to go inside and drink drink drink. It's all different now. At Ajax, I did many extra practices with Koeman and others, but now? It's all regimented and checked."
Ok, which elements don't you do well?
"Nothing man! I can do it all! I can head a ball like Heitinga! Haha…seriously, I can't head a ball. Which makes it so cool that I scored a header against Brazil in a quarter finals. Can you imagine how crazy I got? If a medium or some wizard would have told me this I would have called them a quack! And Robben isn't your regular Peter Houtman either and he scored against Uruguay with his head! Too good…."
Tactics/Vision
Sneijder's role model on this aspect. "Without a doubt Jari Litmanen. Man man….He was a master in moving and positioning. And he still is, you know. Before the Finland game, we saw a DVD of a game they played. And at the time you watch the game and think "Hey, there's a pocket of space there," some player penetrates it and is unmarked. And yep! It's Jari. He's always unmarked. He's the master."
What does it take to be good at this aspect? Finding space?
"That is hard. It's all about seconds, isn't it? And there's the dependance on team mates. Jari or whoever could make runs all day, if the ball never comes no one will notice. Do they see it, will the ball be played and will it be at the right speed, etc etc. Against Sweden, it worked so well. Against Sweden, Rafael would drop down and Wernbloom would drift along. I would start dropping back too and the minute they'd be confused and start to take over and communicate, we'd pounce. It worked well. In the first half I was unmarked fifteen times or so! It worked well against Moldavia too. You have to experiment a bit and talk amongst each other. Observe how the opponent moves. It makes football fun."
Do opponents ever sacrifice a marker to you? What do you do?
"I had that against San Marino. I could speak Italian with him. I said "Will you follow me to the toilet too?" and he said "Si, the trainer told me to follow you all over the place". It took until the 86th minute for him to touch the ball. I said to him: "you have more chance against me when you leave me some space. I make a pre-move and you're going into the wrong way" and he said "Wes, I know, but this is the coach' wish". When they took possession one time one of the Oranje players said to me "Wes, watch your man!" and I laughed. I said "Forget it, this man is going nowhere without me" hahaha…
Does Van Marwijk uses tricks and methods to get you in possession?
"Sure, we train on that and we talk about it. We use the flip charts to check out situations but we're always aware that on the pitch, the opponent makes up his own mind. But yeah, it offers up options for us and sort of helps us to program quicker decision making."
Do you ever drop down against the directions of Van Marwijk and pick up the ball?
"Yes, I do. When the ball simply doesn't come I can't stop myself from that. I'm not allowed really, because the action is close to the striker for me, but if I don't touch the ball I can't do a lot. I need that feeling so after a while I use some energy to pick up the ball."
You want the ball constantly, don't you?
"No not really. Well, in the past: yes. But I learned to be patient. Look, at the World Cup I knew I had to make do with moments. I wasn't that dominant in those games. And you need to work for those moments that you do have the ball and give all your skills, talent, energy and quality in those moments. It comes with the years, I guess. Against Sweden, I only had to stray passes!"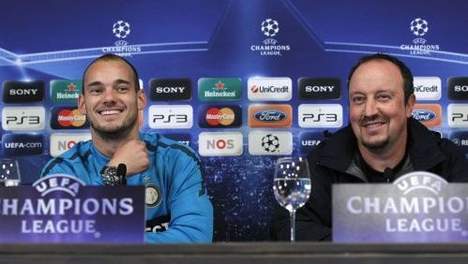 Actually, only one according to our stats. Amazing, for a player on your spot.
"Yep, and a year or two ago I would have had ten bad passes. Because I was trying to force the issue trying to turn every ball into a winner. Now, I'm more patient. Smarter. And against Sweden, I had two deciding passes. That is experience."
Was that all developed by Sneijder or did a coach or two help with that process?
"I think Mourinho was key in this. At Inter, he told me: you don't need to do the dirty work. I need you to be sharp and ready and waiting to give the killer pass or hit the mark. He'd direct me back if I was trying to support defense. We play differently at Oranje, but Van Marwijk also said to me that I could be important for the team without being dominating. And then there's the wisdom – football intelligence, I guess – that comes with the years."
Mentality
Wesley's role-model: "Esteban Cambiasso is the man in this area. He's a true leader and mentally strong like an ox. He coaches constantly and is constantly yelling and keeping the team together. He is really important. Sometimes annoying, but he knows that too, of course."
You're a leader on the pitch too
"Yeah, I always had that. It's part of my personality. I always feel guilty if we lose. Supporters and tifosi sometimes say "Inter lost, but Wesley played well". I can't stand that. If we lose, I can't have played well, you know? Playing well means winning games."
And how about "you play like you train"?
"Nah man. All bull. For me, that is. I don't have that. Mourinho never forced that on us either. Whatever you did, but in the game you needed to be 100%. Mourinho is a tremendous psychologist. I don't think he actually thinks like a coach. He works the players. Some coaches will sit in front of the bus and be…well…the coach. Mourinho walks around, talks to the lads, joins in on card games or fooling around. He can look at you and say "Wes, you look tired man. Take a couple of days and have some time off with the Missus." You know when you come back, he will expect something from you, haha…"
And what if you don't deliver?
"You can get in trouble. He can be tough too. Eto'o didn't play sometimes last season. He said to the team manager he wanted a meeting with Mourinho. He came back and said "Mourinho doesn't have time for you, Samuel. And if it's about the line up, he won't have time for you at all. If you don't like it here, pack your bag and walk." Eto'o's face… Hahaha…. And after a while, Eto'o played winger and started to defend and track back. Mourinho is a wizard."
Last questions: who were your idols?
"Didn't really have any… I did have one poster on my wall, with the Milan big three. Van Basten, Rijkaard and Gullit."
Most remarkable goal?
"Well, the Brazil header…haha… No, the goal against PSV. The distance strike from the left."
Most important goal?
"Oooh…. In the 2004 season, against PSV I think I scored one of those key turning point goals. We were 1-0 down and Vennegoor of Hesselink hit the post and out of that counter attack I scored the 1-1 against Waterreus. Mitea scored the winner later, and that was one of those key games."
Biggest misser?
"Those two penalties, I guess…"
Toughest direct opponent?
"Shinji Ono of Feyenoord. He was strong and fit but he was also a tremendous player. Whenever he would get away from me I had to work hard to mark him. He'd go all the way to the striker and you simply couldn't let him walk away from you. Very skilled player."
Best team mate?
"Guti. That bloke is so good. He's got a phenomenal through ball. Great vision. I tried to get him to come to Inter, but it didn't happen. We had a good connection."
Best game ever?
"I'd say the Chelsea game last season in the CL. I think I came close to a perfect game. Or the Scotland decider for the 2004 EC. Although I wasn't as good then as I have become now…."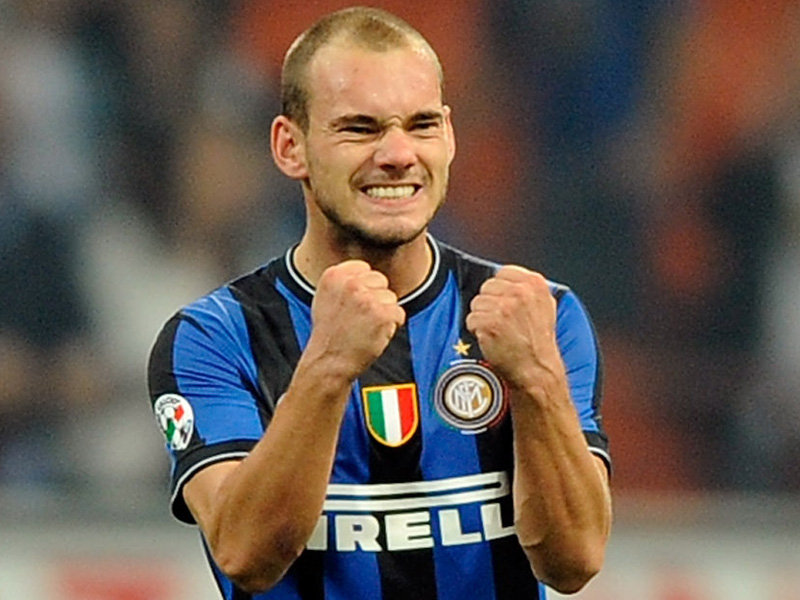 Subscribe

Netherlands World Cup Blog RSS Feed

Share
Comments

He should not have called Van Bommel and Van Persie,they are not fully match fit and probably wont be when that friendly comes. De Guzman should have got a call instead of Van Bommel,and maybe Wolfswinkel or Luuk de Jong or even Drenthe instead of Van Persie.
Netherlands doesnt give younger players enough chance,even in friendlies! Is it that hard to just call De Guzman this time to "secure" him for Netherlands??

Ibrahim Afellay (PSV), Mark van Bommel (Bayern München), Khalid Boulahrouz (VfB Stuttgart), Wilfred Bouma (PSV), Wout Brama (FC Twente), Eljero Elia (HSV), John Heitinga (Everton), Klaas Jan Huntelaar (Schalke 04), Theo Janssen (FC Twente), Dirk Kuyt (Liverpool), Jeremain Lens (PSV), Hedwiges Maduro (Valencia), Joris Mathijsen (HSV), Ruud van Nistelrooy (HSV), Robin van Persie (Arsenal), Erik Pieters (PSV), Stijn Schaars (AZ), Wesley Sneijder (Internazionale), Maarten Stekelenburg (Ajax), Rafael van der Vaart (Tottenham Hotspur), Michel Vorm (FC Utrecht), Gregory van der Wiel (Ajax), Peter Wisgerhof (FC Twente) en Demy de Zeeuw (Ajax).
*Nigel still left out

Xavi might be quitting from Spain soon, that'll open room for Fabregas, but hes a totally different player, will be interesting to see what happens.
Posted from
Netherlands

After Ozyakup, Hiddink also tried to talk Ciftci of Portsmouth to switch to Turkey…
http://www.portsmouth.co.uk/sport/Turkish-delight-Ciftci-faces-dilemma.6610294.jp
Posted from
Canada

Ozyakup has already said, relax people, ill see that later, ive always played for oranje youth teams and im fine with that. So basically saying hes not thinking about switching anytime soon at least. Don't knwo about Ciftci though.
Posted from
Netherlands

BTW, I'm still saying with Belgium we would undoubtedly be in the worlds absolute top easily for at least 15 years…
I'm saying this on every oranje blog, trying to raise support, lol
Posted from
Netherlands

Some questiones:
*Wisgerhof can be in the starting XI??? I haven't been able to see him play.
*Boulah is a regular at Stuttgart or is he still a benchwarmer?
*Someone said De Guzman deserves to be called but what about Drenthe???
take care guys

BTW, I'm playing FIFA 11, with De Guzman, Drenthe in the selection, Douglas Dutch and in the line-up, made Vermaelen, Kompany, Fellaini, Lombaerts and Hazard Dutch as well

———–Stekelenburg
V.d.Wiel-Douglas-Vermaelen-Lombaerts
——-De Guzman-V.d.Vaart
–Robben—-Sneijder——-Hazard
———V.Persie/Huntelaar (switch it up according to opponents)
Works better than ever, im winning with crazy scores
seriously, lol one touch football.
Posted from
Netherlands

mostly Fellaini instead of De Guzman though
Posted from
Netherlands

Drenthe and De Guzman will come in the selection eventually if they keep it up, i dont worry about that… they will eventually, but V.Marwijk just lets it take a very long time….
Posted from
Netherlands

Hi Guys,
I tremendously enjoy coming here since this summer, so I thought I too would join the group officially. I am 1/4 dutch from Switzerland (no, vB is not for van Bommel
.
Anyway, if anybody has a good english link for the Real-AC tonight, don't hesitate to share it… Cheers!

Welcome Guillaume ( that Willem in French) it's good to have you hear vocally as well
.
Emanuelson will walk away from Ajax transfer free.
If people wonder what is going wrong in Holland with Ajax, Feyenoord and PSV, it's that.
They can check all the boxes ( youth development system? Check! Scouting? Check! Attractive to youngsters in the region? Check!) but forget to make money at the end of the cycle.
It's like Apple developing iPhones, iPods, iPads and iMacs and allowing people to walk away from the shops without paying for them.
De Guzman, Afellay, Van Persie, Emanuelson…drives me nuts. This is what JC means with his criticism. Ajax tells the world they developed those wonderful talents and are so cool and all, but they simply can't turn it into gold. The system might be wrong but what do the clubs do about it? I can't see it. Drives me nuts. Expect an article on this.

does anyone have a link for Ajax?
Posted from
United States

I'm sorry for ajax.

It sucks. The CL has become the stage for the big clubs (should add filled with debts!) and the small clubs have no chance. The whole thing is a total joke.
Regarding Ajax, they are so inconsistent it is amazing. One day they play really well, the next they are terrible. Let's hope they will finish with a bang. And now they have to regroup and play ADO which is not going to be easy.
Posted from
United States

i thought they played pretty well in the second half.. they were just unlucky, and understandably a bit immature..

I though that ajax's gonna make a headline, 1 nil behind, replaced enoh and anita for forward & more attacking minded midfield, sulajmani & dejong, so they play like 3-4-3, more than 60% possesion, and win. but the end was not so good.
Posted from
Australia

Well, by including MVBommel and V.Perise does not mean that both of them will play. They could just come along, socialize, take a chill pill u know what i'm saying? hehe. Just catching up with the mates, nothing wrong with that. BVM is a genius.
By the Way folks, did u guys see Spurs vs. Inter? Seems to me like Sneijder was having trouble with the pace of English football, since we all know how sh tty the Serie A is.

O_C – I dont think Sneijder has problems with the pace, what annoyed him most was that when he did get the ball, no one was making a run. He shouldnt just have to look for Eto every time. That is what was frustrating him.

Carlos that does fit why this season he has still looked very good for us.
You have to remember that he had good chemistry with Milito last year. With Milito on the bench and with wingers like Pandev and Biabany only Eto'o is a good option for him.

Once Milito came on Inter was functioning much better up front again. Immediately when he came on you could see the connection Sneijder, Eto'o and Milito had last year.
You just see the same thing over and over again, coaches using their best players too late using the "impact player" philosophy.
Oh how well it's working for them.
Milito not being up for a full match is no excuse to not start him in the first half, even if it's for only 20 minutes or so. You can accomplish so much more in the first 20 minutes of the game than in the last 20 minutes for a variety of reasons (fitness/stamina of the team not even the most important one).
Posted from
Netherlands

But Inter was doomed anyway, cause VDV > Sneijder
Posted from
Netherlands

and in Dutch ">" literally translates to "bigger than" instead of the English "greater than". For those who didn't get the pun (which you probably wouldn't if you weren't Dutch I realize now, duh).
Posted from
Netherlands

It's also > "more than" in English …but I happily disagree on that in general but on that day yes VdV > Sneijder…isn't it great to have both of them in your side.
Now a funny thot and for those here longer than a year I also said a "funny" thing when the qualifiers were starting about Bayern(Robben) meeting Inter(Sneijder) at Bernabeu (RM). Now wouldnt it be funny if Spurs meet RM somewhere along the road and Raf Kicks Ass !!

Great interview!!! He's my favourite for the Ballon d'Or.
He's a great example of not having to be a 6ft+ physical machine. Great technique on both feet, great vision and intelligence. Hopefully Siem de Jong will make it to a similar level. Ajax could do with it…
Posted from
United Kingdom
Comments are closed