Van Marwijk: Increasing pressure on top players
October 4th, 2011 | by: Jan |

Comments(12)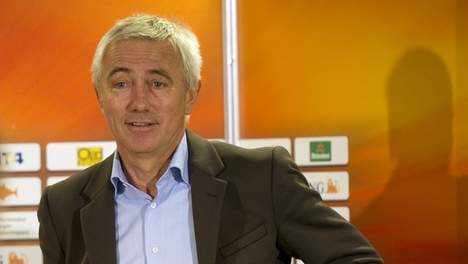 Bert van Marwijk sees too many "sorry, can't come" messages on his phone. These last weeks, he got little texts from Afellay, Stekelenburg, Heitinga and Sneijder. The former Feyenoord coach doesn't see any change until the international bodies start to finetune the international match calender.
"I believe top players are able to play three games a week," he said when presenting the squad for the Moldavia and Sweden games. "But they will need a couple of weeks total rest every year."
In the current situation top players are required to travel with their national teams. Whenever the winner of the World Cup, Euro Cup or Copa America is known, the clubs are already in their season's warm up. "And it goes on and on," laments Van Marwijk. "The pressure on top players is getting bigger and bigger. In the olden days, they got more injuries when they were 30 years or older. Now they are constantly struggling around their 25th."
Van Marwijk missed Sneijder ( groin), Heitinga ( knee) and Afellay ( ligament). Robben, Van der Vaart and Nigel de Jong will be available. They missed the games against San Marino and Finland.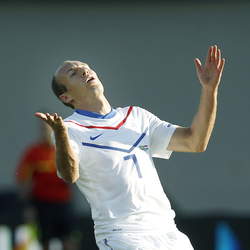 There won't be a lot of excitement in the Moldavia and Sweden games. Holland has their ticket for the coming tournament in Poland and Ukraine. But Oranje will need to grab points to finish first of the group. "We want to win both games, obviously, but I am not sure whether finishing first will give a real benefit."
Van Marwijk: "Poland, Ukraine and Spain are group leaders. Maybe it's better for us to be in a group with Poland or the Ukraine instead of needing to play Germany in the first stages. But, I can't be bothered. It's outside of my sphere of influence and we want to win the tournament, so we will need to take of Germany anyway."
Van Marwijk did admit that he doesn't sleep too well with the full match calender as it is. "I am worried. Our players are all technical players. Artists. Van Persie, Robben, Van der Vaart, Elia, Huntelaar…they play for the beauty of the game and cop a lot of knocks. Every weekend I worry. And that will stay that way until the EC starts."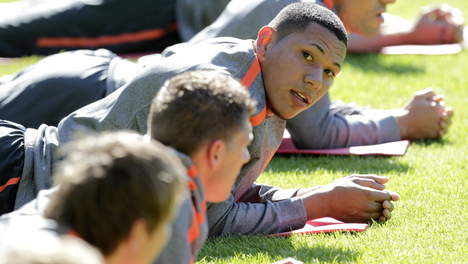 Hedwiges Maduro missed training this afternoon with an ankle injury. He stayed on the pitch, and then limped to the dressing room.
A visit to the hospital will tell Van Marwijk the seriousness of the injury. Maduro was looking at a starting position as Heitinga is not fit. Jeffrey Bruma and Khalid Boulahrouz are able to start as center backs as well.
Mark van Bommel stopped practice early too. He does belief he'll be fit tomorrow. "I stuck with my knee in the grass when I made a sliding tackle. It felt stiff but it's not an actual injury."
Arjen Robben is not yet fit. The dribble king who is making minutes with Bayern left the practice early. He trained separately and only did a warming up. Yesterday he said that he was "bloody over" his injury.
Subscribe

Netherlands World Cup Blog RSS Feed

Share
Comments are closed