Van Marwijk: I'm sick of this!
October 12th, 2011 | by: Jan |

Comments(35)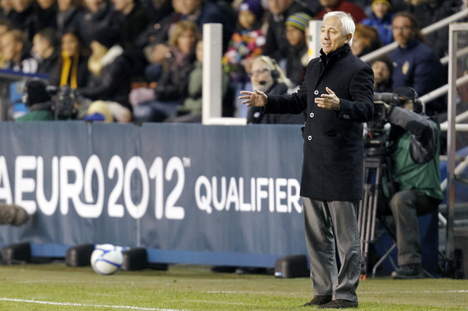 Bert van Marwijk was livid. He wants the team to win every game. Winning needs to be second nature. Every match is important. Losing against a better opponent is ok. Losing against a weaker opponent when you dominated the game and had more possession is a big NONO.
"We dominated, we played as if we played at home but we lost concentration three times and all these times an opponent like Sweden can pounce. Unbelievable how we gave it away. I am not happy."
He quickly got his composure back. "I'm happy for Sweden of course. They qualified and that's all good, but we shouldn't lose these games. It's a big lesson for us. Against weaker opponents, we can lose if we don't focus. Three moments of sleepwalking and you lose."
In the first minute, Bruma had to use his luck already when a cross in deflected from his head not to the side of the pitch but right in goalie Vorm's hands.
In the 14th minute, Bruma made a foul which allowed Sweden their first goal. There was not much in it, in my view, but the Turkish ref ( not the best man on the pitch) gave the free kick and Sweden scored a tremendous goal. Nothing Vorm could do.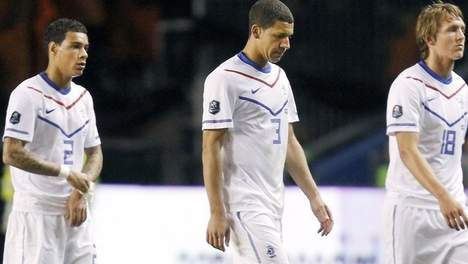 Holland got things settled through Hunter and Kuyt. Huntelaar's goal was a defensive error as well but also a wonderful cross from Erik Pieters who keeps on impressing.
Kuyt's goal came after a wonderful chip over the top by Van der Vaart and a one time attempt by Van Persie. He deserved that ball to go in, but Isaksson blocked. Kuyt responded quicker than anyone, as ever, and made it 1-2.
Within the minute, however, Sweden came back. Too many Oranje players were still celebrating in the head, allowing Elmander to penetrate deep into the box. Bad luck resulted in the ball hitting Mathijsen's hand and the ref had to give a penalty. The hand ball was tough luck, but the fact that Sweden was allowed to attack so quickly after Kuyt's goal was a typical example of not being switched on.
Only three minutes later, when Sweden had a throw in, Elmander escaped from Mathijsen and was allowed to cross the ball in the box to wreak havoc in our defense. Van Bommel couldn't clear the ball and Toivonen scored the winner for Sweden.
Bruma told the media after the game that he didn't not commit a foul on the Swede in the first half, and I tend to believe him. Mathijsen however, didn't want to hear about his lacklustre performance and was grumpy when the media asked him about his role. "What? Is it my turn now, eh?", was his response.
Skipper van Bommel was more realistic. "This is how you can suddenly lose against a weaker opponent at the European Championship. Not good. We did dominate but on the other hand, we did not get a lot of real chances against them. Neither did they, but they scored them all. The Bruma foul was a bit of a cheap goal, but the guy hit the ball well. The penalty was just and the third goal was simply bad defending. We shouldn't have lost this one, but we did. Congrats to Sweden."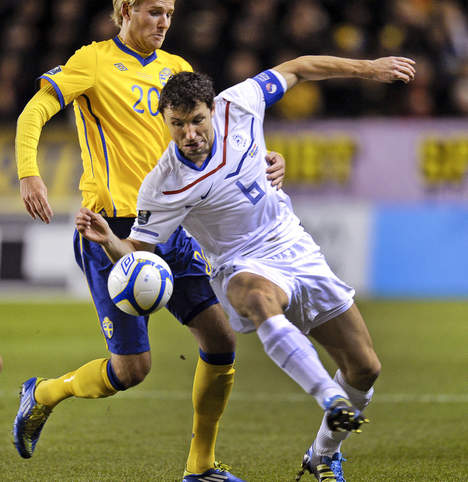 Subscribe

Netherlands World Cup Blog RSS Feed

Share
Comments

Tough to loose, I was really enjoying the streak of wins, no doubt the players were too! – however we've learned some lessons and clearly the team balance was thrown off somewhat by injuries. For the first time in several years BvM did not have all of the options he needed to push to win a match – that is, when he can see that his starting 11 is not "firing on all cylinders".
I'm really not too worried though – this was a bump on the road. The young players will continue to develop and the injured players will return.
OJF

1 or 2 keys players missing… hmmm, it's more like 4 on my counts. Were Stekelenburg and/or Heitinga present, I'd argue the net wouldn't have leaked that bad. The third goal (from the throw-in) was easily avoidable. Bad positioning by Vorm on the free-kick scored, too, in my opinion.
Posted from
United States

Every team of this world, without Sneijder and Robben is less.

>It was good that BvM give time to Bruma.
problem is Bruma doesn't create game. Yes, if you give him time he might develop to a good defender. But this is not enough to beat Spain or similar.
Problem with Nederland is the defenders are mostly defenders. They don't create. And they are not great defenders either.
Look at Spain. Pique and Puyol can hold the defense so Capdevilla and Ramos run amok on the flanks. The whole team moves forward and they appear "more".
Our guys don't hold candle to Pique. Where is Krol, he was Pique 4X. And Koeman? highest scoring defender of all times. Or DeBoer?
Nederland invented the defender that creates play. And what we have now? Shyte. Pieters is very good. Joris can play. But the right side? Where is Rijkard????
For all of you who say DeJong shouldn't play the Sweden game is a good lesson. Our defense is not that great and without "steel" in the middle we will get penetrated. We collected THREE !! 2 in 2 minutes. Hello!
If we don't get a Krol or Rijkard back, then we can not let our forwarders play freely. That's the problem. BvM knows it but he gets pushed by the media who want DeJong out. Yes with the 2010WC squad, the game is not pretty but we will get silver back.

What if Robben was as good as Germany (see the video below) in his two one-on-one incidents with Casillas in the World Cup final? Only wondering.
http://www.youtube.com/watch?v=4XPrNFUJDB0
Posted from
United States

Overmars… it's really different to score in a meaningless game against a week opponent that is desperately trying to win than scoring the only chance you get at a worldcup final against an opponent that is supposedly "much better"
Posted from
United States

Wissam. The difference is when you're one-on-one with a keeper you chip the ball over him not shoot straight at him. Also, note how it took Germany 16 seconds to counter attack and score. This is how you beat teams like Barca and Spain. This is how Germany dismantled Argentina in the World Cup. Of course you might say: but Spain beat Germany. That's true, but it was because Germany abandoned their strategy for some reason when they played Spain!
Posted from
United States

i just notice that germany scored in the first minute against argentina,and after they could play the way they really like to. they abandoned their strategy against spain because they were more catious.
the difference is not technical,but psychologic: i guess robben knows how to chip the ball over the keeper,but a a world cup final is not a meaningless friendly game. i agree with Wissam.
Posted from
Hungary

Eduardo: congratulations for venezuela's victory! (neither messi,nor macherano got injured, therefore i'm also satisfied
)
Posted from
Hungary

I see there are alot of complaints about how holland weren't at full capacity and that all the swedish goals where pure luck etc. So as I am not any good at putting this into words ill just leave this link here for you too slowly understand what we swedes just did to your precious 4 year streak of no losses in actual play-time… team…
Posted from
Finland

Psychological concentration is often the different between great players and players who write history. Do you remember when Bergkamp was one-on-one with the Argentinian goalkeeper right before the end of the second half in the 1998 quarter final. He kept his ice cold composure and scored a goal that will never be forgotten. That's how Robben should have behaved. Don't get me wrong, Robben is a great player but will never be remembered as one of the best ever who played the game.
Posted from
United States

Oh dear. If Bruma is the best that Netherlands has to offer when Heitinga gets injured, we're in a lot of trouble. I'm not saying he's a bad player, but he's very very inexperienced and not fit enough, both mentally and physically, to play with Oranje.
Posted from
Estonia

After watching Holland's last two matches, I am now wondering if there is a leadership vacuum on the team, or in the coaching staff. van Marwyck is certainly very "laid back" to use an American expression. Who brings the energy,the enthusiasm and the effort to motivate this team, when they play as they have recently? Historically the Dutch have always "played down" against inferior opponents, and that is not a trait they should be proud of. A team's attitude makes all the difference at the professional level of any sport. The Netherlands lost its match against Sweden because of attitude, not because of talent.
Posted from
United States

This lose highlights why I dislike some players.
It was obvious that some players where missing but still they should have won it, some players had a bad game and some where meh, but overall I was ok with the performance.
Younger players can now slowly be introduced into the team through friendlies now that the qualifications are over.
Holland needs to sort things out in the back,midfield and the front, the keeper position is fine though. And they also need to be fully fit and focussed if they want to win the Euro's

It was one game…lets not throw the plot out the window. With the exception of Pieters and Huntelaar the entire team had a bad game. The Swedes needed to win and they played to win while it was a meaningless game for us so there was no energy behind our attack. It's no excuse though. With that said there are a few things to address…
VdV and Sneijder are 2 different players and for the AMF role Snijder is clearly better. VdV is too focused on scoring to realize his job is to put in passes for the frontmen and shoot when given the opportunity. v.Persie isn't a good Winger-Forward. He drifts too far inward leaving the right side empty and he can't score goals if he's the lone forward. He belongs on the bench as an impact player. Kuyt has a spectacular work-rate but doesn't have the pace to take on defenders. Elia, Wijnaldum should now be given a chance and to be molded after Kuyt as far as tracking back and pressuring to get the ball back. Afellay already has these qualities. If we make these small changes and avoid injuries there's no reason we won't be able to challenge for the Championship next year.

I'm tired of listening how great Kuyt is. I agree he is very hard-working, he has a lot of energy, but the man doesn't specialize in any specific aspect on the pitch. He's the ultimate Jack-of-all-trades but master of none! He is not the best striker, he is not the best playmaker, he is not the best right or left winger. So whenever Kuyt is starting a game, someone better than him at that position is sacrificed. That in my opinion takes away everything he contributes. If I was a coach I would use him as a defensive midfielder. He has a lot of energy and will fight to win the ball back or break up opposition attacks.
Posted from
United States

Spain and Germany are Oranje's main opposition in EC2012. Those two teams are the ones we should be comparing ourselves against. I'm really excited about the upcoming friendly against Germany. It'll truly be a test to see where the Oranje are.
Defense is clearly a problem. Those three goals were scored because of defensive lapses in concentration. Teams like Spain and Germany will exploit the slightest defensive mistakes. The bulk of the Spanish team is gonna be the Barcelona starters. If you watch any of Barcelona's games, they attack wave after wave and they will find spaces to score.
I watched the last two games against Moldova and Sweden. What bothered me the most was the lack of creativity and the number of clear goal scoring chances we created. I know Sneijder is out and we'll be a much much better team when him, Affelay and Robben get back.
Posted from
United States

Sam and Ferenc thanks for your congrats… and Ferenc your barca´s players are rigth and healtly!
About the argument that Sweden need to win and netherlands don´t, i make me a questions: why germany defeat belgian and spain scotland??? Belgiam don´t need to win?
We can´t point a player just because 2 games. Off course Snejder is better than Vaart, but vaart still have a lot to give to this team.
For me, Kuyt should play just a second time, and orange should play with Huntelaar like central striker, and Robben and Persie like wings, and Sneijder in the middle.
Bruma needs time. Maybe he is not the answer for EC 2012, but we need to think in WC 2014. Bruma, Pieters, VdW, Strootman, Wijnaldum, Luuk de Jong and Wolswinkel (my personal add, since he play in Utrech, i am not a new fan of him) need time with the orange to fix on the team.
Who will be our backups on center defendese in EC 2012?? Maduro, Douglas, Vlaar, Bruma?
Anita will never play in Orange like holding midfield?? you don´t like it? I have been wacthed fer this season on Twente and for me he is not doing well rigth now.

Seems much of the talk around football circles and the press after we let in 3 goals (and all the goals are blamed on our central defenders) is DOUGLAS !! Jan should do a piece on him especially with the talk from ex Internationals.
Posted from
Singapore

I will Carlos…. And Erik Pieters deserves a piece as well.
I don't get the criticism on Van der Vaart though. Both games were hard for any playmaker. Moldavia didn't open up and our forwards didn't use the space too well.
Sweden was different, as our team lacked that extra oomph that you have when you need to win. Vaart had a tremendous deep ball allowing Kuyt's second goal for Oranje and I also don't agree that the corner kicks were bad. The corners were fine but needed attacking. Didn't Huntelaar get a good chance even on a corner kick?
I'm not saying we were great, but to say Raf isn't even a good sub is ridiculous. Our problem is, that against weaker opponents our forwards are already static in their spots, instead of making penetrating runs.
The World Cup games against the weaker Denmark, Japan and Cameroon demontrated it. Only when we played Brazil did we get more space and did we get to play a bit better.

I think the loss to the Swedes was as much as I hate to say it a good thing… Now the players know they can't take any team lightly… I think it was good for Bruma he can only become stronger more and more eager to prove his critics wrong… I think the team will look at this loss and learn alot of things only come back harder… That's the difference to this Dutch team to others in the passed.. They will come together and make amends at Euro and onto the WC2014..
Posted from
Australia

I agree with Jan on vdv: he's not sneijder,but he has definitely his place in the squad. don'r forget the brfilliant pass he gave to van persie before the second goal. he shouldn't be the scapegoat.
actually in south africa oranje only had one and a half good game: against uruguay and the second half against brazil. the other games were boring. spain also only had one and a hald good game: against switzerland (!) and the second half against germany. the best games were played by germany (ghana,england,argentina,uruguay).
those who blame oranje's performance in the last two games should think about how would spain perform without casillas (stekelenburg),pique (heitinga),xavi (sneijder),iniesta(robben) and j. navas (affelay). it wouldn't be the same team.
Posted from
Hungary

@Ferenc…I disagree with your last statement that Spain would have the same problems as Oranje if casillas, pique, xavi, iniesta, and navas were missing.
Spain can bring reina or valdes. They are not as good as casillas but they play at top clubs and have years of experience. Vorm just started playing for Swansea in the premier league.
If pique is out, they can have arbeloa come in there as he's versatile. He's not as good as pique but he's still got years of experience at top clubs and competitions.
Fabregas can substitute for xavi anytime. World class talent there.
David silva or Thiago can replace iniesta.
Juan Mata can play the right wing position if navas is out.
Spain has almost every position covered. That's their biggest strength. We have to pray our established starters are fit and ready as some of our replacements are either too inexperienced or just not talented. If all our best players are available and in form, then we have a decent chance to beat them.
Posted from
United States

Sam,
Agree, almost all positions are covered with equally skilled players, but I'm not sure if Spain can maintain the same level whithout xavi. I remember they're lost to Argentina and Portugal when Xavi was not on the field, even though those were only friendlies, they are not winning team without xavi. Xavi is responsible for domination and that is only reason they can score mostly one goal in one match.
Posted from
Australia

I'm posting from the hospital (don't worry, I should be out by today, or should I say, don't start the party yet, I'm still here
):
Quote from article about freekickgoal:
"Nothing Vorm could do".
In recent times I've seen both vdSar (EC 2008) and Tim Howard (vPersie freekick in EPL) safe freekicks like that, so nothing Vorm could do isn't quite accurate, he could have reacted faster and made it all the way to the crossing (kruising) with his hand. A worldclasskeeper is capable of that. Nothing wrong with the freekick though, seen many Sneijder freekicks go in like that against keepers of similar quality: average.
On the 3rd goal Vorm seemed out of position, no reaction after the shot (no point if you're out of position anyway, he guarded his post a little too enthousiasticly moments before that).
Again, Vorm concedes 3. Still no excuse to use Vorm ahead of Krul, BvM can blame himself and stop pretending to be livid as the article puts it at the start and start making the right decisions and not be so stubborn when it comes to team hierarchy, especially the keeper spot. Just pick the ones who are in the best form, atm, Krul is probably also ahead of Stekel, but I'm pretty sure Bert will pick Stekel if they were both fit. That's not right. Stekel will have to keep proving he deserves nr.1 spot.
I'm impressed with Kuyt lately, so I'm glad Bert was stubbornly using him, he sort of convinced me now on that one. Hunter will brake Kluivert's record, as I've said some time ago already, very little doubt left about that now. Absolute best goalscorer we've had since Kluivert, Bergkamp who? vNistelrooij who? A few more games and they'll be biting his dust (in terms of Oranje topscorers).
Posted from
Netherlands
Comments are closed