Transfer Talk in Winter window…
January 6th, 2012 | by: Jan |

Comments(20)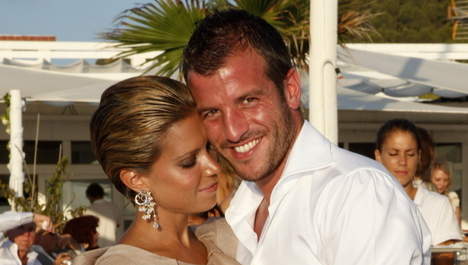 But first the best news
! Yours truly is in talks with Rafael van der Vaart and his management about an exclusive interview for this blog!! YEAH!!
Ramon van der Vaart, Raf's dad, will be the man organising it for us all. I'm stoked!
I will dedicate a post to this soon and invite you all to come up with questions!
But first… Transfer rumors!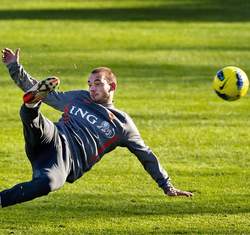 The transfer market in the winter stop has already triggered a wealth of fascinating rumours and possibilities.
Let's look at some of them.
Sir Alex has had it with Wayne Rooney! Around the Yuletide days, Wayne came to practice smelling of alcohol and according to the tabloids, Sir Alex has had it with the Shrek stand in.
Wes Sneijder isn't playing for Inter. He's suffering an annoying injury. And more and more people seem to think that Inter doesn't need him. Add to that his high wages and maybe it's good if he would move on. To someplace in England? Coincidentally, Man City wants to off load Carlos Tevez. Inter wants to sign the grumpy one. And as Mancini wants another midfielder, he might include Sneijder into the deal. Or is Man City playing games with Man United?
Sir Alex Ferguson has always been creative. With Frank Lampard falling out of favour in London, the 70 year old SAF is planning to lure the Chelsea man to Old Trafford.
John "Roberto Carlos" Goossen said "no" to Swansea and awaits a bid from Feyenoord. The former Ajax talent ( now at NEC) wants to play on Feyenoord's midfield as the penetrating player in case El Ahmadi leaves.
Liverpool is preparing an offer on Luuk de Jong. FC Twente wants at least 15 Mio euro for the prolifically scoring neo-international. Earlier this week, Luuk said "no" to Italian side Fiorentina.
VVV's attacker Musa is on the wish list of Arsene Wenger. He sees in the oft scoring attacker from Nigeria a potential replacement for Van Persie.
Zakaria Labyad, the talented PSV winger, is a wanted man. Sporting Lisbon claims to have signed him for next season, while PSV growls at the Portuguese club and demands for them to leave the Morrocon player alone. Barcelona, Real Madrid and Chelsea allegedly are interested in his services too.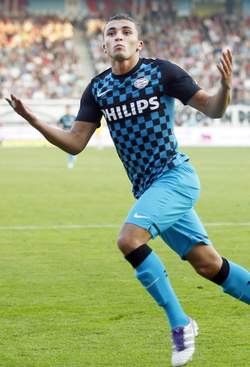 Zakaria Labyad

Everton is seriously following Twente playmaker Chadli. The Belgian trickmaster hasn't played too many game for Twente due to injury but the Toffees are keen to sign him.
The Heerenveen chairman announced that a number of big international clubs are queueing up to sign both Narsigh and Assaidi. "But none of them have mentioned the magic number, so for now they won't leave."
Luis Suarez's family in Uruguay claim that Luis wants to leave England. The whole witch hunt against him after he allegedly used racist comments vs Evra has left deep wounds and he feels that he should try his luck in Spain, France or Italy. His mum: "Luis will never be safe in England again. Every dark player he has to face will want a piece of him. He wants to leave the country and start again somewhere else."
Nacer Barazite can pick his club. The former NEC and Arsenal talent plays in Austria now and he scored prolifically. Swansea, Porto and Dinamo Moscow all vie for the services of the Under 21 striker.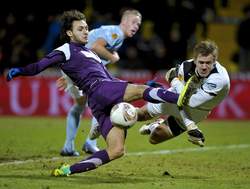 Nacer Barazite

According to rumours, Valencia wants to sign Mickey Sulejmani as well as Greg van der Wiel. Van der Wiel's transfer is already a done deal, according to some, and the Spanish side wants to pay 13 Mio Euros for the Serbian winger too. Ajax doesn't want him to leave and will start negotiations with him soon.
Bayern Munchen and Liverpool want to sign Kevin Strootman this winter, but the international has closed the doors on any shenanigans. "I will not leave PSV mid-season, for no club. They will have to wait."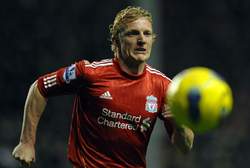 Dirk Kuyt is open to a move to Turkey. He has lost his starting position at the Reds and wants to make sure his spot in Oranje remains his. Galatasaray offers him a huge pay-check and a starting spot. Kuyt is unhappy with his supporting role at Anfield and might take the offer.
Jeffrey Gouweleeuw, the Heerenveen center back, is happy with the attention from Ajax, PSV and Twente. "In all honesty, if one of those clubs want me, I'm gone."
Rasmus Elm, the formidable Swedish midfielder of AZ, is hot property in England. Arsenal, Chelsea and Man United are allegedly preparing offers for the AZ skipper.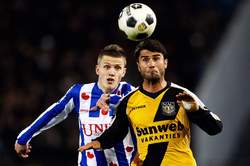 Jeffrey Gouweleeuw ( left)
Marc Janko, the lanky Twente striker who will most likely follow Adriaanse to the exit is linked with a number of Turkish clubs.
Luc Castaignos, the young talented U21 Oranje striker, might be on his way out of Milan. Several Italian clubs want him but there are three EPL clubs ( among them Everton) on the alert. The former Feyenoord goal scorer doesn't want to leave Inter though.
Subscribe

Netherlands World Cup Blog RSS Feed

Share
Comments

I do not know much about many players listed here so I leave comments for others. I stick to those I know. My understanding is Raf and Wes used to play together at Ajax. My trouble is with Oranje, I have not seen many games where they play well together (kind of familiar how Van Persie does not get enough support from Oranje as from Arsenal) and I do not want Raf to play on wings or sub for Wes either. About Wes, I wish he joins MU but I feel Alex F wants a younger player + Wes is injured. Dirk, well he is not doing so well. Castaignos, he needs to get more playing time perhaps at different club. Question for Raf: what formation does he like to see Oranje's play and where he is in that formation (the way it is now, more attacking like 1st qualification vs Sweden).

It can only happen in Holland !! The Ajax AZ game postponed is suppose to be played in an empty stadium. KNVB has allowed Women and Children to attend (haha!) So now a request has been put in by the Dutch gay society to allow Gays to attend !! It was not granted!
This serioualy only happens in Holland. Wouldnt it be funny if some lady runs into ArenaA eithe streaks or attacks the referee

Jan my question for Raf: Can he see himself returning to Ajax or would it be Hamburg ?

Carlos, hahahahaha… The gay parade in the Arena. Why not!?

Congrats on the upcoming interview – I can't wait!
My question for Raf:
Probably my favorite Oranje image is from the '74 WC – Oranje vs Uruguay – when for a couple of moments the entire 10 men of Oranje, attackers and defenders are all visible converging towards the ball as a unit and moving together up the pitch forcing a handful of their opponents offside. Oranje is so "bunched" together and "out of position" but yet moving as if of one "brain" – for me that has always been a totally amazing football moment.
What is Raf's fav Oranje moment?
OJF
PS an Autographed Jersey would be awesome! nudge nudge

who is that idiot in galatasray???how much money he is having??

Jan great news…thanks for it..
Really stunned by siralex eye on lampard????really?
I dont mind about other players…i pray that some players leroyfer,deguzman,maher,clasie,castaginos gets regular time and they stay away form injuries..rest are fine and doing well.
i was thinking about portugal and Germany
look at the line up
Persie—Postiga–Klose=Persie is the best.
Kuyt—–CR7——Muller=kuyt is no match for both,perhaps a zero creativity, a really huge gap)
Roben—-Nani—-Podolski=Nani and roben are equal)
Sneijder–Muntihno–Ozil===At presnt ozil is not less than sneijder.
Bommel—-Veloso–Khedira===Bommel is no match for both same as kuyt
Dejong–Mireles–BasteinS===Dejong is nowhere near the creativity of both but way better than both in terms of defence.
lets us leave defence

@ Carlos. Women and children only happened in turkey earlier this year, @Fenerbache I think?
They knew all the songs, but one interesting thing that happened was the crowd applauded both sets of players, and the players threw flowers into the crowd.
I would almost prefer that, then to have some drunk, unemployed 19 year old screaming abuse at everything and everyone, sitting beside me.
Jan, an interview with Raf??? My hat is off to you! Maybe you could get him to pass word on the Bert, there are lots of ideas on this blog about tactics and players for the euro. You might warn him to take Tiju's posts with a grain on salt

@Jan : WOW
great news to have an interview with VDV in the blog
The blog is on fire , thanks to you , Jan
. KEEP IT UP , Bro
Today Bayern Munchen will play aginst el- Ahly

Best of luck to Arjen , hopefully he scores a hatrick , and finishes the game injury-free
!
regarding the winter transfers , 3 transfers i would like to see
Sneijder To Man Utd
Kuyt to Feynoord
Elia to a good team in the EPL
I think these transferes will be very benificial for Oranje in the Euro .

whats been the deal with patcick van aanholt at wigan? i just read his loan deal has been cancelled. was he injured or just out of favour with the manager?

Good Job on that interview Jan!!!
Question for RAF:
You stand out as a player with tremendous ability to get out very tight situations when in possession of the ball. For example, aside from your obvious natural talent, what particular training drill/traing do you feel helped you develop into a player that can move, turn and escape 3 defenders so well while pinned to the sideline?
Thanks
Pete
Posted from
United States

I think were supposed to hold onto are questions for Rafa. But I get the excitement.

ask Rafa if he could teach me how to do this please:
http://www.youtube.com/watch?v=mC3DEI1dBrY
:O
Posted from
United Kingdom

@ Jan,
You're becoming a celebrity man
. That's great news!
I read a rumor regarding Wes. If Inter gets Tevez, AC Milan will go after Wes. I rather have him play for AC Milan then ManU. I can't seem to get over the way knucklehead Fergie offloaded Stam and Van the Man.
Any news on Elia or will he continue being a ballboy at Juve?

Is it not time this blog becomes an official partner of KNVB..
let us handle the international fanbase
haha
Posted from
Netherlands

Good job Jan!.
Questions for Raf:
1) Do you think it's necessary to play with 2 holding midfielders?
2) Why do you think Holland lost against Spain in the WC final?

I would like:
Afellay to Arsenal.
Elia to Chelsea.
Sneijder to stop getting injured.

Just read more transfer ANS Raf rumours:
Apparently, AC Milan and Bayern Munich would like to sign Raf.
He claims he doesn't want to leave. As they always do
.
But this will be a question for our interview, I'm sure

Can't wait for interview, Jan
I have questions for Raf, we know that he is a world class attacking midfield and media always claim that he is not a player who can maintain his greatness for 90′, what he think his main weaknesses (if any) which hinder him from being top ten world best player, and how he's going to improve and become the best.
Posted from
Australia

three transfers i'd like to see happen
1) Kuyt to Galatasary – that's about as far away from holland that one can get. hope it finishes off his NT career (or at least removes him from the starting XI). after all, BvM told Elia that if he went to Turkey he would be off the NT radar, and I don't see why Kuyt should be an exception
Posted from
Canada

woops, anyways:
2) Gouweleeuw to Ajax or PSV (preferably Ajax)
3) Afellay on loan to PSV or another club where he can get lots of playing time in before the Euro, but preferably to a club that doesn't NEED him. If you loan him to that kind of a team you risk them overplaying/rushing him
Posted from
Canada
Comments are closed