Things we learned from the England game…
March 1st, 2012 | by: Jan |

Comments(85)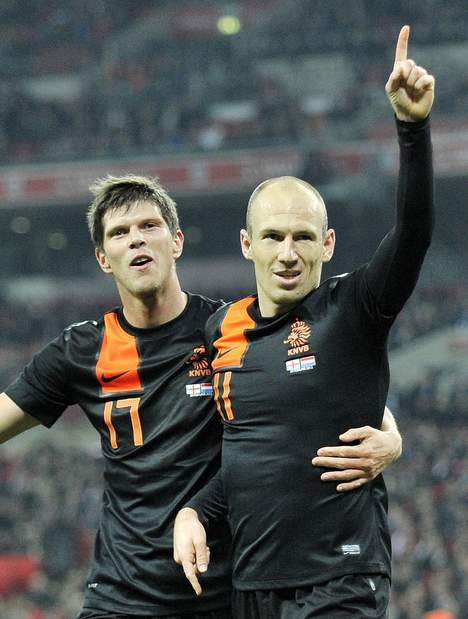 Robben just scored number 1.
Lesson # 1. Winning or Losing
Winning or Losing friendlies doesn't really matter. Who cares, really?
Well Bert seemed to care. Before the game, he said he wanted to make sure we started winning games again. Fair enough. But is that what a friendly is all about? Sure, we want to win at Wembley. But does it mean: resorting back to lean on old hands like Dirkie, Joris and Boulah??? Couldn't we find something fresh to experiment with??
Lesson # 2. Using Players who have rhythm
Playing England. Wanting to win. If that is the starting point, why does Bert use a left back who barely played 45 minutes at his club in the Eredivisie? This is not a Barca or a Man United player, but a PSV left back. Erik Pieters. Really?? Why expose this lad to Adam Johnson like this?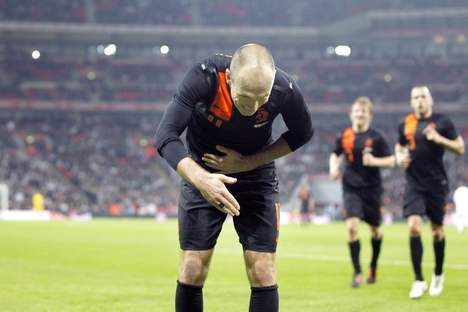 Robben just scored the third
Lesson # 3 Even the best of the best need service…
Robin van Persie scores like there is no tomorrow. A little analysis of Arsenal tells you why. Because the team is build on Robin van Persie. Two wide players ( Oxley, Servinho, Walcott, Benayoun), two offensive midfielders behind him ( Artete, Rosicky/Ramsey) and Song as holding player. In Oranje, Kuyt hardly reaches the byline and misses speed, Robben loves cutting inside and Sneijder enjoys filling the space behind Robin van Persie. Its imply doesn't work.
Lesson # 4 Huntelaar deserves to start
Huntelaar was only on the pitch for 10, 15 minutes and created one goal and scored a second. His form at Schalke is phenomenal. Any nation ( Germany, Spain, Italy, England) would kill for a striker like Hunter.
Lesson # 5 Robben enjoys his football at Oranje
Arjen Robben needs to be allowed to be egotistical and himself. He should be allowed to roam, to cut inside, to come from the center, the left, the right. He backtracks, he defends, he simulates, he scores wonder goals. Leave.Robben.Alone.
And if the bloody Zjermans don't want him any more, Feyenoord will take him, thank you very much.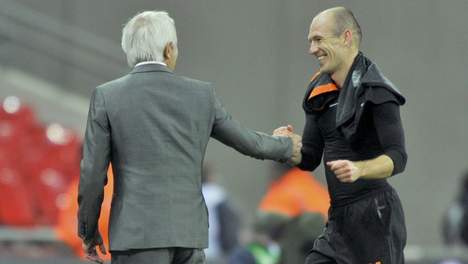 Bert happy with Arjen
Lesson # 6 Mark van Bommel is king
The English said: if Scott Parker needs some help in growing into the skipper/holding midfielder role, he'd only have to look up to see his big role model. Mark van Bommel was Man of the Match for me. With a nice assist on Robben for the third. Robben was Man of the Match too, of course. We won at Wembley so we can have two!
Lesson # 7 Time for Experiments is NOW, Bert….
Joris, Boulah, Nigel… Sure… We know. But we might need something more in the future. Why not use a Strootman on Joris' spot for a bit? Why not allow Narsingh or John their debut ( Kuyt was ready to come of in the 70st minute)? We need more build up from the back and we need better full backs… Pieters will get ready, I'm sure. He'll play a decent EC and he will move to Blackburn or Fulham or Celtic. But Urby might be the ideal left back for us (Gio style). As Ronnie Stam did deserve a call up for this particular game…
Lesson # 8 Robben can score beautiful goals
I hope the Bayern morons watched this game… And that this bullcrap of Robben being selfish is being shelved. They should be ashamed…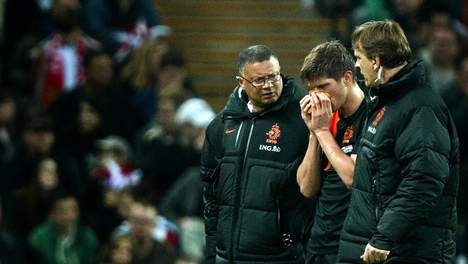 Loyal soldier Hunter
Subscribe

Netherlands World Cup Blog RSS Feed

Share
Comments

Quote: "Another summer of transfer speculation has finally ended with Klass-Jan Huntelaar moving to Schalke for €13 million"
***
Care to guess what his worth/price would be now?
Dzeko changed clubs for 32 million euro.
Berbatov 37 million-ish (current pound – euro rates)
Torres 60 million!
Suarez 26.5 million euro I believe
Caroll…well, too shocking to even mention.
Total waste of money (compared to Schalke's, Bayern's and AC Milan's modest smart investments).
Posted from
Netherlands

Hup Jopie Hup!

Sol – you forgot De Gea!!!!!
Posted from
United States

1) Great point Miquel Rosado – NONE of us wanted Van P to push himself in a friendly. He got what he needed some nice taps back and forth with Robben and the rest. And then he got to trot off.
2) No reason to panic after scoring 3 goals. I think when you look at both KJ and Van P burning up their leagues and both getting into a nice rhythem with their mates – you just gotta think – man do I want those guys both on the field!
3) Same with the D – clearly we want a good bunch of tacklers and ball handlers back there. How to set that up will be tough.
4) And wow what a bring down by Van Bommel at the end of the game. Robben's shot was unbelievable surrounded by 5 white jerseys – but what a sweet pass from Van Bommel – to just the right place.
5) The Real Madrid Dutch fire sale was a huge missed opportunity by many clubs. Arsenal would look much tougher with VdV, KJ, etc. Schalke would have love to have Robben too. And Real probably wonders why in gods earth they sold those guys and bought Kaka? They're going great of course, but wow the debt is staggering.
Posted from
United States

Very nice post Jan and very nice comments and anamysis.
>And playing to score goals, playing to win. For me, Total Football is NOT stringing 620 short passes together like the Spanish do.
agreed. this is horsesh** …
>I'd prefer Urby against opponents with one striker ( like Denmark) and Pieters against a team with three ( Germany).
There is one more option if Bert does not want to move Stroot back. Maybe Bert wants to groom Stroot to take vBommels role since Stroot is a natural leader.
Then move Pieters to CB (He is big enough and then some) and have Urby/Schaars do the LB.
VdW – Heitinga – Pieters – Stijn/Urby.
This will work very well without sacrificing Stroot…
Then we can have options to replace Joris for injury/cards, options for LB etc etc.. Much more depth than before.
Bert has proven that his back 4 + Mark and Nigel can match the Spaniards and IF NEEDED, they can play one speed higher. But there is no substitution option and it would be hard to guarantee that all of the starters will be avail for the semi or the final in the Euro.
It is just too much risk not to have other options.
Posted from
United States

Agree with Jopie's argument completely !!
But then again Jopie this is a blog where people ARE allowed to put their opinions to anyone reading it (you don't have to,like I often do). The English language is chosen because if it was in Dutch we would not be getting friends from all over the world.(How's your Dutch by the way Jopie?) I love reading poorly constructed sentences as I see what bloggers are trying to say from their own language syntax at times. I want to see more poorly constructed sentences from Malawi,Uzbezikstan and even Manchester! This is a World Blog for ALL Oranje lovers.
Posted from
Singapore

For thos knocking Bommel and de Jong, If you have a chance to see a replay,take a close look at the 3 goals. How did we score ? How was the build up ? How did we get the ball ?
First Goal – Nigel de Jong tackle got the ball to Robben -> GOAL. 2nd goal, de Jong tackle got the ball, passed to Sneijder – Hunter – Kuyt -> GOAL. 3rd Goal Bommel raced into area and beat 2 opponents to get Ball to Robben -> GOAL.
Gentlemen guess who notices these FACTS?……BVM and guess who picks the team? Live with it – he knows what he's doing !
Posted from
Singapore

Does RVP have Seedorf syndrome? Great club player but mediocre in Oranje? If only Bert will play Huntelaar consisntently!

Hehe – you know I'm only playing!
In reality everyone is entitled to share an opinion – just some choose to inform and others choose to offend, that's all. Was merely highlighting it with irony – hence my final sentence, poking fun at even myself. Surely that was a clue!
Look, I don't care if we play 433, 4141, 343, 4231 or my personal favourite 4132 (and yes, laugh it up, I would play VDV up front next to Huntelaar, like HR uses him to devastating effect at Spurs). With the quality we have, any formation will do if the team knows their plan and sticks to it. We are Holland.
What's rather frustrating is when we WIN and people still refuse to get behind our team and our manager, resolute in their determination to see us fail merely to prove themselves correct and everyone else wrong.
So take no offence from my words as I intend none – but I do stand by what I said:
Some of you should be embarrassed. You know who.
It was a great game to watch the other night. Stop being so miserable, and let's get in party mood for the Euros.
And any of you thinking back longingly to Total Football need to go back and rewatch actual games, not highlights on YouTube.
a) the tackles flew in
b) we lost
Personally, I prefer Winning Football.
The game has moved on. And when we have our world crown THEN we can showboat.
At least let's save the hyper-critical arguments for when we lose, or don't score 3 goals away from home. Is that too crazy a request?
There's not much for Bert to fix.
It's gonna be done his way whether you like it or not, and I'm gonna stand behind him no matter what happens – because, quite frankly, he knows an entire universe more about football than I ever will.
Posted from
United Kingdom

The reality is Oranje scored 3 goals at Wembley. Not many teams do. Be proud, not negative.

Well said Jopie.
Hup Jopie hup !
Posted from
United States

Quote alaa about Kuyt:
"the guy cant do that role it is not for him, being a wing u have to have 2 qualities for sure speed and skills, the guy lacks both, every time he received the ball he just passed backward or to the middle,"
***
put Sneijder there. In my earlier line up I should have put it like this:
******Hunter******
Robben*vPersie*Kuyt
***MVB**Sneijder***
Pieters*M:)*Heitinga*vdWiel
let Stekel and Krul have a skate-off or something (with/or penalties, just kidding)
Then you get:
- typical Kuyt backpass to Sneijder (Robben pay attention! start pinching, you're already too late
this is gonna go fast)
- vdWiel overlapping on the right, vPersie making himself available in the middle
- Sneijder with a nice curl around the defender to vPersie (Robben make a choice for vPersie, either make yourself available for a throughpass or safe sidepass for later, pinch more, don't get too close to vPersie)
- vPersie to Robben (follow up vPersie, you need to distract some defenders later and give Robben more options if he's going for the backline, and Robben is fast, so don't lose your balance after the pass, be ready to go, give and go, especially if it's a diagonal pass)
- Kuyt (2nd post) and Hunter (1st post) should be waiting for a nice cross from Robben, or perhaps if vPersie gave a good through pass and Robben was paying attention and pinched just enough, he can go for goal himself if the move is quick enough and Hunter but more probably Kuyt (more his thing) might get a rebound, vPersie's position by the time Robben has the option to turn should be diagonal to Robben's backline position if that's where Robben is going, 3 options for Robben if he's not in a position to shoot.
- Sneijder can sit back and watch the carnage
Have some champagne later and grin very broadly, next time he'll pick Robben directly and fool all the opponents by looking at vdWiel
Posted from
Netherlands

@Jan. You wrote:
"As for "we didn't learn from Germany"… I think Germany was one bad game in almost 4 or 5 years. Since 2007, we start bossing teams around. We played many great games but we failed against a very strong Germany, without key players on our side.
Do we really want Bert to screw up what we build up for one friendly??
Did you see Germany vs France???
Do they now need to change what they do too?
No!
Bert coaches us to the Finals in 2010.
Give the man some confidence."
Whit all my respect, I will answer you:
1. When I wrote "Lesson # 9 We didn't learn anything after Germany game." I mean that Orange still playing a slow football, like they play against Switzerland and Germany. And I think we need be faster.
2. I am not comparing Germany vs. Orange. But I believe we should be faster and creativity. I like the game, but I think it would be very difficult to win it if Robben hadn't played.
3. I ALWAYS gave confidence to BVM. Read my previous post. The only things I have been "criticizing" to BVM is not giving time to new players or try different things, but I support him a lot. He is the right and the best coach for Orange right now and I was very happy when he renews his contract.
4. In my point of view BVM should have a Plan B. Imagine this scenario: VdVaart get injuried in next EC. Sneijder get 2 yellow cards. Who will play like offensive midfield? Wijnaldum?? He only played like 10 minutes with Orange after WC!!
5. So, in conclusion. I am happy for the victory. I get BMV wants to give confidence to his stars like Robben, De Jong, Stekelemburg and Kuyt and that's very fine, but I think that Wijnaldum, Narsing, Bruma etc need experience and time with the team, and Orange play a faster game, not change to 3-4-3 and play Total Football, I am not asking thata (I will love it jajaja, but not asking it)
6. I will support BVM to the end, as I did with Van Gaal in Barcelona and De Boer in Ajax. I believe in long terms projects.
I will love to see Orange playing with you line up:
Wiel – Heitinga – Strootman – Urby
Van Bommel – Sneijder – Van der Vaart
Van Persie – Huntelaar – Robben

http://www.telegraph.co.uk/sport/football/teams/england/9118179/Klaas-Jan-Huntelaar-my-brain-is-still-skaking-after-clashing-heads-with-England-defender-Chris-Smalling.html

which is why Robben should pay attention and start pinching early
Posted from
Netherlands

Jajaja I remember when I traveled to Barcelona years ago, when Van Gaal was Barcelona coach and he brings Kluivert, De Boers brothers, Cocu, etc. On these times, he was a very controversial coach, and in Barcelona everybody hates him.
I went to Cam Nou with my AJAXS flag to wait for the players on the exit door.
I gave my flag ONLY to the Dutch players (Cocu and Zende sing it to me even they didn´t play for Ajax) and De Boer brothers, Bogarde, Reizenger and Kluivert sing it to me as well. The only Dutch player who didn´t stop his car to sing it was Ruud Hesp.
Well, after meet these players, I wait like one hour more alone for Van Gaal.
When we appeared, he stopped the car and I gave him my flag and said him in Spanish "no les haga caso a esos españoles que no saben nada de fútbol (don´t paid attention to the Spanish because they don´t know nothing about football)" and he begin to laugh and singing my flag!!!!!!!!!
You will understand my disappoiment when we lost WC final against Spain.

Great to see this blog is still alive and kicking, and the discussions continue as always. But also still the ´total football dream´ is still around. We really have to give up this dream. Like Jan says even the Spanish are not playing pure total football. Have you ever seen a full game from the seventies? The pace, even with holland teams was rather slow, and plenty of time for the build up, but the game at wembley I watched in fascination, so much energy and the brits going at like crazy but being sublimely killed by dutch technique… it was wonderful to watch and silently I got a little proud of this undefeatable dutch team. (especially as it was the English as victims who have often bashed our teams in the past, ..and I saw the english spectators at Wembley looking on quietly and with admiration for the way the english team was demolished) It was fun to read the british papers and how they agreed that the Dutch, when upping the pace a bit completely tore the english team to shreds, that was what I saw happening on my screen too.. Only us dutch can bash a team that just won away at wembley lol
The English really gave it all they got and worked like hell but they were quite powerless, in fact it was sometimes humourous to see how they were outsmarted a few times.´.
To play total football you need really skillful players and tactical savvy players who practice endlessly at combinations and situations like Ajax and Feyenoord did in the 70´s. That time is gone as not one team is together for long periods anymore… Its 2012!
This summer I think we will meet spain again and lose the final again. They are just better than us, look at RM and Barc.
Posted from
Netherlands

http://www.vi.nl/nieuws/215722/Afellay-en-Maduro-liggen-op-koers-voor-EKdeelname.htm
My euro 2012, 23-man selection (right blend of youth + experience crucial):
Oranje Best XI
———1.Stekelenburg———
——5.Heitinga 4.Pieters——
-2.vd.Wiel–6.v.Bommel—3.Urby-
—–8.Afellay-10.Sneijder——
7.v.Persie-9.Huntelaar-11.Robben
Subs:
12.Krul (GK)
13.Vorm (GK)
—————–
14.Boulahrouz (D-RC)
15.Mathijsen (D-C)
16.Maduro (D/DM-C)
—————–
17.de Jong (DM-C)
18.Strootman (M-C)
19.Maher (M-C)
20.v.d.Vaart (AM-C)
—————–
21.Wijnaldum (AM-RC)
22.Elia (F-L)
23.Kuyt (F-C)

Oranje Best XI
—————-1.Stekelenburg—–———
2.vdW-5.Heitinga-4.Pieters-3.Urby
————–6.v.Bommel
—–—-8.Afellay-10.Sneijder——
7.v.Persie-9.Huntelaar-11.Robben

edit: above formation is traditional 4-3-3, which can switch to 4-2-3-1 with afellay in PSV central mf role. need a more mobile cb next to heitinga, hence pieters for mathijsen at cb and urby at lb ala gvb).
Oranje Best XI
—————-1.Stekelenburg—–———
2.vdW-5.Heitinga-4.Pieters-3.Urby
—————6.v.Bommel
—–—-8.Afellay-10.Sneijder——
7.v.Persie-9.Huntelaar-11.Robben

Prachtig, change Afellay to Strootman (swap him to the left put Wes to the right) and we do have a DEAL !!!!
**VERY** nice
and we can go straight to the WC2014 final with the same formation !!!

@Eduardo, you want more pace but these players are tired and must deliver every week in heavy competitions. It was just a friendly and I think we must realise they can only play with dosage. Dont we expect too much of them? We want them in the hughest gear crushing every oponent in no time but thats impossible. You could see the pace quickening as the game rolled on, when the english got a bit tired we moved up. It was beautiful to watch. You could actually see the goal coming, it was only us who could score at that time.
And what about thisd for pace? I looked away to put down my J. and when I looked up again I saw the ball was in the goal, and Huntelaar with a mouthful of grass … i mean it went so fast and my god his header was like a goddamn granate or something..woosh!
Secondly you must undertsand van Marwijk is ultra conservative and loyal. He will never change a team going into a mayor tournament. He is everything but a gambler. He likes to rely on his favorite hardworking loyals like van Bommel en Kuyt. And I think he is right this time. We canot expect experiments just before entering the finals. Look at ENgland. They are in a mess, and are envious of the calm in the Dutch side.
I change my statement about the final: si podemos perder otra vez pero quizas podriamos ganar de esos espagnoles marincones! If de Jong can keep his legs on the ground we could win ofcourse. This time wemust make paella from these spanish guys.
Posted from
Netherlands

Great posts all!! Carlos, Jopie, Prachtig… And Eduardo, I wasn't isolating you with my comments….
I believe we need to look at the past and see what actually happened vs what we believed should have happened when we were planning them….
It's key in sports or in football: you never know. A coach can prepare and plan but there is always the opponent
. Or the ref. Or the post. Or the weather.
Oranje in 1974: we missed a goalie, a couple of center halfs and no one in Holland knew who the hell Rensenbrink was… The fans wanted Keizer.
Michels/Cruyff put young Haan as center back with young Rijsbergen, put a goalie in from FC Amsterdam and the snakeman from Anderlecht on the left.
In 1978, the nation was in panic as Cruyff and Van Hanegem didn't travel to Argentina.
In 1988, San Marco was a question mark to come with!! And we started playing 4-3-3. With Bosman.
In 1990, we thought we'd walk to the finals. With Cruyff as coach. We got Beenhakker and got humiliated.
In 1994 we lost Gullit.
In 1996 we had infighting.
In 2000 we forgot to score a couple of penalties.
In 2002 we had Van Gaal and his brainless tactics against Portugal.
In 2004 we had Advocaat with his brainless substitution of Robben.
In 2008 we had a personal drama with Boulah.
In 2010 we had Casillas toe blocking Robben.
The Ball is Round. Expect the unexpected…

7RlqqH The topic is pretty complicated for a beginner!…

Congrats on feeling steeltd! I, too, am dreaming of the day when I get to look at all of my books at one time, instead of having half of them in boxes in the attic.
Comments are closed