The Big Debate: Artist or Hitman?
March 2nd, 2012 | by: Jan |

Comments(91)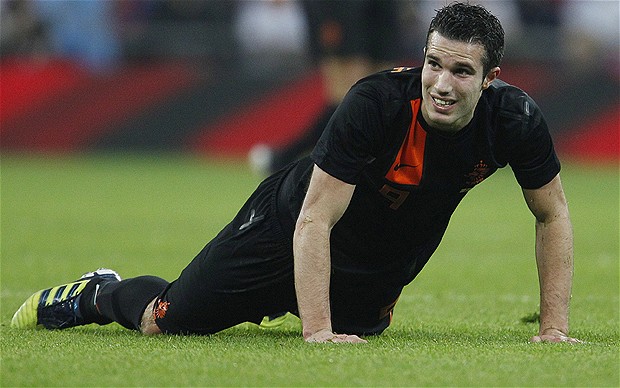 So, in Holland the Big Debate has started… Willem van Hanegem started in, I believe, when he talked about Van Persie in his columns some months back… How he loved seeing Robin being on fire at Arsenal, while at Oranje the likes of Robben and Sneijder seem to "forget" him and kill off the space by coming into Robin's zone instead of playing off of him… After the England game, the media ask the question: "who needs to start" and "can they start together"?
Schalke coach Huub Stevens is the first active coach to say: play them both! Forget 4-2-3-1…
Btw, this is what the Italian tv commentator things of Hoentelaar.
My personal opinion:
Change the system. Use them both. Sacrifice a defender. Put Strootman one line back in defense. And play dominant football in the final third. Although I do not criticise Van Marwijk for playing more result-oriented than coaches before him ( Note: I think he's still more adventurous than Advocaat), I do believe we can dominate more than we do.
It's silly to have Hunter on the bench as a pinch hitter. We have Luuk de Jong for that now. Who will be as good as Hunter.
We have Afellay for Van Persie.
John for Robben.
Van der Vaart for Sneijder.
We have no one for Kuyt though
.
But to underline the debate we will have, here's a column translated. As stated before, I don't necessarily agree with the author, but the question is valid…
Thanks Goose: column on Nu.nl by Thijs Zonneveld
Dear Mr Bert,
This can't go on much longer. I can see you struggle, game in game out. The sacks under your eyes are getting bigger, your hair gets more grey and the lines around your mouth are deeper…
I get you. The choice is tough. But it has to be done. Robin out, Klaas Jan in. It has to be done….
And I know: Robin is a better football player. He's an artist in a football shorts. He steals your heart because he can paint with his left foot. The goal against Spurs last week: frame it and hang it in a museum. The tender caress of the ball, it touches you deep inside. There should be a rule to count these goals double. But…that rule doesn't exist.
Football is a game of eleven against eleven and who scores most goals, wins. It doesn't matter if they're beauties or uglies or luckies. Scrimmage goals, toe pokes. Pinball deflections. Penalties. Own goals. They count as much as bycicle kicks, backheels or paintings. Football is about results. And we do have a striker who is all about delivering results. Klaas Jan Huntelaar.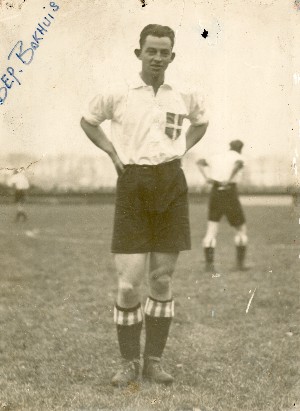 Bep Bakhuys
We have been talking about this a lot. The choice between the Artist and the Hitman.
In tv talkshows, in bars, in the dug-out….everyone has an opinion.
But we shouls stop talking about opinions. We should look at the hard facts. Even if Hunter is used as a sub, he's still more effective than Van Persie. He is actually the second to most effective player for Oranje ever. He scores every 93 minutes! That is basically one goal per game! Only Bep Bakhuys from way back when was more effective.
The difference between Robin and Klaas Jan is not in their feet, but in their heads.
Van Persie wants to play football. Huntelaar wants to score. We have a lot of players who can play football. We have many artists. But we need a striker who will strike the ball in the net, walks them in, deflects them in, wrestles them in or toepokes them in. A striker who will score the winner in the finals against Germany in the 93rd minute of the game. Ugly.
Robin van Persie as central striker, it simply doesn't work in Oranje. No matter how hard we want it. In South Africa, in the qualification games and in this friendly on Wembley. Huntelaar came on in the second half and was involved in two goals in 15 minutes.
When Kuyt's cross came, he knew: this ball will need to hit the net. He headed the ball home and headed himself a massive headache. If someone accepts three months of pain for a goal in a friendly deserves a starting spot. Hunter is hungry!
The concussion goal by Huntelaar is the final argument in this debate, Mr Bert. There is not way back. And Robin? We can still use him to paint a fabulous cross from the left?
Friendly Regards,
Thijs (the guy who will jump up and down like any other fan when it is Van Persie who curls the ball past the goalie into the top corner in the finals of the EC against Spain in the 93rd minute…)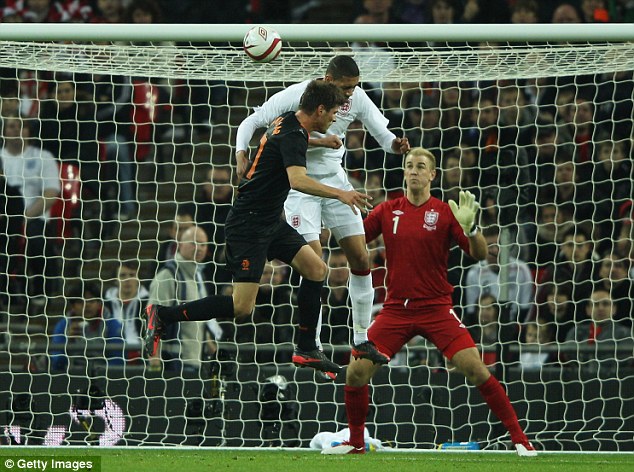 Subscribe

Netherlands World Cup Blog RSS Feed

Share
Comments

After today match, Wenger said that Arsenal need to everything in their power to keep RVP. He said that for Cesc and Nasri. So new club for RVP this summer?

……….. Huntelaar ………
RvP……………….. Sneijder ………………. Robben
Best attacking 4 ever seen.
Posted from
Australia

@ kevin, they always say that during the season but when push comes to shove, he will go where he can win a championship. money talks my friend.
Posted from
United States

what's the latest on affellay? do you all think he will be at his best for the euros even if he isn't playing regularly?
Posted from
United States

Kevin – RE: RvP I hope you are wrong, but fear you may be right.
Artist or Hitman?
-both-
Robin van Persie: Can single-handedly change an entire team (Arsenal)
Wesley Sneijder: Can single-handedly change an entire team (Inter-Milan last year)
Rafael van der Vaart: Can single-handedly change an entire team (Tottenham)
Arjen Robben: Can single-handedly change an entire team (Bayern-Munich)
Klass-Jan Huntellar: Can single-handedly change an entire team (Shalke04)
- I could even add Dirk Kuyt to this list (but won't just for sake of argument).
Bert van Marwijk would be crazy to leave out any of these players. His challenge is to create an 11 that can play against anything from the old "Italian Style – Park the Bus" to full free flowing open attack which today includes Spain and possibly Germany. And also to get all of these different playing styles and personalities to play as a unit – to defend as a unit – and to attack as a unit. To recreate "Total Football" again.
I feel he's doing a remarkable job – and to throw away a major talent,a big piece of our attack,and a big piece of this puzzle, just because our opponent on one night played a tough defence would be a mistake.(In my opinion – in England they know Robin quite well and frankly Huntellar scored but that was no easy goal !!)
Our next opponent could well leave just the openings that RvP needs, those openings will be exploited with a free flowing attack.
Bert has options – how many other national teams can say this?
And finally I too am disapointed that the younger players are only getting in here and there – but I'd much rather a complete team where the regulars gradually transition-in the right youngsters and then support them as they gradually develop – than for there to be too many changes.
OJF

Bergkamp has always been my favourite player of all time but for Arsenal fans if it wasn't for RvP at the moment they wouldn't be far of relegation.
Arsene his saving your arse!!
Posted from
Australia

Urby Emanuelson
63
1
8.0
Operated behind Robinho and Ibrahimovic to devastating effect. He showed terrific dribbling ability and looked extremely confident. Was key on the counterattack and managed to get an assist for Ibrahimovic's hat-trick goal.
Quietly, he is doing very well…

Huntelaar
Robben van Persie Kuyt
van Bommmel Sneijder
This is the best of all worlds.
Kuyt was very good today but in the end Van Persie is too good.

RVP/Robben
2 of the best players in the world right now, and 2 of the best Dutchman to ever play the game.
Let's enjoy it while we can, we dont have any young kids anywhere nearly as talented as our current crop of starters…make no mistakes, we are in one of our Golden Ages.

Been a long time since I posted here (still read every day!), but my two cents on how I would like to see them play in the euro:
4-3-3:
————————Steks——————–
v.d. Wiel——Heitinga——v. Bommel——Pieters
———————–de Jong——————-
————-Sneijder———-v.d. Vaart—–
Robben—————-Huntelaar————–v. Persie
Or in a 4-4-2:
————————Steks——————–
v.d. Wiel——Heitinga——v. Bommel——Pieters
———————-De Jong———————-
Robben———————————–Afellay—–
———————-Sneijder———————
——Huntelaar(Cruijff?)——v. Persie———
Some comments:
Robben was good on the left yes. He just needs to find his groove again, though. We know how deadly he can be on the right once he's in shape again.
If I have to choose between Robben or v. Persie giving crosses from the left, I take v. Persie. He has the more accurate cross.
Another advantage of v. Persie on the left is that he always seems to work well together with v.d. Vaart, especially in tight spaces. Similar logic applies to Sneijder and Robben on the right (see WC2010).
Van Persie doesn't stand out as striker in Oranje because he is getting crowded by an entire defence and basically just creating space for others. Throw Huntelaar in the mix, and a lot more space will open up to the benefit of v. Persie as well as the attackers behind.
V. Bommel as center defense is wishful thinking, but I really do hope it happens. For pure killing in the midfield of the opposition's attack, de Jong is the best choice.
With v.d.Vaart and Sneijder in mid, you have enough players there who can build up play. Better to put v. Bommel back a line so you have another there as well.
Pieters, v.d. Wiel, and Afellay will all be ready when the time comes. I have no worries about them.

Paul,you sound like you are watching dutch football only for the past 10 years. Because those 2 could be the best dutch players in the past 10 years.
What about Van Basten,Bergkamp,Gullit,van Hanegem…
For me,no player will ever be better than Cruijff.
There will be more golden ages after this like there were before this. The youngsters will step up,I believe that.

Check out the 98 Wc line-ups, see how long it took for Hiddink to finally cave in to the demand to play (/start) Bergkamp and Kluivert together (possibly causing them to not be perfectly synchronized by the time we faced Brazil).
Especially note the difficulty we had against Yugoslavia with only Bergkamp. Then check out what we did against Yugoslavia 2 years later with Bergkamp+Kluivert.
I hope Bert is a little bit quicker in understanding.
Hunter will brake Kuivert's record if Bert allows it and we will all love vPersie for it as we loved vBasten (Gullit than becoming Hunter).
Posted from
Netherlands

Hunter belongs to Rưud or Gerd Muller type of player. Van Persie belongs to Bergkamp and Van Basten type of player. The second goal of Van Persie vs Liverpool reminded me of a goal he scored for Oranje and Afellay was the one who made the pass (I can't remember it was a friendly or a Euro12 qualification game). I'm with OranjeAussie on the front 4. Kuyt can be a sub or even a defensive mid. We need them all, but has to find the right mix that win game for Oranje.
Posted from
Canada

David Winner, the author of Brilliant Orange, says it best when he says, as great a player that Cruijff was, he is now widely hated and has left a wake of destruction everywhere he goes. To be honest, I admire his skills and attitude about certain things but I am waiting for the moment that he walks out on Ajax.
Great players as coaches/team administrators don't always make or create a great team.
A bit off topic.. i know
Posted from
Canada

>the author of Brilliant Orange,
Good book, a must read … including the point that you just made.
Posted from
United States

Jason, I have not read the book but I disagree what being said about Cruijff. He had success with Ajax as a coach. He laid the foundation for Barca and had success there. Let's wait and see what he can do for Ajax this time.
Oranje will beat Denmark, tie Germany and beat Portugal to the way to 2nd Euro title.
Posted from
Canada

ask Pepe about JC's value
Btw, RVP couldn't have been MOTM. He only scored two goals and was invisible for a long period. I think the Polish goalie was the hero.
Thanks for the Urby update.

Beautiful goals from Maher and Drenthe today as well!

I meant, ask PEP!!! Not Pepe
Bloody edit button!!!

Sol, the reason why Bergkamp and Kluivert did not play together more in the 1998 Wc is because Kluivert was stupidly sent off during the first game against Belgium. He and Bergkamp started that game but Hiddink was forced to make changes until after the round of 16 ie the game against Yougoslavia. Kluivert came back for the Argentina game.

no Bergkamp in the starting line-up against Belgium, he came on way too late in the 69th minute, they played 15 minutes together (you want Bert to make the same mistake? Bringing Hunter or vPersie only in the 2nd half).
1 game suspension is no excuse not to use them together in the 3rd (Mexico) and 4th (Yugoslavia) matches (neither is it an excuse for missing the opportunity to get them more used to eachother before the WC even started).
Anyway, I guess you just meant to explain Hiddink's actions (disciplinary), I don't see you arguing that Bergkamp+Kluivert wasn't the strongest formation for us in those years, nor do I see you arguing that we could expect the same from Hunter (or vPersie, concerning the red card and directing his energy too much towards the opponent instead of the goal where Hunter and vPersie seem to direct it).
Nor do I see any objection against playing Hunter and vPersie together…(do you object?)
Posted from
Netherlands

http://www.mirrorfootball.co.uk/transfer-news/Exclusive-Bayern-Munich-Arjen-Robben-hints-at-making-Premier-League-return-alerting-Chelsea-Arsenal-and-Tottenham-article873961.html
http://www.dailymail.co.uk/sport/football/article-2109865/Arsenal-pay-Robin-van-Persie.html
Posted from
Bosnia And Herzegovina

AVB sacked at CSKA Chelsea

Kuyt is selfless and brings some physicality and a defensive mentality to the squad that van der vaart, sneijder, robben, etc. lack. He is happy to provide service to strikers. I think he has to play along with hunter and RVP. Bert does have a lot of options, and tough decisions, especially if Affelay gets fit.

On the topic of formations that would suit our best players – if we leave Robben aside for one moment (let's say he's injured, which would be a very likely scenario)
Wouldn't an Mourinho-era Inter Milan formation best suit our team? I'm referring to their 4-3-1-2 formation with a narrow midfield. You would have the same back 4, with a defensive midfield three of MvB/De Jong/Strootman. Or you could go with two of those and VDV in role linking with the attack. Sneijder plays as a pure no. 10 high up the pitch. Huntelaar as a finisher like Milito, and RvP as the more active striker like Eto'o.
As for Robben, he isn't just a traditional winger, he likes cutting inside from out wide (almost like Eto'o or Henry). I see no reason why he couldn't play as one of the two strikers, moving out wide and either cutting in, or drawing the defence wide for Sneijder to advance through the middle.
I realise this is a very un-Dutch formation, but it gives you both RvP and Huntelaar, Sneijder in his favoured role, and enough defensive cover in midfield. With 3 defensive midfielders, you can ask left and right ones to defend their side out wide, with the centre one dropping back to assist the 2 centre backs.
Posted from
Australia
Comments are closed