The Big Debate: Artist or Hitman?
March 2nd, 2012 | by: Jan |

Comments(91)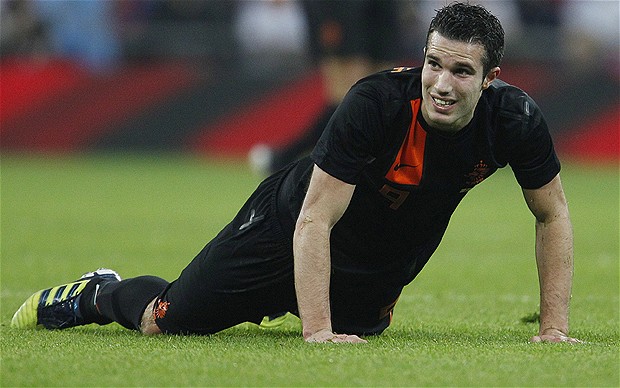 So, in Holland the Big Debate has started… Willem van Hanegem started in, I believe, when he talked about Van Persie in his columns some months back… How he loved seeing Robin being on fire at Arsenal, while at Oranje the likes of Robben and Sneijder seem to "forget" him and kill off the space by coming into Robin's zone instead of playing off of him… After the England game, the media ask the question: "who needs to start" and "can they start together"?
Schalke coach Huub Stevens is the first active coach to say: play them both! Forget 4-2-3-1…
Btw, this is what the Italian tv commentator things of Hoentelaar.
My personal opinion:
Change the system. Use them both. Sacrifice a defender. Put Strootman one line back in defense. And play dominant football in the final third. Although I do not criticise Van Marwijk for playing more result-oriented than coaches before him ( Note: I think he's still more adventurous than Advocaat), I do believe we can dominate more than we do.
It's silly to have Hunter on the bench as a pinch hitter. We have Luuk de Jong for that now. Who will be as good as Hunter.
We have Afellay for Van Persie.
John for Robben.
Van der Vaart for Sneijder.
We have no one for Kuyt though
.
But to underline the debate we will have, here's a column translated. As stated before, I don't necessarily agree with the author, but the question is valid…
Thanks Goose: column on Nu.nl by Thijs Zonneveld
Dear Mr Bert,
This can't go on much longer. I can see you struggle, game in game out. The sacks under your eyes are getting bigger, your hair gets more grey and the lines around your mouth are deeper…
I get you. The choice is tough. But it has to be done. Robin out, Klaas Jan in. It has to be done….
And I know: Robin is a better football player. He's an artist in a football shorts. He steals your heart because he can paint with his left foot. The goal against Spurs last week: frame it and hang it in a museum. The tender caress of the ball, it touches you deep inside. There should be a rule to count these goals double. But…that rule doesn't exist.
Football is a game of eleven against eleven and who scores most goals, wins. It doesn't matter if they're beauties or uglies or luckies. Scrimmage goals, toe pokes. Pinball deflections. Penalties. Own goals. They count as much as bycicle kicks, backheels or paintings. Football is about results. And we do have a striker who is all about delivering results. Klaas Jan Huntelaar.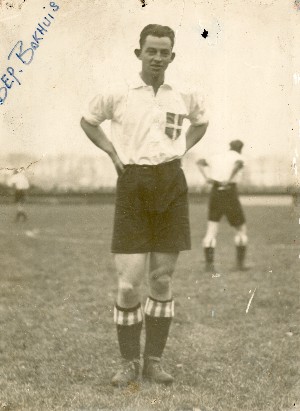 Bep Bakhuys
We have been talking about this a lot. The choice between the Artist and the Hitman.
In tv talkshows, in bars, in the dug-out….everyone has an opinion.
But we shouls stop talking about opinions. We should look at the hard facts. Even if Hunter is used as a sub, he's still more effective than Van Persie. He is actually the second to most effective player for Oranje ever. He scores every 93 minutes! That is basically one goal per game! Only Bep Bakhuys from way back when was more effective.
The difference between Robin and Klaas Jan is not in their feet, but in their heads.
Van Persie wants to play football. Huntelaar wants to score. We have a lot of players who can play football. We have many artists. But we need a striker who will strike the ball in the net, walks them in, deflects them in, wrestles them in or toepokes them in. A striker who will score the winner in the finals against Germany in the 93rd minute of the game. Ugly.
Robin van Persie as central striker, it simply doesn't work in Oranje. No matter how hard we want it. In South Africa, in the qualification games and in this friendly on Wembley. Huntelaar came on in the second half and was involved in two goals in 15 minutes.
When Kuyt's cross came, he knew: this ball will need to hit the net. He headed the ball home and headed himself a massive headache. If someone accepts three months of pain for a goal in a friendly deserves a starting spot. Hunter is hungry!
The concussion goal by Huntelaar is the final argument in this debate, Mr Bert. There is not way back. And Robin? We can still use him to paint a fabulous cross from the left?
Friendly Regards,
Thijs (the guy who will jump up and down like any other fan when it is Van Persie who curls the ball past the goalie into the top corner in the finals of the EC against Spain in the 93rd minute…)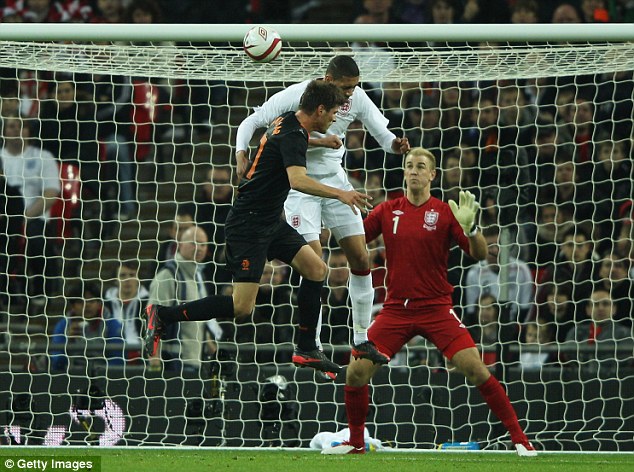 Subscribe

Netherlands World Cup Blog RSS Feed

Share
Comments are closed