The 1984 Drama…. Spain at it again!
March 4th, 2012 | by: Jan |

Comments(139)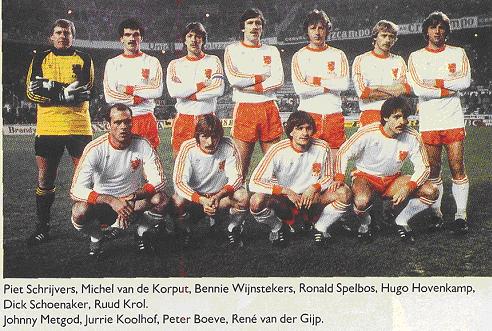 The Oranje team that lost away to Spain, 1-0.
After the abysmal 1980 EC and the horrible missing out on one of the best WC's ever (1982 Spain: who can't remember the Brazilian team, with Zico, Socrates, Falcao, Eder…or Yugoslavia's Safet Susic…or Scotland….or that chap Paolo Rossi??) it was time the Dutch changed their course. With old-hack Kees Rijvers as team manager and a number of young talents breaking through at their Dutch clubs, Holland tried to qualify for the France EC of 1984…
To refresh your memories…we didn't make that EC either…
Erwin Koeman looks back:
"Holland wasn't doing to good economically and the nation needed success on the football pitch. We were doing allright. The Ireland away match was one of those football-miracles. We were down 2-0 at halftime and Rijvers made three changes: Marco van Basten and Ruud Gullit came on and they turned the match around in the second half, we won 2-3. Now we needed to beat Spain at home. I was surprised I was part of the squad, and so were many fans. I made my transfer to PSV from FC Groningen, but while my younger bro Ronald was doing well at Ajax, I returned to FC Groningen after one season. I didn't play my best football in those days, but Rijvers had faith in me."
Rijvers also had his faith in some other youngsters. Like FC Groningen winger Bud Brocken, Ajax talent Gerald Vanenburg and Feyenoord up-and-comer Ruud Gullit. Erwin Koeman wasn't even full professional in those days. "Most players were, in those days. But I still delivered frozen snacks to restaurants in the morning. I started at 7 am and worked till 1 pm. I loved the job. Then I started training at 4 pm."
In those days, Rijvers also used some old hands like Willy van der Kerkhoff (the vacuum cleaner was his nickname), Ben "Mr Feyenoord" Wijnstekers and goalie Piet Schrijvers. "Ruud Gullit was only 21 years old, but such a personality. That charisma, we were 1-0 up when he just walked onto the pitch."
Feyenoord striker Peter Houtman scored the 1-0 against Spain, but Spanish legend Santillana equalized before half time. Ruud Gullit scored the 2-1 winner with a distance strike. "The Kuip exploded! What a football temple that is… Magnificent."
Oranje played with Piet Schrijvers on goal, Ronald Koeman and Edo Ophof as central defenders, Ben Wijnstekers as left-back and Peter Boeve as right back. Vanenburg and Erwin Koeman played on the flanks on midfield with Willy van der Kerkhof as holding midfielder. Bud Brocken was left winger, Ruud Gullit played on the right and Peter Houtman played central striker.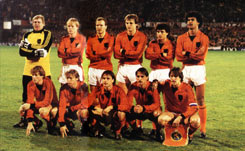 Nobody in Holland hesitated anymore… Oranje was qualified. Both nations had to battle Malta, but Oranje's goal-scoring balance was much much better than Spain's,so… Oranje won 5-0 against Malta, with two goals from a young Frank Rijkaard. This meant, Spain had to win with eleven (!) goals difference against Malta.
"We all know the story. Spain missed their first chance, a penalty. Malta even scored in the first half. It was 3-1 at half time, I believe. But in the second half, stuff dreams – or nightmares – are made off happened. It was horrible. In particular for the oldies, like Wijnstekers, Schoenaker and Schrijvers… We sort of came good four years later."
Note by editor: I'm pretty convinced the 12-1 was rigged. But I'm not sure if there's proof. I do know the Malta goalie got a fat contract at a Spanish club somewhere, but that is all I know… This could become a nice thread with more conspiracy stories
. Man… Argentina, Spain/Malta, now also Indonesia…. Before you know it some German tabloid will claim that Robben bought the victory over England to make Beckenbauer look bad.
But who needs to buy anything to achieve that
?
Piet Schrijvers is currently 69 years old.
Willy van der Kerkhof (58) owns and runs several businesses in the field of fine wine, relationship-marketing and a golf course.
Peter Houtman (52) is stadium speaker for Feyenoord and sports-journalist for Feyenoord TV.
Gerald Vanenburg (46) would like to get back into a manager's job.
Ruud Gullit (45) is tv analist.
Erwin Koeman (48) quit as Utrecht manager this season. He is currently taskforce member of FIFA.
Bud Brocken (52) is partner in a real estate agency in Tilburg.
Peter Boeve (52) is manager at First Division club FC Omniworld.
Edo Ophof (50) is the owner and CEO of a iron-factory.
Ben Wijnstekers (55) is Mr Feyenoord and hosts VIPs for the Rotterdam based club and organizes football-camps and -clinics.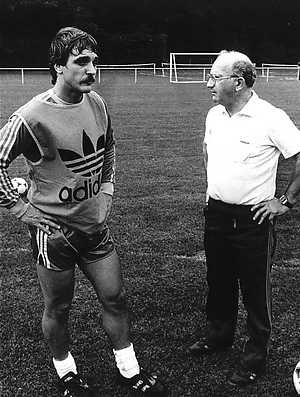 Subscribe

Netherlands World Cup Blog RSS Feed

Share
Comments are closed