Sublime Oranje puts Sweden in it's place: 4-1
October 13th, 2010 | by: Jan |

Comments(114)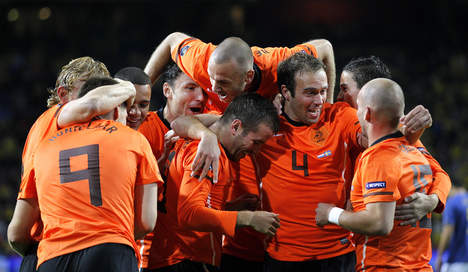 Amongst all the commotion surrounding Nigel de Jong, the players' annoyance re: the qualification renumerations and the new rift between the KNVB and Bayern Munich Oranje played football from another planet. As if all that venom is needed to rise to the occasion. Huntelaar and Afellay scored twice in the 4-1 victory which was a feast for the eye, at times. Within the hour, the visitors were shown "all the edges of the pitch" as the Dutch expression goes….
Oranje thus remains the proud leader of Group E. Sweden was the main contender in this group.
The Dutch team never even gave a little bit of an impression that it was overwhelmed by Bayern Munich's fierce words. Mark van Bommel played with the captain's band and he'll notice after he returns whether that band will be his in Munich as well.
Bert van Marwijk: "I think they overreacted. His knee was swollen as a result of an injury he copped in Bayern's colors. He could play with it, no worries. I think the stakes are high in Munich and they were a bit nervous."
It looked like all these pre-match shenanigans and the negative sneers of the Sweden players towards Holland ( calling the Dutch players dirty pigs) only motivated Oranje to play sensational and furious football. In particular Sneijder and Van der Vaart played with ball-magnets in their shoes. In the fourth minute Sneijder found Van der Vaart in his back who connected with Huntelaar: 1-0.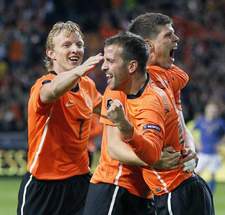 One minute later it Sneijder was close to the second goal. Holland dominated the game but was lucky when Toivonen missed alone before Stekelenburg.
Dirk Kuyt had to be replaced in the 28th minue, when he sprained his ankle after a heading duel. Arjen Robben, Robin van Persie and Eljero Elia weren't present so Jeremain Lens was the lucky boy. In the 37th minute, a throw in mistake by Safari led to Ibi Afellay's first Oranje goal: 2-0.
The Dutch team even humiliated Sweden in the openings phase of the second half. The home fans licked their fingers with a number of wonderful combinations. Huntelaar scored his second in the 56th minute after some step overs by Afellay and he scored his second goal three minutes later on a Huntelaar assist.
Groningen defender Grandquist did something back for Sweden in the 69th minute, 4-1. Van Marwijk decided to give a sign of peace to Munich and replaced Van Bommel. At that point in time, it was not longer a real match anymore.
Bert van Marwijk was highly satisfied after the 4-1 over Sweden. "It was better than great," he said. "But it wasn't that remarkable either. We play in a way we always want to, but the big difference with other game, for instance the Denmark game at the World Cup ( Van Marwijk compared Sweden with Denmark in the run up to the game) is that we scored an early goal. That always changes a lot. We never allowed Sweden a chance today and I'm happy with the mature way the players killed the game off. The players have a busy program ahead and I can only understand that they took the gas off in the last 30 minutes…"
Subscribe

Netherlands World Cup Blog RSS Feed

Share
Comments are closed