Sublime Oranje puts Sweden in it's place: 4-1
October 13th, 2010 | by: Jan |

Comments(114)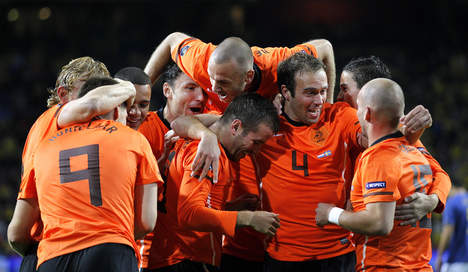 Amongst all the commotion surrounding Nigel de Jong, the players' annoyance re: the qualification renumerations and the new rift between the KNVB and Bayern Munich Oranje played football from another planet. As if all that venom is needed to rise to the occasion. Huntelaar and Afellay scored twice in the 4-1 victory which was a feast for the eye, at times. Within the hour, the visitors were shown "all the edges of the pitch" as the Dutch expression goes….
Oranje thus remains the proud leader of Group E. Sweden was the main contender in this group.
The Dutch team never even gave a little bit of an impression that it was overwhelmed by Bayern Munich's fierce words. Mark van Bommel played with the captain's band and he'll notice after he returns whether that band will be his in Munich as well.
Bert van Marwijk: "I think they overreacted. His knee was swollen as a result of an injury he copped in Bayern's colors. He could play with it, no worries. I think the stakes are high in Munich and they were a bit nervous."
It looked like all these pre-match shenanigans and the negative sneers of the Sweden players towards Holland ( calling the Dutch players dirty pigs) only motivated Oranje to play sensational and furious football. In particular Sneijder and Van der Vaart played with ball-magnets in their shoes. In the fourth minute Sneijder found Van der Vaart in his back who connected with Huntelaar: 1-0.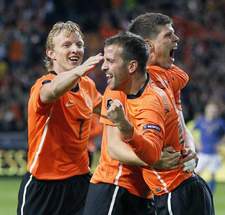 One minute later it Sneijder was close to the second goal. Holland dominated the game but was lucky when Toivonen missed alone before Stekelenburg.
Dirk Kuyt had to be replaced in the 28th minue, when he sprained his ankle after a heading duel. Arjen Robben, Robin van Persie and Eljero Elia weren't present so Jeremain Lens was the lucky boy. In the 37th minute, a throw in mistake by Safari led to Ibi Afellay's first Oranje goal: 2-0.
The Dutch team even humiliated Sweden in the openings phase of the second half. The home fans licked their fingers with a number of wonderful combinations. Huntelaar scored his second in the 56th minute after some step overs by Afellay and he scored his second goal three minutes later on a Huntelaar assist.
Groningen defender Grandquist did something back for Sweden in the 69th minute, 4-1. Van Marwijk decided to give a sign of peace to Munich and replaced Van Bommel. At that point in time, it was not longer a real match anymore.
Bert van Marwijk was highly satisfied after the 4-1 over Sweden. "It was better than great," he said. "But it wasn't that remarkable either. We play in a way we always want to, but the big difference with other game, for instance the Denmark game at the World Cup ( Van Marwijk compared Sweden with Denmark in the run up to the game) is that we scored an early goal. That always changes a lot. We never allowed Sweden a chance today and I'm happy with the mature way the players killed the game off. The players have a busy program ahead and I can only understand that they took the gas off in the last 30 minutes…"
Subscribe

Netherlands World Cup Blog RSS Feed

Share
Comments

@jalapinho next month we are playing turkey friendly

I think we should all think about the result for a second… this gamed reminded me of Euro 2008 when Oranje buried both Italy and France… and then sunk at the Russian feet… yes, i do agree playing with 1 holding midfielder is much more entertaining and can create many more goals… but what IF…. Oranje didn't score the 1-0 within 4 minutes…. and then Sweeden scored on the empty net of Stekelenberg…. Oranje would have been 0-1 and they would have been in deep trouble…
If you go back to the WC, not a single team had full chances against Oranje and most of the goals were from Penalties and half chances… (the 2 goals from Uruguay were an example…)
Attractive football got us to the quarter finals in Euro 2008(and we lost against a mediocre team)… unattractive football got us to the final of the WC (and we barely lost against a much better prepared team that plays the entire year together…)
Posted from
United States

@Wissam, good football always wins…only a few exceptions, we had a lesser day vs Russia and Russia had the best match of their lives, the team didn't play better after and never will. Those things happen, also, in 2008 the opponents France/Italy had a lot more chances but wasted a lot of them. We were lucky in 2008 and defensively not very strong….it was attractive but not good on every point. The match against Sweden and Moldova we had control, the opponents hardly got near our goal… and I think we've become defensively stronger in comparison to 2008. And should Douglas ever become Dutch, there is hardly any risk, he would be the lock on the door..if we have the ball and pressure, and play on the opponents half, then they can't score… in 2008 it just didn't fit.. The team is more experienced, consistent and stable than back then.. I really don't think De Jong was so much the key to succes, I actually thought he didn't play that well for at least a few of the matches. Tbh, I don't buy it, so many factors come into play. Look at Spain, they play with a lot of risk, put they pressure the opponent, they try to retain the ball, have good passing and movement, and keep control of the match in that way, if they lose it they try to lose it on the sides and work as a team to force the opponents to the outside and keep them from the goal..yet they won the world cup…and we lost to them, what is wisdom then…
We have the quality players that can keep the ball and overpower the opponent…why not try.. afraid?
Think about result, sure, we made it to the final, but who won?? We had more of a chance of scoring when VDV was on the field in the final rather than De Jong..if Robben would have scored the whole winning goal situation would have not happened…think about that..
Posted from
Netherlands

Spain made a choice and worked on the same concept football for 4 years..and it didn't do them any harm..
Posted from
Netherlands

i think VDV can play as a holding midfielder. the difference between EC 08 and now is just the experience that players like sneijder and VDV got from playing matches in the champions league and of course the WC. The are much more disciplined and the know how the coach wants to play and the put their ego aside. If you see the way VDV tackles in midfield and choosing the moments to go deep you know that it is an option.
Posted from
Netherlands

Spain is a complete with no weak/unbalanced side in it. Most of the players play with each other 40 to 50 games a year, much like the ajax team of 1994/1995. The current Oranje has a clear defeciency in defence and balance tilting heavily towards the Robben side. Defence lacks the ability for offensive build-up.
I really hope you're right, but I don't buy into Marco Van Basten's system… it cost us two 2nd round exists
Posted from
United States

Wissam, that's not true, Busquets is not that good, Puyol is getting very old, Piqué is highly rated but really, I don't find him such a worldbeater. Their defence strikes me as alright, but not world class.
BTW you are right that V.Basten cost us two tournaments..frankly V.Basten didn't have a clue what he was doing in 2006, and he really still wasn't really sure in 2008, he had no clue what to do vs Russia… I think V.Basten had different system, he played 4-3-3- for a long time and used Engelaar next to De Jong, I find V.d.Vaart-V.Bommel to be of a higher grade and they have a lot more experience than the holding pair in 08. I'm fairly certain it can be done. But my way or the defensive way, if you play Spain you can lose..either way, in my heart, I'd rather go down beautifully in a final than this way, but preferably I wouldn't go down at all… You never know, but whe played Spain the hard way and lost, should we meet then in the EC, then are we going to lay the same hard way or play like vs Sweden.. either way, I have no clue how we would do, could we outplay Spain…who knows, we didn't try..
Posted from
Netherlands

I am banking that we play Spain again in 2012… I don't see any other team emerging as a contender in Europe (except Germany). I also think that most Holland players would be in the 28-30 year old range in 2012… they would have the speed and moreover, the necessary experience to put the tournament to bed! Spain's Xavi would be 32 and Puyol would 72 years old (just a bit younger than Robben… Ehh Jean?). I've loved Dutch football too long and I deserve to be rewarded with a tournament. Heck, I'll even volunteer to run naked on the field to distract Iniesta if he gets a 1 on 1 chance against Stekelenberg…. haha
Posted from
United States

I don't want to meet Spain in the EC. If we would win, I'd feel even more robbed out of a WC than I feel now. It's like the victory comes 2 years too late then. I really hope that if we have to face Spain again, it will be at a WC cause otherwise I just won't want to win.
I'm not even sure I want to win the EC, perhaps as long as we don't face Spain, than I'm fine with it. Otherwise I'd just feel really crappy about winning that one but not the WC.
Posted from
Netherlands

ahhh the pain and disappointment of the losses…
here's how I rate my pain to the losses:
To be honest, the WC loss didn't really bother me much… because we lost to a very competent and ready team…. the loss that hurts me most is the loss to Portugal in 2006… the Karate game… and how Robben was kicked in the chest in front of goal and no penalty was given…
Euro 2008 loss against Russia was pretty painful as well… as we lost to an underdog…
Euro 2000 loss against Italy with 2 missed penalties within regulation…
WC 1998 loss to Brasil on Penalties…
Posted from
United States

What really changed my mind on VdV was how he robbed and won the ball on countless occasions in defence, especially against Ibra. It was fair and smart tackling and then he has a killer pass too, like Sneijder he was everywhere. Next to Bommel or in future deJong this would work fine.
Posted from
Singapore

Well
Alex he was astonishingly bad!
Posted from
Bosnia And Herzegovina

and we need to be calling up krul, drenthe, beerens and biseswar for the 23 man squad in march for sure! cmon velthuizen is third choice for hercules..krul is 1st choice for newcastle…hello mr marwijk???
Posted from
Bosnia And Herzegovina

Huntelaar scored the equalizing goal against Stuttgart in the 80th min on a Penalty, and VdV is playing a good game, as Tottenham are beating Fulham 2-1.
Posted from
United States

Srinjoy, with all respect, for me it look like you have gone mad. Have you seen the blunders Krul made for U-21, and he and Drenthe are the only ones i would even consider calling cause Biseswar is reserve for a very poor Feyenoord and Beerens isn't exactly playing like he's the Messi of the Eredivisie and we should call them up??? I have no idea why we should do that…If you want to call up other players, I would say Drenthe and De Guzman and maybe Krul, but the other ones don't make much sense to me.
I actually do think Drenthe could grow to be a class player, if he calms down a bit, he could be the next top class winger for us in a year or two if he develops.
Posted from
Netherlands

BTW Douglas=Brilliant, I'm watching Feyenoord Twente no and my God, why would anyone not want this guy in our national team, he really has it all, plus extendable legs xD I would give him a passport immidiately.
Posted from
Netherlands

Wissam, we started the game against Russia with 2 def.midfielders (see Alex comment as well), then tried to add more offensive creativity AFTER we came behind by exchanging Engelaar for Affelay. It didn't work because it was too late (and Affelay was not ready/capable to make an impact), we should have probably started that match with vPersie and Affelay from the start, so we could have achieved the same as against Sweden, dominate with our offensive creativity.
In essence, it was a copy of the WC-final against Spain, except against Spain their goal came later, so we didn't have time to equalize anymore.
You cannot use the Russia game as an example to defend the 2 def.midfielder theory (both being defensive in their style, Engelaar and de Jong), since that's exactly what we played up until the 60th minute and lost with. We came back in that game by using 1 def.midfielder and 1 creative/offensive. We probably never would have gone behind if we had started the right way, or already be 1 or 2-0 up when the Russians scored, just like we were up against the Swedes when they scored. Conclusion, we're not good at playing for the 0 (shutout) as Italy was.
Nothing wrong with the 4-2-3-1, but it just shows again that it's best to START the game with your most creative players and not try to fix a match after you're already gotten yourself into trouble by playing a more reactive style instead of a proactive style.
I believe proactive is better against teams like Spain. I believe Spain is most vulnerable in the back, just as we are (were perhaps?). To me Ramos was about as weak defensively as vBronckhorst was. And Puyol isn't so great when the referee is actually doing his job unbiased.
I prefer the reactive style against teams like France and Italy (especially in 2008), because they didn't like to be forced to play proactive, an early lead helped a lot of course.
Posted from
Netherlands

"could we outplay Spain…who knows, we didn't try.."
EXACTLY my thought as well, we didn't try. At least not until it was already too late. And for me, that includes starting with Kuyt as an attacker, basicly giving up one wing. It didn't work for Bayern against Inter with Altintop when they were missing Ribery either. And we weren't even missing Elia. Bayern was forced to give up one wing for a player that works hard and can retain balls and is physicly strong. We did it voluntarily.
Posted from
Netherlands

Because we were afraid of how much Spain could hurt us on the left side. It was fear that led us to play with 2 def.midf. + Kuyt to strengthen the left defensively.
The goal came from that side. And I don't think a malfunctioning offside trap was the real cause. That's no time to be playing an offside trap anyway, way too dangerous. Bad marking is what I see as the cause. Braafheid should have been on top of him.
Posted from
Netherlands

But then again, Spain was always gonna score one way or the other. Cause we can't keep the 0 against teams like that. We should have been trying to score more ourselves and should have taken more risks to do so. That's how I feel about it.
Posted from
Netherlands

Alex, I agree with you about Douglas. I watched the game as well and he is immense. definitely top class international caliber. We must hurry to give it to him otherwise he will go the way Kalou did.
Really disappointed by Feyenoord. They have no bite at all and Castaignos is no Van Basten. The only one who impressed me was Cabral. Not sure why he does not play more.
Posted from
United States

@Jeff, Castaignos just turned 18, give him a break, he plays in a Feyenoord that doesn't have the pass. Put him in the strikers position in oranje with V.d.Vaart and Sneijder and he will look ten times better is my guess..
Posted from
Netherlands

Douglas will be great added value, i dont know if he will get the passport
He must have it before EC2012

Castaignos is a frequent scorer for the U-19's. that is his level now, in a year or 2 he'll be up to U-21 I think and from about 4 years from now, he'll begin to be near oranje. I think he'll be really good enough at 24-25, so in 2016/17 or something. Could be a few years earlier or later, or never, I don't know for sure of course.
Posted from
Netherlands

can't help it but i have to point this out. Huntelaar is on a 8 game goal scoring streak and going (in all competitions). thats 9 goals in his last 8 games. i hope i didn't jinx him….
saw the Ajax and NAC game and was kind of dissappointed Blind didn't get subbed in after Ajax were up 3-0 during the second half. Meanwhile, Jozefzoon did get to play but didn't get a chance to do much as he was subbed in the 84th minute.
Comments are closed