Sensational Party for Oranje in Amsterdam
July 14th, 2010 | by: Jan |

Comments(185)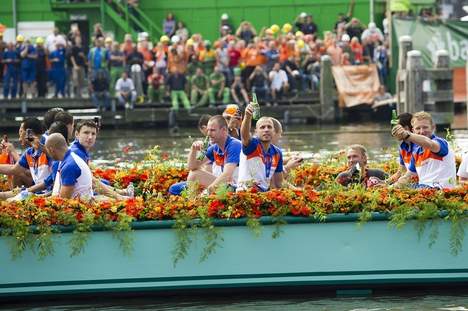 The Dutch team was celebrated on the Museumplein in Amsterdam, cheered on by 100.000s of fans in orange. The players spent half an hour with them and appeared to be more joyous than the fans, at times.
The Square exploded when Edwin Evers introduced Oranje's skipper Gio van Bronckhorst who introduced the team to the 200.000 people on the square. Maarten Stekelenburg and Wesley Sneijder received the biggest applause but the loudest cheers were unmistakably for coach Bert van Marwijk. The team manager made a deep bow: "I make a deep deep bow for you, the fans, and would like to thank you deeply."

The classic "Bloed, zweet en tranen" (Blood, sweat and tears) of the late Andre Hazes came through the PA, after which DJ Armin van Buuren took control.
Sitting on Kuyt's shoulders (!), Wesley Sneijder overlooked the massive gathering of fans on the Museumplein, while van Marwijk quiped: "We heard about the vibe in Holland in South Africa but didn't know or expect anything like this."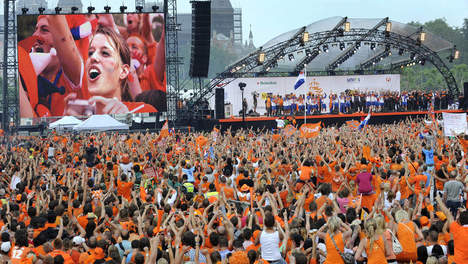 Arjen Robben: "Spain may be the world champions, but we have the best supporters of the world!".
Sylvie van der Vaart told the cameras that she needed to console her husband big time after the finals. "First because he was heartbroken and empty and later because he had drunk too much. But for this one time, I didn't care…"
Oranje also did a boat tour through the canals. 100.000s stood along the route with flags, torches, balloons and what not. Dozens of fans jumped in the festy waters to get a better glimpse of their heroes.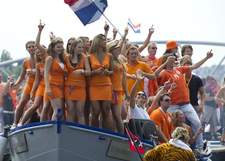 There were dozens of little boats with fans, all in shining orange and people went out of their heads whenever the players passed by. Robin van Persie: "Man, I was depressed after the finals. I thought I could never shake the feeling but seeing this…. The feeling our whole nation is as one… This really changes things around… I'm feeling much better. Somehow, we did win something. This legion of fans is just too good…."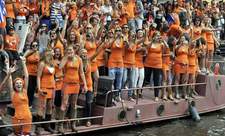 Bert van Marwijk received a special recommendation (lintje) from the Queen: "I know the coverage of the 1988 team and all that, but this is sensational. I normally am not that impressed with knight hoods and all that but this one is very special. Queen Beatrix was fantastic. We spoke for quite a while. But….I'm empty now. I just want to go home."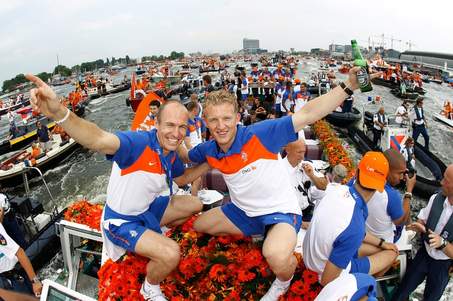 Dirk Kuyt is proud. "It seems as if they painted Amsterdam orange. I cherish these times. In those six weeks, the group was in some sort of tunnel together and grew very close. We need to keep that feeling going."
Gio van Bronckhorst: " I still wish we would have won that cup, haha… But we will enjoy this anyhow."
The Oranje skipper also got a knighthood. The World Cup finals was his last game as pro player.
"It was really cool to meet the Queen. And now we will enjoy and digest the loss. I'll put my knighthood safely away now…"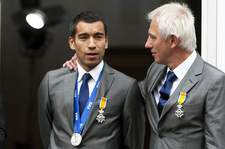 Bert van Marwijk commented on the international response to Holland's game in the finals. "I deeply regret the image we suddenly received, being a dirty team. I don't think it suits the team and it definitely doesn't suit me… I haven't seen the finals again on telly, but I will. I have seen that there were some unfortunate incidents but I didn't think it was extreme. I don't want to brush it away though. I simply need to study it first. The number of yellows had also to do with the referee. I still believe at least 4 yellows and John's red were unjustly given."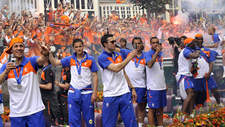 Van Marwijk was surprised with criticism from certain corners (Cruyff?). "I was surprised to hear that. We got compliments from most before the finals. I think this team played highly disciplined and focused."
Mark van Bommel can't agree with the negative comments. "I haven't read any myself, but it was a tough game from both sides. I haven't heard the Spanish players – and I know some of them very well – complain to me. The Spanish copped cards as well and could have received a red too. I don't care really. You can focus on the negative or the positive, you know. "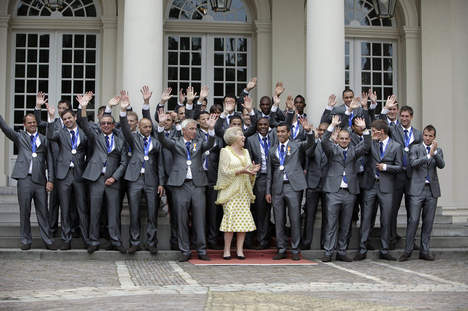 Prime minister Balkenende: "We need to assess this team on their whole cup performance, not on one game or one instance. This was a tremendous achievement and they do know this all over the globe. If we'd won it, no one would have talked about it. This was a real team, with power. We didn't have that for a while."
Mark van Bommel: "I didn't want these celebrations, to be honest. My feeling has changed though, with the impact I see among the fans." He didn't see the game back on video…. "I will…but I need to clear up my mind. The ref had a bad day, I'd say, but we all made mistakes. We should have scored, really…"
Arjen Robben: "I have thought about my chances many times. Many many times and it hurts missing such an opportunity in the finals. But then again, I simply need to be grateful that I was able to play…"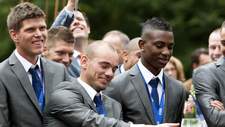 Van Marwijk: "This celebration will aid us in processing our loss. Really, we were so close. We could have won it…." Asked about the European Cup in 2012: "I'm sorry, I haven't though about that at all!".
Prime Minister Balkenende gave a presentation. "This Holland was a team in balance. A strong team, both mentally and physically. It was a tight and harmonious unit. Discplined. On a mission, with resilience, power and confidence."
"I think Oranje is an inspiration. Our mentality brought us very far and this is a huge compliment to the players and the staff. Oranje was one, but our nation was one too."
Minister of Sport Ab Klink gave the knighthoods and praised Bert van Marwijk as a superb people-manager.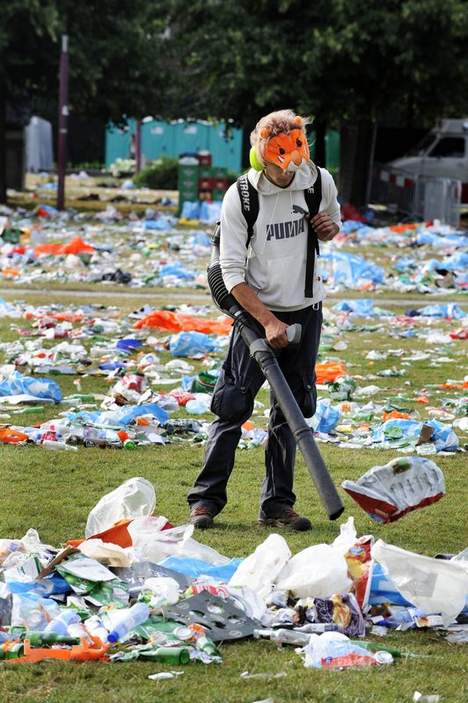 Subscribe

Netherlands World Cup Blog RSS Feed

Share
Comments

The real trolls in this blogs are those who honestly think Holland were unlucky and that Van Bommel and Dejong really didn't mean to do what they did, they were just unlucky.
Posted from
Australia

We are now known as "The clogs of War"
http://www.telegraph.co.uk/sport/football/world-cup-2010/teams/spain/7889836/World-Cup-2010-Spains-Andres-Iniesta-bears-the-scars-from-Hollands-clogs-of-war.html
Posted from
Australia

http://www.telegraph.co.uk/sport/football/world-cup-2010/teams/spain/7889836/World-Cup-2010-Spains-Andres-Iniesta-bears-the-scars-from-Hollands-clogs-of-war.html
Posted from
Australia

@Gerard,
are you then implying that i am a real blog troll for honestly thinking dejong was unlucky in the alonso challenge? actually dont bother answering that one on my behalf cause i dont really care, i read here everyday and love it, but if you happened to be thinking 'yes Steve, you are a real holland blog troll', then maybe you can answer some of my questions above with your opinion?
if you can grace me only because i am curious…
maybe iniesta hurt his knees skidding them on his dives? rugburn style. (sorry, dont worry buddy just joking)
haha, did you see that other link on the one you posted "World Cup final: Holland versus Spain turns into Shaolin Soccer – in pictures"… i guess if we go by that spain had 4 fouls to our 3.
do you then think that dejong and vanbommel were trying to hurt or injure spain players on purpose?
that dejong set out to put his studs into alonso's chest? of course it was horrible, i do not argue that, you may understand the only reason why i feel he is unlucky – i play D and i have made bad challenges before but NEVER on purpose and well, he also said he didnt do it on purpose (yea i know, who would admit to that).
dont worry, i hope you dont think that i believe this means i am trying to excuse either of them.
and i am sure no one likes to see people get hurt or play dirty, dare i say including the only 2 players in question.
i do agree with you, though, that it is sad we are being called dirty dutch.
i dont think we're ugly losers though, 2nd best in the world isnt so bad i suppose.
moving forward, i would rather see us move to just 1 holding mid instead of the 2 and rvp anywhere but the one and only striker.
i wonder how BVM feels it went wrong… anyways, i am going to have a toke then sleep.
peace
Posted from
Canada

hear hear Steve…
No way the De Jong Karate Kick was deliberate. No way.

And as for legs and feet, the Dutch legs and feet will look similar to Iniesta's. I'm not impressed. You should see Beckham's feet. He looks like Frankenstein's monster….

Ballacks manager apparently said that Germant plays so nice because of the high number of gay players on the team….

Marwijk is doing a fine job, but maybe after he leaves Cruyff can take over. He has apparently been sacked by Barcelona from whatever position he held there.
Posted from
India

Carlos: pep guardiola is a very good idea
yesterday he signed for 1 more year,but i'm sure sooner or later he will go to coach a national team. but does he know enough dutch football? i mean now,and not in the past – one thing is sure,he knows pretty well fdb and philip cocu?
on iniesta – i'll always defend him,because i watch almost every barca game and he's definitely not a natural born diver. andres and leo are tackled the most,he's quite often injured,and this year his injuries costed barca the champions'league. when heitinga was redcarded,slight contact was made,and iniesta overreacted. in my opinion it wasn't a redcard,but after all the nasty tackles he had received (mainly from van bommel) i understand,he overreacted some of them. i defend de jong because in my opinion his kick wasn't intentional,but the first van bommel tackle (and the others) on iniesta were,so he should have been sent off (after the second or third tackle). i appreciated when iniesta reacted angrily to van bommel (who also overreacted this agression). he's the only one butcher in oranje (i remember pretty well one his other butcheries,1 and a half year ago when he elbowed messi,an ex teammate),and in the future i don't want to see him in the team. kuyt should have been the holding midfielder – he works like hell and is a real sportsman,doesn't commit nasty fouls. the tactics will be better with only one holding midfielder,the team will play more creative and attractive football.
btw,i wonder if Tiju will bash as much robben in the coming years as he has done with kuijt
his missed chance(s) was/were much more important than kuyt's chance 4 years ago…
lot of people say spain play like barcelona. yes and no. spain play tiki-taka,but in a more secure,less direct and more boring way. they don't take risk,barca do. spain play 4-2-3-1,barca play 4-3-3. there is one more,quite important difference: lionel messi.

cruijff will never coach any team. he's the coach of catalunya but this a team who plays one charity game each year – he does it for fun,it's not a real job. his health is not good enough for seriously coaching a team.

@Ferenc buddy bashing Roben???????he has won so many important matches for us so does Persie,znijder,vaart, etc as creative players.Roben should have dribbled casillas also,why coz he is capable of dribbling casillas.We played better game against portugal and we were the lesser team against Spain.When we consider Roben's contributions is crucial matches we can forgive him for that miss.But he behaves like an a@#hole along with Bommel.
i think znijder and Roben are still selfish,Persie was victim of the selfishness of these two.
Conclusion
I hate kuyt's nonskills and Roben's,Bommel's attitude.But i love Skills of Roben and the attitude of kuyt..end of the story..
Posted from
India

Either robben wasn't in a good form or no luck, he missed about 4 one on one during this tournament, incl 2 in the final.
Posted from
Australia

I think Robben is not good in one on one situation. He needs difficult angle to score, like he did against MU or againts France in Euro 2008.
Posted from
Indonesia

Doesn't really matter to me whether those fouls were deliberate or accidental. If they were deliberate – well that's just thuggy, and ewwwwwwwww. And if they were accidental it reminds me of the kid on the playground who wasn't very skilful but pushed people out the way.
Still, they were fouls. Bottom line, these guys are professionals and this is their day job. They should be more careful at work. Whether or not you want to blame the Spanish or the referee, they still got 9 freaking yellow cards and 1 red. Which is crap.
This isn't the first time this group have had discipline problems, remember the match against Portugal, the 'Battle of Nuremburg'. I don't mind us playing 'boring' football but I dislike us playing 'dirty' football.
It's funny how fouls have come to dominate world finals. All I can remember from the one before last is Zidane's headbutt. From this final all people will remember will be that slomo of that kick to the chest by De Jong.

Cruijff never stepped up for oranje, not when he played a final himself and not as a coach. Yet he always has something to say. It's time he started realizing where his real home is. Barca are more and more falling into the same ways as Real unfortunately, Cruijff was dumped as honourary pres and the spending sprees have reached Barcelona. Time for JC to come down from his crumbling ivory tower.
BTW Why are people even responding to these buttholes from europe's most divided country. Karma is a bitch, just celebrating isn't enough apparently, taunting, childish remarks seem to be the only way they can express the feeling of reaching beyond the 4th match of a tournament for the second time since the 60's. This kind of behaviour only provokes mayhem and bad luck. I forsee Iniesta breaking his leg in two places next year and Torres quitting football because of constant injuries. BTW Puyol retiring, Capdevila?? retiring, Xavi over 30. This team is about to go over the hill and if Busquets, Pique and Ramos have to lead the way, you know it's gonna go bad. That's how little sportsmanship the filthy roja have shown, and it'll come back to haunt them. That disgraceful attitude is gonna get them new enemies like this.
Posted from
Netherlands

Guys: Forget Cruyff. The guy's football experience is grounded in the 70s–35 or more years ago! The game is not the same. Van Marwijk has done a FANTASTIC job–I like everything about the man, and he just nearly won the cup when virtually nobody (outside of us!) expected that to happen. I personally liked the fact that the Dutch did lots more this time than just impress the fans for two games before losing. If the attack can be polished and improved–more playmaking in the middle, figure out the left wing, get van Persie more space–this team will be formdidable again at the next Euro title.
Here's my big idea: Put Kuyt or van der Vaart in de Jong's position. I think Kuyt would make a great holding midfielder–he's got some size, very responsible defensively, and most important, he got offensive skills and instincts to go with his defense. He will move the ball forward–and be creative. What to do with van der vaart? I'm not sure: it's clear his best position by far is Sneijder's position–this is the problem. We need his playmaking, but he's clearly not a winger,and he would not make an ideal holding midfielder either. What we gained in attack we might lose defensively, which is why I think moving Kuyt into de Jong position would be genius.

Cruyff's a DOUCHE. How on earth could the living symbol of Holland's highly revered football find only bitter words and criticism for his own nation? Yeah, I would have way rather seen the likes of Wim Jonk and Cocu and Davids running that midfield – with Berkamp in place of an out of form V. Persie .. maybe even a 25 year old Kluivert and Overmars in top form – jesus he could run like a car… and some blonder defenders BUT HEY – a good coach make's the best squad with what he's got and 25 games unbeaten & second in the world is pretty damn impressive. People are retarded when it comes to judging games cause they always judge them on the basis of viewing. When you are inside of them there's a certain way you want to play with certain players. So you suddenly have 2 thugs on the field that happen to out perform others in trainings .. do you want them to try and be zidane or do you want them to channel their Vinnie Jones?? I'm just fucking around now, but jesus H… you can't hate on the small country that revolutionized football – and though receiving ample respect for years – hasn't really earned what they want themselves.. They deserve a cup, and they'll get it someday . for shizzle
Posted from
Australia

With all due respect, as much as I disagree with Cruyff's statements, he is entitled to voice them. He is also a Dutch legend, and deserves respect from the fans.
May not always agree with what he says, but I will always respect him to the day I go into my grave. Johan Cruyff has done more to elevate the sport of football to the masses than any other person on the planet. For that I am grateful, and for the same reason we need to show him respect. He earned it.
Johan Cruyff didn't make us lose the final, and he didn't win it for us either. It goes both ways. But he deserves respect.

I was on celebrate in Amsterdam and was so nice!!!!! For me Holland team from always is the best now and forever!!!!! –>GDANSK -IWONA- VENLO<– LOVE HOLLAND TEAM!!!!

@Finn: well said,i cannot agree more on johan cruijff – ha was,he is and he will be my football god until i die. everything i love in football was made great by him: ajax,barca,oranje

you are the real champions.

This isn't the first time this group have had discipline problems, remember the match against Portugal, the 'Battle of Nuremburg'.
Sorry, that battle was more Portugal's than our making.
Posted from
India

Bert van Marwijk commented on the international response to Holland's game in the finals. "I deeply regret the image we suddenly received, being a dirty team. I don't think it suits the team and it definitely doesn't suit me… I haven't seen the finals again on telly, but I will. I have seen that there were some unfortunate incidents but I didn't think it was extreme. I don't want to brush it away though. I simply need to study it first. The number of yellows had also to do with the referee. I still believe at least 4 yellows and John's red were unjustly given." Yes , it is the man should done not like Mrs Johana Cruyff did in the newspaper or Blog. I accept what happen in the final made some people not happy with Oranje to be the Enemy and clear Spain situation to hero but the final is over and the lesion in WC2010 should be looked back to find what things are good ,other are not ? And commit in the future , not do like that again to prove the men are progress. In the finally,not do like Johana Cruyff
Posted from
Thailand

I think Cruyff deserves a bit more respect. He is allowed to think for himself and state his opinion. If you don't like his opinion attack the opinion and not the person as some here seem to be doing.

Alex and Steve, pals, I hope ypou eventually did spit those sour, sour grapes over there. Guys, don't you see the world is upset because the memory of one the all time best football sides being stained by the current management and philosophy?
Cruyff is a jewel you gave to the football world. Just because Spain picked him up and now they play like Holland should there's no need to resort to attacking him now.
Comments are closed