Sensational Party for Oranje in Amsterdam
July 14th, 2010 | by: Jan |

Comments(185)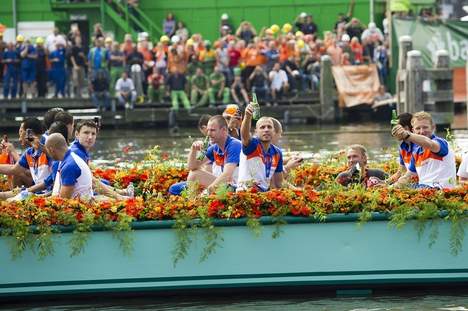 The Dutch team was celebrated on the Museumplein in Amsterdam, cheered on by 100.000s of fans in orange. The players spent half an hour with them and appeared to be more joyous than the fans, at times.
The Square exploded when Edwin Evers introduced Oranje's skipper Gio van Bronckhorst who introduced the team to the 200.000 people on the square. Maarten Stekelenburg and Wesley Sneijder received the biggest applause but the loudest cheers were unmistakably for coach Bert van Marwijk. The team manager made a deep bow: "I make a deep deep bow for you, the fans, and would like to thank you deeply."

The classic "Bloed, zweet en tranen" (Blood, sweat and tears) of the late Andre Hazes came through the PA, after which DJ Armin van Buuren took control.
Sitting on Kuyt's shoulders (!), Wesley Sneijder overlooked the massive gathering of fans on the Museumplein, while van Marwijk quiped: "We heard about the vibe in Holland in South Africa but didn't know or expect anything like this."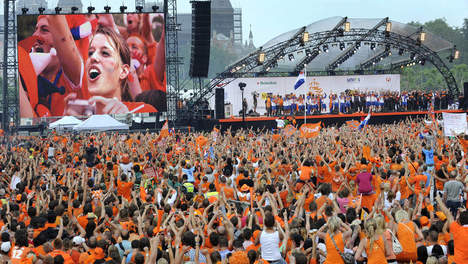 Arjen Robben: "Spain may be the world champions, but we have the best supporters of the world!".
Sylvie van der Vaart told the cameras that she needed to console her husband big time after the finals. "First because he was heartbroken and empty and later because he had drunk too much. But for this one time, I didn't care…"
Oranje also did a boat tour through the canals. 100.000s stood along the route with flags, torches, balloons and what not. Dozens of fans jumped in the festy waters to get a better glimpse of their heroes.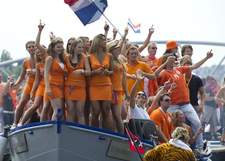 There were dozens of little boats with fans, all in shining orange and people went out of their heads whenever the players passed by. Robin van Persie: "Man, I was depressed after the finals. I thought I could never shake the feeling but seeing this…. The feeling our whole nation is as one… This really changes things around… I'm feeling much better. Somehow, we did win something. This legion of fans is just too good…."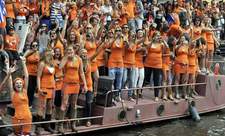 Bert van Marwijk received a special recommendation (lintje) from the Queen: "I know the coverage of the 1988 team and all that, but this is sensational. I normally am not that impressed with knight hoods and all that but this one is very special. Queen Beatrix was fantastic. We spoke for quite a while. But….I'm empty now. I just want to go home."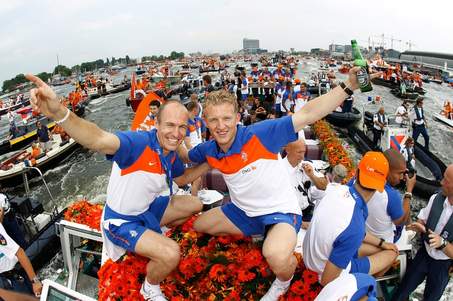 Dirk Kuyt is proud. "It seems as if they painted Amsterdam orange. I cherish these times. In those six weeks, the group was in some sort of tunnel together and grew very close. We need to keep that feeling going."
Gio van Bronckhorst: " I still wish we would have won that cup, haha… But we will enjoy this anyhow."
The Oranje skipper also got a knighthood. The World Cup finals was his last game as pro player.
"It was really cool to meet the Queen. And now we will enjoy and digest the loss. I'll put my knighthood safely away now…"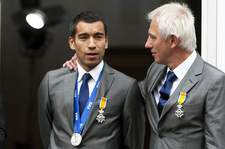 Bert van Marwijk commented on the international response to Holland's game in the finals. "I deeply regret the image we suddenly received, being a dirty team. I don't think it suits the team and it definitely doesn't suit me… I haven't seen the finals again on telly, but I will. I have seen that there were some unfortunate incidents but I didn't think it was extreme. I don't want to brush it away though. I simply need to study it first. The number of yellows had also to do with the referee. I still believe at least 4 yellows and John's red were unjustly given."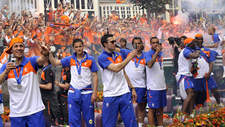 Van Marwijk was surprised with criticism from certain corners (Cruyff?). "I was surprised to hear that. We got compliments from most before the finals. I think this team played highly disciplined and focused."
Mark van Bommel can't agree with the negative comments. "I haven't read any myself, but it was a tough game from both sides. I haven't heard the Spanish players – and I know some of them very well – complain to me. The Spanish copped cards as well and could have received a red too. I don't care really. You can focus on the negative or the positive, you know. "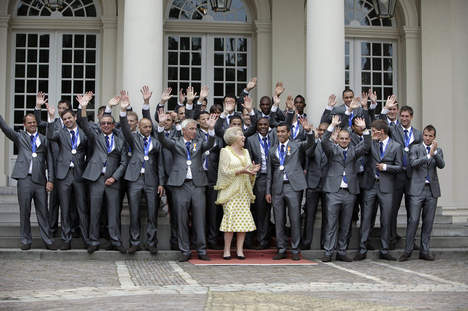 Prime minister Balkenende: "We need to assess this team on their whole cup performance, not on one game or one instance. This was a tremendous achievement and they do know this all over the globe. If we'd won it, no one would have talked about it. This was a real team, with power. We didn't have that for a while."
Mark van Bommel: "I didn't want these celebrations, to be honest. My feeling has changed though, with the impact I see among the fans." He didn't see the game back on video…. "I will…but I need to clear up my mind. The ref had a bad day, I'd say, but we all made mistakes. We should have scored, really…"
Arjen Robben: "I have thought about my chances many times. Many many times and it hurts missing such an opportunity in the finals. But then again, I simply need to be grateful that I was able to play…"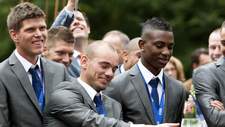 Van Marwijk: "This celebration will aid us in processing our loss. Really, we were so close. We could have won it…." Asked about the European Cup in 2012: "I'm sorry, I haven't though about that at all!".
Prime Minister Balkenende gave a presentation. "This Holland was a team in balance. A strong team, both mentally and physically. It was a tight and harmonious unit. Discplined. On a mission, with resilience, power and confidence."
"I think Oranje is an inspiration. Our mentality brought us very far and this is a huge compliment to the players and the staff. Oranje was one, but our nation was one too."
Minister of Sport Ab Klink gave the knighthoods and praised Bert van Marwijk as a superb people-manager.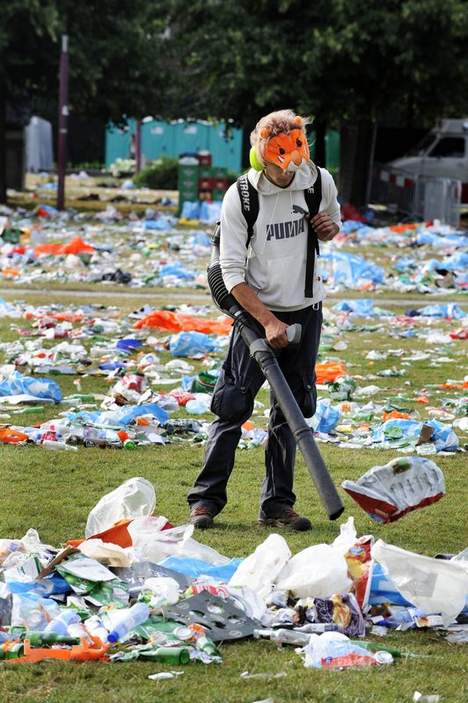 Subscribe

Netherlands World Cup Blog RSS Feed

Share
Comments are closed