Ronald Koeman: I want to finish the job at Feyenoord…
February 26th, 2012 | by: Jan |

Comments(59)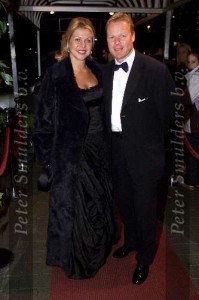 Ronald and Bartina Koeman….
He was tremendously respected as a player. For Ajax, PSV, Barcelona, Oranje, Feyenoord… But as a coach, many lost that respect. He wanted to be the new Barca coach. He complained that Ajax was too ambitious. He took the train to Valencia when he was at PSV and he made a mess of things in Spain.
But at Feyenoord, it seems there is a different Koeman at work. Humble. Devoid of arrogance. Still focused on winning, but also very content to see his young team develop and learn.
You hoped you were the coach at Barca by now, but you are "merely" the coach at Feyenoord?
"I approached this trade as a player. I wanted to win win win. Reach the highest. I never really appreciated where I was, I always wanted more. But as a coach, it didn't serve me. I can see that now. I am now happy. You say "merely" Feyenoord, but I'm totally exhilarated being here. And it's not only the winning that makes me happy. I count my blessings."
Your wife was diagnosed with cancer. How does a man who is used to winning cope with this?
"Exactly. Breast cancer. Your world stops man. All this…stuff.. is not important, suddenly. And when I look back, you can say we actually were given a gift. She is doing well now and I think as a family we grew stronger. For me, life was about the game on Sunday. Winning or losing. If we won, I was happy. If we lost, I was grumpy. Now, that whole concept changed. I was living a shallow life. I was happy to be on a sabbatical when this happened. I finally had time to process being fired at Valencia and at AZ."
Feyenoord wanted Louis van Gaal, who didn't seem to like the idea. Co Adriaanse was taken by Twente. Why did you do it?
"Feyenoord called at the right time. I was ready. My wife was healing well and I was ready to go back to work. And in that week, Martin van Geel called. We spoke and three days later it was a done deal. I notice I've become a different coach, through all of this. Less focused on the results, maybe. I'm more complete. I was over ambitious, when I mentioned I wanted the Barca job. That story haunted me for quite some time. I wanted it, of course and I know at Barcelona people wanted it too. So you think it will happen. By now, I know I can forget that job. My happiness lies in developing the youngster at Feyenoord. The here and now…"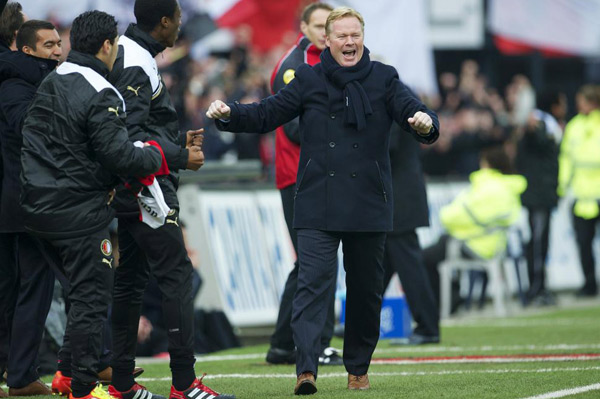 Gio as Koeman's assistant on the left…
Your exit at AZ was quite a black mark on your resume. Probably the worst.
"Of course! The most painful thing I ever had to experience as a coach. Ten times worse than the Valencia exit. Geez, AZ….a balanced club where they don't send coaches away like that. I still don't get it. My relationship with the players wasn't good, they said. Bullshit. I still get text messages from a number of them. The players enjoyed working with me, but now the outside world thinks it was a mess at AZ. It wasn't."
You said that people enjoy it when Ronald Koeman gets egg on his face?
"Well, it's typical for the Dutch. When you say you want to reach the top, they stand back and look at you to see if you fall. And I don't mind or avoid conflicts. I had it with Van Gaal and I had my conflicts with the Sneijders and Van der Vaarts and Zlatans. Because I needed to show them what it takes to be a pro player! I was maybe less sympathetic in those days. But those three still look back now at those days and say it helped them further their careers… I believe people see a different side of me now and I think Feyenoord has a lot of sympathy in the country, so maybe that helps my identity a bit too, haha."
At practice, you still play along and you probably still are the smartest player around…
"Well, that is a bit exaggerated but I do get annoyed when players don't use their brain or simply don't see it. I learned this from Cruyff. As you know, he could talk for hours but to simply show it with one or two simple passes was much more effective. I try to do that too. And players respect that a lot. Football players are hardheaded and they need to see it to believe it."
Wasn't it a risk to sign with Feyenoord, after the players sort of dismissed their coach (Mario Been)?
"Everything is a risk. Signing with Valencia was a risk… I mean, I followed Feyenoord and I saw what happened with Been and it was clear that the players had something to prove. I also saw a talented squad. I wanted to come back and take an ambitious club. I wanted to work in Holland, so how many options do you have? Feyenoord is an institute and a challenge. Actually a perfect choice. It was either playing golf till I'm old or embracing Feyenoord."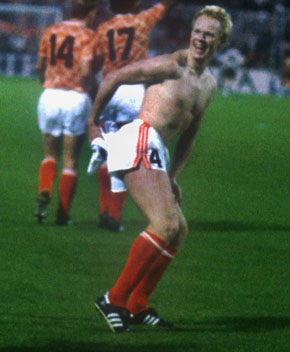 Naughty Koeman, celebrating the win over West-Germany by wiping his tushy with Olaf Thon's jersey….tssss…..
When did you see Feyenoord could actually perform and achieve something?
"After two weeks, I think. The talent was apparent. Anyone could see this. But before me, the club emphasised their youth and vulnerability. I turned it around. I told them: if you are good enough, you're old enough. So stop whining and take responsibility. I demanded a certain attitude. And when he had a series of good results, it was clear that something good was developing."
Where you as sharp at AZ as you are now?
"Oh sure!! With AZ we went into the Champions League. That is massive. I know the effect it will have on players and on domestic games before and after the CL games. I was sharp as I could be to make sure the players performed to that level and AZ director Brands wanted me to be sharp and driven like I would be at Barca. When he signed me he had a list of 12 criteria. He showed me the list and I had a tick at all 12!! And four months later I wasn't the right guy anymore. I still don't get that… I needed to restore my honour."
How do you become a winner?
"It's part of my DNA I guess. I always played good in big games. I was always ready. Hiddink knew this and played me well. And at PSV, I was surrounded by like minded players: Kieft, Lerby, Gerets, Van Breukelen, Gullit… It was survival. We were tough for one another. I actually don't see that anymore in today's squads. The mentality has changed."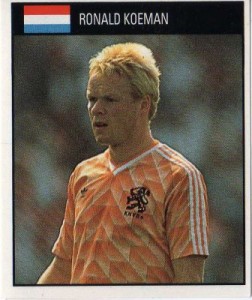 Players think you are tough.
"And I am. But I'm not mean or anything. I'm clear. And I clarity is somethimes mistaken for toughness. I tell them what I see but I'm honest. They need to see that talent alone doesn't bring them anywhere. I show them games, where Rooney or Eto'o play rightback for the team! And that's what I admire in Mourinho. At Inter, he was able to let big name players like Eto'o play how he wanted them to play. You're a good coach when you can do that. I need a little bit of distance between me and the players. I can't get too friendly. When things go wrong, it's my head that goes off."
You recently said that, with your experience at Ajax and PSV that Feyenoord is a real football club.
"Well, Ajax and PSV are football institutes as well, but in Rotterdam it's actually about the football. In Amsterdam, there is prestige and ego and prima donna behavior. That "We are Ajax" stuff. Well, look at them now. No one in Rotterdam is more important than the club. In Amsterdam, you wonder who is doing what for what reason…."
And you were involved in a political clash at Ajax in 2003 with Louis van Gaal.
"Pfff…when Arie van Eijden ( Ajax executive back then) told me they wanted Van Gaal for that job, I said: make sure he's done with coaching. Oh yes, they said. He seems to be. Well, every sunday he was making notes in his little book and every Monday he came into my office to discuss the game with me. Well, sorry… but that is a quick recipe for a clash. I think Van Gaal is a smart and experienced coach but he simply doesn't get the impact he has on people around him. And people management is a big factor in football. You don't hire a guy in that role with a coaching diploma. Why is Martin van Geel successful at clubs? Because he understands football as no other, but doesn't have a coaching licence and ambition. Marcel Brands, same thing. Earnest Stewart. I think it was pretty thick of Van Gaal to accept this Ajax job knowing Johan Cruyff was involved. As if Johan would accept this move lying down…."
You are loyal to Johan Cruyff, right?
"I am, but it's not just my loyalty I'm talking about. Over the past decades, all sorts of football managers ignored Johan. Back in 1990 we wanted him to coach us at the World Cup. But the KNVB didn't like his conditions so they got someone else. In 1994, same thing. At Ajax, everyone seems to want Johan but the powers that be don't and they block him. A few big shots with pumped egos who think they are bigger than the club. This is also Bert van Marwijk's strength. To take 22 big egos and mould them into a team. This is the strength of the Dutch team."
It's a fact you are a huge Oranje fan. You travel with them to all major tournaments. This time around, again?
"Oh sure. The atmosphere, the games… I love it."
Will it be a short tournament for Oranje this time?
"Could well be. You can't discount the fact that a) we seem to have lost some momentum with certain players and b) we are in a tough group. We don't have a good history against Portugal and Germany. Some players might be close to the point where the coach needs to make a change. I can see a tremendous flow of great midfielders coming, like Wijnaldum, Fer, Maher, the Feyenoord lads… There will always be creative players and good goal scorers but defensively I'm concerned. We have to rely on a Brazilian born player with a dispensation? We need to start develop Stam-like defenders. It's amazing how in all the youth teams of the big clubs, you see those little crafty Xavi like number 10s… Skilled, quick, gifted. But where are the Van Tiggelens, the Stams, the Reizigers….?"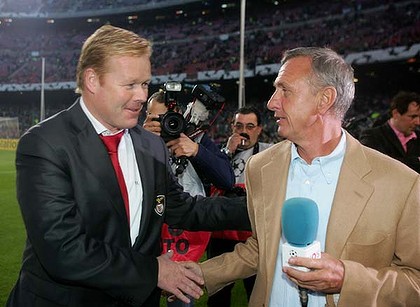 Bert van Marwijk is allowed out of his contract if a big name club would come and claim him. Interested?
"Haha, of course… Any coach would be. As a Dutchman who played in Oranje, I'm one of the few who is left to give it a go, right? I think I can do the job. I have the ambition and it's the top job in Dutch football for me. I think any coach at a certain point feels he wants to do the national team. It's different, but it does appeal… Marco has done it, Frankie… There aren't too many active coaches left from the 1988 generation, so yeah…"
But you will sign a new one-year deal with Feyenoord?
"Of course, I want to finish the job here. I'm just responding to your question on Oranje. Bert is still there and I hope we'll end his deal with Oranje, as it means we'll be doing well. I still have time, haha. No, seriously. We are working on something big here."
Feyenoord's architect is Martin van Geel. The former Ajax and Feyenoord playmaker ( Van Geel was Cruyff's successor in 1984-1985 and played with Van Hanegem's/Cruyff's number 10 jersey in De Kuip) explains.
"Our season started horribly. We lost Wijnaldum, Fer and Castaignos and we lost Mario Been and his assistant. We needed a coach with experience, with tactical wits, and personality but most importantly: authority. It was clear that these lads needed a real boss. I think Mario ended up being to close with the squad, which can happen anywhere of course. But Koeman doesn't have that. He keeps his distance. Our offer to him made him smile. He probably made more at Ajax, PSV and AZ in the past and probably multiples more at Valencia and Benfica, but he didn't do it for the money. So Ronald started out hitting the right buttons from day one and his staff ( Gio van Bronckhorst, Jean Paul van Gastel and Pat Lodewijks) hit the ground running. We were fortunate with Guidetti and Bakkal too. Two winners and players that can make their hands dirty, you know. Leaders. Add to that the arrival of young talents like Clasie and Ramsteijn and Fernandez, back from Excelsior, and you see a renewed Feyenoord."
So, there is no secret?
"Nah, it's managing and the most important thing you need to manage is the working climate. You have to create the right circumstances for players and staff. And don't get me wrong, I don't mean all warm and fuzzy… Koeman is a very tough taskmaster. I'm sure the players hate him sometimes. But I see it like this: a great player in the wrong culture will drown. Examples? Bergkamp at Inter? Ruiz at Fulham? Torres at Chelsea? Just giving some quick examples… Bergkamp went to Arsenal and what happened? A mediocre player can play to his strength when he feels good. When he is respected and feels part of something bigger. Greece won the 2004 European Cup, and it was all about team spirit and belief. That is good coaching. Oranje didn't win. Remember what happened between players and coaches?"
Feyenoord must be happy with you as you got 10 Mio Euros in last summer by releasing Wijnaldum and Fer.
"Well, it's my job isn't it. We needed to desperately get that loss off the books and these two already stated they wanted to develop elsewhere. I still see that as a mistake, to be honest. I don't think Fer develops better at Twente… Why? I think he'd develop much better here, look at us! He could have been our leader, at Twente he's not sure of a starting position… But… things turned out well for us. My job is to make sure that in two, three years no youth player leaves to develop more at another club in Holland!! Quite an insult for Feyenoord. It makes me shake my head… But, Sporting Lisbon came for Wijnaldum and had a big bag of money for us. But Gino didn't want to leave Holland. So when PSV came, we had a benchmark amount for Wijnaldum and PSV accepted. This immediately set the standard for Fer too. It all happened smoothly, although I feel Twente put much to much pressure on Fer by delaying the negotiations. The Feyenoord fans were quite tough on Fer in that period, while the blame was with Twente."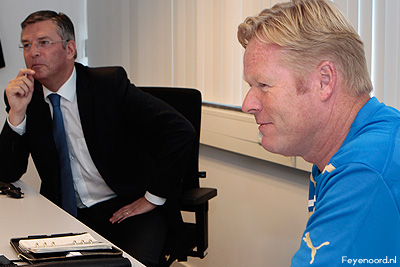 Martin van Geel and Ronald Koeman

Feyenoord signed Ruud Vormer ( ex AZ youth) and John Goossens ( ex Ajax youth) for next season. Not really top signings…
"Well, forget about top signings. We won't get Tevez or Huntelaar, haha… Vormer and Goossens ooze talent and skill. You don't go through the AZ and Ajax system if you don't. But at Roda and NEC respectively they learned to work and sacrifice. These guys have the right mentality. Vormer needed to be told to stop training at Roda. He's such a motivated guy. And he really wanted to play for Feyenoord. Goossens is like that too.
How do you work towards a new team without money?
"Not that hard. I make a list of all players on my radar who will be transfer free. I give the list to the staff and scouts and tell them: give me a short list of a shadow Feyenoord. In two weeks, we come together and discuss it. At length. And if we seem to see solutions and agree on these, I go to work. I have a big club and a magnificent stadium and the biggest legion of fans behind me. But not a lot of money, haha…. But Ruud Vormer had an offer from Vitesse and could make much more money there but he decided to come to Feyenoord as that is the club he wants to be part of. We have this going for us and that is an asset."
And no one mentions Mario Been anymore. That played out well…
"I object to the word "play". No one played any game. Leo Beenhakker made some silly comments in the media and I called him up about that. He claimed I orchestrated Mario's exit. Ridiculous. I wasn't even there for a full two weeks. Do you think I'd take such a risk? it surprised me too. If I had started earlier at Feyenoord, this wouldn't have happened. Either I would have made sure Mario got all the protection he needed or I would have had a talk to Mario before all this public stuff… Players voting and all that. Horrible. I would be the man to decide. But it happened while I was still finding my way, and Mario didn't want to re-consider."
So, Feyenoord's future is bright?
"It's a cliche. Everyone's future is bright
. I want to focus on what we do today, to create that future. Our current squad is doing well, Koeman is doing really well with his staff. I need to now make sure the staff gets the right players for that future. Getting a team that was down to perform well for one season is one thing. Making structural leaps forward as a club, is a different story. We need to build the foundations. As a player, I had one motto: "I wouldn't let people put me on their shoulders, but I also wouldn't let people kick me into the ground…" That might well be Feyenoord's motto too."
Subscribe

Netherlands World Cup Blog RSS Feed

Share
Comments are closed