Robin van Persie our new leader?
May 15th, 2010 | by: Jan |

Comments(193)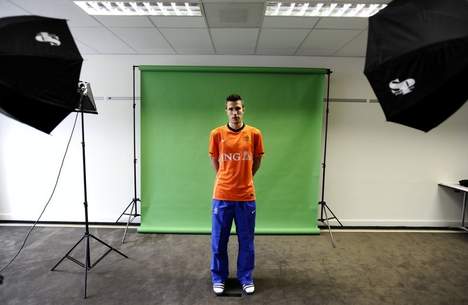 Robin van Persie made his debut in pro-football under Bert van Marwijk. The youngster was tipped for greatness when playing in Feyenoord's youth teams. He made it to the Oranje youth squads too, but had to allow one Rafael van der Vaart ( of Ajax) take the number 10 jersey. Robin received the number 11 and made his debut as left winger in the Feyenoord squad as well.
Robin oozed talent. But was a difficult kid too. Raised without a mum (his dad is an artist) and surrounded by friends and youth coaches he thought he was the best thing since sliced bread. Robin had trouble "keeping it real". He clashed with Van der Vaart at Oranje youth sessions, with Feyenoord coach van Marwijk and quite visibly on the pitch with Pierre van Hooijdonk. Pi-Air was Mr Free-Kick of course, but at one stage in De Kuip, young Robin pushed big Pierre out of the way, to hit the ball with his suave left on the cross bar.
A rebel with a cause. Feyenoord was happy to let the undisciplined Van Persie go. PSV (Guus Hiddink) was ready to pounce but one Arsene Wenger snatched the youngster up. The rest is history.
So Robin grew from mega-talent to problem child to superstar in London. Van Persie is one of the leading players in the Emirates Stadium and grows into the leaders-role at Oranje as well. On and off the pitch. In recent interviews, Van Persie made his intentions clear: "If we play with the fantastic four up front, I think we have a chance." The Fantastic Four in Oranje's case, are Vaart on the left, Sneijder centrally in midfield, Robben on the right and Robin centrally as a striker.
Van der Vaart, Robben and Sneijder had hinted to this already in the media as well. A campaign to keep Kuyt out of the team?
Van Persie: "No, it's not against Dirk. I will never be negative about Kuyt. Kuyt is a tremendous player and highly valuable. And I never discussed it with the others. It's just something that I feel strongly about and apparently the other lads do too. But I do believe that if you have four creative players for the forward spots, you need to use them. With all respect to Dirk. It is my opinion and the staff allows me my opinion. I feel a lot of respect and I feel valued by our staff. That makes a real difference."
Bert van Marwijk said that earlier in interviews. How he was impressed with the way Van Persie developed and not so much on the pitch ("We all knew Robin has sensational skills") but primarely off the pitch. (Bert: "Robin has become a man. A leader. Totally different to the Robin I worked with at Feyenoord.").
Wenger has presented Van Persie as one of the leaders at Arsenal. With skipper Gio van Bronckhorst retiring after the World Cup, will Van Persie take up the armband. "Pfff…no idea… I haven't thought about that. And I don't think I will, really. We'll see what happens. There's others who could wear it as much as any other player. Mathijsen, Van Bommel… Being a leader is more than wearing an armband. I think we should all lead. By example. On the field."
Van Persie is in his prime now, as are many other Oranje players. Does he feel the pressure of "having to perform"? Van Persie smiles that confident smile: "Never. I always go out there to enjoy myself and play the best I can. If that isn't enough, than that's how it is. And it's not about me. I do believe that when we all – as a team – work hard and play our best football, we can beat any team. I don't think I would be worried against most nations. Spain and Brazil will be tough opponents, but we simply need to play our football. Pressure them quickly. Work hard without the ball and relax with the ball, haha…"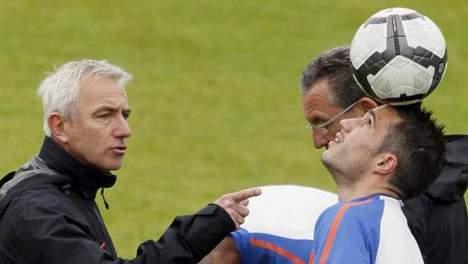 Bert van Marwijk doesn't feel Robin went to far with his comments on starting with the four artists (Van der Vaart, Sneijder, Van Persie, Robben). "But I did talk to him about it. I don't mind players talking about their personal views. We're Dutch, that's what we do. But he does need to realize that there's only one man making the line-up and that's me."
Van Persie only played a limited number of games with Arsenal and is only just fit. "But I'm impressed with his form and what he demonstrated already. The staff members every now and then simply looked at each other in bewilderment. He was fantastic."
Van Persie also supported Marco van Basten in another interview and criticized the Ajax players who had negative comments on the former Oranje coach. "That was so low. If they were men, they told him all that when he was there, instead of waiting until he left. Marco is a tremendous bloke and a great coach. I have learned so much from him. I dare to say here and now that Marco laid the foundation of our current form. Bert van Marwijk is building on that and Marco should be respected for that."
Subscribe

Netherlands World Cup Blog RSS Feed

Share
Comments

arsenal is a big club?
Posted from
United States

Finnster, what about van persie? HE scores a lot of headers…
Posted from
Netherlands

Kuyt is our best header Marc, and you know it.

the title of this article should've been "Robin van Persie our new Header?

one more thing dear Tiju: saying that real madrid is one of the 4 strongest teams in the world and barca are not is completely injust after the last 2 seasons.
i would like to see the "fantastic four" together. robben should be in the starting eleven: leaving him out is like argentina without messi. oranje without van persie is like spain without f. torres or d. villa (btw,spains injured players will be fit – xavi is ok,yesterday iniesta played 10 minutes,cesc will be ok,their only concern is torres who might miss the first game against switzerland – they will easily qualify without him,and for the 1/16 he will be there). oranje without sneijder is like spain without xavi. only rafa's starting position is questionable,but i'm sure he'll play quite often. the most important is how the starting eleven could be against brazil. their squad is not fantastic,but their defence is really strong: j.cesar,maicon,lucio,juan etc. difficult to score against them,their counter-attacks are extremely fast,and dunga is a great tactician. in this kind of game kuyt is the man we really need.
Posted from
Hungary

@ Jad xD you talked bout defence, but you must not have seen the 2006 selection, Kromkamp, De Cler, Emanuelson, V.Bronckhorst, Boulahrouz, Heitinga, Ooijer, Mathijsen, back then Ooijer was alread quite mediocre always has been, Heitinga wasnt nearly as far as he is now, Gio was the only established player at the time.
This time Mathijsen and Heitinga form a decent partnership, we have a very talented rightback, and back up CB in Vlaar, Boulah is always good for oranje, only LB is just as weak or a bit weaker than 2006.
In 2012, we will win the EC, defence will stabilize with Bruma, V.Aanholt, Vlaar, Heitinga, Boulahrouz, V.d.Wiel and possibly one or two others.
trust me I'd put more money on us winning the next EC than this WC.
Posted from
Netherlands

i really dont think we should play with vdVaart – vPersie – Robben – Sneijder..
for the ballanse in the team
i cant see vdVaart doing anything that Sneijder cant and playing those four leaves us very vulnerable when the apponant has possession
we need a stronger, defensive midfield, since we have such crap defenders
Posted from
Netherlands

http://www.bbc.co.uk/blogs/jonathanstevenson/2010/05/the_story_of_the_1974_world_cu.html
on 1974
Posted from
Netherlands

Mark van Bommel – Bayern Munich
The Bavarians claimed a league and cup double of their own by adding the DFB Pokal to the Bundesliga title. At the heart of things in the final against Werder Bremen was the Dutchman Van Bommel, who has played his best season to date with the German champions.
Getting respect as one of the World players of the week goal.com…backing up our point that this man is key to our success.

What has vdVaart ever done for the national team–nothing that I've seen. He may be playing well now, and the same for Robben, but they have been highly OVERRATED in the past. In Robben's case, he's always been injured and when not was not good at finding others and distributing the ball. He seems to be improved in this respect, but still…I agree with Goose: vdvaart, vpersie, robben and sneijder are talented with the ball, but with out it they will be a liability as they are not physical and IMO will lead to midfield defensive weakness–which is why the russians overran the Dutch in Euro2008. People complain about Kuyt and praise vdvaart, yet Kuyt is stronger, good defensively, provides good service and has had a much better career at both club and national level. Kuyt was good in Euro2008, let's remember. vdvaart = overrated; Kuyt = underrated, and as been for most of his careeer.

@ Richard
To call Robben overrated at the international level is ridiculous…i seem to remember a certain someone scoring the only goal in a 1-0 over Serbia in WC 2006…oh and a goal against France in EC 2008…yet i do AGREE with you that Kuyt is needed to balance…but i think he should be on the left because Robben is so much better on the right…It is simply a fact that VDV is not nearly as good as Kuyt defensively, he accumulates yellow cards much faster as well.

@Richard, ooph that hurts… Van der Vaart overrated? I agree on Kuyt, but Van der Vaart played good games for Oranje when fit (I agree he was absent a lot) and has demonstrated at Ajax, HSV and now Real Madrid what a fantastic player he is. Among the best of the world…

vdvaart had played some very good games for Oranje…and the question if he is overrated is difficult; " overrated by whom?"
but i think vdVaart and Sneijder are 2 of the same kind of players and we cant play them both; they dont complement eachother
and if i need to chose between Sneijder and vdVaart i would chose Sneijder at the moment (and maybe always)
Posted from
Netherlands

http://www.goal.com/en/news/462/netherlands/2010/05/17/1929150/az-closing-in-on-spartas-holland-under-21-stars-nick
And the Sparta house cleaning begins…Falkenberg and Viergever to AZ Alkmaar…good for them.

Good to see people are still optimistic xD, there's 'crap' flying all over the place. I think none of our players is overrated on international level, if anything they're still underrated.
Posted from
Netherlands

all that information can be found in The FIFA 2010 World Cup Handbook
http://glenconer.wordpress.com/2010/05/08/the-fifa-2010-world-cup-handbook/

I'm gettin more and more worried about Cameroon. Especially if we can't manage to get the 3 points against Denmark (BVM playing Kuyt to help defend against Bendtner's height and the Danish pshysical playing style for example, gimping our attack resulting in a draw).
We could end up in a real difficult situation against Cameroon. I'm fearful of Enoh and Song. I think Enoh is arguably the best def.midf. of Ajax this season, he recovers so many balls and he's smart in what to do with those recovered balls. And Song was the main contributing factor Messi couldn't do much in the first Arsenal – Barca match (much like Zanetti and Cambiasso did for Inter).
And we all know Eto'o can score, so how is that going to play out on midfield? It will be such a tough battle with possible injuries (Sneijder and Robben in particular there in the centre, Sneijder for example won't be able to find space to receive the ball, Enoh and Song are too fast for him, that means close contact at all times, and tackles/snapping/kicking from behind).
Posted from
Netherlands

And they do have a tendency to make a lot of redcard fouls in WC's I've noticed.
Posted from
Netherlands

Richard: "vdvaart, vpersie, robben and sneijder are talented with the ball, but with out it they will be a liability as they are not physical and IMO will lead to midfield defensive weakness–which is why the russians overran the Dutch in Euro2008. "
******
Nonsense! (pardon the language, but…) I just completely disagree with that statement. The facts say differently and you can go look them up. We played Kuyt the entire first half and wasted 45 minutes not scoring. THAT was the problem. You can't always win a game in one half. The longer you wait with bringing your creative players the more risk you run in going behind for not being able to score first. Not to mention that the team will be more tired in the 2nd half so everything will be less sharp and less fast, which makes defending easier in the 2nd half than in the first (not to mention all the emotional effects of a team that is not scoring in the first half and slowly wearing out losing their confidence because of attacks that run into a dead end, succesful plays create extra motivation, if you're unsuccesful going forward in the first half, you will play less spectecular in the 2nd half, but if you play all your strong cards in the first half and are creating lots of dangerous chances in front of goal, the 'balance of positive emotions' tips in your direction).
It's the same thing with a comment I made earlier about Messi vs Inter and Arsenal (Song). You can make your opponent play worse if you can get things right early on, and frustrate your opponent. But the same is true in reverse, if Messi (or the team) is succesful early on, it boosts their confidence for the game.
It's a bit of a rollercoaster or like a balance, it can shift multiple times to either team (or player for player) during a game depending on what happens.
I don't know if I used the right words to describe what I meant, but in short, don't waste time. You need to be creating stuff right from the start, best way to control a match and put the other team on their toes (in Dutch I would say, make them feel like walking on eggs for the rest of the game, make them nervous, put them under pressure, etc.).
Posted from
Netherlands

besides, VDV and vPersie can be quite physical in terms of duels for the ball, try to get the ball away from VDV in the "korte ruimte" ("small spaces"?).
And I've seen vPersie getting ahead of defenders purely on speed and physicality. OK, he may get injured quickly, but that's a different part of it (unless you were mostly referring to that part) and that's just a risk you always need to take. You don't keep Torres on the bench because he might get injured, right? Besides, you were talking about them lacking in physicality leading to "midfield defensive weakness". And that's where I don't agree, VDV and vPersie are both reasonably good at ball recovery, but more importantly, ball keeping (not immediately losing it again after recovering or playing/moving it into a useless area causing the other team to take over shortly afterwards). In short, they know what to do with the ball and create immediate pressure which will result in more control over midfield.
Posted from
Netherlands

+it's easier to play when your ahead. I much prefer throwing everything on attack and getting the lead and then worry about defending or playign it safe later. But I guess that's where I differ from BVM opinion. I can see some merit in his approach, but I'm also afraid of a Russia type game repeat because of this approach.
I certainly see the value in using 2 def.midf. in vBommel and De Jong at the start of most matches though, also because they've both been excellent this season. But if Sneijder is starting, VDV deserves to start as well (because of my previous mentioned VDV > Sneijder).
Posted from
Netherlands

The only liability in defence would be Sneijder because he's not quick enough to close players down (the reason Robben for example does fine defensively, actually seen him win/recover/intercept a lot of balls in the RB and RM area this season). But Inter shows that that doesn't necessarily need to be a problem, he can still close down the angles (block angles for shots, passes and dribbleruns by just standing/positioning himself in the way).
Posted from
Netherlands

@Sol: So Kuyt was the problem Oranje lost to Russia? Yeah right. We all know why we lost that game. I am surprised you and Tiju don't accuse him of starting World War I and World War II as well. Amazing how much Holland has lost just because of Dirk Kuyt. Give the man a break. He is Oranje through and through and deserves a bit better than that I think.

@Sol
Obviously you are a well informed and knowledgeable soccer fan.
I would like to talk with you a little more on this topic, would you be so kind as to drop me a line by email?……..glenconer@yahoo.com
http://glenconer.wordpress.com/2010/05/08/the-fifa-2010-world-cup-handbook/

I like Kuyt as a person and for his manners on the field. But I'm just not impressed by his footballing skills, especially when your intention is to score first.
So don't get me wrong Finn, Kuyt is still one of my favorite footballers and I respect him a lot. But the other stuff still stands as well, you can like a player as much as you want, but it won't make him better.
So yes, I believe we lost to Russia because we started (/had to start) with Kuyt. But I don't blame Kuyt (neither for the Russia game or for WW I
) for it. You are what you are, he can't help it (in contrast, I DO blame Seedorf for our failures, because I knew he could do better).
Posted from
Netherlands
Comments are closed