RIP Coen Moulijn: the best left winger ever?
January 5th, 2011 | by: Jan |

Comments(111)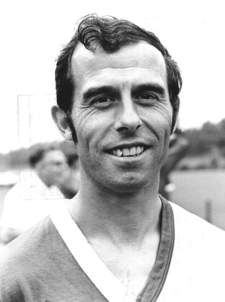 Coen Moulijn, one of the best wingers ever
Coen Moulijn died. It's what happens to ones heroes. I was probably eight years old or younger when I watched him dribble past defenders, putting in perfect crosses… I saw how Real Madrid could only stop him by tackling him from behind. I remember how the rest of the Feyenoord team took the Madrid player out for lunch. The player was the dish.
And now he's dead. Probably the best Dutch left winger ever ( sorry Piet. But you're still alive, aren't you?). Robin van Persie called him "The Messi of his days"… And he probably was.
Coen had a son – called Ray, after Raymond Copa – who was disabled. Coentje sacrificed a kidney for the kid. When Ray passed away some years ago, Coen lost interest in life. A brain haemorrhage ended his.
In 2009, Feyenoord and the city of Rotterdam revealed a statue for Coen Moulijn on the square in front of De Kuip.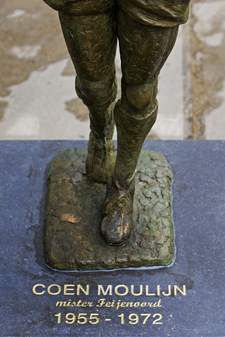 Coen was a street footballer. Interestingly, he learned to kick a ball with both feet with the help of a factory wall in Rotterdam North. When years later the factory was demolished, the city of Rotterdam ordered the wall to be saved. It's now a little monument to street football and called "Moulijn's wall".
He made his debut at 17 years old for Xerxes. A year later Feyenoord signed him for 25.000 guilders, a massive sum. Coen made his debut in 1955 against MVV and played 720 games for Feyenoord. Coen only played 38 games for Oranje. In 1961, Barcelona came to Rotterdam to negotiate a transfer for the little winger, but Feyenoord refused categorically to discuss it. They offered Coen an eight-year deal ( unheard of in those days). Coen invested his money in a fashion shop in Rotterdam, which would make him financially independent. In 1969, the International sports press named him the best winger of Europe. In 1970, he won the Europa Cup with Feyenoord ( against Celtic, goal Ove Kindvall) and in 1971 he won the World Cup for clubs.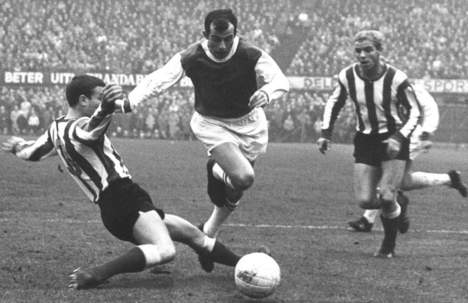 Moulijn stopped playing football in 1972 and focused his efforts on his business after his career but he would always be the number one supporter (and consiglieri to many coaches).
Ajax right winger Sjaak Swart became friends with Coen. "Man, this is a blow. I saw him some months back and he was good… Coen and I first met on the pitch, haha. I was right winger, he was left winger, so we saw each other on the field and always talked. First it was a bit taunting and bravado but it became a friendship. We played together in the army team, played cards and had fun. And later we met at the official Oranje team of course. He was a phenomenon. Tremendous. If you'd advertise a card game with Moulijn sitting at a desk on the field, De Kuip would still be full with fans wanting to see him play cards, haha… He was a sweet man."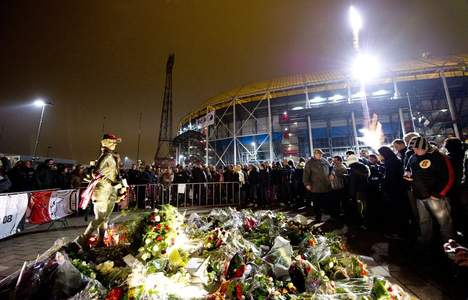 The scene at Moulijn's statue in front of De Kuip
Hans Kraay was a tough defender in Feyenoord in those days. "Coen was unique. Coaches tried to tell him how to play but he'd shrug and do his own thing. Like Messi. He played on intuition. His move to the inside was unique. He was able to make the opponent stand stiff like a puppet and he'd race past him. He didn't look like much though. When I saw him first up close I didn't even recognize him. He looked like an accountant."
Rinus Israel: "He was a modest, hardworking man. I think the fans loved him because of that too. Whenever Coen would have ball possession, people would get religious experiences. I think he was the best Feyenoord player ever."
Rotterdam mayor Aboutaleb: "Rotterdam lost a working class hero. He was an icon for the city, for Feyenoord and for football. He's not longer a living legend, but a legend he'll remain."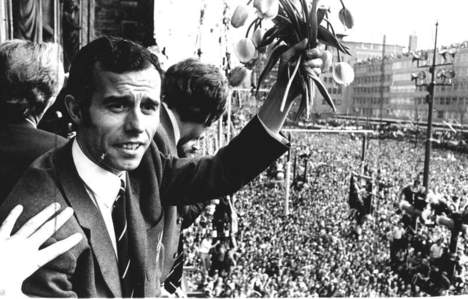 Cor van der Gijp (Rene's uncle) is Feyenoord eternal top scorer: "I'm not ashamed to admit that the only reason why I'm eternal top scorer is because of Coen. Everyone talks about Coen's dribbles but it was his ability to cross that made him super. He was like Marc Overmars and John van 't Schip rolled into one. Like Robben and Beckham in one body. I've seen many many wingers but Coen was the best ever. The high of my career was simply the fact that I played with him."
Wim Jansen, midfielder in the 1970s Feyenoord and Oranje and later in his career libero at Ajax: "I'm terribly sad. He's the third player ( after Veldhoen and Laseroms) of the Golden Feyenoord that has passed on. Coen was tremendous. I dare to say that in pure football skills he was as good as Johan Cruyff. Johan was a leader and would impact the whole team, whereas Coen was an individual player, but man oh man, was he good. I was a fan first. As a kid I asked him for an autograph once and later in my career I actually played with him. We were roommates for quite a while. The best time of my life."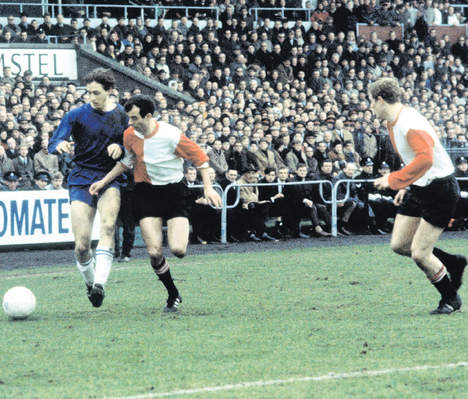 Coen versus Johan. Wim Jansen ( right) looks on.
Wonderful little documentary ( in Dutch, unfortunately) with interesting old images. The ex-player Guus Haak is heard telling how the greensmen in De Kuip would show their grass after it's mowed to Coen. Who sometimes would say: I need it shorter. Can you take some more millimeters off? And they'd go and mow it again for "Coentje".
The Feyenoord – Real Madrid images are world famous ( in Holland). Coen is being tackled by a Real thug ( probably Sergio Ramos or Xabi Alonso) and the whole Feyenoord team decides to retaliate, hahaha….
A shorter look at Coen, with some Dutch commentary and probably some similar images.
And here's sensational footage of the Feyenoord-Ajax game from 1964, with a young Johan Cruyff playing his first Classic. Feyenoord won that game 9-4, by the way, so all that humbug of the 1983 8-2 or the 2010 10-0 (vs PSV) is all old-hat really….
Coen Moulijn and Frans Bouwmeester form the left wing of Feyenoord. Hans Kraay sr is the tough defender in the Feyenoord jersey. Moulijn is tackled in the box and Feyenoord gets a penalty. We can see Sjaak Swart scoring a goal too. But the young hero of the day would be Hans Venneker. After a swift Moulijn action in the second half we see Venneker score his fourth goal. Frans Bouwmeester scored the 8-3 with his beautiful left foot. Ajax' defense is horrible. And note the number of people sitting in the stadium!
Hans Venneker scores his fifth and Feyenoord's ninth in close up and slo-mo.
And although this post is about Coen and his passing, Hans Venneker will be the subject of another post soon. This player had the most amazing career
.
The legendary dribble king will be cremated on Saturday. A memorial service is organized in De Kuip, with 1000 invited guests. Supporters are able to follow the service from the stands.
Robin van Persie twittered: "He was a legend. A left winger and comparable to Messi today. A huge personality. Thank you, Coen, for all you've given us."
Subscribe

Netherlands World Cup Blog RSS Feed

Share
Comments

For me, fit and in form, V.Persie is the best creative player we have together with Robben. Then come V.d.Vaart and Sneijder. And then Elia, Afellay, Drenthe, De Guzman etc. etc.
Still think V.Persie is at his best in a free role. As a striker he gets too little of the ball for a player with his technique and creativity. Let Huntelaar play striker, V.Persie in a free rol behind him.
Last time i put this, I got a lot of people saying VDV is better at n.10. Sooooo
———Huntelaar
V.Persie-V.d.Vaart-Robben
—–Sneijder-V.Bommel
This is still mouth watering line-up for me. xD And V.Persie, V.d.Vaart and Robben obviously get room and freedom to switch and roam. Anyways, V.Persie always belongs in my line up when fit n in form. I just prefer him to be on the ball more than as a striker.
Posted from
Netherlands

That was NOT Tiju…Tiju usually adds comments on which 30% agree and 70% disagree and I have been on both side of the 70/30 fence

Bro, hoping you're coping !
Posted from
Singapore

I think the mourning period over Moulijn should be over by now…
So lets go back to what Wissam asked.
""Don't you think that RvP would have a couple of mediocre performances with Bayern and vGaal would pull the plug and put him on the bench?? Mario Gomez is a prime example of how vGaal acts. I think RvP would do well in Schalke with Hunter and Raul."""
Wissam, I think that this is excactly what Persie needs. A team that plays the same as Arsenal, but with a different manager. Bcse his problem is not technical, is mental. This Arsenal team is a bunch of spoiled kids. And for this, Wenger is the man to blame. He has introduced to his players the mentality that they are the best in the world, without having anything to show for it. Thats why they are incompetent, lousy loosers. And Persie, being one of the players with the longest period of time under Wenger, I think has become a replica of him on the pitch.
He thinks he is a superstar, deserving everything. Deserving Oranje spot, deserving to play instead of Kuyt, wanting to sub Sneijder etc.
I am amazed by all these fans who think Persie is the best thing ever since sliced bread. What the f.. has he done anyway? Some highlights of goals, backheels, dribbles on youtube? I mean is this the highest point of his career?
And Wissam, count me in the same wavelength of thinking too. I was ready to make a list with 10 players at least, better than Persie.
I can count 5, potentially 7-8 better players than him in the EPL only.
Posted from
Greece

BTW, Ive been trying to follow some more of Arsenal youth for Ozyakup. He does seem to be getting back to better form. His passing in what I saw was great. Great technique.
Posted from
Netherlands

@Arsenal Fan, Holland weren't playing like Stoke City…we were playing a counter attacking style that enabled us to make the final and almost win. And if you rewatch the matches against Cameroon, Denmark, Sloveina, Brazil, and Uruguay then you will see dominating football…
Maybe arsenal should give winning football a try sometime. I love when teams play beautiful and I loved Arsenal in the 07/08 season when they were playing teams off the pitch AND WINNING. But their repetitive style with boring old wenger and all of his frenchmen is getting old.
Posted from
United States

RVN scored hatrick taoday against Ajax in the friendly game Hmburg vs Ajax (4-2)

Any news on Robben?

arsenalfan, i agree that holland didnt play the famous "total football", but we did dominate every match at the WC accept the first half against brasil and even in the final we werent outplayed by spain.
Against Denmark, Japan, Cameroon, Slovakia and Uruguay we played against a wall of 11 defenders and their just wasnt enough space to play attractive football. spain and germany(the countrys that were viewed as the most attractive teams of the WC) did have the space to play attacking football, because they played teams that werent playing with a wall around the box(England, Argentina, Portugal,Chile). Spain just that space to play the famous tiki taka football and Germany used there stamina to play box to box counter football.
Also, i think RVP didnt play bad at the WC, he just had a different role. he created space for other players and gave Sneijder and Robben a chance to shine. As long BVM plays this system RVP will have a hard time to show his true abilities in the striker position.
Posted from
Netherlands

@keko
Robben makes the comeback, today he played in the friendly game of ( bayern vs Al wakra ) in doha, he played for 45 minutes only( the first half-he was in the basic squad )

"Wissam, that's not really fair.. to judge Wenger cause he didn't sign van der Vaart. You could say every single coach bar two in the professional world was dumb then."
Funny, I think that's exactly what we should be saying.
That's sort of been my point long before he moved to Tottenham and proved it.
Well, my point being more VDV > Sneijder perhaps, but nvm. The other point that everyone missed his chance to get him cheap is QFT as well.
Posted from
Netherlands

btw, to underscore my point that VDV > Sneijder, some stats from this year (I hope this comes out ok, these are just the stats from the league games):
vdVaart
GAMES GOALS ASSISTS SHOTS
15 9 5 66
Sneijder
GAMES GOALS ASSISTS SHOTS
13 0 3 62
Posted from
Netherlands

Thanks, Jad.

The ajax wingers Ebecilio and Ozbiliz played a great match today against Hamburg.

and now, for something completely different, Roy has left Anfield. And there is quite a chance that we might see an Oranje tree growing over there, with Rajkaard speculated to be the gardener.
Wouldnt it be amazing to see three or four very top clubs, playing the Oranje way?
I would have a whole team of babies (including one or two subs) if it happens, I'll tell u!
Posted from
Greece

Dalglish has been made the interim manager. Interesting to see how he makes out, when was the last time he coached, ten years ago? The games has changed a lot in that time.

Jan – well you are a magician too, you changed RiP into RvP !!
Perhaps the argument can be shown with last night's game. The Arsenal attack looks less dangerous without RvP.
Alex that's a mouth watering front line but after what he did against Sweden I would leave Vaart next to Bommel.
and for that never ending Vaart v Sneijder argument (I am more Sneijder). Vaart IS playing better then Wes at the moment, no argument. But both are playing with different circumstances. Just look at the coaches and the team's morale, plus Vaart has a new lease of life after 3 years at RM.
Posted from
Singapore

RVP performed as well as BP stock did in 2010

poor RvP…..
I think he was and will be again a great player, and if i were BvM i will use RvP instead of Kuyt in 7 position (right wing) and play with huntelaard in 9 position.
Whats hapened with Douglas form twenty?? he will be play for netherlands?
every time i see a newcastle game Krul make a big mistake.. i thing he is living bad times.
Any transfer rummors in holland? Whtas doing Frank de Boer?
For me Wegner is no dumb for not boing vdV for 8.000. For me is dumb for no try to sings Affelay… he cots only 3.000….

Douglas is still at Twente, thats the latest news xD
If he stays there this season, and next full season, he's eligible for passport the regular way, which requires 5 years in the country. IF this is the case, he could play at the WC 2014. The EC will come a bit too soon im afraid xD not sure.
Krul needs a club where he gets confidence and room to make mistakes and learn from them, Stekelenburg really matured last season or so, and he was like 26/27. Krul is 22.
Posted from
Netherlands

I am with Arsenal fan.
RvP is great. He still has to live his legend though, but I'm convinced he will. He has too much quality to just fade away.
Man I'd love to see Robin at Real Madrid, under Mourinho. Or at Spurs
. But that won't happen.

haha @ Finnister – Hopefully he will perform as wel as AIG stock did in 2010!
Posted from
United States

Here's the highlights for the HSV vs. Ajax game:
http://www.footytube.com/video/08-01-2011-hamburger-sv-4-2-ajax-amsterdam-friendly-69638
Not only did Ruud score a hatrick, but he also provided the assist for the other goal. For Ajax's first goal it sounds to me like the commentator is saying the pass came from Blind..? It's a fantastic long pass either way.

I recently came across your blog and have been reading along. I thought I would leave my first comment. I dont know what to say except that I have enjoyed.
Thank you for your work !
Novie – My Web : http://hpcartridgerefills.com

Sorry mate, we don't care about your opinion about football. This blog is all about HP cartridges.
Comments are closed