Rafael in 2004: Zlatan is a psycho!!
October 12th, 2010 | by: Jan |

Comments(110)
Holland played 21 games against Sweden and some of them were remarkable. About two brothers' debut, a historical penalty series and a rift between team mates
April 27, 1983, Holland-Sweden 0-3 ( Utrecht)
For the first time, new Galgenwaard is the venue for an international but the 12.000 fans see an Oranje Light. Big name players Van de Korput, Jan Peters, Ruud Krol and John Metgod won't make the trip for this friendly and three debutants are picked: Wim Hofkens of Anderlecht and brothers Ronald and Erwin Koeman. Dan Corneliusson scores twice and nutmegs Koeman with one. Robert Prytz scores the third. Ben Wijnstekers of Feyenoord is the only players with more than 10 international games to his name.
June 26, 2004: Holland – Sweden 0-0 ( Holland wins after penalties), Faro
The quarter finals at the EC Portugal wasn't a great game but it sure was an exciting one. Ljungberg hits the post, Henke Larsson the bar and Arjen Robben also hits the framework. It turns into penalties and the Dutch fans get spontaneous diarrhoea. This time it starts well with Zlatan missing his but it would take until the twelth penalty for Sar to stop Mellberg's penalty and Robben scoring his. The nation was saved from a trauma.
August 18, 2004: Sweden – Holland 2-2 ( Stockholm)
Marco van Basten makes his debut for Holland as the coach but it's the evening of Zlatan. He stampedes over the pitch as a will boar and his Giovanni van Bronckhorst with an elbow and injures Van der Vaart with a knock on his ankle. The Ajax playmaker can't continue. After the game, Rafael is livid and calls Zlatan a psycho. The Swede never checked how his team mate was doing. Zlatan is angry with that comments and declares never to play with Van der Vaart again. Two weeks later, Zlatan moves to Juventus.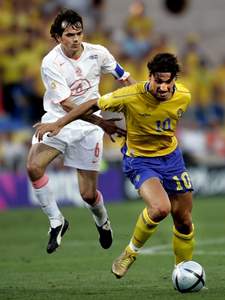 In a pre-match interview Zlatan now says he didn't think Oranje played dirty at the World Cup. "Nonsense! They didn't. They may have had some fouls that were remarkable but I think every team has those. They made it to the finals and deserve respect."
He wasn't too understanding about De Jong's absence, but he doesn't get the decision. "It's silly to ban a player for a legitimate tackle in his club competition. Where does it stop then? In England, these tackles are normal. I don't think it was a horrible cynical foul. I think a coach need to play his best players. Period."
Van Marwijk said in a press conference that attractive football is high on the agenda still. "We always have that with Oranje, but it sometimes doesn't work. At the World Cup, we won games and got into this flow and kept on winning. We didn't mind that we didn't play highly sensational football. At a World Cup, different aspects count. But now, we will return to our fundamentals. Don't forget our preparation to the World Cup was disrupted with Robben's injury and Robin van Persie was returning to form, so maybe we did what we could. Enough to reach the finals, not enough to dazzle."
And finally, back to the typical Dutch topic of money! The players want to change the payment scheme. In the current scheme, the players only get paid if they qualify for the tournament. The players say it's not market-conduct and want to be paid by point. There's a big stand off between the KNVB and the players' committee. Ha!
Subscribe

Netherlands World Cup Blog RSS Feed

Share
Comments are closed