PSV, a topclub in decay
May 31st, 2011 | by: Jan |

Comments(48)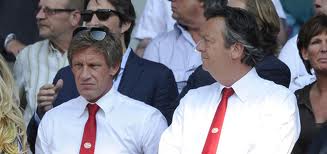 Marcel Brands and Tiny Sanders
I had written this post and was ready to pull the trigger but than this news broke. PSV forgot to extend the option with Jonathan Reis – PSV's biggest prospect- before May 1 so now the Brazilian is free to go somewhere else. PSV forgets those things. As they did before with Ruud van Nistelrooy's Champions League registration years back and I remember a number of these fukc-ups before.
At the end of the last game of PSV's 2010-2011 season, it's clear that football isn't "just a game" anymore. The faces of the PSV board looked grim. Depressed. Angry. Disgusted. Concerned.
PSV is in survival mode. It wasn't able to make another run for the title and on the last day it failed to secure CL football. The fans are complaining for months about the atrocious quality of football and PSV has to sell it's favorite sons every season. And recently, every winter window, throwing away the title chances ( last season Lazovic, this season Afellay).
PSV is done with investing and it's currently cutting. And with cost cutting, distrust, anxiety and fear come in.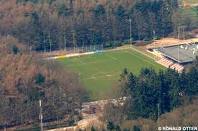 PSV's Herdgang trainings complex
Nordin Amrabat articulates it. The winger was sold to Kayserispor in the winter break. "I actually didn't really want to go. But PSV was adamant that I thought about it. PSV claimed that they couldn't loan me out because they needed to buy a replacement. When I decided to go, they seemed happy and they never got a replacement in."
The Turks only payed 1 mio euro. PSV couldn't afford to let that money go. That's how bad it is in Eindhoven!
This season, the infamous reorganisation buro McKinsey is walking around on the Herdgang. Every employee, incl Rutten but excl the players, are being interviewed.
One of the main issues, apart from cost savings and cash and all that, is that there is huge animosity between the different departments. The technical staff is highly critical on the commercial department. Where are the deals? Where is the money? The key training ground at De Herdgang wouldn't be fit for a third rate Portuguese amateur team to train on, for instance.
Guests from other clubs who come and watch PSV work anxiously ask where the training pitch is for the first team? To here: this is it.
The players complain constantly and are cynical about the state of play their club is in.
The commercial department and admin is not happy with scouting. Who signed Ibrahim and goalie Sinouh for instance. Nigerian Ibrahim doesn't play and Sinouh is a bench warmer at FC Utrecht ( on loan). "But the scouts do drive around in expensive Mercedes Benzes."
There is distance between the ranks and general manager Tiny Sanders has never even been spotted at the youth complex. The youth coaches don't know what the man looks like!
PSV carries a loss of 17.5 mio over 2009-2010 and the measures to counter this are typical football club measures: parents need to wash the jerseys, instead of the club, the E and F juniors will be merged, no more food for the talents, take your sandwich from home. Parents need to pay for the physio now, etc etc.
Last year August, Ibi Afellay caught a glimpse of the new business mentality at PSV. The German HSV coach had called PSV and asked for a price-tag on Afellay. The current Barca player immediately informed his management that he wasn't interested in HSV. On the last day of the transfer window, some manager at PSV called Afellay to almost plead to him to reconsider.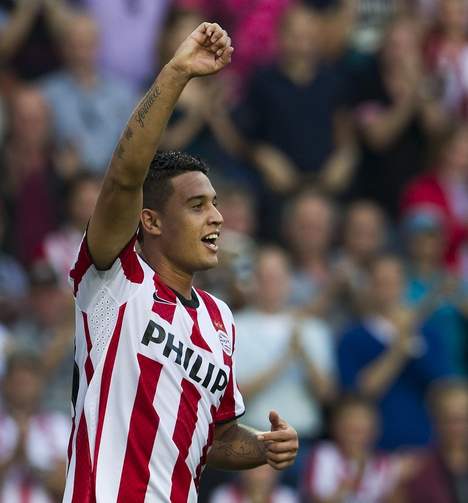 Jonathan Reis
Not much later, PSV management told the first team players that they weren't supposed to exchange jerseys with European opponents (!!). They had to pay the price for the jersey themselves if they still did so. ( WHAT THE FUKC?).
Another measure: trimming down the hotel budget. When PSV played Lille in the Europa League they changed the 4-star hotel into a 3 star hotel. The next day the savings of this went straight to the physios who had to make extra hours to work the backs of the players. The beds and mattrasses in the 3-star hotel were atrocious.
Tiny Sanders is PSV's leader right now and although he seems to be doing the right thing ( getting Philips to accept a second major sponsor for instance) he doesn't want to be the public figure head and doesn't seem to be the charismatic father of the club, like Van Raaij was or Guus Hiddink could be.
Strong headwinds for PSV, in other words, which seems to be in decay. This can only be stopped by results. Although good results in the Europa League might not be enough. While Feyenoord slowly climbs out of the hole PSV is now falling in, and Ajax is strengthening itself on the back of JC ( and the title) it begs the question if we'll see PSV ending up on the fifth position in the Eredivisie soon, maybe also having to let clubs like Twente and AZ take their right of way….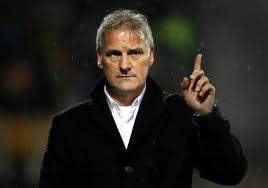 Brother Rutten in a DaVinci-esque pic letting us know in who he trusts

Now, technical director Marcel Brands is cleaning out the squad. Brands is looking for commitment, passion and scoring abilities. Two attackers, one midfielder, that is the minimum wishlist of the former AZ manager. Who stays and who can go.
Keepers
ANDREAS ISAKSSON (doubt)
The Swedish Internation is not the goalie Rutten likes to see. Great reflexes but vulnerable with crosses and weak with his feet. Brands will find a competitor for the lanky Swede.
CASSIO RAMOS (doubt)
The Brazilian second goalie was never a threat to Isaksson. PSV likes to off load Ramos but which club would want him?
JEROEN ZOET (allowed to go)
Talented goalie who's got a spot in Young Oranje. Brands wants him to be hired out so he can gain some experience.
KHALID SINOUH (stays)
Sinouh will return to PSV as second or third goalie. Important for the group, experienced and knows his place.
Defense
STANISLAV MANOLEV (doubt)
Ridiculed and laughed at, but a player with passion and commitment. A somewhat rough diamond, with wild rushes along the byline. International coaches might see something in him and might sign him.
MARCELO (stays)
Wasn't too successful in this first season but is a regular. He's got heaps of energy but weak in possession. Needs to work on his kicking. Will stay.
WILFRED BOUMA (stays)
Started well when he returned but it struggling with his physical body. Said no to Oranje. Is focused on himself and hasn't been able to lead. He always claimed he wasn't a leader but could lead by example once he can start a new season after a decent preparation.
ERIK PIETERS (stays)
Signed a new deal till 2014. He developed into the fixed left back of Oranje but struggled at the end of the season. After some holiday and a good prep, Pieters will most likely be a rock again.
FRANCISCO RODRIGUEZ (doubt)
Rutten says he has three top center backs, but this Mexican believes he's number 3. PSV renewed his deal and claims the Mexican agreed with this, although Rodriguez tells everyone who's interested that he wants out. Might be best for all parties.
JAGOS VUKOVIC (allowed to go)
Rutten's signing, who's far removed from the starting line up. Needs time to develop but doesn't get it. Might be loaned out.
ABEL TAMATA (stays)
Good prospect who's close to the first team. Will try and get a fixed spot next season. Two-feeted, passionate and talented.
Midfield
ATIBA HUTCHINSON (stays)
Plays on any position in defense but is actually a holding midfielder. Perfect destroyer. Not too strong in possession and in pass/move game. Popular with the fans.
OLA TOIVONEN (doubt)
Controversial due to his bad behaviour but Rutten needs a player who tries to find the edges. Liverpool follows him and there will be more interest for the Swede. He needs to be more decisive in big games.
ORLANDO ENGELAAR (doubt)
A lot of fans see him as the symbol of the melancholic play and lack of passion. His lanky motorism and his length work against him. He might be tempted to move abroad if an interesting club comes along. PSV might benefit from him leaving.
OTMAN BAKKAL (doubt)
Was candidate number one to take over Afellay's role but performed under par and lost his spot. Only has a work relationship with Rutten and wants out. Bakkal doesn't seem to be ambitious anymore.
STEF NIJLAND (out)
Expensive Rutten signing. Hardly ever tested and there might a good reason why. Has a contract until 2013 but will be loaned out.
STIJN WUYTENS (stays)
Close to a starting position but tore a ligament late in the season. Is injured until winter and will not leave until then.
RABIU IBRAHIM (blijft)
Signed in March but as a result of red tape and an injury not seen in action. Nigerian players is a good dribbler but has a lot to prove.
FUNSO OJO (doubt)
Loaned out to VVV, and never really got playing time there. Brands wants to find out if his future is in Eindhoven.
Attack
JEREMAIN LENS (stays)
Strong second competition half. He might be snatched up by a foreign club. Lens has speed and can play in all positions up front. Isn't ready for a big transfer but who knows…?
MARCUS BERG (out)
The Loan player from HSV was a notorious chance killer. Rutten said some months ago that he wanted to hang on to Berg but now there is no chance that will happen.
BALÁZS DZSUDZSÁK (doubt)
Most valuable player in the Eredivisie and it's only logical that the big clubs will circle around him. Signed till 2015 but that will only serve to up his price. Is ready for a new step, if the price is right. PSV wants 8 mio euros.
DANNY KOEVERMANS (out)
Koevermans is angry that Rutten never gave him a chance. PSV needs scoring abilities but the goal scorer was ignored. Is transfer free and wants to go to a club where he can play.
JONATHAN REIS (stays)
Heavy knee injury threatens his career. This player seemed to solve the striker problem in Eindhoven. No one knows whether he'll return but if he does it will be in March 2012.
ZAKARIA LABYAD (stays)
Broke into the team in the last weeks of the season. Biggest prospect of PSV's youth. Is being protected to the hilt and needs to grow into the new leader.
GÉNERO ZEEFUIK (stays)
Scored important goals for PSV but never impressed with his play. He's got a new deal in Eindhoven but won't get a starting spot under Rutten.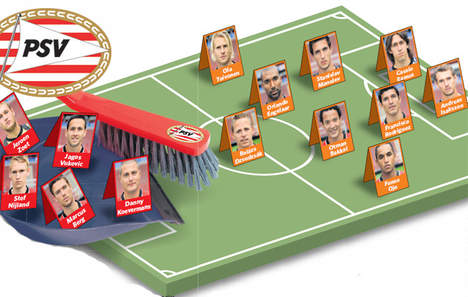 Subscribe

Netherlands World Cup Blog RSS Feed

Share
Comments

really appreciate your effort on this blog, jan
keep it up!
Posted from
United Kingdom

Agree with Ajacied_23… Jan you are doing a fantastic job I love this blog I may not post as much as some of the other bloggers but I check the blog upto 10 times a day if not more…. So that guy can say what he wants but we all appreciate what you do. Thanks Jan
Posted from
Australia

Jan,dont worry about some Peter out there.
This is one of my most visited sites every day,and one of my favourites! I always check here first about some news on Netherlands football. So I thank you for all your good work on this blog.And everyone else who contributes to this blog with great comments.
BTW,Brazilians are impressed with Wijnaldum on dutch trainings,calling him like one of them.

Peter – What do you know about dutch football?
Alex – I agree with all the reasons, he is the most talented player in the U 21's but I don't think Bert will ever call him up so I;m worrying whether India might make the first move.
Abhirup – You are mistaken. Michael Chopra (Cardiff City) refused Indian approaches in 2007 and 2009 before finally when even the considerably less talented David Nugent (striker Preston) and Jay Bothroyd (striker Cardiff City) got call ups ahead of him he agreed to represent India after he realized he would never get an England call-up! The same case might happen to a frustrated Narsingh…look Wijnaldum is already called up.
Posted from
Bosnia And Herzegovina

In other news, Ajax really starting to shape up for next season, another transfer capture confirmation…Derk Boeriggter
http://www.goal.com/en/news/1686/eredivisie/2011/06/01/2512571/official-ajax-sign-derk-boerrigter-from-waalwijk-on-three
Posted from
Bosnia And Herzegovina

PSV to sell Toivonen and Dzudszak confirmed.
el Hamdoaui to Trabonzpor confirmed.
Bryan Ruiz to either Benfica or Porto…
Twente and PSV not looking good
Posted from
Bosnia And Herzegovina

Bayern Munich has signed Nicklas Bendtner subject to a succesful medical for 12 million pounds.
Posted from
Bosnia And Herzegovina

Jan,don't worry about Peter,this blog is one of the best foorball blogs on earth,and even if you translate something i consider every articles as yours,bewcause the way of selection is personal and i can see concepts behind the selection.

Wijnaldum is called because many midfielders were injured,Srrinjoy. But the wingers are healthy,except Lens.
And you cant expect someone to get a call up after only one good season,right after his breakthrough. Wijnaldum has well over 100 games for Feyenoord although he is only 20. That counts.So i am sure Narsingh is not frustrated at all. Cmon Srinjoy,he is only 20,with one season behind him!

The one who should be frustrated for not getting a call is De Guzman,I think…

http://www.youtube.com/watch?v=Rly0OnAHbAQ
Bayern Munchen wants this Ajax player, anyone knlow him? Looks very talented.

The first thing that PSV has to do is sack Rutten, with him as a coach PSV will be third for ever!

Ruud van Goal is already in Spain to sign for 'Spanish Manchester City', Malaga.

About Bert calling up Narsingh, why would he have to, in just something over a year he could be leaving as our coach.. i doubt a 21 year old Narsingh still playing for the U-21's will be impatient within a year, the kid just barely played the majority of last season. I'm less concerned about him :p
Posted from
Netherlands

@Jan: Your blog is priceless. As I do not speak any Dutch I am severely handicapped in staying on top of Oranje.
I love your articles, they are informative and up to date. This Peter chap is not providing any value so hit the ignore button.
Speaking of buttons, is the ever so evasive "edit" button in the works?

Haha Finn… I'm afraid it is, but it means we have to change the whole site over to the Equus system ( I think it's called) which has other disadvantages. I will check with the blog gods once more.

Danni – Tom Overtoom has long been a sensation in the youth ranks and might well be looking for new pastures as ajax don't seem to be recognizing his talents.
Petrovic – ur rite wijnaldum has been called up more as midfield cover rather than a winger so Narsingh has no reason to feel hard done by. Infact Narsingh will prolly patiently wait for atleast 3 more years ..perhaps he will rethink his international future if he keeps up his form and develops further without get seleceted for euro 2016.
The player apart from De Guzman that I think is particulary feeling hard done by is Diego Biseswar..who I feel is ahead of Wijnaldum in all aspects of footballing ability, pace, trickery, long shots, free kicks dribbling, through balls, finishing,! He is already 23 and I doubt that Bert will ever call him up!
In case you haven't seen his sensational goals for Feyenoord!
Posted from
Bosnia And Herzegovina

http://www.youtube.com/watch?v=RMyg8vBzOl0
Posted from
Bosnia And Herzegovina

http://www.youtube.com/watch?v=NllVNAQ3dKk
Posted from
Bosnia And Herzegovina

http://www.youtube.com/watch?v=3ZrgdfUcXdk
Posted from
Bosnia And Herzegovina

BTW – I thought Peter was joking given the
.
Jan of course appreciate you keeping everyone up to date, for both Nederlandse taligers and Engeles taligers (Dutch and English speakers, if I remember correctly
.
Bummer that team Phillips is having trouble. Funny how the big 3 aren't always on top anymore.
Still would love to see a merger between Belgian and Dutch Leagues to boost the competition a wee bit.
Posted from
United States

i love this blog

Interesting to see the Dutch league still has some attention abroad. The biggest mistake of PSV was signing average players which costs loads of money. This week a football discussion program announced the salary of some players. Engelaar received 1.75 million per year, Isaksson 1.5 million, Berg 1 million+. It was known Kromkamp former player of Liverpool and Villarreal and currently part of the second team earns above a million. Those players are just average players or below. Most of them are elder players which failed to succeed abroad and often not discouraged about this fact and not very motivated to play in the Dutch League. Therefore, I hope PSV will focuss on young (Dutch) players which has everything to win. If the can get rid of Isaksson, Engelaar, Bakkal, Maza, Manolev, Berg, Koevermans. I would love to see some stars of the top-half table teams such as Tyton, Toornstra, Vormer, Schone combined with young talented players from small leagues in Europe which consider PSV as a good opportunity in their carreer.
Posted from
Netherlands

@John They are indeed average players the problem is that in todays football those are also average wages.
People have a hard time realizing the growing income gap between Dutch sides like PSV and teams in other bigger European leagues.And while Dutch teams try to focus on talented youngsters the fact is that this is also going to end, simply because bigger clubs as soon as they see a talented youngster coming through the ranks, will be able to offer them contracts with wages that are much higher then they would be able to earn by staying with a Dutch side.
Posted from
Netherlands

@samuel Oudegeest | June 1st, 2011 at 3:27 pm
I think something like that could only work if you also scale back the number of Dutch/Belgian sides in the top flight.Say go from a league of 18 teams to 10 so what income there is through advertising and TV rights gets distributed among fewer teams.
Which is only possible if the bigger Dutch and Belgian sides decide to go rogue from there current national associations and form their own league.
Sort of like how the Premiership came about.
Posted from
Netherlands
Comments are closed