Pep Guardiola, half Dutch….
September 13th, 2011 | by: Jan |

Comments(97)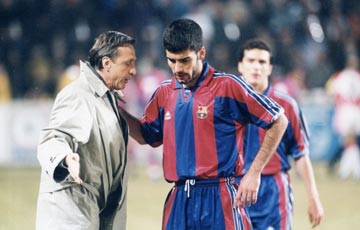 Johan Cruyff allowed him to make his debut. Louis van Gaal made him skipper. He played with many a Dutch player and all that Orange must have influenced the most romantic coach of today. How Dutch is Pep really?
It's a typical Pop Quiz question: Which Dutch player was the first team mate of Pep Guardiola? No one would guess: Danny Muller! The only Dutch player under contract for Barca who never made it to the big team. The now 41 year old son in law of JC saw the young Guardiola make his way through the system in a time when Archibald, Lineker, Carrasco and Lopez Rekarte played in Camp Nou. Asked the question ( "Is Pep half Dutch?") Danny Muller smiles from ear to ear: "Of course he is. Pep loves Johan and Johan loves Pep. They think, play and coach exactly like each other. Pep has taken Johan's football vision of back when and put it into today's times. Johan supported him in that. You can easily say that today's Barca is modelled on Johan's Barca. And Michels had Cruyff, Cruyff had Koeman/Laudrup/ Romario and Pep has Messi."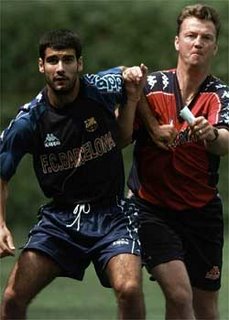 Ronald de Boer played with Pep at Barca and shared time with him in Qatar, in the winter of their carreers. "Pep loved Dutch football. He always talked about total football, forward pressing, about what Johan taught him and about Dutch players. Don't forget Louis van Gaal in this, though. Johan was key in understanding the beauty of the game but Louis is a bit more focused on winning. Johan couldn't care, sometimes. Louis can't stand losing and I think that Pep has a bit of that winning mentality from Van Gaal. Pep has that urge to attack and to dominate, a bit like the Dutch play. I had a great relationship with him. But he played with so many greats, so I was really totally flustered and humbled when in Qatar some newspaper asked him which ex-team mate in his eyes was the best… He mentioned me… I'm proud of that. He played with the best of the best and picked a Dutch player. I think Pep is the best in the world today. He's all style. Look at how he presents himself. His dress sense, his composure… Compare it some other coaches, if you know what I mean? I think Pep is great. And don't forget: he lost his first game as Barca coach… I remember thinking "oh no…"…. And look now!"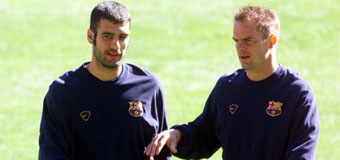 Michael Reiziger was asked the question, right before the World Cup finals between Spain and Holland and Michael lives in Barcelona still. When asked the question, he looks around ( the cafe ) and smiles… "Let's not ask Pep that now….haha… But sure, Pep is very good in tactical sense. He sees the game. He always played in front of his defense and he sees the next three moves already. A typical Dutch thing, I guess. But also a typical Barcelona thing now, and as you can see: the Spanish team has taken on that game plan as well. Funny, I never wanted to be a coach. Neither did Pat Kluivert. Frank de Boer is the only one that said "yeah, I can see myself as a coach." Even Pep never spoke about it and never expressed that ambition."
Marc Overmars sees it differently. "Well, sure, Dutch football and Barcelona have this tremendous link and all that, but with how Spain and Barca are doing compared to the Dutch clubs….I don't want to be sour but it's the Spanish that rule, not the Dutch so much anymore. I was shocked to see Ajax play Real Madrid last year and we have trouble qualifying for Champions League football let alone "play Dutch". We need to look at Spain with more respect, I think."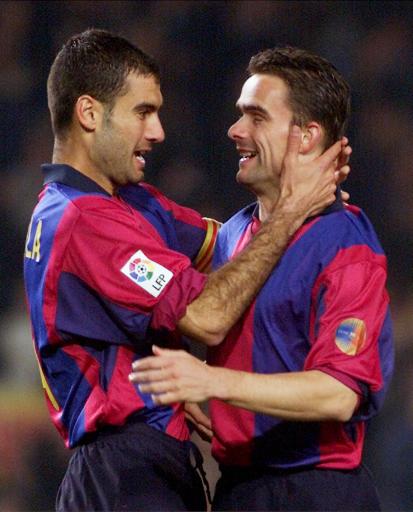 Frank de Boer did see Pep take on the coaching mantle. "Yeah, not because he said so, but because of his vision and his focus. He was already a coach when we played. He was constantly talking, nudging…. In a positive way. He was the silent leader. Some players were vocal, like me I guess. But Guardiola and Philip Cocu were the silent leaders. Louis van Gaal and Pep only needed eye contact. Was good to see and I think it was clear than, that Pep one day would be a coach. But that he'd be this good….Man….."
Asked about Guardiola's personality, Danny Muller says: "Pep is quiet. Reserved. I remember in the youth he was lean and tall. A lanky fellow. He had a baby face too. I remember that Johan and Tonny Bruins Slot needed a defensive player. A center back or a "number 4". Carlos Rexach was the youth coach of Young Barca and he was reluctant to let Pep go. He never pushed him. I think everyone was afraid that Pep was too vulnerable. So Johan went to check the team out and spotted Pep. He never played remarkably well. Other players were eye-catchers. Dribbling, or long passes or with great goals. And only 20 minutes into the game, Johan looked at Tonny and said: "Ok, I know enough. We found him." Pep played simple. One touch. Really tight. Exactly what Johan needed. He was a quiet fellow. Never a party animal. I'd hang out with him on the beach a lot. We played fussball a lot, he loved that."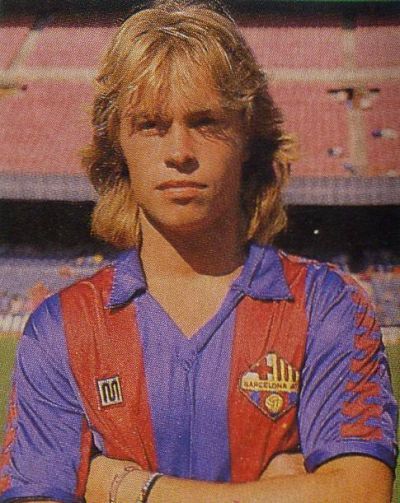 Danny Muller
Frank de Boer has a bond with Pep, like Brother Ronald. "Pep was the one who sort of guided us when we just came in. He's very open and social. His English is really good too, I think he's a well-educated bloke. I was always good with all my team mates but Pep really became a friend. We hardly speak or see each other but we have that bond."
Ronald de Boer: "In Qatar, we spent every day together. He's a mate. He's quiet, not a bravado type guy and everything he says is though about you know. He thinks before he speaks. He's a fun guy to be with, social, very dry humor and simply good company.
Most people will confirm that Guardiola has that emotional intelligence. Louis van Gaal: "And that is why he was my skipper. I never picked the oldest player or the best or the one with the biggest mouth. I picked the smartest in social dynamics. Pep was not the oldest and was way down in the hierarchy, under Popescu, Nadal and Amor. But Pep saw the game and had the communication skills to structure the team. Both on the pitch and in the dressing room."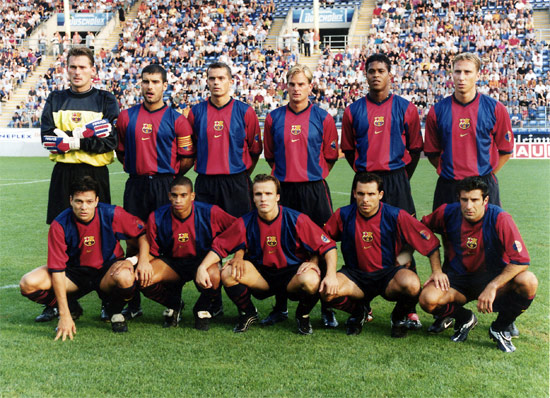 Overmars: "You knew he'd be a good coach. As a player, he saw the football solution before someone else did. He never panicked. Was always in control. I only met a handful of players like that. Ronald Koeman has that too. Van Gaal has it. And Barca develops those players. I'm sure Iniesta and Xavi will make wonderful coaches. Litmanen will too. It's interesting, that most of these players – Van Hanegem comes to mind too – are slower. They lack speed as a last resort, so they have to play on smarts and vision. They are grandmasters on the tactical aspects. It's interesting, I flew over Barcelona one day and I saw all these little concrete sports fields in the city. They do have the weather as well of course and little kids can play on these fields constantly. That is why they create those typical players…. Fabregas, Ortega, Villa, Silva…. And tennis players too. And why we have all those skaters, haha…."
Frank de Boer concurs: "Pep was actually the fastest of us all. Not with running, but with thinking. The way they play now, is typically Guardiola. Patience. Passing. Waiting. And then suddenly, the fast through pass, tearing the pitch open, finding the free man. That is Pep."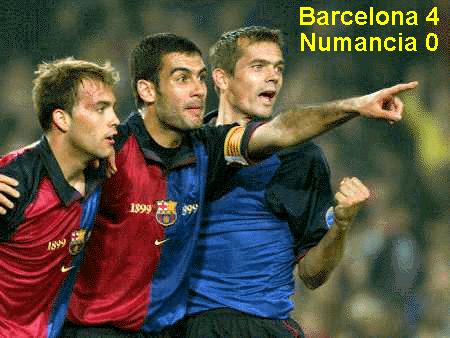 Do you see lots of Dutch influences in Pep's Barca? Frank de Boer: "The biggest thing for me is his fast turnaround, from losing possession to pressure play, to gaining possession and attacking. When Barca loses the ball, they want it back in four seconds, max. And as the opponent will be less organised as a result, they can pounce. And all Barca players will have this as part of their DNA."
Ronald de Boer: "That pressure play, that was brought in by Louis van Gaal. He practiced it constantly but Pep is executing it in a much more extreem way. Henk ten Cate and Frank Rijkaard picked up on it too and did great work, but Pep really took it a couple of nudges up. I have ten sports channels at home and can watch football constantly but I hardly ever finish a live game. Except when Barca plays. No way will I switch away from that."
Former coach Henk ten Cate: "Guardiola deserves all the credits for his work. Pep is….different. I think that he is on his way to realising the perfect game. And with Xavi, Pep sees the perfect copy of himself. Actually, Xavi is most likely even better than Pep. Even quicker in his vision and execution."
Ronald de Boer: "I don't think I ever saw any team play better football than this Barcelona. Oranje could actually get there, I think. With Sneijder, Van der Vaart, Robben, Afellay I believe Holland has the players to do it too. Quick, tight, attacking and creative."
The last question would be: if Pep is so Dutch, wouldn't we want him as our team manager after Bert moves on?
Ronald de Boer: "I think personally, that we need a Dutch coach as team manager, but as Pep is half Dutch I would say: why not? If there is one coach from abroad I'd pick, it would be him."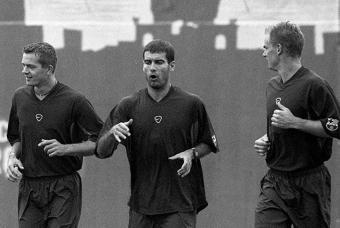 Subscribe

Netherlands World Cup Blog RSS Feed

Share
Comments

Twente and Luuk De Jong deservedly equalize away from home against Fulham. 1-1 at the half. Great point for Twente if it stands.

PSV won 1-0, AZ winning 3-0, goal by Maher…Ajax tied, Twente tied so far…not bad at all…
Posted from
United States

Wolfswinkel scores off the bench for sporting. He should be starting, hes scored a handful for the thus far…
Posted from
United States

AZ looks good this year…with beerens, Maher, Altidore (who has been surprisingly good), and werndbloom, they well definitely fight for a CL spot
Posted from
United States

And a tie with Fulham is not something to be proud of, they have yet to win a game in the EPL (i think), they are awful this year.
The top 3 teams in holland should always beat the bottom 6-7 in EPL
Posted from
United States

Wolfswinkel did start for sporting…he was subbed off…
Posted from
United States

@Paul: I wish you were correct. EPL and Eredivisie is like comparing David to Goliath. Once in a blue moon they win, but in 99 out of a 100 they get fecked, regardless of table position.
If Twente takes a point away from Fulham, they are 99% through. The other teams are really shite.

The other teams in Twente's EL group in case I wasn't specific

@ Finn
Maybe so, but i am disappointed with the tie. Ajax tie with Lyon is ok…Lyon is a damn good club and went decently far in the CL past 5 years, knocking out RM, etc.
Posted from
United States

@J. Yes it is a serious idea, at least it started as a joke, but scientists, geologists, entrepreneurs, investors, a few sports agencies etc. have started working it out and researching the costs and benefits of it.. should it in the end bring up more money than it costs to build, itll probably seriously be built xD
Posted from
Netherlands

You know, I think Maher is the biggest Dutch talent in a while in Eredivisie.. 18 years old and playing midfield like he's been there for years..
Posted from
Netherlands

@Paul: Fair point. But dont forget that Fulham was in the EL final 2 years ago either. I am pretty sure the Twente dressing room is pretty happy tonight.

I am with Finn. Fulham will come good this year as Dempsey, Ruiz, Hangelaand, Zamora are all good. I expect them to be top 12 in England and a away draw is therefore decent.

Has anyone seen Roy Beerens' dive against Malmo? It was jokes. It was so poorly executed that he even laughed about how bad it was in the post match interview.

If you guys want to see some really good "dives" watch the Rugby world cup and now it's seriously "in" to do a Swan Dive when you cross the line alone. Big Difference between Rugby players and Footballers is that in Rugby the LAST thing you want your opponent to know is that you're hurt (no matter how hard the tackle) which is the FIRST thing on a footballers mind. (sad!)
Posted from
Singapore

Speaking of rugby, how bout that win against the russians! USA baby!
Posted from
Australia

Shut up jason n van den berg..u dont watch united so stop speaking out of ur ass…
@ferenc..exactly man..thats what i m talking about!
Posted from
Bosnia And Herzegovina

unbelievable
http://www.goal.com/en/news/166/europa-league/2011/09/15/2666654/martin-jol-admits-not-telling-bryan-ruiz-he-could-not-play

Sulejmani and Ebilicio can´t play against PSV this weekend.
Who will play instead them??
Maybe Lukoki??

@Srinjoy: I think Jason and Van den Berg watch quite a bit of Man Utd. I think you are the one that needs to watch your ass and put on some diapers. They were on here before you even were born.

@ srinjoy. LOL

Cheers, Finn!

I agree people. Let's stay civil! We don't tell people to shut up unless they come and defile our orange. Is that clear??

excellent, beneficial, where do you get your enthusiasm.
Posted from
Australia

I'm glad I've came across your web blog, some captivating points you have got here and futhermore a concise writing personality.
Comments are closed