Oranje, the future looks bright… Attackers…
July 25th, 2010 | by: Jan |

Comments(33)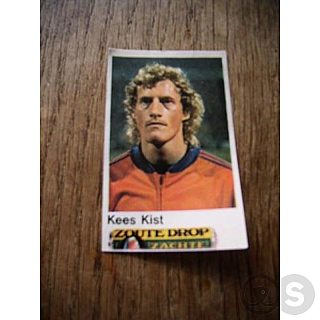 A true "midvoor"… Kees Kist
The bad thing is…we don't seem to have that many sensational wingers and strikers knocking on the door… Elia? Sure! Babel? Lens? Amrabat? Biseswar? Hmm…. Maybe not…
The good thing is, I believe Bilardo saw it right in 1986… "In the future, teams will play without a static striker…".
Is it coincidence, that we can't seem to produce heirs to players like Van Kooten, Nanninga, Houtman, Kieft, Nico Jansen, Ruud Geels, Kees Kist, John Bosman, John van Loen, Marco van Basten, Ruud van Nistelrooy, Roy Makaay, Hasselbaink, Kluivert, Koevermans, Vennegoor, Hesselink, Huntelaar?
Van Wolfswinkel and Bas Dost. Maybe… Who knows…
Castaignos… Pffff….some time to go….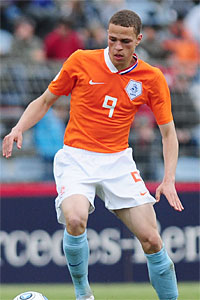 Luc Castaignos
With Robben, Elia, Babel and Huntelaar we do have players to fill the top two positions (give or take).
I haven't ruled out Ruud van Nistelrooy as yet and like others I believe Siem de Jong can step up to play central striker too. He's strong, focused and doesn't feel the heat when he's got a scoring chance.
And yes there's youngsters, like Dost and Van Wolswinkel and Castaignos and Castillon and others that Alex and Goose know off
.
But the old-fashioned "midvoor" seems to be dead. Koevermans, Vennegoor of Hesselink… Are they still the type of players we're looking for? Maybe as pinch hitter, sure. But remember Ruud van Nistelrooy at the EC2008…
He was more the deep playmaker and linkin pin than the goal scorer. The goals came from people coming into the box, more so than people already there. I believe we had one "normal" goal scored, against Romania (cross into the box, wham-bam goal). But Ruud did his carrousels, his one-two's, his flicks and of course he had a tap in. Anyone would have scored that one. Except for Robben of course
. (Couldn't resist)
So, with the changes required from the classic center striker and the changing systems and roles in modern football ( ask Rooney/Berbatov, ask Wenger at Arsenal, check Higuain at Real or Huntelaar at AC Milan) it's safe to conclude the classic striking school of thought is in crisis.
If you play 4-4-2, you'll need Babel/Lens/Elia/Robben/Van Persie type striker. If you play 4-2-3-1, you need a Van Nistelrooy style battler… If you play 4-3-3 with left footers on the left and right footers on the right, you'll need Huntelaars…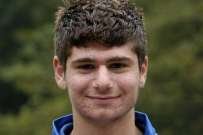 Portsmouth's Ciftci
But I still believe, that the players available to you – as a coach – should determine the style.
We'll save the "Systems Discussion" for a future post, ok?
For now, we have to make do with Huntelaar/Nistelrooy/Van Persie as center striker, with maybe hopefully the likes of Babel/Lens rising to the occasion. There's an interesting group of youngsters coming behind them, but for all their skill and promise, it's too hard to say if they will ever deliver. As said before, former ADO Den Haag and currently Portsmouth prospect Nadir Ciftci looks the sharpest for now. The 18 year old has two internationals for the U17 team under his belt and will add more orange jerseys to his collection, without a doubt.
As for wingers, the classic Rensenbrink/Moulijn/Van 't Schip wingers are hard to find. Sparta had a couple, Feyenoord might have one or two and I'm sure Ajax will have a couple. The best one yet, is Roy Beerens, the former PSV winger now having fun at Heerenveen and most certainly on the brink of big things.
Other names that could suddenly impress this season: Feyenoord's Diego Biseswar, PSV's Nordin Amrabat, Tim Vincken, Nacer Barazite at Arsenal, Luuk de Jong ( Siem's bro, the center striker at Twente) and we might even see Castillon play in Ajax 1 for a change. And with Stefan Nijland at Willem II and getting playing time, we might see some fireworks from him too.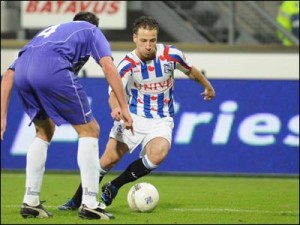 Old fashioned left winger Roy Beerens…
Subscribe

Netherlands World Cup Blog RSS Feed

Share
Comments

I think teams will always need the target man striker. But demands on them are higher than they were in the past. Maybe bcse teams give importance to the defence first. Mourinesque style.
Strong tall guys with just a good header and finishing insticts cant make it any more. But guys tecnically gifted with all those above, who give to teams more than one option in attacking, will be always welcomed. Zlatan, Torres type of players.
So to me it will be: Welcome Castaignos the one for the future. He has a good build up strong body, has agility, is technically gifted, can pass and cross. And I think he is mentally strong too.
Wolfswinkel, has a weak body. He needs to work more on that, without losing his agility.
I havent seen much from the other young guns so I cant say much.
But I still have hope on Babel, and Hunter. They can still improve.
It seems strange enough to me that even though we dont play total football, we seem to have total footballers.
Posted from
Greece

I have heard of the interest from Liverpool and Chelsea and I feel flattered. There are two big clubs and if I am a regular place is in prospect , it would be almost impossible for me to reject an offer."
VDV

@Sonneveld: You scared me there for a bit, I thought you were talking about yourself…
Mind you, your videos are top quality and I wouldn't be shocked if a Big 4 came after you, although I am sure Jan would demand a very hefty transfer fee

The future Oranje striker is with my main man, Bas Dost (whom I still have yet to see play…), but with a name like that, 21 years old, and 1.95 height you can not possibly go wrong.
@Alex and other Dutch in Holland: What is the view on him? Even though he signed a 5 year contract, I wonder how long Heerenveen can hang on to this guy. It would be nice if he could stay and mature in Eredivisie and don't do a Babel and leave far too early.

Lads, take a look at this. This is Spain vs Italy in U19 championship. At 2-0 up to Spain, the player dives (what a shocker, I know…) and gets a cheap penalty.
Now, what is totally amazing is the penalty. It doesn't look extremely fantastic until you watch the replay and see what the young lad actually does. What a technique!!!

Sorry, here is the link: http://www.youtube.com/watch?v=TBOGfg6YhaU

Finn thanks for the laugh and the video. I may try that shot today, can't believe the power generated.
And I saw that you were worried about Drenthe joininh Pool but I am almost certain it won't happen. And if it did he is better than Babel. Much stronger in the link-up game. Babel just can't do one touch passes or the little things.

Nordin Amrabat had chosen to play for Morocco I thought. And what I think we need is a Kluivert/Van Nistelrooij/Huntelaar type of striker. A fox in the box, who just finishes off moves, as opposed to van Persie/Bergkamp/Cruijff who's all over the field.

thats a great penaltyl cheers finn btw; pretty amazing dive too
Dost is a good striker but im not sure if hes good enough for the big boys
vWolfswinkel is a good striker but hes so small
btw: dont know if any of you guys have this but i have had some moments when i think: " fuck; did we actually lost a WC final?!"
Posted from
Netherlands

haha Finn, I had the same idea reading Sonne's comment
.
Expect a big piece on Dost soon!

Nice oenalty shot, i was watching the game, great fent.

Another interesting prospect out-and-out striker is Dutch U21 Charlison Benschop. He was well coveted by Feyenoord, Heerenven, and a host of other clubs, but decided to choose AZ. Now, if El Hamdaoui and Dembele are truly exiting Alkmaar as many have expected, Benschop will find himself in a very favorable situation, and in the right environment, he can develop nicely.
I've only watched him playing briefly (and my memory sucks ..
) so tbh I can't offer much analysis on his game. You can youtube him, and see it yourself. One thing that I remember is his physical presence– this kid is quite tall (1.91m) and muscular. Knows how to hold up the ball pretty well, too.

Good Golly I remember him! He used to be with RKC, right? I saw him play once. Strong, speedy, goal oriented….

Drenthe's move to liverpool is taking place coz of our finn's love towards Drenthe and his rap.Finn has said to Roy that with both of them they could beat "BEATLES".
@Jan….if we both were there then we will see kuyt and castelen…….Mutual support……..!!
Posted from
India

First of all,Huntelaar should accept that he failin AC Milan and go out to other club that give him another chance more than money . In series A or La Liga , small club ,small pay with less pressure on the shoulder same is good for Huntelaar to go back to the hunter not sitter.
Posted from
Thailand

Klaas Jan Sittelaar

good

Jan, you should write a chapter on this topic "Oranje,the future looks bright….Dead ball specialists".In the current team nobody looks lethal in this respect.We need someone like Ronald Koeman.
Posted from
Australia

We have a
deadly generation in making
attack and strikers
Oguzyan ozykup
Kyle ebilcio
Nadir Ciftci
Luk Castaginos
Bruno martins indi
Jefrry bruma
Patric van aanholt
van rhin
De vrij
Van la para
Posted from
India

Yaa jan we must have a discussion on system……..
Going back to 433…….with proper players…..
Posted from
India

It is always a pleasure to read this kind of analysis.
This is a very well maintained NT blog indeed.
Always keep us posted Jan!

Thanks all… the systems post is coming soon!
but first we will hail our skipper, Gio van Bronckhorst!!!

O yeah.. ONE IMPORTANT NOTE..
Please get Royston Drenthe out of Real Madrid (that or hoping that Mou will lay his midas touch to him).
It's a pity that such great talent came to such a waste over his years in Real Madrid.

Hi Jan,
Will you write about what the Dutch team will be in Euro qualification or is it too early? How many changes will we see Van Marwijk make? Gio retired and he deserved a cheer from all Holland's fans. Do we hope to see more attacking football or more likely the coach will stick with 4-2-3-1? It seems like the same WC team will feature in the Euro with 1 or 2 changes only.
Posted from
Canada

They will be more happy then any other team in these world cup.
Comments are closed