Oranje qualifies thanks to debutant goals
September 7th, 2011 | by: Jan |

Comments(137)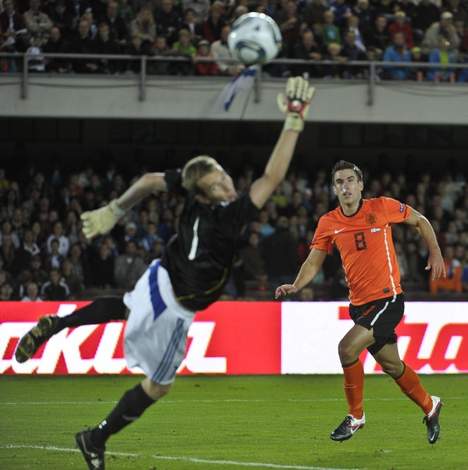 Oranje is qualified. The missed penalty of Turkey was enough to make it a clear case. Bert van Marwijk poured himself a glass of wine. "I would have taken that anyway," he smiled. He was content with the qualification, but not with the performance of his team. "A lame performance. I never had to yell so much before. We were slow, sluggish and lacklustre. I subbed Klaas Jan and Robin for that reason." The press wanted to know if Bert was happy with the qualification. "Well, you said at the start that we were in an easy group. That means I can't be doing a conga line now, can I?"
Oranje played 16 qualification games under Van Marwijk and didn't loose one single point. "The pressure is on. It's getting harder and harder to keep this going," is what the former Feyenoord coach says all the time. But every game it appears to be easy still. The coach of Finland was euphoric that his team only conceded two goals.
Van Marwijk: "He said they played a fantastic game. I think they were pretty poor actually. They only defended. Some teams are happy if they only lose with 2 or 3 goals difference. That's a weird idea."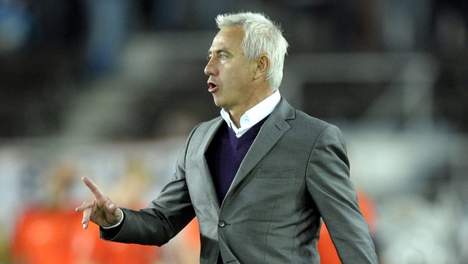 Oranje plays it's next game against Moldavia, on October 7. "We want to win that game. We want to win all our games. I don't like calculating, so it's easy if we just win them all."
Kevin Strootman scored a tremendous first goal for Oranje with his left foot. The English commentator compared the goal of the 21 year old with a Dennis Bergkamp goal. Strootman played his sixth game for Oranje, which is not bad for a lad who only played for Sparta in the Jupiler League last season.
With genius Sneijder, Strootman was the man of the match in Helsinki. Not bad, to be the best on the pitch of the best team of the world. Bert van Marwijk: "Kevin is young, but he plays a very mature game. As a player, he's inbetween Nigel de Jong and Raf Van der Vaart. Nigel is more defensive and more of a destroyer, while Raf is more creative and more risk-taking. He clicks well with Mark van Bommel and Wesley Sneijder."
Strootman credits the goal to Van Bommel, partly. "Mark bumped into me and I got a bloody nose. I had to get some treatment and when I returned on the pitch, my opponent didn't see me. So I had all this space to run into and Wes saw it – of course – and had the perfect pass."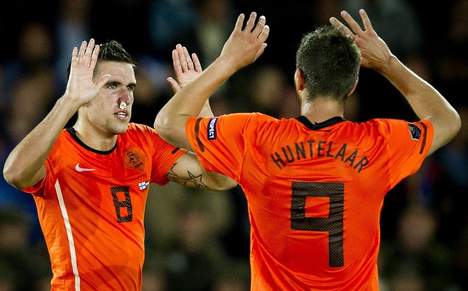 The PSV player wasn't surprised he did well against Finland. "That is the benefit of playing in Oranje. We are practically always better than the opponent and that makes playing football easier. And, if you play with the best of the world, it's easy to raise your game. Every pass you get is perfect. There is always a lay off option around you. The coaching is brilliant. I play a good game, partly because Mark van Bommel coaches me constantly. And Sneijder directs with his passing. The pace of his pass tells you how fast you need to move."
Strootman has overtaken Theo Janssen, Stijn Schaars and Demy de Zeeuw in the hierarchy. Although he does realise that De Jong and Van der Vaart will return. "I won't take things for granted. I will try and make the best of the opportunities I get. I can only do my best. If the coach picks me, I will demonstrate to him that he saw it well. The most important thing is that we qualified. And now we will win all our remaining games, because we are Oranje."
In the last minute, Sneijder sent Elia deep on the left wing and his first touch cross reached Luuk de Jong, who scored his first for Oranje: 2-0.
Subscribe

Netherlands World Cup Blog RSS Feed

Share
Comments

@Eduardo, Terrific article. Thanks for posting.

In fact, this article was posted in this blog like a year ago!
I just "re-posted" because we are talking about youth players!

Great article from the NY Times – lays our very well how Ajax's Toekomst (Future) academy works in grooming young talent. There's only one other academy that does the same – Barca's.
Also fascinating as it shows a directness of manner and reality that's really Dutch. "Does this training help the children mature in other ways? "
No – it makes good soccer players.
"Do they make them train all the time?"
No – their kids – and it would be counter-productive, etc.
Posted from
United States

@ferenc buddy i have not included any of the formetioned young players.but i had some hope in drenthe…Still he can make.let us see what he can do with everton.

This article made think
http://news.bbc.co.uk/sport2/hi/football/world_cup_2010/8789682.stm
klinsmann talk about the support recieved by National football federation.
The KNVB can support better our Orange??? how??

how come elia or afellay not included in the wingers discussion? i guess they are in the good category. what happen to babel and where is he now?
Posted from
Canada

I see Affelay more like offensive midfield (number 10), in Sneijder spot, than as a winger (but also is a very good wing too).
Imagine 1 spot only for Sneijder, Vd Vaart, Affelay, Wijnaldum!!
Wingers (2 spot): Robben, Kuyt, Van Persie (if Hunterlaard play as central striker), Elia, Affelay, Wijnaldum (?),
and the rest: Babel, Ola John, Cabral, Drenthe, J. Lens…etc.

@ Eduardo, tbh that's what im still missing with oranje, we always hope for talents.. and we always talk about 4-3-3 but its not like all dutch clubs and academies use similar techniques and programs.. I do miss at least on the surface, a coherent policy in the way to preserve a dutch style of football or to build toward more stable performances in youth and bigger teams. I mean, we have some fair successes etc. but I can't really see much of the same styles or anything in youth teams. It's just like, well we have some individual talents, let's see what they can make of it in a 4-3-3.
Spain had a big investment in their sports associations, modernising programs, facilitations etc. And training courses and youth development. Germany obviously used a similar approach.
And even though we have lots of good aspects, elements and initiatives in our youth etc. there is a lack of cohesion. There is still room for improvement there indeed. At least in my opinion.
Posted from
Netherlands

@Alex I don't understand what you mean exactly. You want to get rid of versitality?
Posted from
Netherlands

LOL, getting rid of versatility ?! yeh xD u didnt understand clearly lol. Just forget it then, too much of a hassle explaining it.
Posted from
Netherlands

Sorry guys, I had a follow up article all ready to go Thursday and my system crashed ( the software I use for this) and now I have to redo and I'm sooo busy already
Soon soon!!

okay then..
Posted from
Netherlands

don't you okay me.. lol
I'm a little lazy lately XD Sorry
Posted from
Netherlands

This is very interesting.LuxuryPix is Boulder Colorado's local premiere real estate virtual tour provider,
supplying image based marketing solutions to make your business soar above the competition.
virtual tours company
i am sure that you will find some useful information..
Posted from
Australia

Adam Maher,18 year old talent playing for AZ, said that he cant decide between representing Netherlands or Morocco yet.

@Petrovic: That's a bit like deciding if you want to drive a Mercedes or a Fiat (better known here in New York as Fix It Again Tony)…

oh yeah alex coz u have watched a lot of the swiss games haven't u..do u even know where Grasshopper plays their football..ofcourse u do..u just google everything…get a life man..get a sports suscription on ur tv
(btw this is like totally tongue in cheek so dont start a war)..btw who's backing drenthe to put on a show for everton?
Posted from
Bosnia And Herzegovina

YESSS FInally salvation with bendtner slamming sorry overhyped less than mediocre norway out of the way…de gea is finally dropped..LINDERGAARD..grab ur chance wid 4 limbs mate!
Posted from
Bosnia And Herzegovina

For me
The Main striker Spot…
Vanpersie>Castaginos=Huntlaar=Luuk de Jong=Kuyt>RVN.
The right wingers
Roben>Wijnaldum
The left wingers
Afaleey>Elia
No-10 position/Playmaker
Wesley>Vaart
Holding Mid Positions
Dejong>Strootman>Deguzman>Bommel
Left wingbacks
Peiters>Aanholt>Brpheid
Central backs
Johny>Joris=Maduro=Douglas>Devrij>vlaar
Right wing backs
Van derweil> Bruma
Gks
Stekelenburg>Krul>Vorm
Posted from
United Arab Emirates

de jong,strootman and deguzman are better than van bommel? i don't think so. strootman is talented,he might become as good as mark,but this is not the case yet. sde guzman: a little bit,the same,i hope he'll be a great player. de jong is definitely not the best holding midfielder,he's a destroyer (in every senses of the word),but the technically he's far below mark's level. do you remember the pass marc gave to van persie against san marino before the first goal? i wonder if de jong could ever give such a brilliant pass to someone. he's needed against certain team,when oranje has to go in war,otherwise all the other three are better player,at least technically.
Posted from
Hungary

@Srinjoy. "(btw this is like totally tongue in cheek so dont start a war)"
Well then i don't think you fully understand the concept of tongue in cheek.. I don't want to watch the swiss league, cause it sucks, it's even worse than eredivisie therefore I do not care about it in any way, nor do I value any of the 27 year old former talents playing at any club there. Who knows grasshopper from the top of their head? im sure its lots of people… Oh, yeh, wait sorry, it must be me. I will get a subscription to the Swiss league right away and give up on watching Bundesliga, Premier league and Primera Division.. My humble apologies for not watching every VERY important match in Switzerland or any other small european country. You are totally right.
Posted from
Netherlands

Anyhow.. im not starting a war, I'm just giving my opinion.
Posted from
Netherlands

Bommel is a well experienced player.He has earned wisdom of football by playing so many years.I just rated them over bommel just because of workrate and in some areas he is better than them.But Strootman and Deguzman plays better football than Bommel and Dejong.But we must have one experienced guy there.Dejong seems unquestionalbe in that position.more over we need some more work rate to play good football.More over he is at his 35.But we comapre him with RVN he is still young.
In Bayren Munich Bommel had a great partner in Basten schientiger and in Ac milan he is having Andre pirlo with him.Both are better footballers than him so it compensate well.But in orange situation is different.
Posted from
United Arab Emirates

Some people say vaart as holding mid ,i dont agree with that.Mataches againt Hungry was an example.or WC final was an example for that.Ineasta scored by the fault of Brapheid and Vaart.
We no option eitther we should go with Bommel+ Dejong this clearly limits our natural football.or we can go with Bomml+strootman or Dejong+strootman or Bommel+ Deguzman or Dejong+ Deguzman etc
Posted from
United Arab Emirates

@Ferenc i rate our holding mids almost equal,But as a holding mid feilder defencively De jong is the best and offencivly Deguzman is the best..Mark and Strootman lies in between these two.i dont want to see Mark and Dejong at same time pitch coz its limits our football,Dejong has zero creativity and Mark has killer pass in him.it goes like that.We want the best combination for orange thats what i care.
Posted from
United Arab Emirates
Comments are closed