Oranje monsterscore while Sweden slips up!
September 3rd, 2011 | by: Jan |

Comments(61)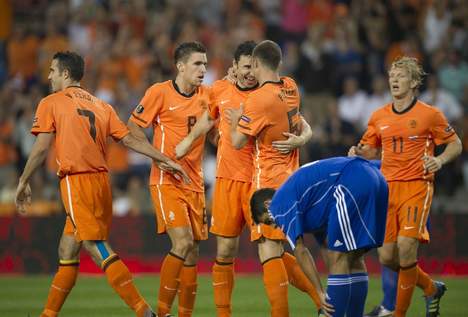 The Dutch football team translated the big difference in quality between the number one and the number last on the world ranking into a historic win of 11-0. The good news kept on coming, as Hungary beat Sweden (2-1) later in Budapest.
As a result, Van Marwijk's men are virtually qualified for the European Championships in Poland and the Ukraine.
Holland has to defend a 6 point lead in three games, over Sweden. The proud leaders will meet Finland on Tuesday and closes the series against Moldavia and Sweden. Sweden also has a worse goal difference than the number 2 of the last World Cup.
Never before did the Dutch team win with double numbers. The best performance was against Norway and Finland in the last century ( 9-0). Robin Van Persie, playing as a right winger, opened the score on a wonderful Mark van Bommel pass. Wesley Sneijder scored a beauty in the 12th minute and Heitinga gave the fans something to chant ( 10, 10, 10) in the 17th minute. But Oranje failed to keep on scoring, with Van Persie and Kuyt in particular messing up some opportunities. It took until the 49th minute for Kuyt to break the resistance and lead the team to the eleven goals. Robin van Persie scored four in total and Georginhio Wijnaldum scored a nice one in his debut game, in his new home stadium.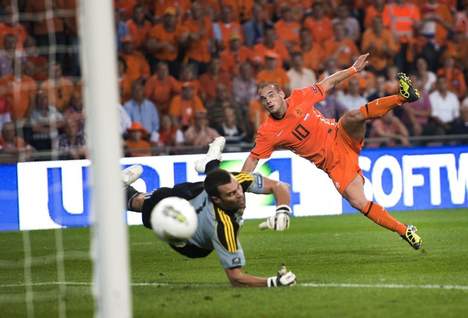 10
It was the warm and generous way his team mates ( Sneijder and Heitinga in particular) celebrated this last goal with him, that convinced me that this Oranje team is really a bunch of ego-less mates. The big lads from Inter and Arsenal treat the PSV youngsters as buddies more than minions. This is a big part of the success and why Van Marwijk is a great coach.
Wesley Sneijder was man of the match with some sensational passing and two great goals. Huntelaar scored, Kuyt found the net and Kevin Strootman played a strong midfield game, breaking up attacks and supporting his forwards.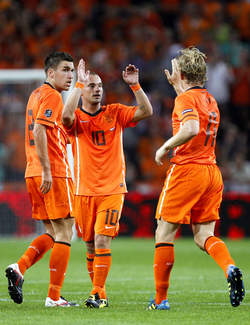 From minute to minute:
Nederland – San Marino 11-0
90. Wijnaldum scores his first in his debut game. Back to the goal, he accepts Maduro's assist, turns and scores without looking.
87. And there it is! The double numbers are on the scoreboard. Man of the Match Wesley Sneijder hits it home on a fine Van Persie pass.
86. Georginio Wijnaldum makes his debut for Oranje. The PSV player replaces club mate Strootman.
81. Another 10-0 in Einhoven. Last year artoiuGaat het Philips Stadion in 2011 opnieuw een 10-0 meemaken? Vorig jaar rond deze tijd versloeg PSV Feyenoord met die cijfers.
79. Strootman penetrates again and has a subtle backheel for Sneijder who finds Van Persie: 9-0.
77. Huntelaar scores his second goal. Strootman steams up to the box and isn't selfish.
74. Maduro and Elia replace Van Bommel and Kuyt.
67. Van Persie scores the rebound on a Huntelaar shot after another Sneijder through ball. The fans started to chant "10,10,10″ again.
65. Van Persie scores his second ( 6-0) after great preparation work by Sneijder.
59. Oranje gets better and better. One touch football, back heels, dummies, short passing…
56. After quick combinations between Van Persie, Kuyt and Sneijder, Huntelaar can score his goal being borderline off side. It won't take long for him to replace Patrick Kluivert soon as the eternal Oranje goalscorer.
51. A tremendous attack of Oranje. Sneijder should have scored but wants to lay the ball off one more time. Gone is the opportunity. E
49. Kuyt finally breaks the resistance. Van Persie crosses in, Huntelaar with the lay off and Kuyt's touch allows the ball to bounce awkwardly into the goal: 4-0.
46. Start of the second half. No changes.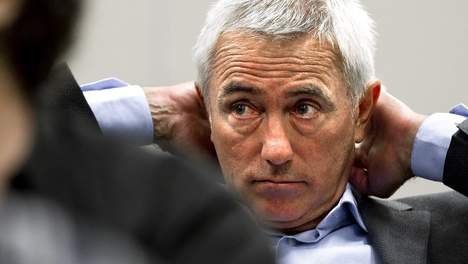 45. Oranje should have scored more but Heitinga and Kuyt were challenging one another for a header chance and Van Persie missed eye to eye with the San Marino goalie. After a bright start, Holland disappoints a bit.
30. The stats don't lie: 83% for Oranje, 17% for San Marino.
25. San Marino hasn't scored in 17 games but is close. Stekelenburg has to stretch all the way to stop Selva from scoring.
17. John Heitinga heads the third in. One has to say, defensively, San Marino is worse than Arsenal, but heck…Oranje is on its way to a record score.
12. And it's 2-0. Sneijder finds space and curls the ball in the top corner without looking. Instinctively knowing where the goal is and relying on his brilliant kicking technique.
7. Robin van Persie scores after a nice pass of Van Bommel. Oranje starts really well and is looking for a big score.
1. The fans are ready for a great game and chant "blood, sweat and tears" to fire the players up.
Subscribe

Netherlands World Cup Blog RSS Feed

Share
Comments are closed