Oranje monsterscore while Sweden slips up!
September 3rd, 2011 | by: Jan |

Comments(61)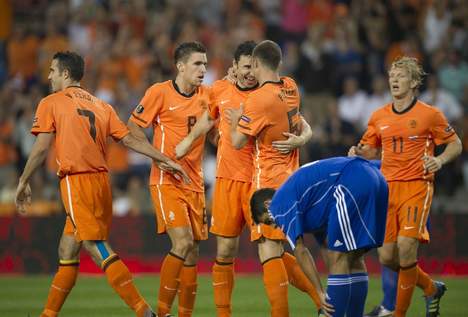 The Dutch football team translated the big difference in quality between the number one and the number last on the world ranking into a historic win of 11-0. The good news kept on coming, as Hungary beat Sweden (2-1) later in Budapest.
As a result, Van Marwijk's men are virtually qualified for the European Championships in Poland and the Ukraine.
Holland has to defend a 6 point lead in three games, over Sweden. The proud leaders will meet Finland on Tuesday and closes the series against Moldavia and Sweden. Sweden also has a worse goal difference than the number 2 of the last World Cup.
Never before did the Dutch team win with double numbers. The best performance was against Norway and Finland in the last century ( 9-0). Robin Van Persie, playing as a right winger, opened the score on a wonderful Mark van Bommel pass. Wesley Sneijder scored a beauty in the 12th minute and Heitinga gave the fans something to chant ( 10, 10, 10) in the 17th minute. But Oranje failed to keep on scoring, with Van Persie and Kuyt in particular messing up some opportunities. It took until the 49th minute for Kuyt to break the resistance and lead the team to the eleven goals. Robin van Persie scored four in total and Georginhio Wijnaldum scored a nice one in his debut game, in his new home stadium.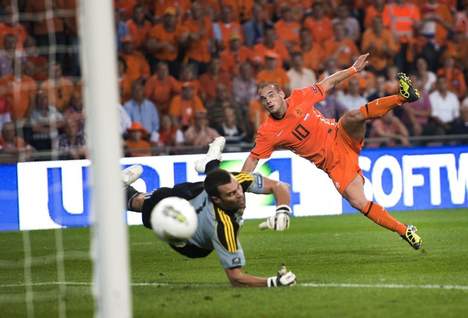 10
It was the warm and generous way his team mates ( Sneijder and Heitinga in particular) celebrated this last goal with him, that convinced me that this Oranje team is really a bunch of ego-less mates. The big lads from Inter and Arsenal treat the PSV youngsters as buddies more than minions. This is a big part of the success and why Van Marwijk is a great coach.
Wesley Sneijder was man of the match with some sensational passing and two great goals. Huntelaar scored, Kuyt found the net and Kevin Strootman played a strong midfield game, breaking up attacks and supporting his forwards.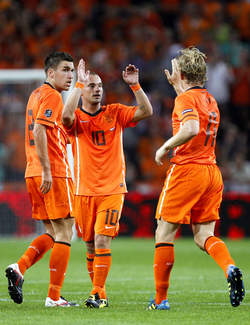 From minute to minute:
Nederland – San Marino 11-0
90. Wijnaldum scores his first in his debut game. Back to the goal, he accepts Maduro's assist, turns and scores without looking.
87. And there it is! The double numbers are on the scoreboard. Man of the Match Wesley Sneijder hits it home on a fine Van Persie pass.
86. Georginio Wijnaldum makes his debut for Oranje. The PSV player replaces club mate Strootman.
81. Another 10-0 in Einhoven. Last year artoiuGaat het Philips Stadion in 2011 opnieuw een 10-0 meemaken? Vorig jaar rond deze tijd versloeg PSV Feyenoord met die cijfers.
79. Strootman penetrates again and has a subtle backheel for Sneijder who finds Van Persie: 9-0.
77. Huntelaar scores his second goal. Strootman steams up to the box and isn't selfish.
74. Maduro and Elia replace Van Bommel and Kuyt.
67. Van Persie scores the rebound on a Huntelaar shot after another Sneijder through ball. The fans started to chant "10,10,10″ again.
65. Van Persie scores his second ( 6-0) after great preparation work by Sneijder.
59. Oranje gets better and better. One touch football, back heels, dummies, short passing…
56. After quick combinations between Van Persie, Kuyt and Sneijder, Huntelaar can score his goal being borderline off side. It won't take long for him to replace Patrick Kluivert soon as the eternal Oranje goalscorer.
51. A tremendous attack of Oranje. Sneijder should have scored but wants to lay the ball off one more time. Gone is the opportunity. E
49. Kuyt finally breaks the resistance. Van Persie crosses in, Huntelaar with the lay off and Kuyt's touch allows the ball to bounce awkwardly into the goal: 4-0.
46. Start of the second half. No changes.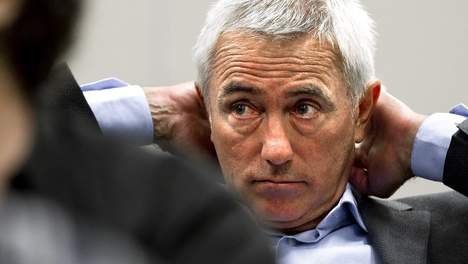 45. Oranje should have scored more but Heitinga and Kuyt were challenging one another for a header chance and Van Persie missed eye to eye with the San Marino goalie. After a bright start, Holland disappoints a bit.
30. The stats don't lie: 83% for Oranje, 17% for San Marino.
25. San Marino hasn't scored in 17 games but is close. Stekelenburg has to stretch all the way to stop Selva from scoring.
17. John Heitinga heads the third in. One has to say, defensively, San Marino is worse than Arsenal, but heck…Oranje is on its way to a record score.
12. And it's 2-0. Sneijder finds space and curls the ball in the top corner without looking. Instinctively knowing where the goal is and relying on his brilliant kicking technique.
7. Robin van Persie scores after a nice pass of Van Bommel. Oranje starts really well and is looking for a big score.
1. The fans are ready for a great game and chant "blood, sweat and tears" to fire the players up.
Subscribe

Netherlands World Cup Blog RSS Feed

Share
Comments

I just have a feeling Hunter is going to brake Kluivert's record, I'd never leave him out of my squad to try a 'new' guy. Luuk hasn't proven anything for me just yet, all I've seen so far is some bad misses in European competition, some good finishes, some poor vision or slow reacting to space and teammate movements, some good headers. My feelings about him are 50/50, i prefer Kuyt for a similar role. I don't think Luuk will ever come near Hunter's goalscoring record, he's more of a Kieft/Makaay in that regards. He misses too much. Maybe he'll improve.
Posted from
Netherlands

BVM said that the fans wanted goals and the opponent was San Marino. Let's wait and see the line up vs Finland or Sweden to see what BVM thinks.
Posted from
Canada

If we take Germany's opponents I don't think that Austria , Turkey and Belgium are much tougher than Sweden, Hungary and Finland, and Holland scored 14 goals in 4 matches against those opponents. Italy conceded just once, yeah, but they were extremely lucky against Faroe Islands not to concede (twice the post saved Italy), and nobody can tell that Faroe Islands are a good team, so I don't sea a single reason why we should be scared of any team. I watched match Germany-Austria, and I can tell that Germany's defence was no way better than our, Austria had lots of chances to score, and I think that our front line will make trouble to that German defence. Their offence is good, but so is ours. The others should be scared, not us. BvM tought players not to be afrid of any opponents, so maybe the fans also should learn not to be scared of Germany, Italy etc.

Mihran if you look at transfermarkt.de you can see that Austria,Belgium and Turkey together are worth around 370 millions,while Finland,Sweden and Hungary are around 180 millions. Thats a big difference,so I would say that they are much tougher. Especially Belgium and Turkey are teams that are now strong and have also great potential in the future. And Turkey has Hiddink.
But I agree that they shouldnt be afraid. Because Netherlands are not weaker than any team in the world.

Petrovic, I looked there. S, lets take England and Holland with their transfer prices. England 326 mln, Holland 192 mln. Can anybody tell me that England is the better team ? Or Uruguay and the same England, Uruguay is 167 mln, but in my opinion Uruguay is much better. Or Argentina's worth 443 mln, does it show the reality in the field compared to Holand ?

I knew you would say that Mihren. But those are the big teams,and they are constantly overrated. You cant compare prices of teams like SPain,England,Brazil or Italy to weaker teams,because they will always be like that. They have one of the strongest leagues in the world,so their prices go up very fast. But when you look at smaller teams with weaker leagues,you can see that transfermarkt shows how good they are pretty accurately. I would say that the best of the rest in Europe are Turkey,Croatia,Serbia,Russia and Belgium. They are all dangerous,but of course,this is Football and smaller teams can get a better result than bigger teams.
All in all,I am just saying that Germany on paper has a tougher group than Netherlands.

Why are we always overanalysing matches like this… its san marino.. doesn't really matter who had a little more to do with the goals than one other guy..
They played a good match and set a record and they did by good football, Germany is dangerous upfront yes, but so is spain.. and england, and france.. if we get intimidated by them just because they have some potential firepower then how are we going to win the EC.. We can beat any team
and i really dont get tiju anymore… Luuk de Jong is really not that good.. he is certainly not a better striker than Huntelaar overall.. better technique/dribbling maybe.. but finishing or being a class above Huntelaar.. no. just no, though i did expected you could use a decent term to describe the level of a player in your opinion … though just a question, have you actually seen any of the players play matches..?
Cause V.Aanholt is in no way a CB, or a right back.. he is left footed and is a very very attacking LWB.. he is not that amazingly brilliant at defending (yet).. though I don't see what Pieters did that was so wrong to be calling for a 21 year old who still hasnt played a full season… if you say Bruma sucks that much.. and shouldnt be in the squad.. then why would you want V.Aanholt in the squad, he's not in a much better position. Sorry but.. what stuff are you on again? xD lol
Also Stekelenburg is our number 1 and will remain so, if we give it Krul now after just a few months what does that say to Stekelenburg.. we dont want to mentally kill our most allround keeper do we.. Krul still has lots to learn, lets stick with Stekelenburg and not question him so much.. Spain has Casillas, Reina and Valdes.. and De Gea, but only one can be the n.1 .. sorry Krul but Steks has played second fiddle after V.d.Sar for long enough and is doing fine.
Besides.. Douglas is probably gonna fill in a spot in our selection.. and if u think Mathijsen is slow then tadaa.. there's ur usain bolt.. aka Douglas.. i think he's 2 times faster than our CB's atm. Problem.. (if there was any) solved. With him u can play higher up the pitch and still have enough speed to catch counters etc.. like Spain has Puyol-Pique, in which Pique serves this role of the speedy interceptor..
Posted from
Netherlands

Video of Van Persie's performance

Alex you got me wrong on Van annholt and bruma…i said bruma is playing crap but still i feel he is better than bulahruz as RB thats what i am saying.He is not ready for CB but could be a better back up for weil in RB.Eventually as CB.
Then comes to Annholt,i will always prefer annholt over Brapheid and a back up for Peiters.Coz aanholt has played some games with some stars and he will be a regular with wigan this season.he was fan favorite at new acstle and coventry city.i saw him play many time.i didtnt say we try Bruma as LB.and i didnt say we should try Annholt as CB.But i heard that bruma is also capable of playing LB.but i have not seen him as LB.May be my poor narration would have lead you to interpret like that.
Both Mauduro and Douglas could become great subs for Joris and Johny.
About Luuk dejong…You know persie is often gets outmuscled by the opponents,hunter is static,kuyt lacks killer skill of a finisher,So everybody having problem.Luuk also has some problems like kuyt.Presnece of Luuk or kuyt will be a sheild for us in final quarter of the pitch.More over aginst big teams hunter just chokes.He simply disapears.That is concern.
Posted from
United Arab Emirates

Douglas was voted the best defender in Eredivisie this past month, he should get a call up after the Finland game.

Petrovic – Our defence has not let in ONE goal away from home – Don't think BVM will change the back 4 too easily. I am a Douglas fan though.
Posted from
Singapore

Yeah,I hear you Carlos. I have a feeling it will be the same story as with De Guzman. And they both deserve to be called above some players who dont even play for their club. For example Maduro…

@carlos buddy core defence group is same i mean
Joris,johny,bruma,weil,maduro,peiters the question marks are Bulahruz and braphied…so 6 defenders are fixed so 2 more.i would love to see douglas and aanholt along with bvm's fixed six defenders

I wonder who will be benched when Robben gets back.
—————-Stekelenburg——————
—-Wiel—-Heitinga—Mathijsen—-Pieters—-
————–Bommel—Nigel——————-
——–Robben—-Sneijder—V.Persie———-
——————Huntelaar——————–

petrovic…..Maduro is a clever player,like van bomme.he fits in to the team very well.he is intelligent unlike braphied and Bulahruz.I love bula's heart and have sympathy for his brilliance.

Tiju,he is,but Douglas is better than him in defence and De Guzman is better than him in midfield.
So he is first man that goes out of the team if those two get a call. The other one might be Schaars but he is going out regardless when Van der Vaart comes back.
That is only my opinion mind you,Van Maarwijk thinks differently.
But you cant for example replace De Guzman for Boulahrouz because they play in different positions.

We are on the right way to be the champion of EC2012.
Posted from
Taiwan

My concern for Oranje is the future. Who will be our world-class striker? Who is the next RVN? who will replace Sneijder? When I say replace, I mean who is just as good.
Fabregas will definitely take over from Xavi. That's what I mean by replacement. We'll be okay with GK, defense and holding midfielders but I don't see any world class future play-makers and strikers coming up.
Posted from
United States

Adam Maher. CAM AZ Alkmaar
Kyle Ebecilio. CM Arsenal Reserve
Oguzhan Ozyakup. CM Arsenal Reserve
Ricardo Kishna LW Ajax
Anass Achahbar. CF Feyenoord
Luc Castaignos. ST Inter Milan
Memphis Depay. LW PSV
Alex Schalk. CF NAC Breda.. was topscorer and voted best player of the youth Eredivisie last season, sought after by all dutch topclubs and foreign clubs, but declined a move and signed an improved contract with NAC. Nicknamed "der Bomber". I think that speaks for itself if you know anything about German footballers.
Jurgen Locadia. ST. PSV
Ola John. LW FC Twente
Luciano Narsingh RW sc Heerenveen
Thom Haye. CM. AZ Alkmaar
There's more potentials.. but there are some really big talents in the list above.
Just because you might not know them doesn't mean they're not there.
Posted from
Netherlands

I would say that Wijnaldum is a fair bet as a future no.10 of Oranje. He has the talent to be one of the best midfielders in the world.

Thanks for that list Alex. Hopefully, some of these players would really step up and be the next big stars to take over from our current side. I know we always have talent coming thru the ranks, it's just that I haven't seen a lot of excitement or buzz surrounding the next great player(s).
Posted from
United States

yeah Thanks Alex for letting us know of their existence. i'm gona try to catch more breda games and see how this Schalk kid develops.
Anyways, i'm pumped about Oranje's game today. i'm hoping for another big time a$$ kickin!
hup holland hup!
Posted from
Australia

from wikipedia:
On 30 August 2011, Schalk sign in the biggest club of Greece, Olympiacos F.C.
Posted from
Indonesia

What I mean by emerging and exciting young talent is that even though we have good potential future players, I don't hear the same excitement surrounding them compared to players like Cesc Fabregas, Eden Hazard, Mario Goetze, Romelu Lukaku, Jack Wilshere etc…These guys will take over their national teams for years to come. Most of them are almost untouchable for their current sides. I hope we have enough quality players that can be on the same level or even better than these young players. So that was my question. Thanks again for that list. I'll keep my eyes and ears open for those young players mentioned on Alex's list.
Posted from
United States

Thats the kind of thinks I don´t like from JC.
After WC
"The day after the final, Johan Cruyff publicly criticised the Dutch team in El Periódico de Catalunya for having played "in a very dirty fashion", describing their contribution to the final as "ugly", "vulgar" and "anti-football". He added that the Dutch should have had two players sent off early in the match, and criticised referee Howard Webb for failing to dismiss them.[17] The Associated Press was of the opinion that the Dutch had "turned far too often to dirty tactics".[18]
And about dives:
The Dutch received nine yellow cards, compared with five yellow cards issued to Spain. Before the final, Webb was tied with Yuichi Nishimura of Japan for issuing the highest number of yellow cards (17). After the match some Dutch players, such as Robben, Stekelenburg,[19] Van Persie,[20] Kuyt and Sneijder,[21] accused Webb of favouring the Spaniards, while in Switzerland's earlier defeat of Spain, Spain supporters accused Webb of favouring Switzerland.[22] Other critics noted poor and missed calls on both teams.[23] By the end of the tournament, the Dutch team had earned 22 yellow cards in its seven games, while Spain had earned only 8 (the lowest of the four finalists, with Germany and Uruguay having earned 13 each). Spain was awarded FIFA's Fair Play award after the final."
The worts is the people think Spain are a loyal players and the dutch are cannibals….
But the people don´t consider the unloyal dives
Comments are closed