Oranje – Austria: what did we learn?
February 10th, 2011 | by: Jan |

Comments(149)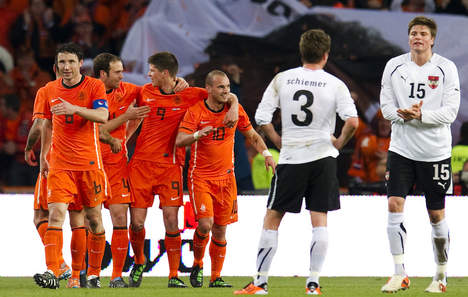 Ok, Holland won the friendly with 3-1. Hurray. Goals by Sneijder, Hunter and Kuyt. What else is new?
But what did we learn?
We learned that a half volley by Wesley Sneijder in the 28th minute ended a post World Cup drought of the little big man, with probably one of Oranje's finest goals. Nice.
The 2-0 was as beautiful. A nice move by Pieters, a tremendous back heel by Elia, a good run by Pieters again and a perfect cross to Huntelaar. Scoring gets too easy.
His tenth goal in six internationals. Magath, what are you doing?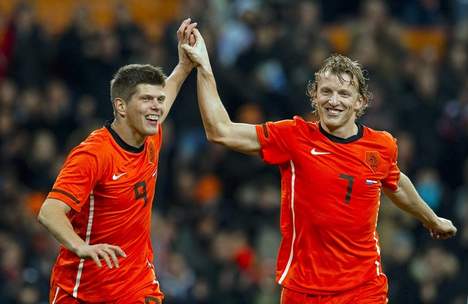 Kuyt did a Van der Vaart but scored the second penalty he got to take, so with only 20 minutes to go the Austrians were 3-0 down but were granted a consolation penalty because the ref saw a foul by sub Wisgerhof.
The tremendous difference in strength didn't get to be reflected in the score, partly because the Hunter lacked finesse.
The goals were probably the best things to remember in an otherwise mediocre game. Holland played without Robben, Van Persie, Van der Vaart and De Jong but was still heaps stronger than the number two of Group A.
Most players seemed to enjoy being back together and Huntelaar in particular was looking forward to a nice game, after disappointing tenures in Madrid, Milan and now at Schalke.
Eljero Elia and Peter Wisgerhof had come to replace Sneijder and Mathijsen, while Strootman and Luuk de Jong made their debuts later on.
The biggest applause went to sub Ruud van Nistelrooy ( former PSV player; the match was played in Eindhoven).
Elia and Sneijder are the two main attractions of Oranje. The HSV winger was a constant threat and entertained the masses with his trickery. Wesley Sneijder had more loss of possession than usual but when he didn't lose the ball he did magical stuff with it.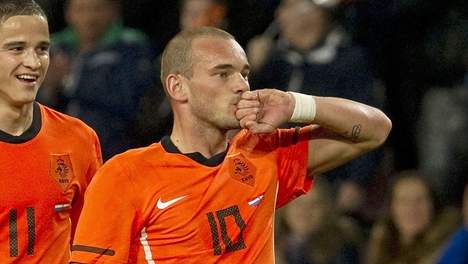 Klaas Jan Huntelaar is not rated too high, for missing some chances but he did score the header tap in on a Pieters' cross.
Peter Wisgerhof is the only player to cop a low mark….
De Jong, Strootman and Van Nistelrooy played too short to be rated.
Stekelenburg
Decent game. Not too much to do. Had to concede a goal due to light foul of Wisgerhof.
7
Van der Wiel
Almost invisible. Didn't seem to have a lot of joy in playing. Was lucky that Arnautovic couldn't be bothered.
6
Heitinga
Strong in the build up and passing and played a decent game against the lone striker.
7
Mathijsen
Easy game against a powerless Austrian offence. An ideal game to gain some rhythm.
7
Pieters
Hardly any mistakes and pro-active in attack. A top notch cross for Huntelaar's 2-0.
7
Kuyt
Worked hard as ever but had too much loss of possession and didn't add too much value.
6
Van Bommel
Played a sloppy game. The skipper needed a surplus of fouls to stay on top of things and his passing was less than mediocre.
6
Janssen
Played a confident first half but dropped out a bit in the second half. Still, a good alternative for the holding spot.
7
Sneijder
Had more possession loss than normal but demonstrated his class. His goal was outrageous.
8
Afellay
The dancing midfielder played with threat but was too egotistical at times.
7
Huntelaar
Missed a number of good opportunities in the first half. Took revenge by scoring his sixth goal in a row.
6
Elia
Public favorite, was able to warm the fans with his assortment of funky moves.
8
Wisgerhof
Had a clumsy foul and didn't support Stekelenburg in keeping a clean sheet. Gave the game a stain.
5
Subscribe

Netherlands World Cup Blog RSS Feed

Share
Comments

can anybody come and tell me for example that Mathijsen – Heitinga is like Puyol – Piquet ? the latter are on a whole different level unfortunately.

Rami agreeed on your thoughts,but what happened to Terry when they faced germany.???..the so called english defenders..???..i do agree that Mathjenson cannot dribble like pique but he was a reliable defender always.Johny has som peaks and lows..
i belive Spain had better skilled postions in left wing(ineasta-kuyt)holding mid (xabi-Bommel) and (Busquets-de jong)….i should say that Mathjenson and Johny did very well till johny's redcard.We knew that spain is pretty skilled and we should kill them with talents.things would havebeen different if we feilded
——Hunter——–
Persie——Znijder——Roben
——Afaleey/vaart—-Dejong———
Gio———————–Weil
—–Joris —–Johny. ——–
———–Steke———–
Van marwik substitution was pretty poor in that game it should have been bommel instead of the main protector Dejong.Calling gio too was a blunder…it reminds me Orange Vs Czech i ec2004.

I see what u mean, I guess our opinions of their value is the difference.
I think the Puyol-Pique combo is overrated and is only great because spain/Barca tactics are focused on attack and possession – they also play together on the same club, that is a huge advantage on any other combo. you do not get this without years of playing together.
Also, our tactics were negative compared to this – I don't think us playing defensively had anything to do with players feeling the need to 'help out' the defenders, this was BVMs doing.
Posted from
Canada

Agree with Tiju, and might be cool to see MVB take Heitinga spot depending on the opposition…
I think BVM only pulled out Gio because he was completely out of gas
Posted from
Canada

Tiju, i too agree that it'll be cool to see MVB play that spot.
whats not cool is that Ajax tied Roda today giving up a two goal lead! maybe its because of the early game they're playing. if they start playing the 1pm EST games on weekends it'll be good for Ajax and for us lazy a$$ americans who finds it hard getting up so early on the wkends…

Tiju@ The sad truth is that the best defenders in the EPL are not English. Same with the goal keepers. England is basically shit, except midfield and Rooney on a good day.
That will never win you a WC, and unless we fix our defense we are up the same dark alley.

If we can get Douglas to play for oranje, and Bruma to develop, we'll have topclass central defence. We can play with V.d.Wiel and V.Aanholt deep as wingbacks, and with one holding mid without problem cause you'd have more than enough speed and strength with ur 2 CB's.
IF IF IF though, lol..
BTW, when Chelsea sent scouts to Ajax, they came to observe a lot of players, but the scouts were surprised by someone they hadnt heard of much, Lorenzo Ebecilio.. Some rumours going around the scouts were impressed and urged the club to make a move before Ajax asks the jackpot..
Posted from
Netherlands

@ Alex
"If we can get Douglas to play for oranje, and Bruma to develop, we'll have topclass central defence. We can play with V.d.Wiel and V.Aanholt deep as wingbacks, and with one holding mid without problem cause you'd have more than enough speed and strength with ur 2 CB's.
IF IF IF though, lol.."
exactly my thoughts !
However I feel Van Aanholt and Bruma are a bit too early for 2012.. maybe Van aanholt can make it if he manages to get some first team action somewhere in the EPL next season. But Bruma is for 2014 at the earliest.
We also have an issue with Douglas.. If he doesnt get his citizenship by the end of the summer of 2011, it will be too late, as obviously BvM will not dare change his defensive lineup so close to the EC.
If anything we need to try Maduro or MvBommel soon to see if they can prove any better than Mathijsen / Heitinga.
Dream line-up for me in 2012 would be:
————–Steks—————-
VdWiel–MvBommel–Douglas–Van Aanholt
————–De Jong—————
——–VdV———–Sneijder——
Robben————————Afellay
————-Van Persie————–

At least we can all agree that Castelen is better than Robben
Posted from
Netherlands

haha

Finn – add to th non english cb and goalkeeper another important fact – NO English Managers !!.
Susanne – pls dont start that !!
Posted from
Singapore

Well, Joe Hart seems a decent goalie..
Posted from
Netherlands

BTW, I have to say, Feyenoord's defender Stefan de Vrij, impresses me more as CB than as RB. He played a lot at RB for Feyenoord but that wasnt his natural position, he always played CB. The previous match vs Heracles, I thought he did especially well at CB.
Posted from
Netherlands

Alex,I was just going to ask if Stefan de Vrij could be the one to push Van der Wiel on RB…
It seems Netherlands have many young talented defenders comming up. Only in Feyenoord there are De Vrij,Schenkeveld and Martins Indi.
I think you lack a super talented AMF-playmaker like Gotze,Canales,Eriksen..
I know,there are still Sneijder and Van der Vaart playing,but it wouldnt be bad to have a new Van der Vaart in making.I dont see one…

What I meant to say is that you maybe have world class talent in all other positions except AMF.

Wijnaldum can be a world talent. He only needs a coach that understand something about footbal.

Keko – yep thats obvious the problem – none of these millionaire coaches know anything about football – like we do
Posted from
Singapore

Wijnaldum,yes. But he is not developing any more at Feyenoord.

Petrovic, I think the idea is that Strootman will be that AMF for the future. Otherwise, I think Affelay is the most logical short-term successor/backup to VDV/Sneijder. His style is similar, all he needs to learn now is to be more aware of his surroundings when he gets closer to goal (and on the ball).
His missed assist on Kuyt against Austia was quite annoying again, also because I was interested to see if Kuyt could finish that chance (and Kuyt deserved a goal at that point, was trying so hard to make something happen and was a little unlucky with his attempts, but made a great run into the box). Affelay was to focused on the ball, probably never saw Kuyt.
But what better place to learn when to look up than at Barca?
Posted from
Netherlands

Adam Maher-midfielder, Memphis Depay-winger/attacking midfielder, Oguzhan Ozyakup-creative midfielder, Nassir El Aissati-midfielder, Ricardo Kishna-free role winger, Elvis Manu-free role winger, Anass Achabar-creative midfielder, Sandy Walsh-??possibly more holding midfielder, Thom Haye-attacking midfielder, Kyle Ebecilio-midfielder,
For me, these are all potential top/worldclass, most of them are, 16-18 and just under the first team radar..
Then possibly, Marko Vejinovic, Georginio Wijnaldum, Ouasim Bouy, Jordy Clasie, Youssef Fennich-creative midfielders, IF they develop faster, more and better.
Posted from
Netherlands

But Afellay is playing as a winger in Barcelona and in Netherlands. He needs to play AMF constantly if he wants to become more aware of his surroundings at that position.

It's also a matter of confidence. Once you feel you don't need to prove yourself anymorem you'll be a bit less worried about mishandling the ball (or scoring yourself) and be less afraid to take the time to look around.
If you get to the point where you have Sneijder's confidence, you even start pulling off tricks like looking in the opposite direction as where you're going to play the ball (cause you already know where your teammate will be -> experience).
Posted from
Netherlands

Alex,I agree,they have potential,but almost all of them dont play first team football,so we are yet to see…
I thought Maher would play more this season.
No one,except maybe Wijnaldum,is a really well known talent.

I don't think Guardiola will only use Affelay on the wings, if he does that for longer than 2 years, Affelay will be sold again (as a semi-flop, nearly making it, but in the end not good enough).
His style is more efficient for midfield (either def. or offensive, much like VDV is being used now in Oranje). But that's because I'm compairing now with natural wingers like Elia, Robben, Ronaldo, Nani, Valencia, Kalou, Malouda, to name a few wingers that are more in line with the quality Barca deserves/is expecting/pays for.
Posted from
Netherlands

WTF? This guy is sending posts in Norwegian about guitar lessons? On behalf of my native country I would like to apologize to the entire blog for this nonsense, but what on earth would cause someone to post about on-line guitar lessons on a football blog?…
Comments are closed