Oranje – Austria: what did we learn?
February 10th, 2011 | by: Jan |

Comments(149)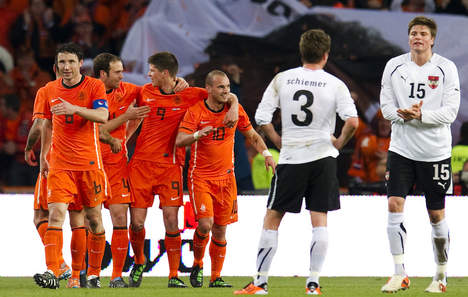 Ok, Holland won the friendly with 3-1. Hurray. Goals by Sneijder, Hunter and Kuyt. What else is new?
But what did we learn?
We learned that a half volley by Wesley Sneijder in the 28th minute ended a post World Cup drought of the little big man, with probably one of Oranje's finest goals. Nice.
The 2-0 was as beautiful. A nice move by Pieters, a tremendous back heel by Elia, a good run by Pieters again and a perfect cross to Huntelaar. Scoring gets too easy.
His tenth goal in six internationals. Magath, what are you doing?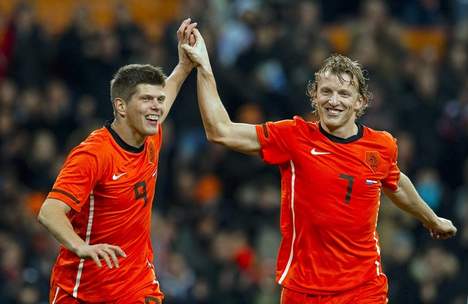 Kuyt did a Van der Vaart but scored the second penalty he got to take, so with only 20 minutes to go the Austrians were 3-0 down but were granted a consolation penalty because the ref saw a foul by sub Wisgerhof.
The tremendous difference in strength didn't get to be reflected in the score, partly because the Hunter lacked finesse.
The goals were probably the best things to remember in an otherwise mediocre game. Holland played without Robben, Van Persie, Van der Vaart and De Jong but was still heaps stronger than the number two of Group A.
Most players seemed to enjoy being back together and Huntelaar in particular was looking forward to a nice game, after disappointing tenures in Madrid, Milan and now at Schalke.
Eljero Elia and Peter Wisgerhof had come to replace Sneijder and Mathijsen, while Strootman and Luuk de Jong made their debuts later on.
The biggest applause went to sub Ruud van Nistelrooy ( former PSV player; the match was played in Eindhoven).
Elia and Sneijder are the two main attractions of Oranje. The HSV winger was a constant threat and entertained the masses with his trickery. Wesley Sneijder had more loss of possession than usual but when he didn't lose the ball he did magical stuff with it.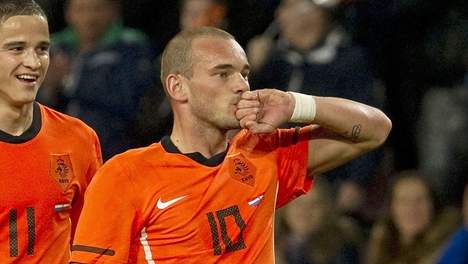 Klaas Jan Huntelaar is not rated too high, for missing some chances but he did score the header tap in on a Pieters' cross.
Peter Wisgerhof is the only player to cop a low mark….
De Jong, Strootman and Van Nistelrooy played too short to be rated.
Stekelenburg
Decent game. Not too much to do. Had to concede a goal due to light foul of Wisgerhof.
7
Van der Wiel
Almost invisible. Didn't seem to have a lot of joy in playing. Was lucky that Arnautovic couldn't be bothered.
6
Heitinga
Strong in the build up and passing and played a decent game against the lone striker.
7
Mathijsen
Easy game against a powerless Austrian offence. An ideal game to gain some rhythm.
7
Pieters
Hardly any mistakes and pro-active in attack. A top notch cross for Huntelaar's 2-0.
7
Kuyt
Worked hard as ever but had too much loss of possession and didn't add too much value.
6
Van Bommel
Played a sloppy game. The skipper needed a surplus of fouls to stay on top of things and his passing was less than mediocre.
6
Janssen
Played a confident first half but dropped out a bit in the second half. Still, a good alternative for the holding spot.
7
Sneijder
Had more possession loss than normal but demonstrated his class. His goal was outrageous.
8
Afellay
The dancing midfielder played with threat but was too egotistical at times.
7
Huntelaar
Missed a number of good opportunities in the first half. Took revenge by scoring his sixth goal in a row.
6
Elia
Public favorite, was able to warm the fans with his assortment of funky moves.
8
Wisgerhof
Had a clumsy foul and didn't support Stekelenburg in keeping a clean sheet. Gave the game a stain.
5
Subscribe

Netherlands World Cup Blog RSS Feed

Share
Comments are closed