Nigel de Jong and Strootman in Oranje Squad
February 4th, 2011 | by: Jan |

Comments(93)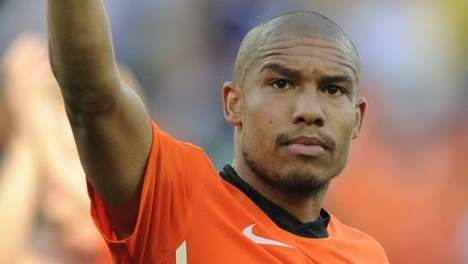 Nigel de Jong is back in Oranje. Since October, Van Marwijk allowed De Jong a rest after the humbug regarding De Jong's umptieth tackle on Ben Arfa in the EPL.
The former Ajax midfielder also broke the leg of American Holden in a friendly and did a Jackie Chan on Xabi Alonso in the World Cup finals.
Oranje coach Van Marwijk stressed that he doesn't want De Jong to change his game. "Nigel needs to be himself and focus on his game. Players like him and Mark van Bommel are tough in the personal duels and that's their strength. With experience they will become smarter at that."
Van Marwijk denied that Nigel de Jong considered to retire from international football. "Nigel is one of the best holding midfielders in the world. Real Madrid has checked what his signing fee is. He's the first player Mancini puts on the match form. Nigel loves wearing orange and his passion for our national team is key. I don't believe Nigel ever considered not coming to play."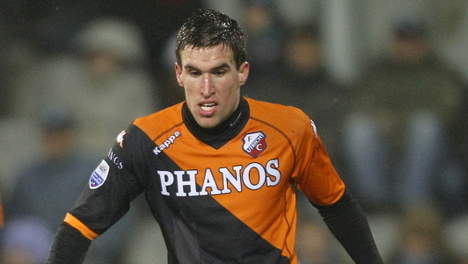 Kevin Strootman is also part of the final squad. The 20 year old midfielder will make his debut in the selection. He played eight games for Young Oranje.
Van Marwijk saw Strootman against Ajax, when he was the Man of the Match. "I followed him before, not just these last weeks. In Zeist, it's known that he has the goods. In the games I saw, it is clear that he has what it takes to play for Oranje and I wanted to watch him up close for a couple of days. He's convinced me. He can think a few steps ahead, is strong in the duels and very relaxed on the ball. I think he'll become a top class player."
Schaars, Luuk de Jong and De Zeeuw aren't part of Oranje's squad.
Arjen Robben wasn't selected for this game. According to Van Marwijk he needs to get more rhythm at Bayern.
The friendly against Austria in February is the dress rehearsal for the big games against Hungary. Holland plays in Budapest first on March 25 and at home four days later in Amsterdam. Oranje has 12 points out of four games.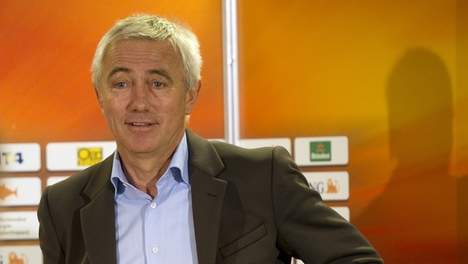 Van Marwijk said that he considers to add a striker coach to his staff for the EC. "Even if such a coach adds 1% to the team, it's worth it. I won't name names, but there are some candidates." Marco van Basten won't be among them. John Bosman, Wim Kieft and Pierre van Hooijdonk are candidates. The first one works for AZ, the second one for PSV and Pi-Air is Guus Hiddink's assistant for Turkey. Patrick Kluivert is another candidate. Maybe Bert wants to call Johan Cruyff?
Subscribe

Netherlands World Cup Blog RSS Feed

Share
Comments

Sneijders Goal watch it before they take it off You tube
http://www.youtube.com/watch?v=IjQ_qS2hvno
i thought Kuyt had an "average" game – because he had to play lone striker. He is better on the right, however how Dalglish must be happy to have someone like Kuyt to call on to fill positions adequately whilst other players get injured.
Posted from
Singapore

And, I think Inter will beat Bayern easily.
Posted from
Indonesia

http://www.goalsarena.com/video/italy-serie-a/06-02-2011-inter-milan-as-roma_en.html
Sneijders goal, better quality… sorry carlos
Posted from
United States

@bobotoh, any team that have robben can beat anyteam even barca

@Jad, I mean looking at current condition, I think Inter is better than Bayern. Bayern lost to Koeln, after 2-0 up.
Posted from
Indonesia

Bobotoh Jad is right. Bayern with Robben can beat any team. Just ask Man U. Champs league requires magic.
Posted from
Kuwait

Conceding draw after leading by 4-0,is absolutely a disaster ,but i think its happend coz of WENGER's whining mentality…Wenger is nto mentally tough so is players..IF you are not mentally tough enough the how can you make your players in same scenario.
i like professor wenger and his football theory and he has an eagles eye for Talents.,but i should agree with in this matter he is a whiner……
Finn…Open your eyes mate…you are too biased about kuyt…you take kuyt for Trojan war or 3 world war but this is football…We love orange coz of its creativity,skills and innovation skills…
why barca didnt sign him???i never heard a rumor that kuyt is not going to anyother club..ie most the clubs are not interested in him…he cannt keep the ball in feet for a second..we need skills+talent+workrate+ brilliance for an ideal footballer.kuyt 2/4 in this matter..while persie is 3.5/4 in this matter…thats it

@Alex; about Toornstra… for me he is the revelation of this season in our team but i think Oranje is too soon for him at the moment amazing that this guy was playing amateur football 18 months ago (Kees Jansma spotted him btw)
lets see if he can do well for another few months…
Posted from
Netherlands

I hope Huntelaar gets the chance from Bert for this friendly, he can use a game without Raúl taking all his chances and only giving him passes in areas where he can only play it back to Raúl again. Just something I noticed ever since Raúl arrived at Schalke (not that Raúl is a bad player or something, the partnership just isn't working very well, Hunter was scoring fine before he had to play with Raúl, once Raúl started scoring, Hunter sort of faded out of the team, getting less balls from other teammates as well, reminds me a lot of what happened at Madrid).
This sounds a lot like I'm trying to blame Raúl for Hunter not scoring, but sometimes a certain partnership just isn't the right one for the team, I still think Raúl is a better player. On top of that, Hunter is now thinking too much about him not having scored for so long, which makes it even harder to get back on top.
Posted from
Netherlands

Besides, you don't want vPersie getting injured now, if he keeps up his goalscoring rate, he might finally get the recognition (at least in the EPL) he deserves. He's moving through the topscorers ranks like a whirlwind. And that in only a few games compared to others who have been playing all season and are still stuck below 10 goals (Torres, Drogba, Nani for example).
Posted from
Netherlands

Van Persie is out of netherland squad against austria he has flu,Luuk de jong has been called as a replacement.
VDV injury is not that bad we will see him in the champions league game against Ac milan.

Funny how the flu happens in just one day. VPersie didn't have much of a flu on Saturday.
Wenger playing games with KNVB again.

Fabregas also pulled of Spains squad with a stomach ache.
With a tough league game against Wolves and the CL game 4 days later against Barcelona its fair to say that it was a logical decision.
RvP has learned from experience. Why risk yourself for a friendly for Fans who hate you when you can play in games that matter for a Club and fans that loves him.

http://www.youtube.com/watch?v=O73TCYklSvw
Sneijder match highlights I made

If it is just games and RVP isn't really sick, can you blame him? Why risk injuring yourself in a useless friendly, especially when your club is in the middle of their busiest February ever? He needs to stay fit for games that matter.
Re: the four goal capitulation from Arsenal. Besides the obvious about how much of a disgrace and how angry us fans are, there's been some good discussion on Arsenal boards as to how it could possibly happen (even with the ref helping out the toons as bad as Webb helps out Manure – and we all know how bad that is!). I agree with Tiju that the reason is partly from the lack of winner's mentality, which Wenger has failed to give them, but also I think another huge problem is the lack of a real leader on the pitch. Cesc is a fantastic player, but a proper captain/leader he is not. He's no Van Bommel, not even close.

@Caleb: You have a good point regd the Arsenal disaster. Something tells me a John Terry or a Steven Gerrard would not let his teammates implode like that, 10 men or not.
Still I blame the boss for not parking the bus and play 10 men behind the ball. Wenger is past his sell by date and should move upstairs in a director of football kind of role.

@ Caleb. I totally agree with you. I acknowledge the sending off, and the dodgy ref. But still. How they could have used a van Bommel anchoring that mid-field. Eboue and Rosciky came on, two dainty artists, hardly the type of player needed to protect the goal.
I am not saying he is a great player, but looking at the Liverpool game, Poulson came on, a defensive player. I was hoping Suarez would come on, but you would have to say the Dalglish made the right decision. Wenger may be fantastic at getting his team to play beautifully, but he cannot make a tactical change to save his life.

haha Sonneveld your dutchfuty? Did you know van Persie said your compilation of him was his favourite and put it on his facebook.

very valid point about Wenger you made there Tiju
Posted from
Netherlands

Arsenal Fan
No I had no idea, he said mine was his favourite? If you could send me the link because I can't find it, it would mean a lot to me.

Umbrella Man just fired from Wolfsburg.
Eredivisie teams be afraid. Be very afraid…
He saysch he ish schit but looking to perhapsh land a new job for a Dutschs club

Guys, A mediocre Kuyt is the same thing as a good Kuyt, since being Good is basically an average performance for Dirk. I do agree with Finn. If you can do all the tricks in the world and score two goals it's wonderful. But if your team / manager concedes 4 and loses two points…well…
In Kuyt's case, as always, he chases every ball because there's always that 1% chance and with this cross he scared Czech who simply pulled back and allowed the ball to pass to Mereilles. That goal is half Dirk's.
I'm not saying I'm with Finn on his rants agains Wenger and Van Persie…. I love Van Persie. This is just to support Finn in his endless Kuyt adoration because that is how a mediocre players becomes world class. By fighting for every chance.
If Cesc/Van Persie/Arshavin/Bendtner/Walcott/Nasri would do this, Arenal would win titles.

The Ajax membership council has spoken!!
GIVE THE TECHNICAL LEADERSHIP ROLE TO JOHAN CRUYFF!!!
Haha

Oops….not technical director but chairman of the technical platform which is basically the committee that will select the technical director….

With all the flu going around at this time …
we're going to see some young players in the line up against Austria. I'm really looking forward to this match.
- it will be fun and a great opportunity ! -
GO ORANJE !!!!
PS: Nad: I really like your perspective on RvP, and your analysis of our 2010 WC attack. In the final at least – some of that could be attributed to nerves. We have a championship team – we need to fit all the pieces together in just the right way…the young players will help with this.
OJF
Comments are closed