Memories of Euro2000: another heartbrake…
June 4th, 2012 | by: Jan |

Comments(188)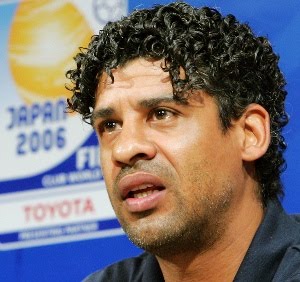 Hey good people, only four days to go!!!!
Wanted to get you in the mood
. Here we go, more memories…..
Real Madrid lured success coach Guus Hiddink away from Oranje. He managed the team in the EC1996 and the WC1998, in the latter tournament Oranje impressed again. Hosting the EC2000 meant no qualification matches were necessary and Hiddink's assistant Frank Rijkaard was pushed to the fore, with his current Barca sidekick Neeskens on assisting duties.
The 1998 team stayed practically intact for the Euro2000 tournament. Expectations were high…
11 juni 2000 Late victory for Oranje
This generation reached the quarter finals in 1996 and the semis in 1998. This tournament was supposed to be the icing on the cake for Oranje. The opening game against Czech Republic was a close one. The Czechs deserved a draw, to say the least. Nedved and Koller hit the cross-bar and it was a minor foul on Ronald de Boer that allowed his twin bro' Frank to score the winner late in the match. Another item to remember was Jaap Stam's head wound. It took ages for the Oranje doc to stitch the wound and millions of tv viewers saw close-ups of the trembling fingers of the KNVB doctor.
16 juni 2000 Oranje sends Danes back to Denmark
The second match was a regular 3-0 win against Denmark. The first half was a disappointment. Just for the break, the Danes hit the cross-bar (again) out of reach of Van der Sar. After 60 minutes, Patrick Kluivert opened the bank account for Oranje. A Bergkamp shot was blockedby Schmeichel, but Kluivert was alert. Ronald de Boer scored the 2-0 and the game was played. Bolo Zenden scored the third goal after a Reiziger assist. Late in the match, Bert Konterman had a slip up forcing Van der Sar to foul a Dane. The penalty kick was missed by Schjonberg. Van der Sar injured himself and was replaced by Sander Westerveld.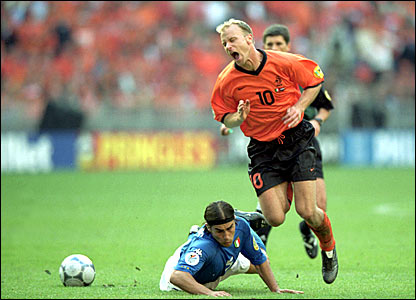 21 juni 2000 Oranje wins last group-game against France
Holland and France were already certain of the next stages, but winning would mean that Oranje got to stay in Holland, instead of moving to Belgium (the other host country). A 3-2 win secured that. Michael Reiziger was rested, as were Edwin van der Sar and Ronald de Boer. France played without Zidane, Henry and Barthez. France led at half time thanks to Dugarry and Trezeguet. Patrick Kluivert scored for Holland. Frank de Boer scored the equalizer in the second half. The French team was debating how to put up the wall, while De Boer decided to go for gold from 30 meters. Ten minutes later, Bolo Zenden scored his second of the tournament and brought Oranje the win.
25 juni 2000 Football lessons against Yugoslavia
The quarter finals was a football demonstrations. The opponents were sent home with a 6-1 loss. Oranje's man of the match was Patrick Kluivert who scored three official goals. He scored four in fact, but his third goal was put into the history books as an own goal by Govedarica.
Mijatovic almost scored the 0-1, though. It was Sar who saved the day. Kluivert scored in the 24th minute after a Bergkamp assist. In the 38th minute Kluivert scored the 2-0. The 3-0 was the own goal mentioned and in the 54th minute Kluivert scored again on a Zenden assist. After 60 minutes, Rijkaard replaced Kluivert who got a standing ovation from the fans, the technical staff and the subs. Marc Ocermars scored the last two goals, one a fine volley, the second a rebound after Cocu hit the bar. Milosevic scored the consolation goal in stoppage time: 6-1.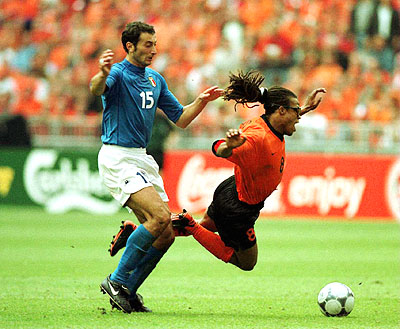 29 juni 2000 Another penalty drama
And again we choked… And not just in the decisive shoot out, but in the match itself. It seemed to go perfectly. Overmars and Zenden were kings. And after 34 minutes, Zambrotta was presented with his second yellow. Oranje had 60 minutes to benefit from a man-more situation. And Oranje got two (2!) penalties!! Toldo denied Frank de Boer and Kluivert hit the post. Oranje had several chances and Bergkamp hit the post. And Italy? They created nothing, zilch, nada… Even the Italians didn't hope for a happy ending. But, as we did in 1992, 1996 and 1998 we failed. Big time.
Holland would miss three times (Frank de Boer again, Jaap Stam and Paul Bosvelt). Only Kluivert scored. Oranje missed 5 penalties in one game. A record. Which we don't hope to break. Aron Winter would become the record international with 84 matches. He wouldn't enjoy his new record for long. After 139 days, Frank de Boer took it off him. In his 85th international game versus Spain the center back even scored.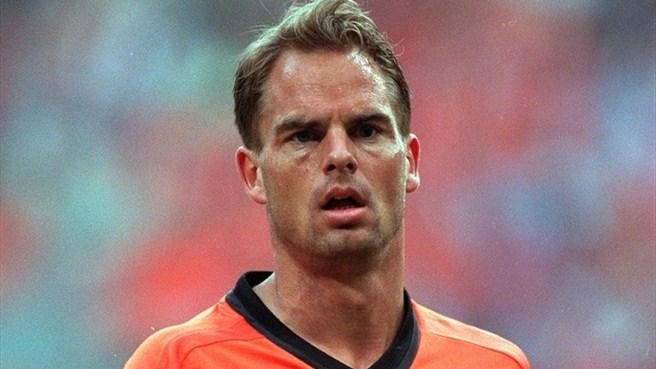 Subscribe

Netherlands World Cup Blog RSS Feed

Share
Comments

I truly appreciate this article post.Really thank you! Will read on…

Thanks a lot for the blog article.Really thank you! Much obliged.

Fantastic blog article.Really looking forward to read more. Really Cool.

I value the article post.Really thank you! Fantastic.

It is a pleasure going through your post. I have bookmarked you to check out new stuff from your side.

The blog article very surprised to me! Your writing is good. In this I learned a lot! Thank you!i like the way you blogged about this topic

I value the post.Much thanks again. Want more.

I am highly glad to catch idea from your blog. I loved everything about this post and will be spending way too much time.

I think other website proprietors should take this web site as an model, very clean and magnificent user genial style and design, as well as the content. You're an expert in this topic!
Posted from
United States

Hey there, You've performed an incredible job. I will certainly digg it and for my part recommend to my friends. I'm sure they will be benefited from this site.
Posted from
United States

Some genuinely interesting points you have written.Helped me a lot, just what I was searching for
.
Posted from
United States

Major thankies for the blog post.Really thank you! Great.

Fantastic blog post.Thanks Again. Great.

Fantastic article.Thanks Again. Really Cool.

I think this is a real great blog article. Fantastic.

Wow, great blog article.Really thank you! Really Cool.

Thanks for the post.Much thanks again. Awesome.

A round of applause for your article.Really looking forward to read more. Cool.

I truly appreciate this blog post.Much thanks again. Really Cool.

Say, you got a nice post.Thanks Again. Fantastic.

Fantastic blog article.Thanks Again. Will read on…

Thanks again for the article post.Thanks Again. Really Great.

Wow, great article.Really thank you! Much obliged.

I loved your blog post.Really looking forward to read more. Fantastic.

Cool blog! Is your theme custom made or did you download it from somewhere? A theme like yours with a few simple tweeks would really make my blog stand out. Please let me know where you got your design. Cheers
Comments are closed