Mark van Bommel: I'm a vulture…
June 18th, 2010 | by: Jan |

Comments(91)

Ask Mark van Bommel how he sees his career as a pro footballer and he'll say: "I want to be like a vulture. I want to grab as much prizes as possible. I want something tangible to look back at."
Winning is more important than anything, more important than money even. "I need titles. In Germany, players and ex-players are introduced with information-cards on tv and when Matthaus comes on his card says "Weltmeister" and "Europa Meister". I think you can be proud if that appears on telly behind your name."
The German team was quite remarkable already at the World Cup. Van Bommel summarizes it well: "Germany played Dutch, we played German." He wasn't too shocked. "Well, the circumstances were in their favour. They played at sealevel on a wet pitch against an opponent who couldn't handle their positioning game and who lost a key player. They scored at the right time too."
Van Bommel thinks it's fine that Germany is seen as a fan fave and Holland not yet. "Well, we're not favorites are we? We never won a title at this level. Statistically (Jan: huh?) we don't count. It's Italy, Brazil, Germany, France, Argentina… We played good football, yes. But never won. That does tell you something."
"But we want to perform now. We want to win it now and we want to win with good football. Like we do at Bayern. But here, good football is a bonus. We need to win win win. That is the key. We are on a mission. I love that word. And if we can't do it beautifully, too bad. We need to be victorious."
At Bayern, Van Bommel is the big leader. "That is something that grows in the course of years. At Oranje, it's as if we don't have a leader. We correct each other. No player thinks it's a big issue. We do not have that one leader and we don't need him. We don't even talk much. A glance does it, nowadays."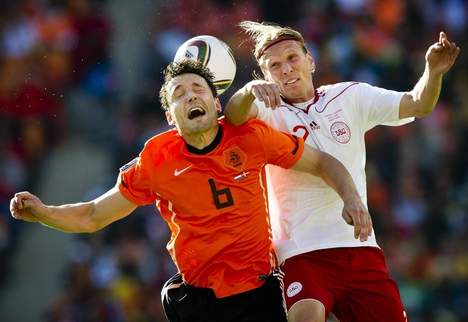 Van Bommel played a clean game against Denmark. Didn't need to foul once. Nigel de Jong did. "Let's be happy to have him. Nigel is a tremendous player. But the two of us need to destroy before we can build up. And sometimes, bad things happen. I didn't make on foul against Denmark, but that's not because I decided that suddenly. That happens sometimes."
De Jong's tackle, awarded with a yellow, was placed under a magnifying glass again. "If we don't stop that player, people will say we're too soft. In the olden days, players like Neeskens, Van Hanegem and Rijsbergen were also constantly challenging. But they didn't have slow-motions from 11 different angles. We rather have De Jong not making a foul at all. Sure. Like we also want our strikers to score every chance they get."
Marco van Basten was analist on television after Holland – Denmark and named Van Bommel as one of the men of the match. Van Bommel didn't want to play under Van Basten at a certain point. "That was the toughest decision ever…. Marco could be positive the one day and negative the second…. It still gets to me…retiring from national football, it was quite a big move for me. But, things happened back then that were just not on… All players know exactly what I'm talking about… And I missed the EC in 2008. I'm still at my peak but two years ago I was particularly strong. I have to leave that behind, but it did hurt me. But, I'm here now. And I'm happy and proud to be part of this."
He would like to play that EC in two years. And after that? "I don't know. I'm 37 years old at the next World Cup. It's not likely that I'll be part of that. But I am not a planner. We'll see."
Subscribe

Netherlands World Cup Blog RSS Feed

Share
Comments

I never tried to be offensive, NEVER, except against Deckard and some douche named Lotto, pleaseee, no more comments on this pointless argument. Why the hell are people ganging up on poor old me, jeez.
Posted from
Netherlands

@Finn, about your DC comment, yes maybe that's true, as there was just recently for the us-england game, a huge gathering of people in dupont circle to watch the game on the big screen. At least 4000 people showed up, and it was impressive. So maybe its better here than in NYC.
Posted from
United States

Alex, I see where you are coming from, and I happen to agree with you completely. I think it'll be a long time before the US wins the world cup, or will seriously be recognized as a contender.
Posted from
Canada

Is this england playing against algeria ?

i was on 9th avenue in nyc for the england game, every bar for about 15 blocks was packed with people watching the game.

england are simply being played out by this great team of algeria who are technically far superior. england look very very tired after a long season. hope algeria could keep that for the second half.

if they tie…then use would be in 2nd place…so if we beat algeria were good…kinda…this group is WIDE OPEN

@Paul: England vs US is a one-off.
Of course it was packed. I was in mid-town and it was packed there too.
Hasn't been packed since.

@ Finn
Obviously its not AS big in the states, but on Facebook everyone is bitching about the US game, but noone gives a shit about the MLS…at all…the level of play is ATROCIOUS…its like the conference in england not the championship..the conference as in
premier league
championship
league one
league two
conference-MLS

I've to admit

Well-done Algerie .
England is a CRAPPY team though . What the hell is capello doing ?
Whoever said that England can win this world cup , i think he was mistaken !

@Jan:
With "statistically we dont count" vBommel refers to us neevr winning a prize. We dont have a history, therefore people look past us.
Posted from
Netherlands

I don't know but Rooney looks not comfortable with the lineup. He's not running after every ball like he does with Man Utd. Something's not right, they are not clicking at all. I think Rooney prefers real wingers like Nani & Christiano Ronaldo and England is not playing with them.
Posted from
United States

goal said VDV will start!
but why he should start against japan?? he is worst orange player. we don't need him elia is more better than him

how awful has been rooney today!! one of the weakest strikers i have seen in this wc.
very poor england squad today.

This was shockingly bad from england!!

@faraz, VDV is one of the best players in our team, and he is far more better than elia,he is never worst orange player at all, yes he is not a winger but he is important player and he did so much in real madrid and in the national team, elia will be more effective in the second half when the japanese defense is tired and Am sure that VDV is fixed in every line up in addition with robben next game, so lets get over it and wish him a good game, mark my words he will score against japan.

Let England be a lesson for Oranje! There is no more "inferior" teams these days. The so-called underdogs have figured out a way to compete toe-to-toe with the big guns. North Korea gave Brazil a heart attack. Switzerland, Serbia, Slovenia and now Algeria put up strong fights. BvM has to instruct the crew tomorrow to have some sense of urgency from the get-go. Otherwise, the longer the game is played, the harder it is to score. Japan is a discipline team, it's embedded in their culture. And they don't back down easily. The midfield, Sneijder in particular, will have to be creative enough to thread the needle. It will not be an easy match tomorrow by any stretch of imagination!!

The funny thing about sports is the less there is the more I seem to love it. I will never love baseball,162 games and that's not including playoffs, forget it. International soccer, Europeans get two big tourneys every two years. National teams play what, 12-18 times a year depending on if its a EC or WC year. I love college football, they only play 12-13 times a year. Not over doing it seems to be the key.
So I have watched the Ned Den game a few times, and all of you giving VdV a hard time, you got it wrong. First off VdV Kuyt and v.Persie were all given freedom to roam. VdV would go inside, Kuyt would stick to the touch lines(even the left touch line once or twice) and made some moves to central striker. v.Persie stuck to central Striker but floated a little to the right and would go to the left wing sometimes. Sneijder would stick to central attacking midfield but would drift left, only a little bit.
You don't remember VdV on the left because when he was there he wasn't getting much service. In tomorrow's game Bert will use the same lineup, if you haven't noticed by now he doesn't make any hasty changes when it comes to lineups. He will change tactics and ask VdV to stick it out on the left a little more before drifting inside. Last, if he would have made that sweet little deflection goal from the Robin cross, everyone would be talking more about De Jong's challenges.

Shocking game from England.
Hours of football played: 3. England's top scorer: Rob Green.
I hope we do better tomorrow.
Posted from
United Kingdom

England relying on rooney who was and his team mates out side formation, they are just a normal team in the tournement

VDV is clearly not a winger, so I'm not sure why he's playing there. He and Sneijder both are most effective at the same central midfield position–and in the Denmark game it looked like VDV wanted to play in the same areas as Sneijder, creating congestion. We'll see tomorrow.

Preview for tomorrow's match from Japan's point of view over on the Japan blog site…
http://japan.worldcupblog.org/world-cup-2010/japan-v-netherlands-preview.html

@alex,
it may be worth noting that I am not american. And that thats not the only country that call it soccer. People these days seem to blame america for a lot more than it is capable of…..
Anyway tonight we have a party at my house. My partner is japanese and i am aussie/dutch we will all have fun and all watch a nice 'soccer' match

Apparently in Ireland Pizza Hut are giving away 350 free pizzas for every goal scored against France. Just a neat tidbit. http://g.ca.sports.yahoo.com/soccer/world-cup/blog/dirty-tackle/post/Irish-Pizza-Huts-giving-away-freebies-for-goals-?urn=sow,249328

I'm glad that Van Bommel will like to play at EC 2012. Euro will be in my country Poland, so I'd like to see him on the pitch:))
Comments are closed