Mark is back….
August 21st, 2008 | by: Jan |

Comments(4)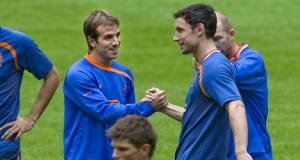 Raf welcomes Mark back…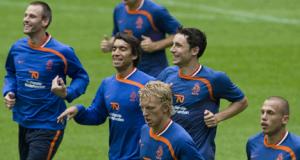 Mark happy to be back…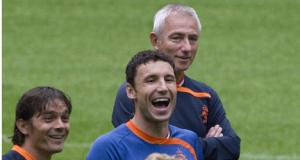 Van Basten's joke-telling rules are still in place!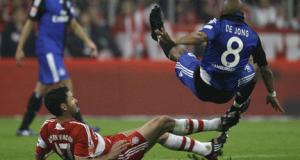 Van Bommel tackles mate Nigel de Jong for Bayern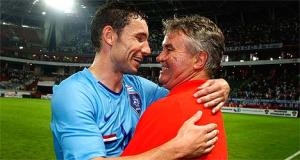 Mark thanks Hiddink for the ass-whoopin' of Van Basten…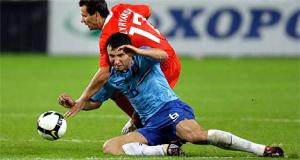 Van Bommel: holding midfielder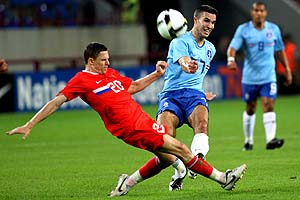 Van Persie scores the 1-0!
Subscribe

Netherlands World Cup Blog RSS Feed

Share
Comments

Great to have him back!!!.

i thought he played a more than decent game but the pundits in Holland said he didnt mark(!) his man…they said that Marks biggest problem is the fact that he only has his eyes on the ball and doenst look around…
Posted from
Netherlands

Overrated. Not needed by Oranje. Engelaar and De Jong did a great job at the Euros and show much more promise than Mark Van Turncoat – he can piss off to his poxy smalltime German club and never so much as dream of the honour to wear that orange shirt again as far as I'm concerned.
Posted from
Japan

@Rob; think your way off my friend;
1. overrated by who?? dont recall him ever beeing worldcup footballer of the year or even european footballer of the year (all right he did win player of the year in Holland twice
2. Engelaar played a crap EC, anyone knows and saw it, if theres any player who is overrated it is Engelaar
3. I would say that Bayern is possibly the 5th biggest club in the world, and vBommel is captain of this huge club
4. too late for your concerns, hes already in and he will be playing
think you need to give vBommel just a wee bit more respect
btw; vBommel was sent off today after getting 2 yellows in the first 20 minutes
Posted from
Netherlands
Comments are closed