Manchester United's Rene Meulensteen
December 15th, 2011 | by: Jan |

Comments(93)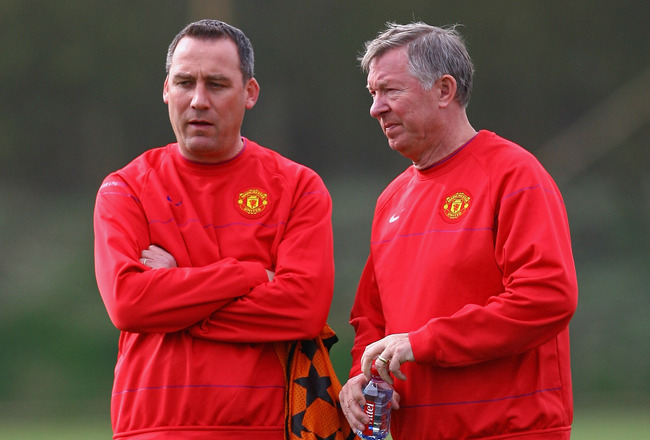 Rene with Sir Alex
Dutch coaches are renowned for their specific skills in developing players and talents. Johan Cruyff, Louis van Gaal, Guus Hiddink, Frank Rijkaard and Huub Stevens are a number of examples but the Dutch list of coaches finding glory abroad is much longer. From Adrie Koster to John van 't Schip and from Dick Advocaat to Leo Beenhakker and Hans Westerhof, the Dutch have always seen football as an export product. Most Dutch coaches have been successful at a certain point in their career and most Dutch coaches have a personality that makes it hard for them to maintain their jobs for a longer period. Dick Advocaat has no friends in Belgium. Lucky Gus has a different nickname in Turkey and Louis van Gaal was seen as "an unpleasant human being" in Bavaria.
There are a number of coaches from Holland, who lack that specific gene. Van 't Schip is not a scandals man. Frank Rijkaard is loved the world over and Bert van Marwijk might not have been a success in Dortmund, he was well liked.
Another great coach that deserves to be a Big Name coach is Dutchman Rene Meulensteen.
Rene Who? was what most people said some years back when the big Dutchman suddenly sat next to Sir Alex, who gladly listened to the advice of the former Wiel Coerver student.
The great Rene Meulensteen was identified by Sir Alex Ferguson as a coach that could help prepare his squad of superstars for the challenges the Premier League and facing the best that Europe has to offer.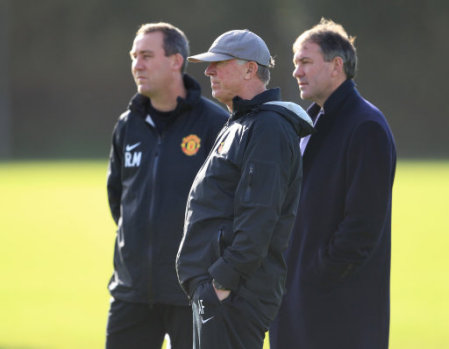 Many international games among them….
Rene was never a person who could look back at a great playing career, proving that you don't have to have been a great player to develop into a good coach. Now, Ferguson trusts the influential Dutchman with all things on the training field and Rene has respect for the responsibility bestowed upon him by Sir Alex Ferguson. Whether it be coaching sessions, training equipment or pre match preparation, Rene is involved.
His first position at Manchester United however was quite a low key one and not one that many people at the club were ready for. Rene first came to prominence at the club as skills development coach. He had to explain the philosophy of a restructuring of the Old Trafford development programme. This meant conversations with coaches and parents of the young players, detailing what was in store for them. Players from as young as 6 years old right up to the first team could benefit from Rene's approach to coaching. The meticulous coaching principles of Meulensteen has seen players like Paul Scholes, Wayne Rooney and past players like Ruud Van Nistelrooy and Cristiano Ronaldo all have individual sessions with him. His current role has come after many years of integration and he is now a fundamental part of the clubs success.
Rene Meulensteen adds: "I had always had a passion for football in general and I think one of my biggest advantages where I've obviously taken benefit from is that I started very early. When you start to teach young players things, you're actually developing yourself. My objective was to pursue a coaching career after that. I really enjoyed it first and foremost and I thought I had the hang of it".
All coaches should stay true to and focused on their beliefs and abilities, because it is these that will be carried on throughout any potential career or role. Add to this a passion for the role and the desire to educate and improve then wherever the position, whoever the players, whatever the level there will be success.
Meulensteen didn't make it as a coach on the basis of his playing career. Meulensteen was not a player, but more a scholar. A student. Of the art of football. And Rene took the long road. When Man United recognised the skills of this unknown coach, working in the Middle East, and hired him, he became the successor of ManU's reserve team manager Ricky Sbragia.
But where Sbragia – like most Man United coaches – focused on results, Meulensteen had a different approach.
In an interview the Dutchman expressed his belief that results are not his sole focus…
What matters most for you as a coach, performances or results?
"I think any manager would be happy to be top of the league. But the most important thing for me is not being top of the league, it's the development of the performances and development of the players. You can't always have the perfect performance, you might have the odd off-day – it doesn't matter. If you keep striving and focus on the performances then the outcome will be mostly positive. Then as a logical result you will get the place you deserve. If that's top of the league then great, you've deserved it. I always try to keep the players' minds focused on the performance, not on the outcome."
What benefits does that attitude have for the players?
"When there are two teams competing, you're going to run into situations where you have to overcome disappointment. If you cannot cope with minor disappointments then how can you cope with bigger ones? A minor disappointment is, for instance, missing a shot on goal. What do you do? Are you burying your head in your hands or do you accept it, quickly think about what you could have done better and then focus on the next ball? "
So, it's about players being positive all the time?
"Yes, that's always the most important thing. If you shape your attitude to cope with the situations I mentioned before then you can overcome bigger disappointments like a goal against or losing. Sometimes you don't win when you should have done, you have to cope with that before going into the next game. It's a way of developing your mindset really and I'm a firm believer that you don't just train your physical attributes, you're training the mental attributes too."
A number of your regular Reserve players have been called up for the first team. How much of an impact does that have on them?
"It's a great experience for any young player to travel with the first team. They should suck every part of the experience up, whatever they can get. It's always good to step into a team where everything is hunky dory, but it's sometimes not a bad thing to be there when the going gets tough and to get those experiences."
How important is it that the young players remain grounded?
"You want to get in there for all the right reasons. That means you want to get there because you want to be a player. If they do get starry-eyed then it won't last long. There's plenty of examples in football of players who wanted it for all the wrong reasons. They see the glamour, the status and the attention and if you do it for those reasons then you've got no chance in the long run. But all of them are good lads, they've got their feet firmly on the ground."
Does it make your job more difficult when you've got players coming and going?
"The last thing you'll ever hear me moaning about is players missing for one reason or another. Yes, everybody wants to turn out with the best possible squad available. But if I can't pick a certain player – for whatever reason – I don't dwell on it. I think 'hey, there's an opportunity for somebody else, I can have a look at another player'. Give him a go and he might surprise you."
Rene Meulensteen was promoted to the post of first team coach on 3 September 2008, succeeding his colleague Mike Phelan who became assistant manager on the same day.
In his previous role as Technical Skills Development Officer, Rene was the man charged with giving United's players the armoury to out-manouevre any opponent in any given situation.
The affable Dutchman, who retired from a playing career in the Dutch lower leagues at the age of 29, is in his second spell at Old Trafford. Rene first arrived in Manchester in 2001 and quickly set about overhauling United's approach to coaching children in the club's Academy.
He changed United's coaching syllabus, concentrating on the technical area of the game, specifically the coaching of "tricks and moves", which Rene believes defines the difference between a good player and great player.
With first-hand experience of working with famed Dutch coach Wiel Coerver, Rene's methods quickly began to take effect, with the Reds' youngsters displaying marked improvement in their skills.
Meulensteen: "It's called "Foot-Ball" for a reason. You control the ball with your feet. If you can do this very well, you control the game. You can score more and have more possession. Therefore, teaching kids who to own that ball is key. All the other elements – athleticism, vision, mentality – will come after that."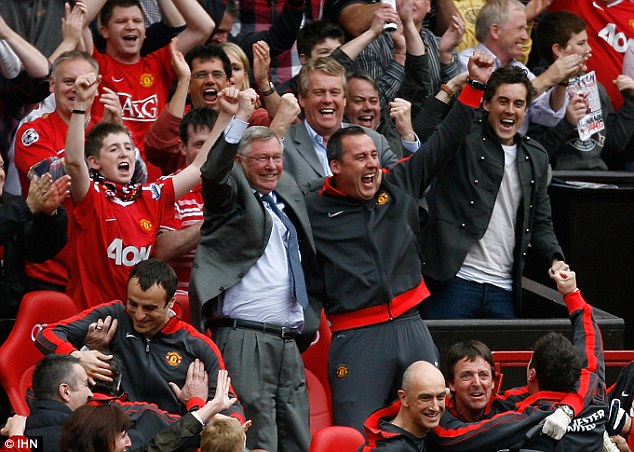 The response when they learned C Ronaldo was actually leaving for Madrid

Meulensteen soon began taking personal sessions with players higher up the Carrington food chain, and a number of senior players such as Ryan Giggs and Ruud van Nistelrooy benefited from his expertise.
When reserves manager Ricky Sbragia left Old Trafford in December 2005, Sir Alex chose Rene as the man to replace him. The Dutchman's managerial credentials included lifting the Arab Cup with Qatar side Al-Etehad and the Qatar version of the FA Cup with Al-Sadd.
Meulensteen's impact was immediately evident, with the Reserves putting together some stunning football en route to a treble of FA Premier Reserve League Shield, the Premier Reserve League North and the Manchester Senior Cup.
That success earned plaudits throughout the club, and also alerted a number of clubs to Meulensteen's management potential. It was no surprise when Brondby came knocking, and Rene followed his ambition and moved his family to Denmark.
Turmoil behind the scenes prevented the appointment from working out, and Rene left Brondby by mutual consent in January 2007. Meulensteen returned to Manchester, and Sir Alex was quick to welcome him back to Carrington, initially as Technical Skills Development Officer.
Rene's role saw him work increasingly with United's senior team to the point that he became first team coach early in season 2008/09, following the departure of assistant manager Carlos Queiroz.
He's not the most renowned of the Dutch coaches, but he might well be one of the most respected. Apart from his Man United day job, he travels the world to host football clinics.
As he did one in Grand Rapids in the US last year amid World Cup fever.
While Sir Alex Ferguson is Manchester United's manager, and the public face of the franchise, Meulensteen has been the club's first team coach since September 2008, and a member of the coaching staff for 10 years.
The Netherlands native, who according to the team's website focuses on coaching the "tricks and moves that Rene believes defines the difference between a good player and a great player," held a clinic for 40 football coaches on his "holistic view" on coaching philosophy.
"I am not a believer of any given philosophy adapted by a certain country or culture," Meulensteen said. "Instead I have looked at and analyzed the best teams at the world stage, extracted their qualities and put them in a format which is easy for every coach to understand."
In studying world-class players to understand what he must instill in young players, Meulensteen said one important quality "is the ability to dominate the one-vs.-one situation. So the coaching course in Grand Rapids will focus on my philosophy and how to translate the skill development into training in relation to the different age groups."
A key reason Grand Rapids was the first U.S. host for such a clinic is because Meulensteen's boyhood friend, former Dutch professional player Erwin vanElst, has lived here since 1994. He coached the boys and girls soccer teams at Forest Hills Northern for three seasons each and now coaches two teams in the Rangers Soccer Club, which serves the Jenison and Hudsonville areas.
"What Rene is known for is teaching skills, but he does it in a unique way," van Elst said. "His philosophy is about coaching players who can make a difference in the game, players who can put their stamp on the game. He teaches coaches how to make good players great players, how to get players to have that little extra skill and confidence.
"He cannot make an untalented player an exceptional player, but he can turn regular players and special players into exceptionally talented players."
For his part, Meulensteen said he teaches "how to turn technique into skill and skill into strategy." He said he differs from other coaches, who tend to focus on the passing game and possession.
"But the ability to create chances and goal scoring opportunities by individual skill is that important quality that has always made the difference," Meulensteen said.
"This guy is fabulous," said Dave Whitehouse, the organization's executive director. "You are not going to find anyone who coaches at a better level."
East Kentwood coach John Conlon, who holds a National Soccer Coaches Association of America Premier License, and who is a self-professed "soccer dork," plans to pass along what he learns to the Kentwood Soccer Club coaches.
"Any coaches who are signed up for this want to improve the game in our part of the soccer world," Conlon said. "Youth soccer coaches affect player development and that's where it starts."
"Grand Rapids is considered a hotbed for youth soccer in the Midwest," Conlon added. "Having Rene Meulensteen come here shows how important soccer is in this area."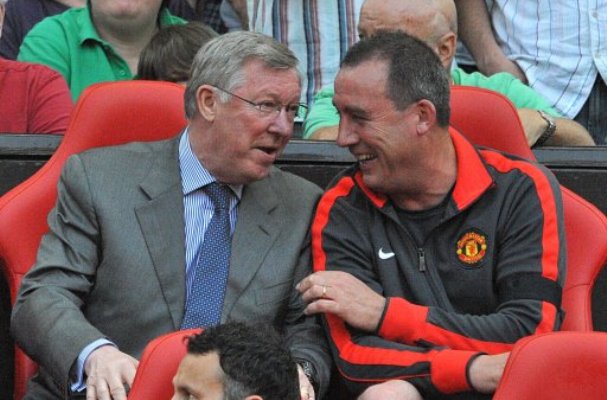 "Hey Alex, can I tell you something? I never understood one single word you said to me, hihihihihihi…."
Subscribe

Netherlands World Cup Blog RSS Feed

Share
Comments are closed