Louis the Arena; Johan De Toekomst
November 25th, 2011 | by: Jan |

Comments(72)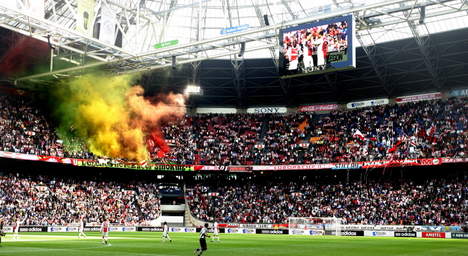 Ajax' members will make history this coming Monday. The members will make a decision whether they support the current Board of Directors and support their decision to make Louis van Gaal Ajax' general manager? Or will they vote against it and therefore go the Johan Cruyff route?
One key question is: How different are ideas of Van Gaal and Cruyff really? Professor Engelsma thinks they are too different.
Engelsma: "The chairman of the board, Steven ten Have, wants Louis van Gaal as the leader, the general manager and he wants Johan Cruyff in the role of advisor, as consultant. Van Gaal already has a signed contract so to turn this decision around will be quite…awkward. I highly doubt the effectiveness of this construction. Van Gaal might say he embraces Cruyff's vision, but I know he's terribly headstrong in real life. Cruyff focusses on the individual talent and Van Gaal focusses on the team. On unity. Cruyff wants diversity. Also, Van Gaal is not a man to take advice from anyone while Cruyff is a hands on guy. He won't be happy just giving advice. He expects people to do what he says. Ask Leo Beenhakker! Van Gaal's recent exploits at Bayern Munich demonstrate that he still can't be flexible and adapt to an existing culture."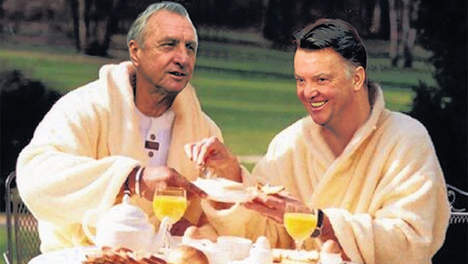 Engelsma continues: "Ten Have recently said something horrible in the newspaper. He said, that youth development is the key of the debate and I don't get where it links in with the first team and the Ajax organisation. Well, you are not fit for the job if you have to ask yourself this in the national media?!? He clearly never read Johan's report either. At the Arena, with the professionals, you need a football director who supports the development practices at De Toekomst. This is the linking pin. You'd have Wim Jonk as director youth academy, Dennis Bergkamp as youth coach and assistant at the Ajax 1 team and Frank de Boer as manager of Ajax 1. You'd have consistency."
Engelsma rants and raves on: "Cruyff's report "To organised chaos, the road to succes" of March 2011 is meant for the long term and is supposed to bring continuity, balance and progress. It is founded on the individual approach of talents. It's pretty logical that if you want to do this, you don't hire someone like Van Gaal. We all know he focuses on the team performance and everyone needs to be servant to that. He always called his players by the number."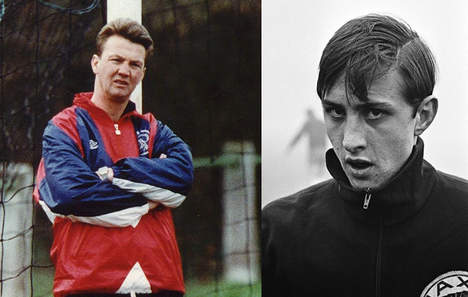 Young coach Van Gaal would never select the young Cruyff…

Philipp Lahm, skipper of Bayern Munich, described Van Gaal as a general who enforces his tactical system. And Bayern star Franck Ribery recently described his time with Van Gaal like this: "If I can't enjoy my football I can't be important. And if I can't play like I want to, I can't enjoy it."
When confronted with the mess at Ajax, the French winger chuckled. "Are people leaving because Van Gaal is signed? Haha, I'm not surprised."
Cruyff in his report: "Fun and enjoying football are the key and politics and organisational structures inhibited that at Ajax. We need shorter lines of command and the individual player needs to be the central focus. The individual development should be priority over team results and developing to win. Teams are made up of individuals. We don't even want to talk about an Ajax-system. We will focus mainly on technical skills and use tactics in the youth system as a support system."
Engelsma again: "Cruyff loves players like Ribery, Robben, Van Persie, Van der Vaart, Berbatov, Ibrahimovic and Messi. These lads play on instinct and intuition. They have sensational skills, speed and vision and they can always come up with a creative solution. These are the core elements which Johan wants to develop by means of individual coaching. When the players reach that level, you can add them to a collective system and allow them to mature. The key ages for Cruyff's plan are from 8 – 14 years old. From then on you can work more with tactics."
According to psychologist Huizinga, Franck Ribery and Lionel Messi are examples of the "Playing Human". They are led by a feeling of excitement and fun. They want to enjoy themselves first. These feelings and their skills will be tempered and crushed when they need to limit themselves through all sorts of protocols. For some coaches, the tactical tasks become more important than playing football and trying to score goals.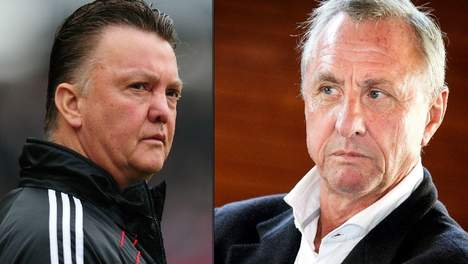 Cruyff's intuitive approach vs Van Gaal's totalitarian, structured approach. Cruyff: "I don't mind the use of computers in youth development but at the end of the day, you need to judge players with your heart and your intuition. Based on the current criteria at Ajax, laid down in the past by Louis van Gaal, I would have been sent away. I was 15 years old and skinny and rather weak. I couldn't hit a corner kick. With my left, I couldn't kick further then 15 meters. I was also pretty slow, as I lacked power in my legs. My strong points were my tremendous skill on the ball and my vision. Two aspects a computer won't be able to measure."
According to Engelsma, Ajax had good papers to sign Marco van Basten for the leadership role but chairman Ten Have blew that one. "He was too pushy. Didn't allow Marco time to analyse the situation. Even if Van Gaal is pragmatic and takes the job accepting Cruyff's plan, it won't work. Van Gaal won't be able to implement it. Ten Have, who calls himself a rule-maker, apparently things "rules" come before "vision". He doesn't appear to be a good chairman at all. Poor Ajax."
So who knows, it might be that the Oracle of Enschede, Co Adriaanse, is right. Maybe Ajax will be chopped up: Louis van Gaal gets the Arena and Johan Cruyff will take De Toekomst.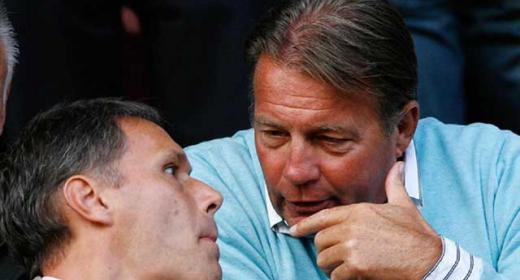 From left to right: horse, jockey
Subscribe

Netherlands World Cup Blog RSS Feed

Share
Comments are closed