Lessons from Barca: bring Blind and De Boer back!
December 2nd, 2010 | by: Jan |

Comments(56)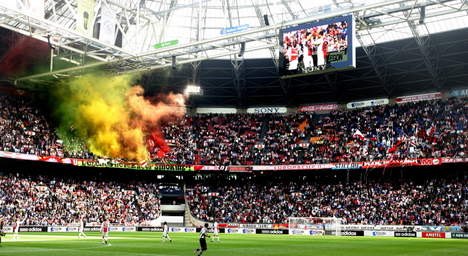 Wow. WOW. I am still recuperating from the Barca – Real smashing!! I have been silent here, I know. Partly due to the delayed games of this week ( really wanted to see Spurs-Liverpool and Barca-Real unbiased). And I have been rather busy elsewhere. Setting up a new business…
But man oh man! Barcelona. I knew they were good. But this was from another planet. This time they hired the Harlem Globetrotters choreographer.
And it only makes Ajax' current situation looks more dire. Because that is how Ajax should and could play. Maybe not as good. But it wouldn't need to because PSV is no Real Madrid and – say – Lens is no Cristiano Ronaldo.
So let's quickly move to what Group Cruyff wants to do.
Johan Cruyff is clear. With Aron Winter as another ex-player to come on board in the member's council, JC wants Danny Blind as technical director and Frank de Boer as Ajax' new coach.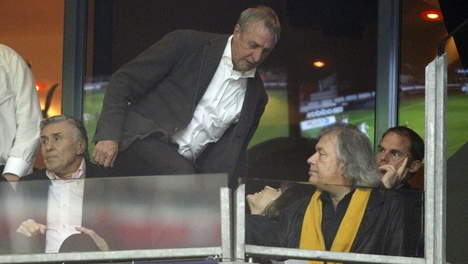 Some familiar faces: Sjaak Swart, JC, Telegraaf journalist (and JC ghostwriter) Jaap de Groot and Frank de Boer in Sjaak's VIP-box
Cruyff doesn't want this to happen overnight, per se, but in time. When Jol is "finished". But, in football, that could be tomorrow.
This is the key of JC's football vision, he's working on.
The Group Cruyff- as they're called – is a group of concerned ex-players. They do not want a coupe or a revolution but a democratically selected new power-structure…
On December 14 (!!), at the yearly AGM, the group wants to be able to allow a number of ex-players to be voted into the member council. They also want to have one of them to be placed in the Board of Directors. Keje Molenaar, lawyer and former Ajax defender, wants JC himself to be that director, since the Barcelona-sider doesn't need to be in Holland all the time for that role. But if he is in Holland, JC does have a nice little bachelor's pad at the Vondel Park.
Theo van Duyvenbode is another candidate.
The Group Cruyff is also preparing a meet between JC and current Ajax CEO Rik van den Boog.
The Group Cruyff is highly annoyed with the current management strategy. Working according to the English model with Martin Jol as coach and technical director – disrespecting the Ajax culture and house-style – is very wrong, the group feels.
In the Group's vision, Frank de Boer – assistant to Bert van Marwijk at Oranje and coach of Ajax' A1 juniors – should become the new coach, while Danny Blind, currently assistant to Jol, should return to his role as technical director.
The Group Cruyff also wants to turn a decision in the youth system around. They feel Arnold Muhren shouldn't be fired from his youth coach position while the close friend of Jol, Albert van der Dussen, doesn't add value in his role in the youth system. Mino Raiola, Jol's manager, plays a role in this too. He's also the manager of Van der Dussen ( and of Bryan Roy and Orlando Trustfull, for that matter).
The Amsterdam newspaper Parool was present at a meeting where Cruyff explained his vision and ideas. According to the newspaper, the former No. 14 was nuanced in his criticism and elaborate in his explanations. He assked for a royal revolution.
The pace in which the Group Cruyff could assert their influence will be affected by the bankruptcy of The Entertainment Group. If that has serious implications for former shareholder Van den Boog, chairman Uri Coronel will be loyal to his CEO and step down as well, allowing the space for Cruyff to move into.
Confirmed names of Group JC candidates: Winter, Molenaar, Edo Ophof, Dick Schoenaker, Barry Hulshoff, Peter Boeve, Piet Schrijvers, Ko Meijer and Dirk de Groot. Jan Mulder and Marc Overmars declared to be too busy to be able to contribute while San Marco and Rijkaard declared to be wanting to be free to accept coaching positions abroad. I simply wasn't asked, so I won't be doing it.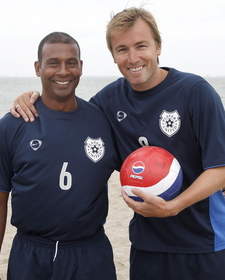 Aron Winter here flanked by buddy and former team mate Richard Witschge
Subscribe

Netherlands World Cup Blog RSS Feed

Share
Comments

OK FOR ALL U Qatar 2022 haters..firstly they got it on their own freaking merit whether u racists like it or not. This not simply about the weather or it being a small nation. This is way deeper than football. This was about the realization of a dream. This was about the acceptance that football is a global game. This was about football being the only tool that can truly bring world peace. This was about bringing unity between nations who are currently killing each other with hatred. Qatar is the only country muslim arab vountry that has the open-mindedness to allow other religions practise their faith, the only arab nation that has great relations with Israel without without planning to kill their atheltes if they qualify, the only country with enough money to help realize the dreams of poor african countries (by transporting their HI TECH stadiums to them) as a lasting legacy, the only country that can battle mother nature and bring a comfortable atmosphere in the midst of global warming, the only arab country that allows the free exchange of alchol, the only country that has a Western country like America as an ally, the arab country to win the world under 23 cup, the only arab country to publically fight against extremists terrorism and al qaaeda, the only counrty to embrace western education, the only counrty that has American, Dutch university campuses including Stenden, Carnegie Mellon (Higher than MIT in Computer Science), WEill Cornell, Texas A&M, the only arab country where there is a women's football league and where they are not oppresed, the only country that has a 0% crime rate of serious crimes, the only arab country that has abolosiehd the death penalty, this victory was one small step on the face of football but one giant leap for universal acceptance..so people like Alex,Caleb,Bart, Robbert,Carlos, Susane..grow up and stop being so shallow!!!!!!!!!and above all get ur facts right…see the whole bid before making assumptions and unfair declarations…this is precisely why arabic people feel segragated against and turn to extremism..we should all learn to live in peace..QATAR was daylights ahead of the other bids..and the voting was a just a formailty..if any of you bothered to check the bookmakers odds beforehadn!!!
WATCH AND SEE THE EMOTION THEN COMPARE THAT TO THE DIFFERENCE BETWEEM THEM AND RUSSIA>>SEE HoW MUCH MORE IT MEANS TO THEM AND REALZIE HOW foolish u have been
stop taking out ur anger on russia out on Qatar
Posted from
Bosnia And Herzegovina

OH and btw Qatar's ranking may not show it, they are more than a decent team, i am certain by 2022 they will be the strongest Asian team, mark my words, People like Mauro Zarate (Lazio) couldn't make it to the Qatar senior team!
Posted from
Bosnia And Herzegovina

Srinjoy: you cannot find any racist person here,and please,accept that others have different opinion. as far as i'm cincerned i wanted teh 2022 world cup goes to australia,but consider qatar is a good decision. however i'm not sure about russia – first of all i wanted netherlands/belgium,my second choice was spain/portugal.
on the other hand,i'm sure there's some corruption in the decision – russia is famous for it,and they have tons of money…

BTW Im not racist, and throwing that out there is just asking for trouble tbh. Do consider most people dont have strong affections for Qatar..and ive seen Qatar's team, but, they're not a great team to say the least. Not very surprising with a population of less than a million… I'd suggest to tone it down a bit or this is gonna turn ugly xD
Posted from
Netherlands

i'd like to say that i am NOT a racist and if i offended someone than im sorry for that. I have nothing against Russia and Qatar, but in my opinion a tournament as big as a WC should go to the country that is best capable of organizing such a tournament. and i think England and VS more capable(although as a dutchman i cheered for holland/belgium).
Posted from
Netherlands

Well if anyone is gonna turn it ugly u r alex, because you are the insensitive one..if anyone in the world can host the world cup it is qatar (robbert)..and to claim you have seen Qatar play (alex)..well lets just say you make your white lies just a little blatant..cheers ferenc no offence intended to u ..n yes ur rite the ppl who are anti-qatar are incredibly naive and ignorant who I pity

Posted from
Bosnia And Herzegovina

…..yeah right…. Im gonna ignore this..cause im not saying anything special xD First of all, im not offended, I didnt even say anything about it before lol, im not insensitive, i did see Qatar, and i didnt find it to be much, thats just my opinion about the team… that doesnt mean anything else. Why would i lie about that. Dont aim this at me… Im was just trying to stop this from becoming a pointless bashing, cause i dont think anyone here is a racist… xD I didnt disrespect anyone.. no need to turn on me, i dont even wanna discuss the WC 2022….
Posted from
Netherlands

Calm down Srinjoy… seriously..
Posted from
Netherlands

Srinjoy you had me laughing in stitches my main man
. I thought you were having a laugh with us.
You talk about football being a medium to bring world peace while you accuse us of being racists!!!
WTF
( I love this joke: "there's two things I hate: racists and black people!!")
But seriously…
I'm not going to judge Qatar, people in Qatar or where ever. I don't have a judgement to make on Russia either. I haven't been there. I can't judge it sitting on my deck in Byron Bay.
I haven't seen or read any of the bids.
The only thing I know is that: 1) Blatter/FIFA are crooks and 2) I don't like to watch a World Cup in conditions that is not good for the sports. Wherever it is. The World Cup USA was played in the blistering sun ( for Holland) and games were at noon for the tv market in Europe and I hated that.
But I hope Qatar or any other nation and people in there prosper and enjoy their football and have sex all night and have food on the table and all that.
I love everyone.
But the World Cup should be about football. Not about anything else. Not about money, not about politics, not about "nations who need the recognition"….

Cheers Alex, don't take it personally, take it from me Qatar were at one stage on course to qualify for WC 2010
Posted from
Bosnia And Herzegovina

"I'd suggest to tone it down a bit or this is gonna turn ugly xD"
With that I meant, some people might not be so cool with being accused of stuff and make it turn ugly, when you keep doing that, not meaning if you dont shut up im gonna make it ugly, lol, xD=is supposed to be a sideways laughing face, as in im not threatening but giving a friendly advice…. If you dont understand what i mean you could just ask next time before throwing stuff at me xD
Posted from
Netherlands

Srinjoy, how you got anything racists about what anything we said is beyond me.. but whatever. And I never said anything about the bid.. and you know what you're right.. I don't know squat about any countries bid. I don't care. But if you truly read what I said you'd know that wasn't the point I was making.
I "DON'T" want crappy teams that can't qualify by themselves!!
That's my point.. you can say all you want about Qatar's current team but it doesn't change the fact that they have "NEVER" qualified. Making the game global is a crap argument.. there are tonnes of countries more deserving that have never hosted as well.
Anyway, I'm done.
Posted from
Canada

Carlos: well made eh, that JC video on 1988
. Really funny too.
As for Michael Mols, he was developed at Ajax so his basic skills were way above average. He lacked something for the top. I think he was too nice as a person. He wasn't a ruthless killer like Huntelaar or an ego driven bloke like Ronald de Boer. Too shy and probably too nice. And he wasn't as strong as he should have been physically.
He got massive injuries ( Glasgow Rangers) and never got back to his old level. The lad was popular wherever he played ( Rangers, Utrecht, Twente, Feyenoord).

I didnt know Mols was produc for Ajax Academy… he was very good!
Witchsge is working in ajax academy?

"and the voting was a just a formailty..if any of you bothered to check the bookmakers odds beforehadn!!!"
Yes, the voting was just a formality – because Fifa is as corrupt as the day is long. The selection had a lot less to do with the technical merits of each bid and a lot more to do with "other factors", and of course the bookmakers know that as well as anyone.
"But the World Cup should be about football. Not about anything else. Not about money, not about politics, not about "nations who need the recognition"…."
That's exactly right. I completely agree with Jan's comments.
@Srinjoy – watch who you are calling racist. Just because someone doesn't agree with you does not mean they are a racist. That is just plain name-calling and the standard argument for anyone who doesn't have any good points to back up their view. From your last post it looks like you have tons of reasons for you to believe what you believe, so there's really no reason to throw the racist card in there. Plus, how do you know that some of those people you carelessly blanketed as racist are not Arab? You obviously don't know, since this is the internet, so it just shows even more why you shouldn't be throwing out thoughtless insults like that.

Anyway, Holland remains as the only big football country without the major tournament… It´s sad the fact that The Netherlands is a very small country without any impact or influence on FIFA.

Amen to Keko. That is precisely what I find disheartening in all this. Since the vote is totally fixed and the country to host the WC is known well in advance, why even have bids? It is a total joke and a total waste of money. Between the Russian mafia and the petro/gas dollars, FIFA could not resist. Qatar is a country of 1M people. Yes the Arab world is larger but still I don't get it except for the fact it is all about money, and we are not talking about profits for FIFA but dirty money. I have been to the Arab world many times especially Qatar's neighbor Bahrain and trust me NOBODY ever goes outside in summer, air conditioning or not. People with means escape to Atlanta (!!!) or Europe to avoid the heat and usually make their way back for Ramadan. It is a suffocating heat, one that burns your throat. Anyway, I hope Blatter has a heat stroke!
I was really hoping Holland and USA would get it but whatever.
Posted from
United States

Lol haha so ur telling me that Alex or Bart or Robbert might happen to be arab..nice one..but anyways you're right..it does get really hot..so i guess most of the action will have tp happen between 4 pm to 5 am everyday
Posted from
Bosnia And Herzegovina

Well, it's a long shot, but you never know do you? Maybe second generation or something even, who knows?

oh well if u luk at like dat..we r all supposed to be descendants of adam n eve eh?
Posted from
Bosnia And Herzegovina

The bullshit that FIFA's trying to tell about promoting football giving it to Qatar, how about giving it to a continent that has never hosted it such as Australia?

The selection process is as faulty as Sepp Blatters little one-eyed todger. Unless you have a brown bag, no democracy and give corrupt organizations tax free exemptions, no need to waste your money to apply.
I personally was hoping Antarctica would make a bid. It is also a continent that has never hosted the WC and as a plus would have solved the air conditioning issue.
Also it would be the best dressed spectators ever. I mean how often do you see 60000 dressed in tuxedo's watching the game whilst hatching their own eggs?

Finn:
Posted from
Hungary

As Michael Mols missed something started I think it was too good a person. It was not a ruthless killer like Huntelaar or ego driven guy like Ronald de Boer. Too shy and perhaps too good.

I'm arab but I hate qatar because they are so stupids and ignorants .
Morocco deserved to organise the world cup in 2010 but Sep Plater "the Idiot " have been bought by the south african gouvernement .
Comments are closed