Johnny Rep's Hollywood life… Where's the movie?
October 28th, 2010 | by: Jan |

Comments(51)

French chansonier Mickey 3D and his hit single "Johnny Rep"…
Johan Derksen's column, this time on Johnny Rep. One of Holland's biggest heroes from 1974, but now a pathetic figure hoping for some recognition.
He was born in 1951, in Zaandam – close to Amsterdam. A pretty boy. A cult hero. One of the first Dutch football players with the rockstar's charisma. And Ajax never even discovered him….
His uncle walked over to the shop of Ajax chairman Jaap van Praag and told him that there was this tremendous talent playing for ZFC. Rinus Michels' assistant Cor Brom went to check him out and that summer Johnny Rep found the transfer papers from his club to Ajax in the mail.
At Ajax, he played with Cruyff, Keizer, Krol and Neeskens. He won the national title twice, the national cup, two European Cups, two European Super Cups and one World Cup for clubs. He also played two seasons for Spanish top side Valencia. He reached the UEFA Cup finals with French club Bastia and won the French title with St Etienne and Michel Platini in 1981. He played 42 internationals for Oranje, and was present at the 1974 and 1978 World Cups.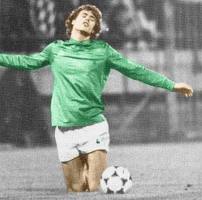 This John Rep currently lives in a sober flat in Wormerveer and has taken on therapy for his alcohol problem. On the request of his first love and first wife Trudy. Last summer, Rep stayed in a rehab center for some time.
It was that Trudy who left Rep in 1994, as a result of his wild lifestyle. He immediately had a new relationship, with Paula. They married but Rep didn't want anyone to know. He didn't want his first wife to find out. He didn't want to hurt her.
He actually never wanted to leave his Trudy and his kids. When his son Sylvester was born in 2001 with Paula, the tension got the better of Rep and he started drinking again, resulting in Paula kicking Rep out as well.
This second divorce left him pennyless and he had to sell his house. To avoid being a homeless, he lived together with former Feyenoord defender Andre Stafleu, also just divorced, in an appartment in Zaandam.
He'd later move to a flat on Texel, to be close to his poet friend Theun de Winter. Nowadays, Rep is mainly frustrated. His amateur club Hellas Sport ignored him as coach and forgot to mention him – their most famous son – in their 100 year Celebration book.
Sad facts, to be read in a new book "Rep, a troubled life". Books about players who have it tough are normally wonderful to read and sad at the same time. The openness of these players deserve kudos although it's clear that they only let you know what they want you to know. Normally, much more is being kept out of it and the real reason players are this open is to get a bit more money out of their careers…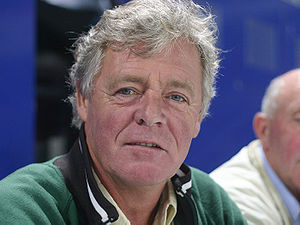 Johnny Rep's boek reads like a filmscript. Like Garrincha's lifestory. The Brazilian wonder winger died homeless and dirt poor. Or QPR striker Bowles, who couldn't overcome a gambling habit or Belgium striker Roger Claessen who committed suicide.
The German top scorer Gerd Bomber Muller was an alcoholic but he was taken in by his old employer Bayern Munich. Beckenbauer and Uli Hoeness made sure he received special attentioan and he was given a job for life at the club.
This type of warmth doesn't exist in Amsterdam. Ajax players with a famous history but going through a social dip do not need to expect any support. Ajax nowadays recruits youth coaches with psychological tests. Is it possible to get colder?
Johnny Rep and Wim Suurbier, players suffering in life, do not need to expect Ajax to reach out. When Suurbier faced serious issues, director Maarten Fontein and Piet Keizer helped him on a personal basis. He was struck by two brain haemorrhages and deciced to move into his daughters' appartment in Amstelveen. De Telegraaf newspaper allows both Rep and Suurbier to visit Eredivisie games to rate players' performances.
The readers usually love these stories, but behind every headline is a personal drama. Willy Kraus, former Go Ahead defender, robbed a bank in Germany. Paul Cascoigne could keep his hands of the booze, women and drugs. George Best basically killed himself while Arsenal defender Peter Storey became a made man in the London underworld. In Holland, we're all familiar with Glenn Helder's adventures. The once hailed winger ( ex Arsenal and Oranje) had numerous run ins with justice and served time. Feyenoord and Oranje defender Ulli van Gobbel was active in dubious dealings while former Ajax player Yassine Abdelaoui might do time for money laundering.
It seems that even Oranje icon Wim Kieft is also losing it and although clubs can't be held responsible as social institutions, it seems that players who really meant something for a club – like Rep and Ajax – do deserve something more than a christmas card.
I followed Rep throughout his career and interviewed him many times. He's a great guy. Always happy-go-lucky, no star-behavior, always generous with time, whether in Zaandam, Bastia, Zwolle or Buenes Aires. Rep loved life and life loved him. As did the ladies….
He benefited as best as he could, until his wife started to object. A good trainers' career could have saved him but he never made it beyond Zwarte Schapen, Sporting Flevoland, FC Omniworld, Texel '94 and Pancratius. He does have his licenses and a wealth of experience but recently only FC Den Bosch wanted to work with him.
Rep's reputation is tarnished. If that's the case, you're nowhere in Holland. He's being punished for behaviour that was copied by most of his colleagues. But, typical for Rep, he won't name names in his book. It's not about them, he's totally honest about himself, while protecting his mates.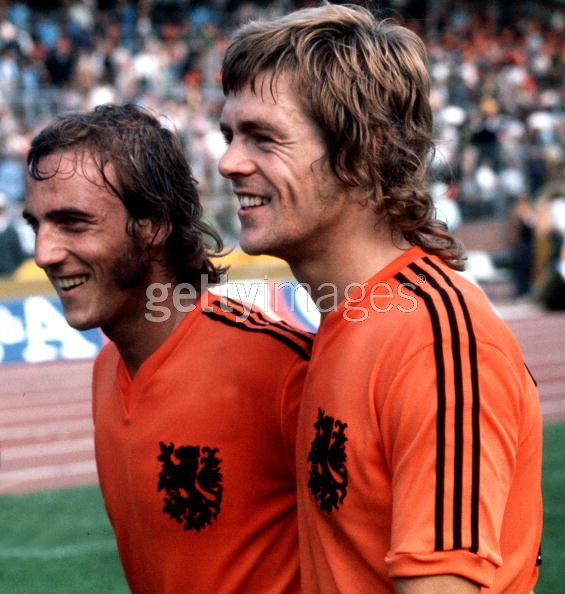 Rep made so much money that he should have been able to retire without a problem. His career was a rich one. The money kept on coming, under the table. There was always drugs, there were always women. Even in his autumn years, at PEC Zwolle and Feyenoord for instance, when Rep was being paid in other income than just money. Zwolle chairman Eibrink for instance, built Rep a beautiful villa, complete with wine-cellar.
But Rep is being tormented by frustration. He thinks he deserved more. He was on the same coaching course as Van Hanegem, Haan, Huub Stevens, Ronald Spelbos and Wim Rijsbergen and Rep didn't make it. Willem van Hanegem failed too, but was given an extra chance by letting him do a practicum session at Anderlecht.
It annoys Rep that FC Omniworld overlooked him and chose Jan Schulting and later Peter Boeve. It hurts him that everyone dropped him, so now he's sitting watching out of the window in his little flat, without any perspective…
He does admire players like Van Hanegem, Neeskens and Tscheu La Ling. Players who had their fair share of financial and domestic woes. But who fought back and with success. Like Ruud Krol, Nees and Haan, he would have loved to have had a chance at a cool club or to be picked to assist Guus Hiddink.
Rep realizes that he didn't network enough. And despite that little voice telling him how things are, he still hopes that a phone call will end his drought and a top coach will offer him an assistant job.
Subscribe

Netherlands World Cup Blog RSS Feed

Share
Comments are closed