Johnny Rep's Hollywood life… Where's the movie?
October 28th, 2010 | by: Jan |

Comments(51)

French chansonier Mickey 3D and his hit single "Johnny Rep"…
Johan Derksen's column, this time on Johnny Rep. One of Holland's biggest heroes from 1974, but now a pathetic figure hoping for some recognition.
He was born in 1951, in Zaandam – close to Amsterdam. A pretty boy. A cult hero. One of the first Dutch football players with the rockstar's charisma. And Ajax never even discovered him….
His uncle walked over to the shop of Ajax chairman Jaap van Praag and told him that there was this tremendous talent playing for ZFC. Rinus Michels' assistant Cor Brom went to check him out and that summer Johnny Rep found the transfer papers from his club to Ajax in the mail.
At Ajax, he played with Cruyff, Keizer, Krol and Neeskens. He won the national title twice, the national cup, two European Cups, two European Super Cups and one World Cup for clubs. He also played two seasons for Spanish top side Valencia. He reached the UEFA Cup finals with French club Bastia and won the French title with St Etienne and Michel Platini in 1981. He played 42 internationals for Oranje, and was present at the 1974 and 1978 World Cups.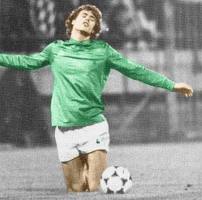 This John Rep currently lives in a sober flat in Wormerveer and has taken on therapy for his alcohol problem. On the request of his first love and first wife Trudy. Last summer, Rep stayed in a rehab center for some time.
It was that Trudy who left Rep in 1994, as a result of his wild lifestyle. He immediately had a new relationship, with Paula. They married but Rep didn't want anyone to know. He didn't want his first wife to find out. He didn't want to hurt her.
He actually never wanted to leave his Trudy and his kids. When his son Sylvester was born in 2001 with Paula, the tension got the better of Rep and he started drinking again, resulting in Paula kicking Rep out as well.
This second divorce left him pennyless and he had to sell his house. To avoid being a homeless, he lived together with former Feyenoord defender Andre Stafleu, also just divorced, in an appartment in Zaandam.
He'd later move to a flat on Texel, to be close to his poet friend Theun de Winter. Nowadays, Rep is mainly frustrated. His amateur club Hellas Sport ignored him as coach and forgot to mention him – their most famous son – in their 100 year Celebration book.
Sad facts, to be read in a new book "Rep, a troubled life". Books about players who have it tough are normally wonderful to read and sad at the same time. The openness of these players deserve kudos although it's clear that they only let you know what they want you to know. Normally, much more is being kept out of it and the real reason players are this open is to get a bit more money out of their careers…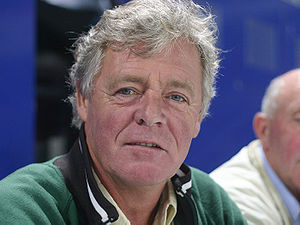 Johnny Rep's boek reads like a filmscript. Like Garrincha's lifestory. The Brazilian wonder winger died homeless and dirt poor. Or QPR striker Bowles, who couldn't overcome a gambling habit or Belgium striker Roger Claessen who committed suicide.
The German top scorer Gerd Bomber Muller was an alcoholic but he was taken in by his old employer Bayern Munich. Beckenbauer and Uli Hoeness made sure he received special attentioan and he was given a job for life at the club.
This type of warmth doesn't exist in Amsterdam. Ajax players with a famous history but going through a social dip do not need to expect any support. Ajax nowadays recruits youth coaches with psychological tests. Is it possible to get colder?
Johnny Rep and Wim Suurbier, players suffering in life, do not need to expect Ajax to reach out. When Suurbier faced serious issues, director Maarten Fontein and Piet Keizer helped him on a personal basis. He was struck by two brain haemorrhages and deciced to move into his daughters' appartment in Amstelveen. De Telegraaf newspaper allows both Rep and Suurbier to visit Eredivisie games to rate players' performances.
The readers usually love these stories, but behind every headline is a personal drama. Willy Kraus, former Go Ahead defender, robbed a bank in Germany. Paul Cascoigne could keep his hands of the booze, women and drugs. George Best basically killed himself while Arsenal defender Peter Storey became a made man in the London underworld. In Holland, we're all familiar with Glenn Helder's adventures. The once hailed winger ( ex Arsenal and Oranje) had numerous run ins with justice and served time. Feyenoord and Oranje defender Ulli van Gobbel was active in dubious dealings while former Ajax player Yassine Abdelaoui might do time for money laundering.
It seems that even Oranje icon Wim Kieft is also losing it and although clubs can't be held responsible as social institutions, it seems that players who really meant something for a club – like Rep and Ajax – do deserve something more than a christmas card.
I followed Rep throughout his career and interviewed him many times. He's a great guy. Always happy-go-lucky, no star-behavior, always generous with time, whether in Zaandam, Bastia, Zwolle or Buenes Aires. Rep loved life and life loved him. As did the ladies….
He benefited as best as he could, until his wife started to object. A good trainers' career could have saved him but he never made it beyond Zwarte Schapen, Sporting Flevoland, FC Omniworld, Texel '94 and Pancratius. He does have his licenses and a wealth of experience but recently only FC Den Bosch wanted to work with him.
Rep's reputation is tarnished. If that's the case, you're nowhere in Holland. He's being punished for behaviour that was copied by most of his colleagues. But, typical for Rep, he won't name names in his book. It's not about them, he's totally honest about himself, while protecting his mates.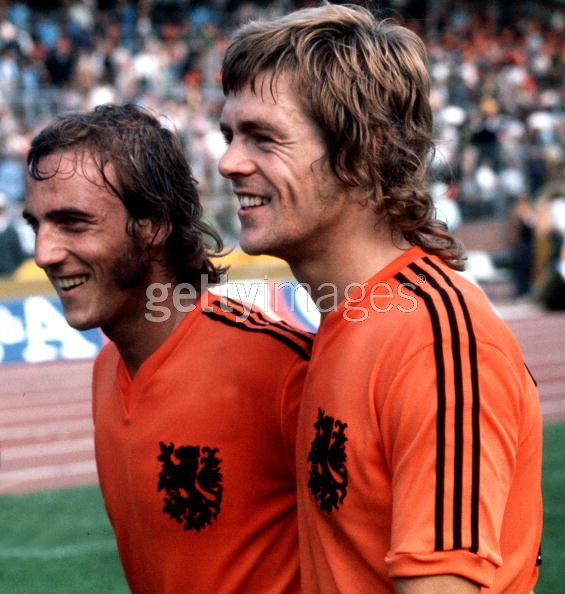 Rep made so much money that he should have been able to retire without a problem. His career was a rich one. The money kept on coming, under the table. There was always drugs, there were always women. Even in his autumn years, at PEC Zwolle and Feyenoord for instance, when Rep was being paid in other income than just money. Zwolle chairman Eibrink for instance, built Rep a beautiful villa, complete with wine-cellar.
But Rep is being tormented by frustration. He thinks he deserved more. He was on the same coaching course as Van Hanegem, Haan, Huub Stevens, Ronald Spelbos and Wim Rijsbergen and Rep didn't make it. Willem van Hanegem failed too, but was given an extra chance by letting him do a practicum session at Anderlecht.
It annoys Rep that FC Omniworld overlooked him and chose Jan Schulting and later Peter Boeve. It hurts him that everyone dropped him, so now he's sitting watching out of the window in his little flat, without any perspective…
He does admire players like Van Hanegem, Neeskens and Tscheu La Ling. Players who had their fair share of financial and domestic woes. But who fought back and with success. Like Ruud Krol, Nees and Haan, he would have loved to have had a chance at a cool club or to be picked to assist Guus Hiddink.
Rep realizes that he didn't network enough. And despite that little voice telling him how things are, he still hopes that a phone call will end his drought and a top coach will offer him an assistant job.
Subscribe

Netherlands World Cup Blog RSS Feed

Share
Comments

Speaking of VDV,he has pulled a hamstring,yet again.
Posted from
India

Haha, VDV does have a bit of the raw feel that Don Corleone also had, haha and he is part gypsy/spanish, so some latin blood in him..
Anyway, youth player Thilo Leugers is starting for FC Twente, cause Tiendalli, Kuiper and Buysse are all unavailable. Leugers is 19 year old fullback
interesting to see how he does against PSV.
BTW Wijnaldum can be a great player, but he needs to focus his actions more in and around the box and goal, and by doing that be more productive in terms of danger, assists and goals. He has done that though in the matches Feyenoord played somewhat good these last months..but he needs consistency around him to really progress and excell in the future. Could be topclass player though eventually, still only 19/20.
Posted from
Netherlands

to avoid misunderstandings, Leugers is a German player..
Posted from
Netherlands

Wel, he's been at Twente since at least summer 2007 so, should he turn out to be class in a few years, he will be eligible for Dutch nationlity, as that takes 5 years. Whether he will ever be good enough or want that isnt clear though. Also dont know whether he has or hasnt already played for German youth either. Not relevant now though..
Posted from
Netherlands

BTW from the first 20 minutes of PSV-Twente, Douglas has been rocksolid so far and Pieters very good as well. Very sound defensively, early pressurizing and good passing.
Posted from
Netherlands

Worried about Van Der Vaart's injury…was hoping to watch him lock horns with Sneijder!!!1

1-0 twente, impressive result away from home. And this brings PSV, Ajax, and Twente all within one point.
Posted from
United States

The Eredivisie is exciting again!!!
Posted from
Canada

wtf tell me Vaart will be able to face Sneijder!!! Vaart is playing it rough today. I guess he felt like proving himself in the Premier League. Vaart had great visions today, the real creator for Spur.

VdV should have played for MU… It would have been great for him and vice versa.
Posted from
Canada

Damn it!!! Does anyone know for how long vdv will be out?? I was upset not to see him play against inter w/ sneijder… And now it's not gonna happen at all???!! Not fair!!!
Posted from
United States

Narth American Sporting world is riddled with players making millions with post season destroyed lives.
Hockey- Spinner Spencer
http://en.wikipedia.org/wiki/Brian_Spencer
Ended up murdered
NFL Football -Travis Henry
Henry has fathered at least eleven children among ten different women
He is now in jail
http://en.wikipedia.org/wiki/Travis_Henry

Any NEWS about VDV???

Raf does sound like The Godfather. He's got that high pitched but rugged sound. Funny
.
Andre Ooijer sounds like Donald Duck by the way, which is why never liked him. He did score again though
.
Wijnaldum could be great, he could also be Salo Kalou, if you know what I mean.
De Guzman reminded me of Shinji Ono, for instance. Some wonderful seasons with Feyenoord and then lost in space?! What happened to him.
Sneijder recently said that Ono was his toughest opponent when Wes was at Ajax and Shinji at Feyenoord.
Expect a big Sneijder interview soon!!

craig foster = fuckwit of the year

De Guzman was injured too many times,he practically didnt play almost 2 seasons because of that.
Looking forward to the Sneijder interview!
Posted from
Croatia

Just watched the replay of PSV v Twente. A few observations while it's still fresh in my head ..
Douglas and Wisgerhof were really, really good.. strong in the air, solid on the ground. Janssen was a horse, working very diligently to cover every inch of the space in the midfield. Still not a big fan of Janko, too rigid and has a poor ball-handling. Luuk De Jong and Landzaat were quiet.
From PSV perspective, I thought they didn't play bad at all. They moved the ball quickly and took control of the tempo. The result was more of a testimony how excellent Twente defense was. And to be fair, Berg should have buried his chance in the dying minutes when the mouth goal was open. Reis, Dzudszdak, and Afellay were having an on-and-off day. Some moments of brilliances followed by lapses of concentration. Bouma was very steady, as was Pieters (his injury scared me though, hope he's OK). I can't decide who's worse, Lens or Amrabat, both were frustrating to watch. Vukovic was a complete idiot.

And Nani is another disgraceful cheat, so reflective of the Portugese footballing character
Posted from
India

Agree Agrgami. However don't expect Gomes the goalie to win a Nobel price in theoretical physics anytime soon either. You play until the ref blows the whistle, not when you think he should. Especially in a country where Howard Webb is the best they can come up with…

total agreement, that is the way Nani will always play.
hope liverpool play well vs bolton, i think they have come around a corner. but i think kuyt coming back to replace Maxi will make a huge difference. also, i hate to say it but meireles looks pretty decent.
Posted from
Canada

i also think poulson should replace lucas
Posted from
Canada

De Guzman was injured a lot at Feyenoord, but all that time, he was in potential the best player they had, now he's showing it at Mallorca. If he plays like this for 2 seasons and gets selected for oranje, he'll be making a big transfer, no doubt..
Posted from
Netherlands

BTW, look at this page, the second picture, lol
http://voetbalzone.nl/doc.asp?uid=126039 notice that guy on the right trying to peak around Fat bastard, lol
Posted from
Netherlands

wow Alex nice photo. good rebound for Krul.
haha, in complete contrast to my opinion, lucas had a good match and maxi scored the only goal.
but WTF is wrong with Torres? he looks so uninspired.
anyone see the similarity between WC "underachievers" Torres and RVP at WC? both were supposed to be so strong, were key members to their clubs and apparently to have overcome arrogant reputations and expected to have breakout performances – and both somehow ended up in the final.
i hope the perennially injured Robin van Persie doesn't also have some sort of post WC depression if/when he eventually returns to fitness… though I think u could argue that Torres had 15-20 more chances to have scored more.
still should be good to use huntelaar/rvp and maybe even ruud as healthy competition more, it wont do either any good to feel that it is 'their' spot.
Posted from
Canada

Yeah Alex,De Guzman has great potential and is playing great now at Mallorca. Had he not been injured that much at Feyenoord,he would now be playing for a better club.
I hope he gets the call from van Marwijk for the next friendly!
Posted from
Croatia
Comments are closed