Huntelaar: happy in Germany
January 20th, 2012 | by: Jan |

Comments(33)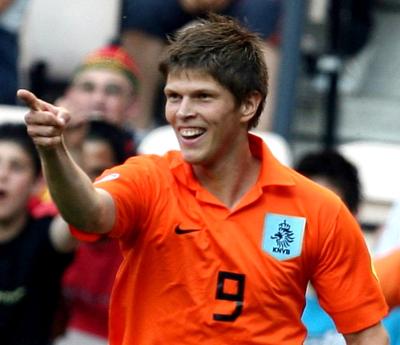 The Royal Blues have moved into the winter break as the number 3 in the Bundesliga. Schalke aims to win the title and Klaas Jan Huntelaar is instrumental in this quest. But the German club of the people fears an exit of their main goal scorer.
An interview….
Where will you play after the winter break?

I focus on Schalke 04. I really enjoy being here. We are doing well this season and we want to see it out. I scored 15 competition goals this season and I want to see where I can get to.
The story is that Man United is seriously interested though….

I haven't heard anything about interest and I won't speculate. I focus on Schalke and if something pops up we'll see what we'll do with it. I did hear that Schalke wants to extend my contract soon, so we'll see.
What do you want though?

I'm in no hurry. My deal is until 2013. If the club wants to talk, I'll hear it. I sometimes play cards with Horst Heldt, our manager, so I can check with him then. I'm mostly worried that he'll start negotiating while I want to play cards, hahaha.
Recently, you played rival Werder Bremen and dominated for 90 minutes and scored 5 goals!?
Yeah, we have momentum. It's going well. We score a lot, don't concede, our pass and move game has developed….everything is going smoothly. We are still close to leaders Bayern Munich. We have stability in our team and we're basically second in points ( Borussia Dortmund has a better goal difference).
Can Schalke go all the way?

Sure! Anything goes really. Any team can get a bad spell and drift off. Last season we ended no. 14. This season the whole region is supporting us and it feels as if we have this extra power in our back, you know. The vibe here is sensational. But, we still haven't won anything. We need to stay focused. Our coach Huub Stevens has tightened the team. We know exactly what is required and we are a tight unit. But, Bayern Munich and Dortmund are probably a step further than we are. They have been building a tad longer and have their teams together for a while. We play more attacking football now and our forwards are clearly the first defenders, putting pressure early. The Dutch school, one could say. Although Bayern and Die Mansschaft play like this too now. It's almost the German school too, haha. But we can do this pretty well. Our former coach started the process, to be honest, and Stevens is perfecting it.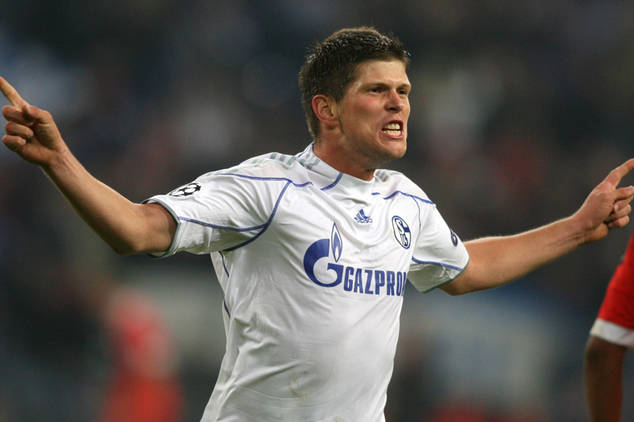 Raul and you together have scored 25 times! That's not bad.
Raul is doing well, he's enjoying his game here. He scored three times in the last two competition games. We have a new striker in Pukki, the Fin, and Raul plays in the hole behind us and that works out really well. It's all a bit flashier and less predictable.
You actually scored 30 official goals this season. 26 for Schalke and 4 for Oranje. Where does it stop?
I scored 15 times in 16 games in the Bundesliga. Good average. We have 17 more games to go, so it's a numbers game, eh? I scored 33 times for Ajax one season and for Heerenveen I scored 17 goals in 15 games the season before. But in all honesty, I'm not after golden booths or personal titles, really. It's nice, but never a real goal. I don't want to fixate on numbers or become obsessed with my personal game.
Bayern's Gomez has 16 goals… What is the difference between you too?

Pfff…that's comparing apples and pears really. I don't know, I don't analyse him. Only myself. I think he'll get more chances to score than me, at Bayern. We could improve that part. But really, I don't care who scores and all that. I can be important with assists too. And I want the club and the team to win trophies. I am happy with my game, but there are quite some areas I can improve, every game again. I want to win trophies, with Oranje too. So let me focus on my game here and I'll focus on Oranje in the summer and we'll talk again after the Euro….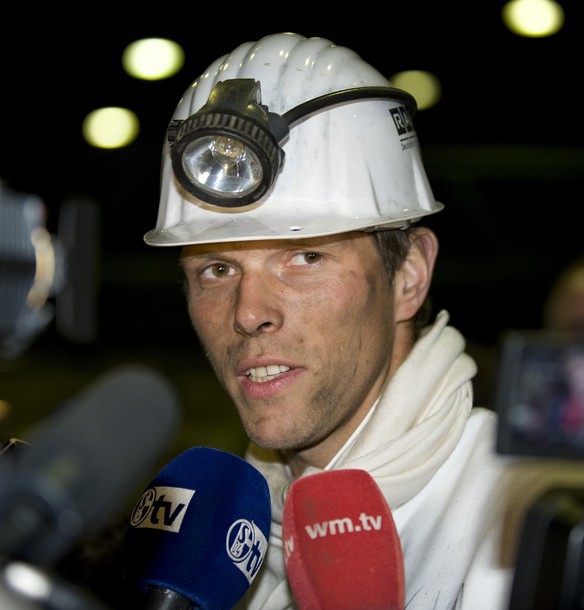 Subscribe

Netherlands World Cup Blog RSS Feed

Share
Comments

Well, I am being dragged into this again
.
There is a time when a player gets "over the hill" and Kuyt's time will come or may have come… I am NOT saying I want Kuyt to start.
But the way you reach your conclusion is what gets to me
. Of course it matters whether you play for Liverpool or AZ. Liverpool will eat AZ alive. Lucas will most likely own Maher. At the moment. Maher might grow into a great player at top level but he only played great for six months at AZ!!
Remember Cedric van der Gun? I can probably list 100 Dutch players like that? Gaston Taument? Peter Hoekstra? Andre Hoekstra? ETC ETC
And Kuyt not being creative is silly. He played against Stoke (was it?) the other day and was the only "Pool player with three (!) creative one-touch through passes…
The reason people start to dislike your rants Tiju, is because you reach your conclusions with ignorant statements. Over the top. Not well thought through.
If Bert reads this, he might even be motivated to put Dirk on goal for the next 3 years only to spite you!

Watching Bayern Munich get outplayed by Bayern Munchengladbach! Robben has been a shadow of himself lately. He's been slow, his touch heavy and shots weak and off target. I don't know if the injury with his hernia is still bothering him. But Bayern seem stil vulnerable in all phases of the game.
Posted from
United States

Apparently Roel Brouwers played a good game. I remember him being on the radar a couple of years ago but I guess he doesn't play much anymore. I think he was replacing an injured player today. Still, it's always nice seeing Dutchman abroad doing well, regardless of whether they play for Oranje.

Agreed, Primo! ]
I am considering writing a piece on Gerard Wiekens who use to play for Man City ( some time back).
An unsung hero. Never played for Oranje.
Interested?

Current Az is good team…will not be eaten by liverpool with kuyt on wing and caroll as striker…Talent is taalebt and maradona player for anpoli and kuyt played for liverpool.this doesnt make kuyt better than maradona.or Suarez played for ajax and kuyt played for liverpool this doesnt make kuyt better player than suarez..So far with kuyt liverpool has zero trophy and so is orange..that tells everything even if dont understand it.it would be good rather than cursing howard web for our failure or ineasta dive.We need to create chances and should score from that..kuyt is not good enough in that dept

@Jan sorry for my good english…Mate we will stop here with this guy we wont win a trophy..its upcomin truth..So is brapheid,bulah,babel and some.

ON klaas, i wonder if he'll play starting, and if he will win golden boot, i think it's very unlikely, they will play him vs. weaker oppononents, but stronger i doubt it
Did any of you guys think about roel brouwers for borussia monglebach, dude is awesome, although on bench, if thinking of ronnie stam for right back, well this dude played awesome. i'm sure there is centerbacks we have ignored, but will be awesome. and you know, i used to love kuyt, but he's lost it bad,
Posted from
United States

How did an excellent piece on KJH degrade into a debate on the merits of Dirk Kuyt??? LOL only Tiju. Very well spoken Jan, how do you stay so controlled in your responses to Tij? I just get pissed.

How did an excellent piece on KJH degrade into a debate on the merits of Dirk Kuyt??? LOL only Tiju. Very well spoken Jan, how do you stay so controlled in your responses to Tij? I just get pissed.

I prefer to start the game with Hunter as striker, Van Persie, Sneijder, Robben behind Hunter, Van Der Vaart and Van Bommel next and then 4D and keeper. If we need to protect the lead then Strootman or De Jong can come in for Van Der Vaart/Van Bommel or sub Hunter out with Afellay, switch Van Persie to the middle. I like to attack first but I think Bert will do the other way around, defensive first and only change to offense if the game is quite open. The way Oranje is playing Van Persie often does not have support so it is better to use a poacher like Hunter. I like Hunterlaar, not as skill as Van Persie but his scoring rate is quite good. The third striker should be that kid playing in Portugal.

Huntelaar played a good match tonight!
1 goal mistakenly ruled offside
1 assist to draxler
but he also missed an 1-on-1

Question… when has a player in the EPL impressed in any major country tournament (i.e. EU or WC?? Never!
RvP is slow as a winger, but he does make the team play better as a striker, with his drifting and space creation. He's a bit more mobile than Hunter and can play a good one-two with Sneijder, VDV, VBommel – He can also release Robben better than Hunter. I say Hunter would be a good substitute and can play when we're down and need to score goals desperately – maybe if they switch to 4-3-3
Posted from
United States

Drenthe is energetic, got some good dribbling skills… I see he come in on the bench.
Posted from
United States

I like Hunter as centre striker if we play with one. RvP on the wing, Robben on the other. I also like Vaart in the centre midfield. Sneijders spot should be in jeopardy.
Robben Hunter RvP
Vaart DEjong Sneijder
Emmanuelson Mathijsen Heitinga Weil?
Steks/Krul/Vorm
Posted from
Canada

Emmanuelson got destroyed against Germany – he's not my 1st choice Left Back
Posted from
United States

Hi you guys, long time away for me, still been reading often..
Personally I think there is some truth to Tijus opinion, you cannot say Kuyt is in his best form or is currently a lock in his position.. but this doesn't mean he is or should just be let go. Yes it's annoying how often I read it, but actually 1000x worse is other people complaining about it.. haha
I was gonna say 'let's see how he plays today' but he is not starting for Liverpool today.
Also surprised if anyone expects much from either Sneijder and Robben who are just getting back from long annoying injuries. patience.
Lots of good stuff to watch still this weekend:
Very interested to see how Mathijsen can cope with Barca tomorrow.
And RvP v Man Utd of course.. he missed a penalty in that 8-2 embarrassment last time but he still scored later on.
Vdv versus dejong..
will Sneijder start?
will Elia ever make the bench at Juventus?

@Sam Which Emmanuelson is that who played against germany???
it was brapheid not emmanuelson…Brapheid was there behind ineasta goal too..he is the another one i dont want to see in orange..
Emmanuelson is playing with mighty AC milan..has 18 matches under his belt so far…The important thing is he is not playing as LB ,but as a left winger..
I believe Both Drenthe and Urby are capabale of doing better than Brapheid and kuyt in left wing.

Age is a factor.player will start loosing their speed from 28 onwards but they will become more wiser at that time.So they compensate with that.But infront and both wings you need speed..Speed is weapon for any forwards.i think age factor is going to start in Sneijder,roben and vaart cases very soon..
Persie is much faster than kuyt or many players why are you saying persie is slow???he is not CR7 or usainbolt.but sure he has pace…

1) Stekelenburg/Krul/Vorm
2) Wiel/Bruma
3) Heitinga/Vlaar
4) Douglas/Mathijsen
5) Pieters/Emanuelson
6) Strootman/Bommel/Nigel
7) Sneijder/Vaart

Afellay/Wijnaldum
9) Huntelaar/Wolfswinkel
10) Persie
11) Robben/Elia

that'd be my 23 for the tournament

Sorry I made a mistake about emmanuelson…
Posted from
United States

This is off topic but Liverpool with Kuyt on the bench sucks. Kuyt needs to be a starter. King Kenny should be on the hot seat, he brings in Charlie Adam and that other English twat in midfield and they both suck. Add on top of that the striker they paid 35mil for and people are probably wanting to see Benitez back.
Sorry I am so pissed, I can't think of their mediocre names at the moment.
Posted from
Canada

Haha Jason… Downing??
Yeah….
As for Tiju, I'm hiding my annoyance as I like Tiju and can't be too angry ( don't want that "emotion" in my system anyway) but enough is enough Tiju
.
We get it.
You not wanting Kuyt in the starting line up is fine. Some people don't like Bommel or De Jong or Van Persie. Fine.
But don't use silly arguments to get to your conclusion. We didn't become second on the World Cup because Kuyt is crap.
We reached the finals THANKS to Kuyt, among other things.
We didn't lose the game vs Spain because of Kuyt.

Could also be Henderson. I would not pay more than 10 bucks for an English player…

I loved the seven layer dip, that is msltoy what I ate during lunch-ha! And the sign turned out great- good idea!
Comments are closed