Huntelaar: happy in Germany
January 20th, 2012 | by: Jan |

Comments(33)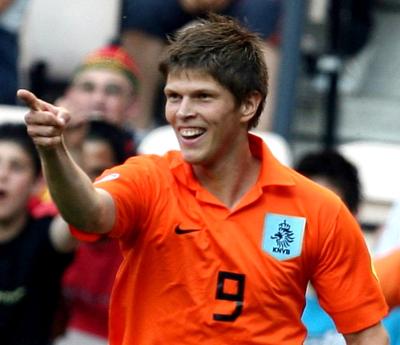 The Royal Blues have moved into the winter break as the number 3 in the Bundesliga. Schalke aims to win the title and Klaas Jan Huntelaar is instrumental in this quest. But the German club of the people fears an exit of their main goal scorer.
An interview….
Where will you play after the winter break?

I focus on Schalke 04. I really enjoy being here. We are doing well this season and we want to see it out. I scored 15 competition goals this season and I want to see where I can get to.
The story is that Man United is seriously interested though….

I haven't heard anything about interest and I won't speculate. I focus on Schalke and if something pops up we'll see what we'll do with it. I did hear that Schalke wants to extend my contract soon, so we'll see.
What do you want though?

I'm in no hurry. My deal is until 2013. If the club wants to talk, I'll hear it. I sometimes play cards with Horst Heldt, our manager, so I can check with him then. I'm mostly worried that he'll start negotiating while I want to play cards, hahaha.
Recently, you played rival Werder Bremen and dominated for 90 minutes and scored 5 goals!?
Yeah, we have momentum. It's going well. We score a lot, don't concede, our pass and move game has developed….everything is going smoothly. We are still close to leaders Bayern Munich. We have stability in our team and we're basically second in points ( Borussia Dortmund has a better goal difference).
Can Schalke go all the way?

Sure! Anything goes really. Any team can get a bad spell and drift off. Last season we ended no. 14. This season the whole region is supporting us and it feels as if we have this extra power in our back, you know. The vibe here is sensational. But, we still haven't won anything. We need to stay focused. Our coach Huub Stevens has tightened the team. We know exactly what is required and we are a tight unit. But, Bayern Munich and Dortmund are probably a step further than we are. They have been building a tad longer and have their teams together for a while. We play more attacking football now and our forwards are clearly the first defenders, putting pressure early. The Dutch school, one could say. Although Bayern and Die Mansschaft play like this too now. It's almost the German school too, haha. But we can do this pretty well. Our former coach started the process, to be honest, and Stevens is perfecting it.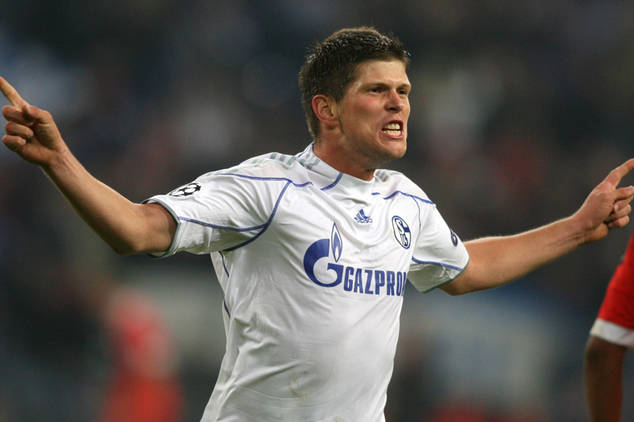 Raul and you together have scored 25 times! That's not bad.
Raul is doing well, he's enjoying his game here. He scored three times in the last two competition games. We have a new striker in Pukki, the Fin, and Raul plays in the hole behind us and that works out really well. It's all a bit flashier and less predictable.
You actually scored 30 official goals this season. 26 for Schalke and 4 for Oranje. Where does it stop?
I scored 15 times in 16 games in the Bundesliga. Good average. We have 17 more games to go, so it's a numbers game, eh? I scored 33 times for Ajax one season and for Heerenveen I scored 17 goals in 15 games the season before. But in all honesty, I'm not after golden booths or personal titles, really. It's nice, but never a real goal. I don't want to fixate on numbers or become obsessed with my personal game.
Bayern's Gomez has 16 goals… What is the difference between you too?

Pfff…that's comparing apples and pears really. I don't know, I don't analyse him. Only myself. I think he'll get more chances to score than me, at Bayern. We could improve that part. But really, I don't care who scores and all that. I can be important with assists too. And I want the club and the team to win trophies. I am happy with my game, but there are quite some areas I can improve, every game again. I want to win trophies, with Oranje too. So let me focus on my game here and I'll focus on Oranje in the summer and we'll talk again after the Euro….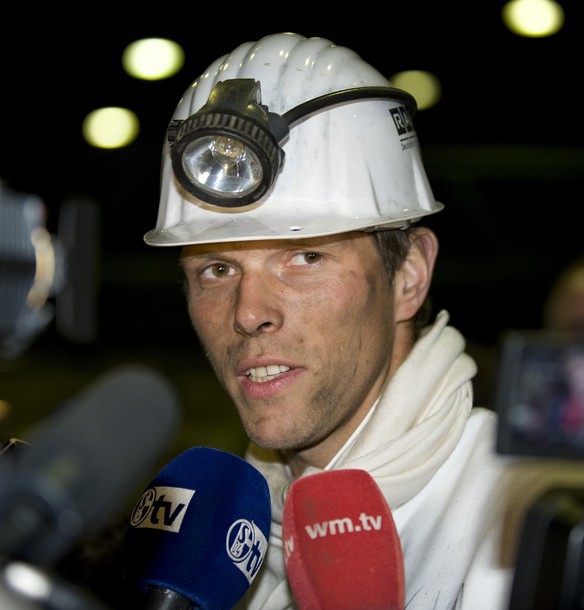 Subscribe

Netherlands World Cup Blog RSS Feed

Share
Comments are closed