Huge climax in Eredivisie! Ajax or Twente?
May 2nd, 2011 | by: Jan |

Comments(96)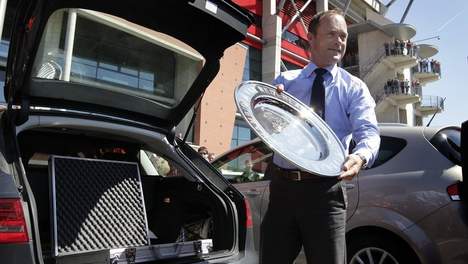 It's pretty unique for Holland. It did happen earlier in Spain – many times – and it might happen again in England this season as well. Now in the Eredivisie: the last competition day will determine who wins the title: Twente or Ajax. May 15, a week after the cup final between….yes….Twente and Ajax.
Twente won with ease against relegated Willem II. Ajax beat Heerenveen away, with 1-2.
Twente has 71 points now, Ajax has 70. Ajax has to win in the Arena. PSV can't win the title anymore but they still can finish second and snatch up the second CL spot. For this PSV has to win against Groningen. PSV has 68 points.
Groningen still has a chance to finish 4th which gives them right to the Europa League.
Standing top Three:
1. FC Twente 33-71 (+33)
2. Ajax 33-70 (+40)
3. PSV 33-68 (+45)
Ajax won their game against Heerenveen with a lot of luck and huffin'n'puffin'kalefootball ( hotseknotseboerenkoolvoetbal).
"We needed the win and we didn't care how", Demy de Zeeuw said.
De Zeeuw was happy to make his fans happy. The Ajax supporters had a big party, knowing that they could still win the double. "Playing at home in a fiery Arena will give us a real finals against Twente. With the fans backing us we will be able to give everything we have."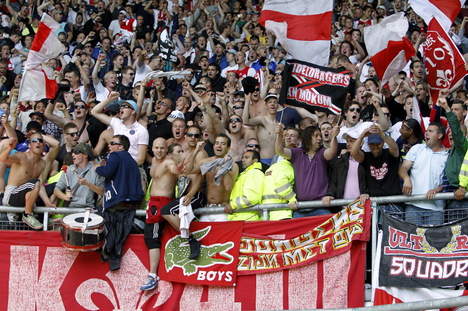 Two big games between Twente and Ajax, in other words, what with the cup final next week. "The cup is an important trophy for sure. If we can win that first, we can take the good vibes into the last competition game."
De Zeeuw doesn't need to hire a sports psychologist: "Nah, we totally believe in ourselves."
Twente coach Michel Preud'homme had said it before the competition: "We want to win all trophies." They already secured the Johan Cruyff trophy at the start of the season. In Europe, it was too much to ask for but the Tukkers can still win the double.
A draw will be enough. "That's an advantage to us. It's good to play a team that needs to come. But we don't have a team that can play for a draw. So, we'll go for glory. We don't lose easily and we have a good record in Amsterdam," says Theo Janssen.
Skipper Peter Wisgerhof is positive about the coming two games. "We can win all prizes that Holland has to offer. That is cool! Title of Cup, we don't care. We want them both."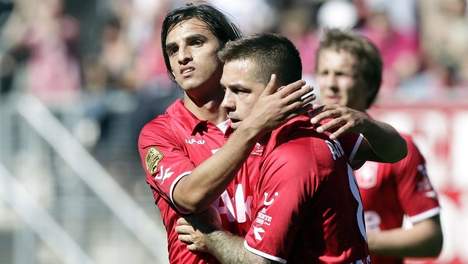 Ajax decided to give FC Twente a call. You never know. We have Siem, why not try and get Luuk. The younger bro of Siem appears to be – potentially- an even better player than the attacking midfielder of Ajax. Changes are slim that the two will play for Ajax together ( like the brothers Muhren, De Boer, Witschge in the past).
"Luuk developed really fast. The transfer sum for Luuk is too high, even for Ajax."
Twente will ask 12 million euros for De Jong, who already made his debut for Oranje against Austria. He scored 10 goals in the competition, one in the CL and two in the Europa League and contributed a lot to Twente's season.
Twente is not keen to sell De Jong for a fire-sale price to Ajax, one of Twente's biggest competitors.
De Jong's dad George: "Ajax has shown interest and came to talk in the past, but they were too slow. Luuk and Siem do have that dream to play together but not at Ajax. That book has closed." De Jong still has a two year deal and no limited transfer price.
Luuk's manager Louis Laros thinks his client will move to a bigger competition, once he leaves Twente. "In 2012 or 2013, Luuk will move abroad. And not to any club. His name starts to really resonate in Europe. But Luuk is not interested at the moment. He wants to develop and become a more regular choice for Oranje. He's having fun at Twente."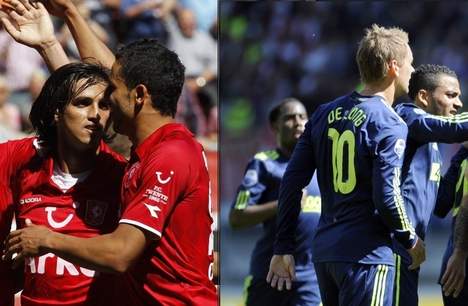 Subscribe

Netherlands World Cup Blog RSS Feed

Share
Comments are closed