Huge climax in Eredivisie! Ajax or Twente?
May 2nd, 2011 | by: Jan |

Comments(96)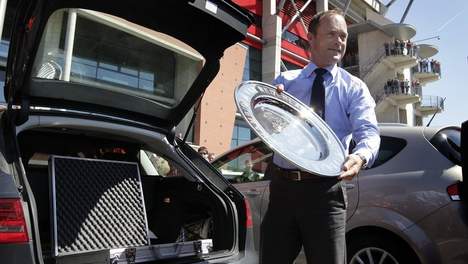 It's pretty unique for Holland. It did happen earlier in Spain – many times – and it might happen again in England this season as well. Now in the Eredivisie: the last competition day will determine who wins the title: Twente or Ajax. May 15, a week after the cup final between….yes….Twente and Ajax.
Twente won with ease against relegated Willem II. Ajax beat Heerenveen away, with 1-2.
Twente has 71 points now, Ajax has 70. Ajax has to win in the Arena. PSV can't win the title anymore but they still can finish second and snatch up the second CL spot. For this PSV has to win against Groningen. PSV has 68 points.
Groningen still has a chance to finish 4th which gives them right to the Europa League.
Standing top Three:
1. FC Twente 33-71 (+33)
2. Ajax 33-70 (+40)
3. PSV 33-68 (+45)
Ajax won their game against Heerenveen with a lot of luck and huffin'n'puffin'kalefootball ( hotseknotseboerenkoolvoetbal).
"We needed the win and we didn't care how", Demy de Zeeuw said.
De Zeeuw was happy to make his fans happy. The Ajax supporters had a big party, knowing that they could still win the double. "Playing at home in a fiery Arena will give us a real finals against Twente. With the fans backing us we will be able to give everything we have."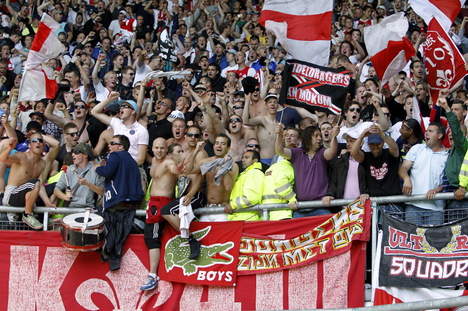 Two big games between Twente and Ajax, in other words, what with the cup final next week. "The cup is an important trophy for sure. If we can win that first, we can take the good vibes into the last competition game."
De Zeeuw doesn't need to hire a sports psychologist: "Nah, we totally believe in ourselves."
Twente coach Michel Preud'homme had said it before the competition: "We want to win all trophies." They already secured the Johan Cruyff trophy at the start of the season. In Europe, it was too much to ask for but the Tukkers can still win the double.
A draw will be enough. "That's an advantage to us. It's good to play a team that needs to come. But we don't have a team that can play for a draw. So, we'll go for glory. We don't lose easily and we have a good record in Amsterdam," says Theo Janssen.
Skipper Peter Wisgerhof is positive about the coming two games. "We can win all prizes that Holland has to offer. That is cool! Title of Cup, we don't care. We want them both."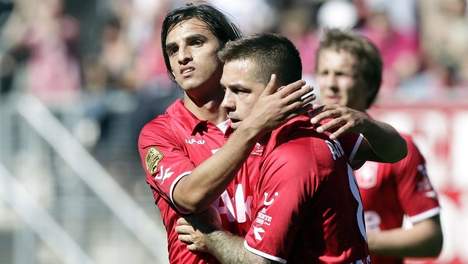 Ajax decided to give FC Twente a call. You never know. We have Siem, why not try and get Luuk. The younger bro of Siem appears to be – potentially- an even better player than the attacking midfielder of Ajax. Changes are slim that the two will play for Ajax together ( like the brothers Muhren, De Boer, Witschge in the past).
"Luuk developed really fast. The transfer sum for Luuk is too high, even for Ajax."
Twente will ask 12 million euros for De Jong, who already made his debut for Oranje against Austria. He scored 10 goals in the competition, one in the CL and two in the Europa League and contributed a lot to Twente's season.
Twente is not keen to sell De Jong for a fire-sale price to Ajax, one of Twente's biggest competitors.
De Jong's dad George: "Ajax has shown interest and came to talk in the past, but they were too slow. Luuk and Siem do have that dream to play together but not at Ajax. That book has closed." De Jong still has a two year deal and no limited transfer price.
Luuk's manager Louis Laros thinks his client will move to a bigger competition, once he leaves Twente. "In 2012 or 2013, Luuk will move abroad. And not to any club. His name starts to really resonate in Europe. But Luuk is not interested at the moment. He wants to develop and become a more regular choice for Oranje. He's having fun at Twente."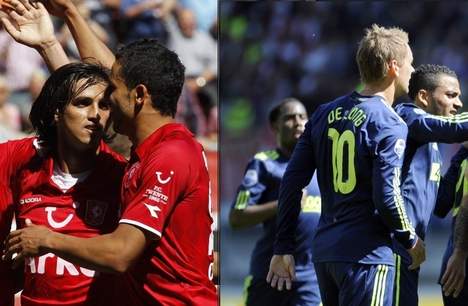 Subscribe

Netherlands World Cup Blog RSS Feed

Share
Comments

Ohh.. Keko, thanks for the game link. I couln´t watch the game!
Who won Orange Germany sub 17? any comments?
Any new about Cruyff "revolution" in Ajax?
Any news about Ricardo Kishna?

good news, de vrij renew with feyenoord until 2014, also feynoord secured fernandez and nelon both from Excelsior.

great! i like De Virj…. very goo news

the 'new afellay' zakaria labyad is tracked by real madrid, lyon, chelsea and arsenal, it's a shame him going play for morocco national team.

@Eduardo, I remember Carlos posting a comment about Cruyff joining the Ajax board a few weeks ago and thats about the latest news as far as i know. this seems to be heading in the right direction.
goal.com has a small article on this:
http://www.goal.com/en/news/462/netherlands/2011/04/27/2460195/johan-cruyff-set-to-join-ajax-supervisory-board

Ozyakup refused to stay with Arsenal till 2013,so he will be going to another club in the summer. I think he should go to Eredivisie.

@danni: I have good news for you and all other Oranje fans. Labyad hasn't made up his mind about whether he must choose Morocco or Oranje. The Moroccan coach Pim Verbeek(who is ironically dutch) twisted the story. Labyad told this in a interview with OnsOranje
http://www.onsoranje.nl/nieuws/artikel/5213/labyad-marokko-verhaal-niet-waar
An other moroccan-Dutch player did choose for morocco. His name is Imad Najad. He plays for PSV and has played for Netherlands U19. Anybody know him?
Posted from
Netherlands

Robbert, that was a long time ago. Now, Labyad is playing for U21 Marocco team same with Najah (Psv), Mokhtar (PSV), Messoud (Az) and Laghmouchi (Agovv). The list will increase in the coming years

That is an old article Robbert,look at the date. Since then Labyad has chosen Morocco,and played for their young national team.

sorry for getting your hopes up guys. i will check the date next time:p
Posted from
Netherlands

yeah, forget Labyad! I hope Ozyakup will chose Nederland instead Turkey, when I see this boy on Euro U17 I was stunned with so much talent, his creativity, his passing, his tricks delighted me. I don't know if leave Arsenal now is a good choice… is better get new deal and go on loan for dutch club like PSV, AZ or Feyenoord….

Maybe danni,but he needs to go on loan in
Eredivisie ASAP.

Eduardo – Holland beat Germany 2-0 and deserved the win.
Posted from
Singapore

If anyone wants to see Nederland U17 vs Germany U17, here you can do it

zorry, it´s here: http://youtu.be/0vjti6oPIpw

van velzen(ManU) are injured or something like this? Is not present in the tournament…

Well, i decided to watch the whole match xD and what does strike me …
The possession.. our youth teams really have trouble keeping the ball and positioning themselves for combination football. Thats something i find obvious with lot of our youth.. which should change.. Cruijff is right on that one.. we should train more in youth on that.. pass the ball really hard and direct, which in time will get u to stop losing the ball, it wont bounce off ur feet. etc.
Posted from
Netherlands

http://www.voetbalprimeur.nl/site/nieuws/165298/Bruma_in_voorselectie_voor_trip_naar_Zuid_Amerika.html
Bruma will travel with Oranje to South America

Thanks Keko for the video. I was impressed by the team overall performance, their composure, physicality and technique. Yes they may not be passing too well but at that age all we care about is teh individual ie which player will emerge and become a star. I saw quite a few who really impressed me.
Alex, look at the u21 who won the Euro twice in a row, they had a great team but no real talent except for Babel and Drenthe. Youth teams should all be about individual talent.
Posted from
United States

Castiliion gets an improved deal at Ajax.
Ronald de Boer might go to Ajax as youth coach.
Frank de Boer leaves El Hamdaoui at home. The striker is still injured

Hi guys… do u know where I can watch Netherlands U17 vs Romania U17? Thanks…

Thanks Jalepinho, i read that news too, but i want to know what happened after… if Bergkamp and Jonk are in, if Ajax have new mannagment boar, if is official that Cruyff is in, what will happend with Danny Blind, etc.
Any news about Huntelaar rumors?? he will return to Ajax?

Hi:
Barcelona wants to sing this Chilenian guy because, as Guardiola said "he have all that Barca needs"
http://www.youtube.com/watch?v=CjOVf8qpu5g
Look this video, show us how Barcelona want to play in 2012 season:
http://www.youtube.com/watch?v=IP62ty5YY3I
LOL

The only rumor that was confirmed re Huntelaar is that the Schalke bus forgot him in Manchester! True!
So he went to see SAF and said "what up, homie?". That last bit could be made up by someone….

Eduardo there was a rumour that Tottemham are keen on huntelaar again after they sent there head scout to watch the ge against man u.
Posted from
Australia
Comments are closed