Foppe de Haan: Robben should start!
June 28th, 2010 | by: Jan |

Comments(49)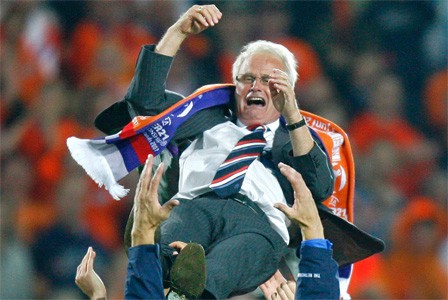 Former youth team manager Foppe de Haan writes for the KNVB website.
"With the group stages behind us we can make up the balance sheet for Oranje. We may not have played wonderful and exciting football, but it wasn't too bad either. We have a group which is ready for business.
The dynamics between Van Persie, Van der Vaart and Sneijder aren't the way we like to see it, but the team looks dependable. And we won three times n a row. Not many big nations can say this. England, France, Italy, even Spain has had trouble.
That we can field a team, is Bert van Marwijk's work. He does the job pretty well. He has charisma and is a great coach. He's relaxed and down to Earth. I don't like the way Maradona expresses himself and in all honesty, I believe Diego has tremendous assistant coaches.
The reason why Oranje didn't set the world on fire is because the pace is much too low. That needs to increase. Positive point is, that it can only get better. And you can see that with Robin van Persie. Everyone was happy when he scored in the warm up games after being injured so long, but people forget that World Cup level is a bit different. But, against Cameroon it was clear that he's on the right track.
Van Persie should always start. And I would also start with Robben against Slovakia. Apparently he's top fit again. Rafael van der Vaart is probably the player to be sacrificed and Rafael realizes that. The left midfield position is not really his. Raf would rather play on the number 10 position – the Sneijder spot – but Van Marwijk rather uses Wesley there.
Sneijder said that if we lose against Slovakia, we shouldn't be at the World Cup at all. It's a bit exaggerated but I understand what he says. The problem is, that you can lose a game on the basis of one error. Whether that's your own player making the mistake or the referee… I personally rather see Oranje play Slovakia than Italy. Although the Italians were really disappointing at this World Cup, only one victory and before you know it they can play themselves into the finals again.
With Slovakia, it's different. If we'd play them 10 times, we'd probably beat them 7 times. But this is a World Cup and different laws apply. And for all you know, you could be playing one of those three games. Apparently, the man in the street thinks Oranje will simply crush this opponent. I don't think they will. It will be a tough game! Slovakia was the revelation of the group stages – with New Zealand – and for them anything they can get against Holland is a bonus. While Holland can only lose!"
Subscribe

Netherlands World Cup Blog RSS Feed

Share
Comments

Jeroen you sure? I've never seen Kuyt on the left…

yes it seems that kuyt will be playing on the left.

Kuyt on the left: it's been tried at times vs Cameroon (with VDV moving to striker position and vPersie to RW).
It didn't result in very good chances if I remember correctly. But it was only occasionally and without Robben, so not enough ground to base a judgement on that.
However, it is risky to play one of your weakest players out of position.
Posted from
Netherlands

ESPN Gamecast has Robben on the left.

He'll be there to plug the vBronckhorst hole mostly anyway.
Posted from
Netherlands

ESPN is wrong
Posted from
Netherlands

@ Sol…great point!!! i didnt even think this may be a blessing in disguise, Kuyt covering our weakest defender

I made the same point of Kuyt covering our weak defense days and days ago, even was a debate between me and Alex. Seems like no one reads our posts
Anyways, for this to work, it is essential Robben is on the right for depth. Kuyt will be useful because he is a strong header and has a good feeling for "tap-in" goals. Something the other three attackers lack. I think he compliments them well.
Now we will see how it works in practice.
Posted from
Netherlands

Oh wait a minute, where was Kuyt on vPersie's goal vs Cameroon? Wasn't he somewhere on the left as well than? Than I take back my words of it not resulting in any good chances.
Posted from
Netherlands

God I'm so excited!!! Robben on the right? That's good and then Elia sub for kuyt I hope!
No injuries n no cards please! God bless Nederland !!!!!!
Go go go!!!
Posted from
China

yeah, half the time ESPN doesnt even get the formation right, so I wouldn't count on them to tell us whether kuyt is playing on the left or right.
Posted from
Canada

It's hard to keep track of them lately cause they switch around so much. Really starting to look like total football.
Posted from
Netherlands

Anyone else have soccer dreams last night and wake up every 3 hours?…

Go Holland go,
Don't make the lion look foolish,
Release the animal,
Go Holland go,
Don't let them take you aback,
Because the lion wearing football shoes,
Can take on the whole world!!!!!!!!!!!!!!!!!!!

I don't know when I saw Oranje play so horribly bad. It was the worst performance in years. Van Bommel unfocused. Robben lacks rhythm. Van Persie lacks confidence. De Jong is a fifth defender and doesn't add anything to the game.
We will not win the World Cup like this. I even feel we might get in trouble in the second half!!
Sorry brothers, I'm highly pessimistic.

@Jan, Robben is putting a certain effort he must overcome the psycological fear of getting ijured, persie he didnt recieve a decent balls from the midfield he had one chance,the defence is too much coutious, they are afraid from yellow cards, and they dont want to move forward, Kuyt on the left side is disaster, we have to bring affelay or elia in the second half, may be BVM will give 20 more minutes to robben. but our guys they are not going on to offense , and its clear its BVM instructionsssssssssssssss.

Please get Kuyt of the field. Every action he tries fails. Tis gewoon een lijdensweg voor die jonge!
Can't translate now.
Posted from
Netherlands

Robben should have gone kruislings behind vPersie just now. When vPersie ran stuck (loopt zich vast).
Posted from
Netherlands

damn its totally not penalty,it wasnt offside before!

something is missing, i thing, they where afraid from yellowcards, but VD Weil did silly mistakes

i don't know why we are still bashing Kuyt, I thought he had a solid game today a lot better than most of the other players. Elia by comparison beat his man much more easily but still lost the ball more often because he couldn't pass or cross properly. to be fair kuyt also beat his man on a number of occasions besides doing his usual thing (providing an outlet for the transition, making runs off the ball, pressuring, and playing very intelligently in terms of his decision making- where to run, who to pass to etc).
Posted from
Canada

C'mooon ! Kuyt was man of the match by all means ! No doubts about that !
Anyway , after today's performance , especially in the 1st half , let's pray for Chile to make a surprise hehe

we were terrible !

no we where not terrible, lets give credit to slovakia, we dominated the game we scored we defended well, the goal scored agaisnt us was silly, but steke saved us from two chances, our performance is based on BVM instructions, we did little effort in, we still alot of talent to show,our players next game will be card free and they will reveal the real face.

kuyt was great in the second half, van der weil did some mistakes specially in covering offside trap

nah… oranje was horrible and nonchalant. Seeing Brazil kicking Chile's ass, we better wake up! This Brazil side can be beaten.. it really isnt that good.
Comments are closed