Foppe de Haan: Robben should start!
June 28th, 2010 | by: Jan |

Comments(49)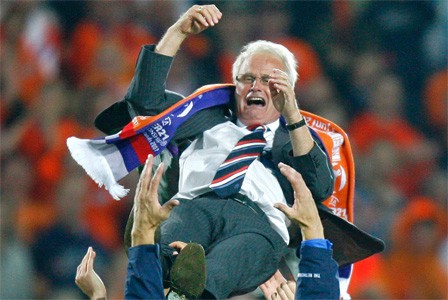 Former youth team manager Foppe de Haan writes for the KNVB website.
"With the group stages behind us we can make up the balance sheet for Oranje. We may not have played wonderful and exciting football, but it wasn't too bad either. We have a group which is ready for business.
The dynamics between Van Persie, Van der Vaart and Sneijder aren't the way we like to see it, but the team looks dependable. And we won three times n a row. Not many big nations can say this. England, France, Italy, even Spain has had trouble.
That we can field a team, is Bert van Marwijk's work. He does the job pretty well. He has charisma and is a great coach. He's relaxed and down to Earth. I don't like the way Maradona expresses himself and in all honesty, I believe Diego has tremendous assistant coaches.
The reason why Oranje didn't set the world on fire is because the pace is much too low. That needs to increase. Positive point is, that it can only get better. And you can see that with Robin van Persie. Everyone was happy when he scored in the warm up games after being injured so long, but people forget that World Cup level is a bit different. But, against Cameroon it was clear that he's on the right track.
Van Persie should always start. And I would also start with Robben against Slovakia. Apparently he's top fit again. Rafael van der Vaart is probably the player to be sacrificed and Rafael realizes that. The left midfield position is not really his. Raf would rather play on the number 10 position – the Sneijder spot – but Van Marwijk rather uses Wesley there.
Sneijder said that if we lose against Slovakia, we shouldn't be at the World Cup at all. It's a bit exaggerated but I understand what he says. The problem is, that you can lose a game on the basis of one error. Whether that's your own player making the mistake or the referee… I personally rather see Oranje play Slovakia than Italy. Although the Italians were really disappointing at this World Cup, only one victory and before you know it they can play themselves into the finals again.
With Slovakia, it's different. If we'd play them 10 times, we'd probably beat them 7 times. But this is a World Cup and different laws apply. And for all you know, you could be playing one of those three games. Apparently, the man in the street thinks Oranje will simply crush this opponent. I don't think they will. It will be a tough game! Slovakia was the revelation of the group stages – with New Zealand – and for them anything they can get against Holland is a bonus. While Holland can only lose!"
Subscribe

Netherlands World Cup Blog RSS Feed

Share
Comments are closed