Everything at Ajax is A-OK now: Van der Wiel
August 24th, 2011 | by: Jan |

Comments(14)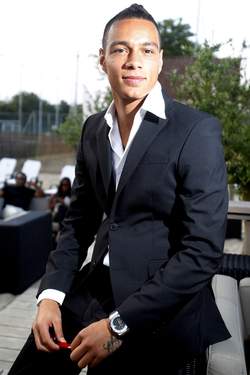 He is like the last of the Mohicans. With Maarten Stekelenburg on a quest for glory in Roem, Van der Wiel is the only Oranje player from the World Cup finals playing in Holland. The right back isn't too interested in overseas happiness. "Ajax is my boost. I love the fans here. Our team is great, we play Champions League football, we won the title. Why would I leave?".
Some reporters speak about the "old" Van der Wiel, if they hint at his return to form. But the "old" Greg van der Wiel is only 23 years old. Last season, despite the World Cup finals and despite winning the title, Van der Wiel couldn't impress. This season and this warmup, we could see his rushes, his crosses, his goals even.
The "old" Van der Wiel is back
Van der Wiel: "I feel great. The games are going well. I want to show some consistency. And become better and better. Last season was tough. Partly as a result of that massive summer in South Africa. The competition started quickly due to our qualification games for the CL. I was never fresh. And you can't play great if that's the case."
The whole team seems to really want it this season.
"Well, it's more fun if it goes well. This team is sensational. We seem to have it all now. I feel great. And I love the interaction with the fans. The fans give me a boost."
And you do it all again. Defending. Building up. Dribbles. Rushes. Scoring.
"I scored as many goals now as I did in the whole of last season! One, hahaha. Nah, it's not the most important thing for the right back. Sure, assists and goals are great, but I'm a defender first and foremost. But I love attacking. Two seasons back, I scored six goals. That's a bonus."
And you have someone to cross to!
"With Sigthorsson, we have a real striker. There is more confidence now that a rush will actually end up in something. The positioning was often bad last season. Now, there's always someone coming to the near post."
Is all of that the result of Frank de Boer?
"It's more than that. I think Ajax is Ajax again. I believe with Johan Cruyff in the background and Danny Blind being heard again and Dennis Bergkamp as assistant and Davids on the board, the whole club has that shared vision. And you see the patterns again. We have a winger with Boerrigter. Sigthorsson is a typical striker like Kieft. It all makes sense again and yes, Frank de Boer is a key player in all of this."
What can we expect from Ajax?
"I think you can expect a recognisable team, playing consistent and eager football. Players like Sulejmani and Eriksen will always want to play football. Like Boerrigter. While types like De Jong and Sighthorsson want to win. Like Janssen as well. And we have a good bench now with quality players to come on if they need to. A mix of young and old. I think you can expect a team that wants to rule. A bit like Man United and Barcelona. The old "We are Ajax" mentality."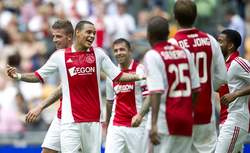 Another title then?
"Yes and the national cup. And maybe something nice in Europe. I don't mean winning the CL. We'd like to, but we won't mention that as a goal. But we are eager to see where we stand. I'm eager to see how we would do against Bayern or Inter or Lyon or Chelsea. Why not?"
You are the only player of the World Cup still in Holland?
"I'm not too keen to leave. Why would I? I love Ajax. I am happy here. The team plays great, we are the champs and we now want to show ourselves in Europe. And after this season, we get the European Championship! No, I'm not really interested in going overseas. It's not one of my goals. It might happen. But for now I am 1000% focused on Ajax."
You have 25 international games behind your name. How many will follow, while you're at Ajax?
" I don't know…. A 100?"
Subscribe

Netherlands World Cup Blog RSS Feed

Share
Comments

Great article Jan, thank you again, I think VdW could be a world class player… he need to improve his defense skills a little more, the two last game I see him playing (against Herenveen and VVV) he made a few mistakes in defense but he did it great in offense.

Why move elsewhere and risk no getting paid by your club. if I was a pro, I would not consider a move to any club unless they were in England, Russia, Germany or Holland. The rest of Europe is in the tank. It makes you wonder, if they can't pay the players how do any of these clubs make good on the transfer payments they buy the players for? I'm sure they don't or they amortize the payments over a rediculous period of time – which is fine until the club goes into insolvency.
Posted from
Canada

jason football is not so popular in india,otherwise all the clubs would have got good market here in india.So tell them to take some indians and indian media will hype them and they(clubs+players) will get more popularity and money
Posted from
United Arab Emirates

india and china re the biggest market for anything so fifa had a great miss in india
Posted from
United Arab Emirates

That would have been and is a great idea Tiju. maybe Ajax should open an academy there
Posted from
Canada

About the today topic
http://www.goal.com/en/news/462/netherlands/2011/08/24/2634683/gregory-van-der-wiel-hints-at-contract-extension-at-ajax
I think VdW do well staying in Ajax more years. FdBoer leave Ajax at 29 years old.
I think Wijnaldum did well singing by PSV and staying in the Eredivisie more years…
This was a mature choice

Twente is getting beat bad. Brama has been inexcusable. Mihylov is no keeper and the rest of the team has no legs. Its absolutely horrible.
Posted from
Canada

At least RvP scored for Arsenal
Posted from
Canada

i like this player (vdw)
Posted from
Greece

thanks for the nice article Jan!
I have a good feeling about Ajax this season. I think they could advance through to the 2nd stage of UCL this year. I know for sure they won't be playing with fear like they did under Jol last season. Can't wait..
Posted from
Australia

2nd stage is possible especially if they get lucky draw, e.g.: porto-ajax-Shakhtar Donetsk-any pot4 except dortmunt/napoli
it will more challenging in a group of barcelona-ajax-acmilan-dortmund
Posted from
Australia

Actually I wish for 6 interesting games in a group of
Barcelona – Milan – M City – B Dortmund
let them fight, so Robben-vpersie-sneider have an easy paths.
Posted from
Australia

I think the Twente goalie did well!! Twente could have been 5-0 down in the first 30 minutes alone!

A number of enterprise reputation management software solutions exist in the international market. These software services are typically designed to connect organizations to their stakeholders, track
the orchestration of stakeholder engagement and analyse, measure and manage the results.
Reputation management Reputation Management is an absolute necessity for automotive dealers in today's viral world.
Posted from
Australia
Comments are closed