Dutch Soccer Site: A new home to hang out…
June 8th, 2012 | by: Jan |

Comments(74)

Hey my friends, this is a historic post in the history of historic posts here on this blog…
We have a new home!
Remember I told you about the big Suprise?? This.Is.It.
www.dutchsoccersite.org has opened up and their tag line is "For those who Bleed Orange".
And it does what we want: it offers the fantasy league, it has a video archive of all Oranje's games, it offers a blog, live-blogging and all sorts of cool things yet to come, such as polls and trivia games and what not….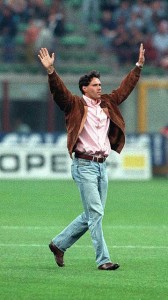 So… as you may have noticed… this worldcupblog is being abandoned by most moderators.
The development has stalled. The moderators are left to their own devices. There is no support, no communication, nothing…
This home will implode.
Hence, we will move to a new one…
Now, I have done my best packing up and refurbishing and all that, but our new home is not 100% ready yet. (And will it ever be 100% ready?? No…)
But I have a first introduction post ready and I am inviting you all now to come over and meet me there from now on….
No need to get sentimental. We had a great run. And it's not over yet. We're just relocating it.
So, if you want to remain part of the Orange Gang, the Legion, come on down…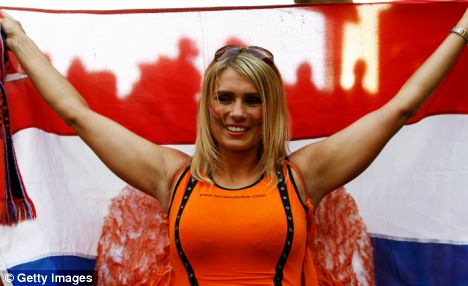 Do me a favour once you are there: check out my intro post and introduce yourself again, ok?
The Fantasy League is not yet to my total liking but let's give it a go. You need to register for this though, but please trust me: your email address will NOT be used for anything other than this registration… I won't send you commercial invites to spend a dinner with Cruyff, Orange Angel and me for instance. And Van Persie. And Messi. Don't worry…
And Van Basten and Jack van Gelder. And Yolanthe.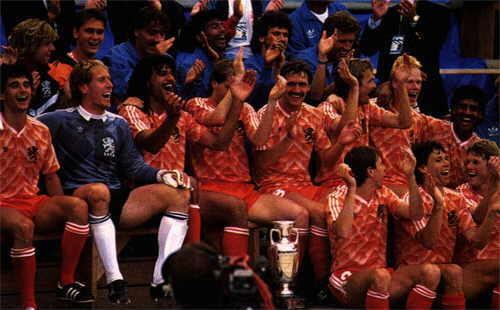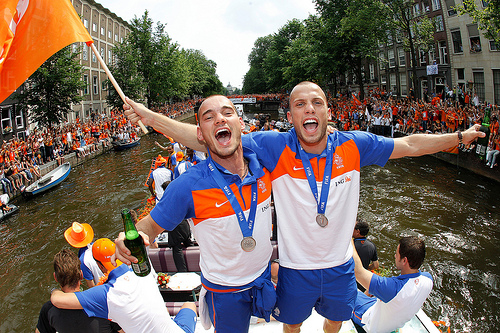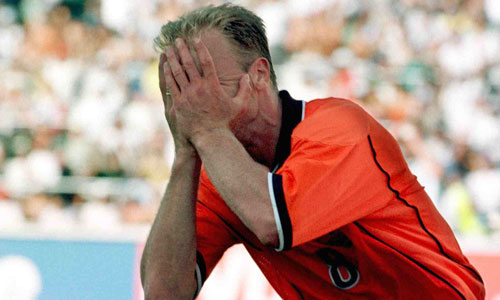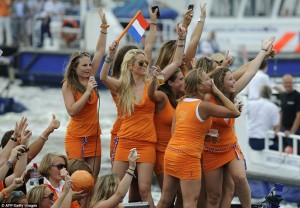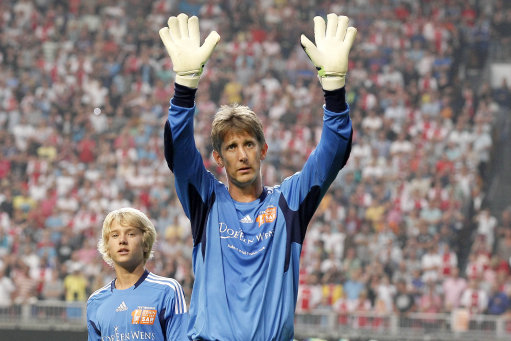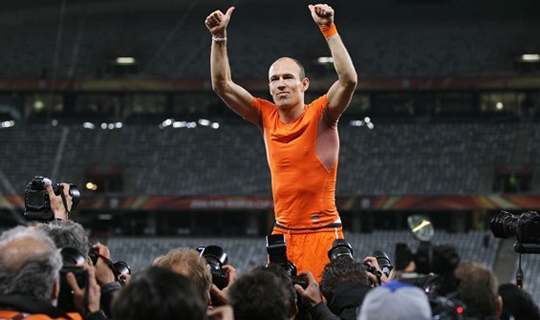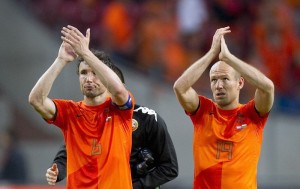 Subscribe

Netherlands World Cup Blog RSS Feed

Share
Comments

Lucas: "I am SICK of BVM "
And that's exactly what you're supposed to feel, you blame him, so you don't start thinking about the possibility that it was all planned long in advance (Russia probably with it's close proximity to Ukraine/Poland will probably do well, more ticketsales perhaps, allthough tv-ratings are perhaps more important, hard to tell, in that case, Germany is a good prospect for winning, big healthy/rich market and also close demographicly, perhaps a Russia –
Germany final?).
I mean, if you only saw the Dutch tv and how their critics were preparing the Dutch audience with the reasons for losing, they are giving you/us your/our excuses in advance, they're either in on it, or their conditioning is making them say exactly what's needed for people to ignore the possibility that the Euro is nothing different from the Euro songfestival (and it's been taken over by the same moneytrail, the eastern money).
FOLLOW THE MONEY PEOPLE!
Money rules the world, you'd better REALLY start believing it, cause they're laying it on so thick.
Here's how it works, you make a contract with a player, you pay him more and more, you test him psychologicly, then you make him part of a circle that is lower than the circle with the big money, but because you're paying their salary, and you already know you can control them with money (the earlier years of testing) you can make them do whatever the circle above that wants them to do (and act their parts). Eventually money will or could control coaches, players, refs, clubmanagers, tv-media presentators and so on. Not everyone needs to be involved cause that's what the tactic "conditioning" is for. You can make people think and say certain things with subtle manipulation of the information or better said input into their brains. It's usually a select few (editors?) that will make a nice list of topics for a tv-presentator to cover, not ONCE did I hear on tv that the REAL choice was between Affelay and Hunter, they continuously hammered on getting people to make a choice between vPersie and Hunter (they did the same thing with Seedorf>Bergkamp>Kluivert and the first name in that list could change I think if I remember correctly).
Oh, there's so much more signs that it's a script, I dunno how to put this in words more accurately cause they ('the money') got themselves pretty well covered, but it's all the covering that is giving their influence away. The way influential people on tv formulate their arguments for me is a dead give-away. Russia doing well is a smaller hint. Netherlands doing well in S.Africa and then becoming the 'enemy' another hint. France and Netherlands WC dramas being so similar in their 'excuse-form'. vMarwijk's line-ups and changes during the friendlies (not using vPersie on nr.10, sticking with 'non-playing time excuse' Affelay, the sudden injuries, the Heitinga 'best defender makes a mistake', similarly the vBasten 'best/most popular attacker' misses a penalty in euro 92? Kluivert missing penalty against Italy 2000 (this is so you don't blame someone who already is less popular so the player can last longer in the circuit, or the product can last longer in the market). That last comment also relates to how blame is divided up between refs (just like last night, ref didn't give a penalty, some blame towards the ref), players, coaches, the field, whatever. Blame is negative for a product if all blame goes towards a certain player, so blame needs to be divided to have the least impact, the tv-media clearly is helping with this, now the question becomes, are they aware of what they're doing, and who is aware and who isn't?
Sorry for the long text, there's so much more and I hardly used the correct words to explain it, just giving it a try but I'm already seeing that my words are not accurate enough in explaining what I mean to say, so good luck. Use you own mind to make something more clear for you.
Posted from
Netherlands

Oh yeah, and I'm just waiting for that song "I did it my way" to show up on tv. Probably after we're out (allthough I'm not sure yet this will be the case after 3 matches, it is very much looking to be that way, with only a victory against Portugal to sooth our negative emotions with getting revenge for 2006, possibly knocking out Portugal in the process to enhance this feeling, we'll draw with Germany and still be out after the groupgames, Denmark through to give Russia an 'easy explainable' path to the semi-finals, of course it's not strange for Russia to beat Denmark I mean with that, those kind of games are always nice cuase they have less blame to divide that way, could be Portugal as well perhaps, these things are hard to say exactly and they are just possible additions to the argument, don't take them too seriously, I'm just guessing now, thinking out loud, haven't formulated it yet, be back later).
Posted from
Netherlands

the sudden appearance of all kinds of Polich players at big clubs (Lewandowski at Dortmund, Scecny at Arsenal)
Now Poland suddenly can play football, where previously they couldn't even qualify for the EC or WC.
Coincidences are always interesting.
Remeber South Africa's result against France? 2-1 for South Africa, now would that have made sense in any other situation? would that have made sense if first it wasn't explained to us why France would do bad in that game? Of course not, but everyone has accepted it as being perfectly logical now, France was having internal issues, oh of course, nvm, nothing to see here, move on.
Posted from
Netherlands

And the only logical explainable way for us to go out after the groupstages just after playing a WC-final was to draw us into a very strong group, what happened?
Then again, you might say the same for Germany, but that's slightly different, too hard to explain what i mean (bigger market, not a WC-final, still possibly need more success for increasing of popularity, hence, they look like a better candidate for doing well this EC marketing-wise, we've just had our boost, no we need explanations to give up our space for other products/teams, like Portugal or indirectly Russia the way I suggested earlier, with an easier/more explainable opponent in the QF). Because there are many options to go with and you have a tournament every 2 years to switch your products/teams successes around, it becomes hard to predict. Yet when you see it happen, you can still explain it using the "money rules the world" rule. Especially when your excuses are so well prepared for you all the time (the France 2010 thing is the biggest clue for me perhaps, but it doesn't realy stand on much ground on its own, you need to connect it with everything else).
anyone ever had a food poisoning? Anyone ever heard of this occurring in earlier tournaments (the Ukraine foodposining thing)? Is it meant as a distraction to make people think THAT'S the way it's done? Cause I hardly think THAT'S the way match-fixing is done, would be a little too obvious don't you think? So why is it happening now? Why all the stories about match-fixing in smaller leagues and on a smaller scale? So people stop looking at the bigger picture? So they start thinking something is being done about it? Why did this start in Italy shortly after their match with s.Korea with a referee that was suspected of being involved with a crime/betting syndicate in Asia and is now in jail for drug-trafficking? Why did Italy won the following WC and why did the most popular player on the French side took a red card (took blame on him just before that product was taken off the market, Zidane retired)?
Why did France win the WC in France? Who will win the WC in Brazil? A South-American team? hmmm, Brazil seems to be improving in their friendlies against european teams, a prelude to something (a building of an explanation)?
Why did Italy win the WC in Germany, who they probably perceive in a somewhat similar fashion as we perceive Germany, in that sense, the story becoming similar to us winning the EC in Germany in '88 (geographicly close, archrival).
But I have to end all this ranting by saying that these are just unanswered questions that ALL can be answered with:
"it's just a coincidence"
And it may very well be the correct answer, to some or all of these questions, don't pin me on anything, I'm just putting them out there to ponder, especially when I'm upset that we're losing, who knows, for the slight possibility we are running off a script, they might change it (or at least have us do well next WC, I promise not to say a thing then, just like I only started complaining AFTER we lost to Spain with a little help from Webb and BertvMarwijk's inclusion of Braafheid there at the end).
And if it's too far-fetched, no harm done. Just crazy talk
Posted from
Netherlands

and to dislocate my entire 'script' argument with one question:
How could you script that ball Robben shot on the post, if that had gone in, that would have changed the score/result, or would it?
some possible answers:
- The ref can still disallow it (calling for a foul for example)
- Denmark can score another, since this isn't about betting but marketing, only which teams go through really matter, not the exact scoreline or even the exact points, allthough certain points will make groupmatches more interesting to watch, more popularity/money/tv-ratings, the script can be adaptable if you don't get the exact result you were looking for, a 2-1 win will be fine
- robben is just THAT good, he can aim for the post (or slightly outside of that, accidentily hitting the post) just like Kluivert shot his ball on the post for his 1st penalty (very far-fetched answer, but whoever pulls it off, should deserve a bonus, at least they're making it look good for the spectator and they're the ones keeping the whole script convincing enough for the spectators, it they accidentily score, I guess they'll get a bad rating in the money circles so to speak, examples of this phenomenon occurring could be the disallowed goals that we are all seeing quite regularly, balls over the line and such, wrong offside calls, even full metres sometimes, in which case the ref would probably get the bad rating, cause he didn't apply the right excuse, it's too obvious, he needed to call for a foul or just let it stand and allow the script to adapt as earlier explained, the 2-1 thing)
Ok, now I really have to stop ranting. I will resist.
Posted from
Netherlands

no resistance, one last thing, if I'm just playing out scenarios in my head before the game and I then see one of those scenarios play out in front of me exactly as I imagined it, it may just be that I'm mistaking my own created scenarios for scripts.
Cause I admit, I also had a couple of other scenarios in mind for the Denmark game (and our tournament).
Posted from
Netherlands

Sol, you have very, very serious and deep-seated issues. Get help. And arrange for some help for your collection of overrated assholes called Dutch national team too. Have a nice day.

I was hoping Hunter and vPersie could find the same kind of groove with eachother as vBasten and Gullit had, for that they needed much more playing time together to develop that cooperative instinct, knowing where the other is, who's is in the best position to score, where they want the ball, where to move, etc.
Bergkamp and Kluivert took too long to develop and by the time they hit their groove (2000), well I guess it was too late (the Italy game is still weird, the subs by Rijkaard very odd as well). I don't want to see the same happen again.
This tournament feels a little bit like '96 or '98 in that sense (many differences but I'm talking about the Bergkamp+Kluivert combo). By the time they were playing together they weren't very used together but still did well, but in the end it wasn't enough because they still weren't playing as one (every goal or assist between them should be felt as if it's a personal accomplishment equal to scoring a goal, that idea).
Posted from
Netherlands

Dxs3sl Thanks for sharing, this is a fantastic article post. Awesome.

h4szzt Thanks for sharing, this is a fantastic post.Thanks Again. Keep writing.

Very neat blog article.Much thanks again. Great.

Major thankies for the blog.Much thanks again. Great.

Fantastic blog article. Will read on…

Enjoyed every bit of your article post.Really looking forward to read more. Much obliged.

Thank you ever so for you blog post.Much thanks again.

Really appreciate you sharing this blog post.Really looking forward to read more. Will read on…

Really informative article post.Really looking forward to read more. Want more.

I appreciate you sharing this blog post.Really looking forward to read more. Awesome.

Thank you ever so for you blog.Really thank you! Fantastic.

Really appreciate you sharing this post.Thanks Again. Keep writing.

wow, awesome article.Really looking forward to read more.

Thanks-a-mundo for the blog.Much thanks again. Awesome.

Your team is very good playing in world cup.
Posted from
Myanmar

Your team is very good playing in 2012 world cup.
Posted from
Myanmar

I'm speechless. This can be a sruepb blog and very attractive too. Nice work! That's now not actually a lot coming from an newbie publisher like me, however it's all I may just say after diving into your posts. Nice grammar and vocabulary. Not like other blogs. You actually recognise what you?re talking about too. Such a lot that you made me want to discover more. Your blog has develop into a stepping stone for me, my friend.
Posted from
Mexico
Comments are closed