Dirk Kuyt: respect!
January 23rd, 2012 | by: Jan |

Comments(73)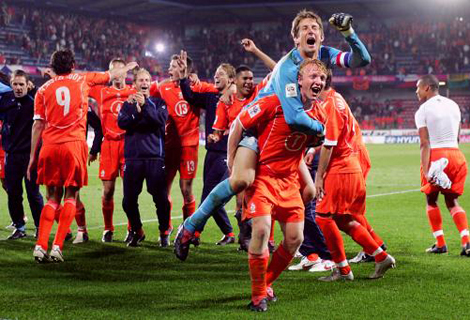 Dirk is used to carrying the team on his back

I'm not sure if Tiju is simply pushing my buttons and having fun with the power he has over me ( I wouldn't have published this particular article without T's constant Kuyt-bashing….) or whether he simply can't see it…
But to me, Dirk Kuyt is a legend in the making, belonging in the same category as Ruud van Nistelrooy, Arthur Numan and Phillip Cocu.
These guys are all sympatico, have tremendous skills and work ethos and are/were revered by all the fans of the clubs they played for, sans grand standing.
Dirk does have a weak season ( hulloooo…who doesn't at Anfield? Even King Kenny shows rot… Gerard wasn't there for the most part, Downing doesn't fit, Carroll is rubbish…it's only Lucas and Suarez keeping The Reds afloat… And Enrique. Even Pepe Reyna fumbled more balls than Kim Kardashian this season…) but he doesn't deserve the continuous bashing.
When our boys struggle, they need our support! Dirk is a frequent visitor of this blog and it's horrible for him to have to read all those silly rants.
Therefore, Dirk… chin up mate! Better days will come. One day, I hope you'll be Oranje's team manager and field eleven Kuyt-types only to annoy Tiju!!
In Dutch, we say "meten is weten". Or, if you measure something, than you actually know.
Stats are there for a reason.
Her's Dirk's stats.
For Utrecht: 160 games – 51 goals (31% hit rate)
For Feyenoord 101 – 71 goals ( 70%)
For Liverpool 193 – 49 goals ( 25% ) mostly as a right midfielder in a 4-2-3-1
Oranje: 84 – 24goals ( 29%) mostly as a right winger
So, who do we pick to compare…
Arjen Robben? Marc Overmars? John van 't Schip? Bryan Roy? Robbie Rensenbrink? Bolo Zenden?
Robben:
Groningen: 50 games played – 8 goals (16%)
PSV 56 games – 17 goals ( 30%)
Chelsea 67 games – 15 goals ( 22%)
Real Madrid 50 games – 11 goals ( 22%)
Oranje: 53 games – 15 goals (28%)
Overmars:
Ajax: 135 games – 36 goals ( 27%)
Arsenal 101 games – 25 goals ( 25%)
Barcelona 99 games – 15 goals (15%)
Oranje: 86 games – 17 goals ( 20%)
Hmmm…..
Rensenbrink in Oranje: 49 games, 14 goals: 28%.
John van 't Schip: 41 caps, 2 goals…. 4%… Ouch….
Bolo Zenden: 54 caps, 7 goals: 14%…
Bryan Roy: 31 caps and 9 goals, 28%…
There are more stats to judge players.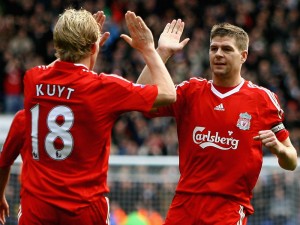 Tiju doesn't like Kuyt, but luckily Captain Fantastic does…

Assists and pass accuracy for instance. I couldn't be bothered finding assist stats for all the players I mentioned but I do have Dirk's of the last seasons ( see image).

Another extremely important stat in English football is the no of tackles and interceptions. And I dare anyone to come with better stats for any other wide player in English football, either now or from the past. Malouda, Valencia, Ben Arfa, Bale, Walcott…. forget about it.
To quote Benitez on Kuyt:
"Dirk Kuyt is a special player for us. He is a very good striker, he can play on the right or in the middle and he is always a danger. His work ensures that. He is always around in the box to take advantage of situations where the keeper has blocked or parried a shot and the ball is loose. He is always aware, he sees situations as they develop and he is always ready for the second ball when it drops in the box." Rafael Benitez, September 2009.
I believe Dirk has earned the respect from the fans in Utrecht, Rotterdam and Liverpool for a reason. Benitez, Dalglish, Van Marwijk, Van Basten… they sort of know their business…
I believe Dirk might not be like the suave Rafael, the elegant Robin or the mercurial Suarez but Dirkie is a category on his own.
Never complaining, never showboating, sacrificing his body for the team and always always working hard…
I can not stomach all this unfounded Kuyt bashing….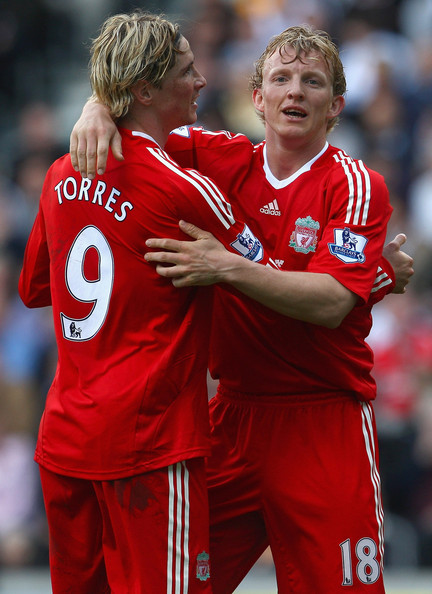 Tiju doesn't like Kuyt, but luckily El Nino does…

Subscribe

Netherlands World Cup Blog RSS Feed

Share
Comments

Haha that's fair enough. But it would seem to me if some of you guys (not all) would stop commenting to him about it he wouldn't feel the need to defend himself and in doing so mention Kuyt once again.
Posted from
Canada

@Bart: Fair point mate, but stopping Tiju from criticizing Dirk Kuyt in any of his posts is like trying to change the weather, not an easy thing to do.
All I will say on the Kuyt topic is that he has always been underrated, has proven otherwise in his actions both at Oranje and Liverpool. He may not be a starter anymore with Oranje (or Liverpool), but he serves a purpose in a squad all right. Nobody seems to bring up his penalty taking skills which may one day keep us in a tournament rather than out. He is a leader Oranje needs one way or another.
Anyway, I will not talk about Kuyt again. But he has a role in the Oranje squad and that is purely my opinion.

Yeah, I didn't see to much wrong with JC74 post. Nice reply Jan as well, and an excellent article.
I will add my name to the list of people tired, not with Tiju, but his endless anti-Kuyt rhetoric. Please, please, let it end.

I would just like to point out a few things….
A) When a team has to resort to playing two defensive midfielders in front of two centre backs, I think it is fair to say that those two centre backs are not world class… or that we have a negative coach.
B) When a team has to resort to play a right winger who is actually a striker, but isn't played as a striker anymore as he is not considered lethal enough upfront and his dogged running is considered better elsewhere then I think it's fair to say either that player in question isn't good enough as a striker or we have a negative coach who wants to protect his right flank!
C) When we resort to playing players who aren't the best passers of the ball within a team of good ball passers, naturally the fluency of the team will break down at some point/points during the game, thus stifling creativity.
D) Lets see if you can work out which four players I'm referring to!
E) Ask yourselves the vital question! Winning can be achieved by anybody who has enough determination, some luck and some skills i.e. Greece 2004. Greatness is achieved by those of unique skills (almost once in a lifetime skills), the ability to produce memorable moments, creativity and belief. Which would you rather be?
Nobody says "oh do you remember when Greece won EC2004″, instead its "I still can't believe Greece won 2004″ as if it's a tragedy that should have never happened!
It matters to me how we win! It matters to one person by called Cruyff how we win. It matters too many other Dutchies as to how we win, and sometimes when I read this blog then watch BVM's tactics and team selection I feel as if we are losing our vision of winning the right way.
If Holland ever does win the World Cup in my lifetime, I don't want us to be just another winner; I want us to be loved not only for the winning but the inspiring football that we played to get there……. i.e. THE GREATNESS. If we had won WC2010, after all the great teams we've produced, personally for me somehow it just would not have been right!
We have inspired teams like Barcelona to become great teams through our total football of 74/78. Years in which we were runners up but yet still our football alone is still remembered, still practiced, and still honoured. A world Cup win with the negative tactics of BVM, two destroying midfielders and a grafter on the right wing, would have been a win….but not a remembered win!
Posted from
United Kingdom

Tiju are you honestly ignorant to what you do? Or are you trying to get a rise out of people?
A lot of people agree with what you have to say. I for one would have Wijnaldum, Beerens, John start infront of Kuyt and would NEVER have Nigel or v.Bommel in the side.
But why do you come to this blog and Copy/Paste the same thing everytime Jan puts up a new article? This is definitely the best and one of the few ORANJE blogs on the net. But you come here and spam the same thing as if Van Marwijk is reading and it will make a difference. Nobody likes spam; we all just hit delete when its in our email.
Share your opinion (thats what a blog is for) but everyone here knows your stance on Kuyt. Next subject…

@ Van den Berg, I don't blame Kuyt….he is who he is. I blame the management for his selection and the negative tactis that they've brought to my beloved Nederlands Football Team.
Posted from
United Kingdom

Let's talk football again
Posted from
Netherlands

@Lucas
Are the 4 players Nigel, v.Bommel, Mathijsen, Kuyt?
and I still can't believe Greece won Euro 04! lol
You make a lot of valid points and I wish Oranje would go back and play the football system they innovated and perfected. But even with the style Oranje played; beating Brazil and Spain to win our first World Cup would have been spectacular!

Almost Ahmer almost… 3 are correct!
Posted from
United Kingdom

heitinga should be the fourth
Posted from
Hungary

Yeah he does have a role Finn.
And unless Afellay and Elia make comebacks he could very well start this summer for Oranje.
If van Persie at winger doesn't work I wouldn't be suprised if Huntelaar is dropped for Kuyt.
Likely
Huntelaar
van Persie Sneijder Robben
But Robben is also very injury prone so we may see Kuyt as a starter this summer, or at least of the bench.

Thanks Ahmer and Ferenc…. It's marhijssen, kuyt, Nigel de Jong (a sub for me) and heitinga (anybody who can't be trusted at Evertin should not be a 1st choice centreback for a big international team)
Van bommel us coming to end of his days…. We know that. He is synical but I guess that comes naturally with age & experience. He was a top class player for bayern and in his younger days!
Posted from
United Kingdom

@ Lucas and Ahmer,
Heitinga has been a very solid player in the past, maybe you have personal beef with him or something, not sure.
Mathijsen has been centerback for this team during the most successful run in its history, its longest winning streak. Yes,he may not be the best defender or passer, but your obssession with bashing him is absurd!
I dont get it. Have you WATCHED any games over the past 5 years? He has been very very solid. Sure, he is no Nesta or Pepe, but he has been good enough to do the job.
Your attacks on these players are strange and misguided. MAtijsen has been a trusted part of this team for years and your a treating him like he is Edson braafheid, who is terrible, or ryan babel who is awful.
I agree with what you say about the use of Kuyt in the team, what it says about his skills, the manager and the strengths of our team. However, you point out the obvious, which we all know already. You do not raise anything new with your points. Every single reader knows our defense is not world class, that Kuyt is not a #1 striker and that our manager plays negative. So what?
I am not sure what your motive is bashing Heitinga and Mathijsen. It really disturbs me that the team that gave up the fewest goals in qualifying, and for a while pretty much none (stata?), has its central defenders bashed?
The REAL problem with this team is the inability of the forwards to work together. NOBODY mentions that. Sure we have the fantastic four, but their goal production is far lower than it should be because they are so selfish, RVP and VDV less so. Sneijder and Robben are two of the most selfish players in the world, and i think despite all they bring to the team, their inability to finish, take the right shot and pass enough actually hurts our team.
This team will win the world cup if sneijder and robben are healthy and are TEAM players. Unfortunately, these two vital tools are incapable of accepting their role as part of a team and not as superstars.

@ Ahmer,
Also, it is absurd to say that Van Bommel does not fit into the Oranje system. Once again, do you watch the games? His passing is pinpoint accurate, often splitting the defense.
His value is underrated. His ability to break up play and read the game is nearly unrivaled. Without MVB, this team would not have made it out of the first round of the WC.
Some of the comments on this board are just astounding. Not by the regulars, but by the fringe people.
I am not sure if they really understand the team dynamic and who makes it tick.

i'm more than happy that matthijsen is not pepe…
Posted from
Hungary

>Winning can be achieved by anybody who has enough determination, some luck and some skills i.e. Greece 2004. Greatness is achieved by those of unique skills (almost once in a lifetime skills), the ability to produce memorable moments, creativity and belief. Which would you rather be?
Let's see what you (indirectly) admitting here. That Czech 76, Denmark 92, Greece 04 and so on had something that the Cruyff teams didn't … Determination.
It is a very sad conclusion at least to me… Maybe it doesn't bother you. But it bothers me a lot. Holland 74 having less determination than Greece 04. That is not a good thing … You know what is the biggest problem with this conclusion? I am afraid it is a true one
Posted from
United States

@ ferenc:
because pepe stamped on messi?

not only because of his continuos misconduct against fc barcelona,but his general behaviour is not tolerable on any football field. just remember what he did some years go against a getafe player. i wouldn't like to see any pepe-like player in oranje. after all,he's not a good player. some people say de jong is similar – definitely not,he's very physical,but doesn't harm intentionally his opponents. i would say pepe's intelligence is like balotelli's…
Posted from
Hungary

I don't even think Balotelli has a brain. If he has, it surely must be disconnected from the rest of his body

@Paul
I may not always comment but I'm an avid follower of this blog; not a "fringe" visitor as you put it.
I've never bashed any one of our Oranje players with the exception of Nigel De Jong. He broke 2 players legs in one season then should have been sent off for his kung fu kick on Alonso which could have broke all his ribs. He's a liability.
v.Bommel is a quality player and always has been. Which is why he's found so much success wherever he's played. My only problem with him is why hold onto him when he doesn't really have the legs anymore and fouls entirely way too much. We have younger players who should now be getting experience.
As far as Mathijsen I have absolutly no problem specifically with him. Just that we need 2 solid CB's. Heitinga-Mathijsen combo looks really weak at times especially when we are put under pressure.
I agree that what made past Oranje sides so great was their movement forward as a unit. But hey, no need to be so apPAULled. I only want the best for Oranje and sometimes think the old-timers should make way for younger players to get experience. But of course that is 100% up to the manager.

Paul….. How on earth can you tell me/ahmer that my opinions of any one player are quote "absurd" when you yourself openly state that braathfield and babel are awful????
Secondly you state that I'm saying nothing new. Maybe, but if your correct that I am highlighting issues that have been known for a long time with holland which have clearly not been solved then we clearly have not solved these longstanding issues whilst other teams around us get stronger…. Scary.
Posted from
United Kingdom

And yes I have watched mathjissen and (far too many times unfortunately) with my head held in my hands with the knowledge that both players make at least one mistake per game (obviously only gets highlighted if the opposing striker capitalises)……
I actually used to like heitinga in his younger days at Ajax prior to his injury problems. Joris on the other hand, never have trusted never will trust, can't wait fit him to retire from football let alone Holland!
Posted from
United Kingdom

Kuyt was an useful player for Utrecht, Feyenoord and Liverpool, for Holland in some qualify games, but he has never been a big player, and he is actually really bad. His last games with Holland were awful, especially when he is used on the left side. I really hope Afellay will be fit in june, there is a big difference beetween what Afellay can bring to the team and what Kuyt can…
Posted from
France

Hahahahaha Jan, I feel like you and I the only people who loves and respect Kuyt unconditionally. Most online sites are brimming with hate for him, and I've become almost immune to it now (I still get incredibly annoyed, but I no longer take them to heart).
I've gotten used to him barely getting respect or credit & almost always being blamed and hated upon (truly awful footballer, useless player, zero technique, ugly etc, I've already accepted that this will never change). This has been a disappointing season for him in both club & country, as much as it pains me to say so but I don't think I've ever lost faith in him. Fantastic to see him gather momentum for what is hopefully a good run after the publication of this article.
People who hate him will never let down on their deluge of arguments against the existence of this footballer/person (an exaggeration but seriously, they seem to hate him with every bone in their body; it's terrifying sometimes!). He may have scored the winning goal against Manchester United in the dying moments of the game but all his haters will remember, or perpetuate is that he missed the chance to kill of the game completely just moments after the goal…(to each his own)
The haters may say what they like, but my opinion of him will never change. A truly wonderful person this guy & this article pretty much sums him up; a great interview ( http://bit.ly/hEgfHy ).
Dirk Kuyt is echt een held. Mijn held.
Posted from
Singapore

[...] kbblulag genom tiderna. Nu är det dags för världens fotbollslandslag. Som väntat hamnar Spanien 2007-2010 [...]
Comments are closed