De Jong highly upset by exit from Oranje!
October 4th, 2010 | by: Jan |

Comments(69)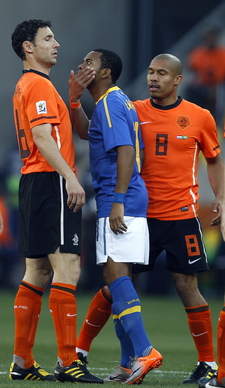 Nigel de Jong was already in Amsterdam this morning to meet up with his Oranje buddies when team manager Bert van Marwijk informed him that he wasn't needed and could take the first plane back to Manchester.
The Man City midfielder took the blow hard, in particular the fact that the coach dropped him and that the home fans lost confidence in the hard working player.
Skipper Mark van Bommel said that he is certain that Nigel will return one day. "Nigel is one of us and will remain one of us. We all regret that this happened and I'm sure the coach regrets this as well."
The holding midfielder broke the leg of Newcastle player Ben Arfa on two spots this weekend and Van Marwijk informed him that he won't be needing De Jong against Moldavia ( October
and Sweden ( October 12).
De Jong broke American Stuart Holden's leg in the friendly in March against the USA and was over the top a number of times against Japan and Paraguay in friendlies too. At the World Cup, De Jong's most remarkable action was the flying karate kick landing on Xabi Alonso's chest.
Van Bommel: "It's highly unfortunate if you break two opponents' legs in six months, I know… But I know Nigel well and he's a sensitive guy. He doesn't want to hurt a soul but his job is to win duels and the ball. That is his strength. He repossesses many balls and thanks to Nigel – among other players – we reached the finals in South Africa. Now people are referring to him as a criminal. That is outright nonsense."
The Bayern midfielder raves on: "I know exactly what Nigel is going through. I had this too, for a spell. Having to justify my behavior. I never want to injure or hurt opponents and I started to look in the mirror. I don't think Nigel should change his way of playing. We need him with that particular approach. But he needs to change the way he commits himself. But that is very hard."
Van Bommel hasn't spoken to De Jong. "His phone is off right now, but I'll connect with him for sure. He's probably sick of all this. And that's logical. It's quite a punishment if you don't supported by your fans, the media and the coaching staff. But I do believe the coach has done this to protect Nigel as well. You know how the media will discuss Nigel instead of the match and I hope we'll talk about Moldavia and Sweden now."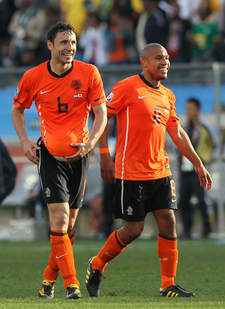 The former PSV and Barca midfielder understood the coaches' decision ( Van Marwijk is also Van Bommel's father in law). "I think it was a tough call for him, because we're stronger with Nigel than without. With Nigel, it's like he can never do anything right. If he lets a man through it's not good, if he fouls him it's not good either. Let's hope we won't miss him too much against Sweden."
Van Marwijk will inform the media on Wednesday verbally. He published a written statement today. "I told the lads I didn't see another option. I will talk to Nigel soon. Now, I need to concentrate on the two games that we need to play."
Subscribe

Netherlands World Cup Blog RSS Feed

Share
Comments

well I thought anybody noticed those rumors I just made up buddy dont get upset, it is only de jong we talking aboout! I just like the fact he came all the way to holland for nothing. Some people suggested he should have his leg broken so he know how it feels, what do you think? They say maybe he will learn like this…? I am glad to know what you think but I must go out now and buy a dress..
Gladly I am not any spokesman for amsetrdam but it is in a way a small village yes, and everybody knows how de jong was when he was playing here, but i dont pretend to have any special inside information at all!

What infuriates me is that he shows no remorse or regret whatsoever after his hard tackles broke another players legs. And not to mentioned the hard tackle at the chest against Alonso. Simply bec the Ref doesnt red card him does not justify what he has done as "fair tackle". To him,it's like, so what? Injuries happen. Tough luck. Not my fault. And what he had done could change the players football life or worse cause permanent injuries. Not a stread of basic human decency. This guy is a thug of the worse form, he belongs to criminal gangs, not a football pitch.

its ridiculous that dutch fans calls dejong as criminal.He plays with his heart for orange.NO-1 holding mid feilder of netherlands.way better than van bommel now.BVM cannot kick van bommel ,thats why he he kicked Dejong..its so pitty…i hopeand pray theo jansen will do great for us…
ONe important point.
with dejong we didnt concede a feild Goal in 7 WC matches.Thats dejong.with out him it is going to be very difficult…
——-Hunter———-
Afaleey–Znijder–Vaart
—-Janson-Bommel————-
Back four————
Steke

@jan Now i am in sharjah…i had a bike accident in my village 3 weeks before.i was fine.Access to inter net was limited there.

For as long as there has been football, there has been broken legs and players that break legs. More importantly, about a week after football was invented there were winey bitches that complain about injuries in sport. Obviously, DeJong did not do it on purpose. A blackbelt has trouble doing it on purpose, why does anyone think that DeJong has the secret technique to do it at will. All this discussion is Bull**it.
DeJong for Prime Minister of Canada. We need some balls to get some of these taxes taken care of.
Posted from
Canada

Robinho is a child mollester, hasbeen, a never hasbeen and a jackass as well.
Posted from
Canada

@Tiju, i visit UAE regulrly may be we meet when i go their…Hope your sattled.

Further to the whole De Jong thing, the problem with the tackling is not just a DeJong problem but an EPL problem. Week in week out i watch these rediculous tackles two-footed, wildly quick and late in English football. They like to go on and on about what a physical league it is but most of the challenges going on there are a joke. It would be interesting to see a stat on broken legs by league. I would bet to dollars to donuts that the EPL is by far the worst with the most broken bones.
Posted from
Canada

For the record ( I realized I hadn't expressed my thoughts about this)….
I think it's wrong that Bert ousted Nigel if it's on the basis of silly challenges. It wasn't a silly challenge. What will Bert do with Mark his son in law. Execute him?
The only good reason for Bert to have kicked him out – in my opinion – is to protect him from himself OR if Nigel personally demonstrated a lack of interest in the whole matter. Being disrespectful and all that.
But other than that, Nigel's tackles in the EPL are a matter of the ref, Mancini and Nigel.
Posted from
France

@Matthew – "nobody seemed to care the slightest about the tackle"…did you really watch it? Did you not see how fuming Chris Hughton was in his interview?
Many of those other tackles you mention are bad too – how does that excuse De Jong? It doesn't. It's a pathetic defence to claim that since someone else did it too that it's ok.
The Newcastle fans said nothing? Hmmm….
http://newcastle.theoffside.com/previews-and-reviews/nigel-de-jong-not-that-type-of-player.html
Posted from
United Kingdom

AIDAN, were you there? you are making a lot of accusations that are seriously wrong!
i was there at eastlands and at the time of the tackle nobody reacted to the tackle as being bad, it was only as the player was carried off did the fans have any clue as to the seriousness of the injury! what i am trying to explain is that it was a run of the mill tackle that went wrong for ben arfa but was not a violent tackle at all, the newcastle fans did not react to the tackle ,the players did not react to the tackle, the managers did not react to the tackle or the officials!
de jong has not been charged with any misdemeanor by the F.A and they must have seen it numerous times!!
The manchester city hating press are trying to turn it into what it is not and the holland manager should be ashamed of himself for helping the press to crucify nigel de jong , his banning of de jong is like manna from heaven to the press,the dutch team should support their team mate and refuse to play for holland until he is re-instated.
As for you aidan and jt? two little men who haven't got a clue.
Posted from
United States

@Tiju u said with dejong we didnt concede a feild Goal in 7 WC matches….
brazil holland 1 2
spain holland 1 0
and de jong was there
He has no supernatural powers that make opponents dont score when the de jong plays, he is just a nrmal midfielder, with moderate techinque…
hope you get better soon btw

@Adrian: when iniesta scored,de jong wasn't there. he was replaced by vdv.

@thanks ferenc I forgot , you are right… u got some memory… I remember now, how vaartje was gliding on the grass in fron t of our goal when spain scored. Some pundits said this was the problem: vd Vaart defending when he should be attacking in th e other box. Hope we will play with more creative midfield and maybe we can see 2 nice qualifiers with vd vaart in the form of his life…

i miss de jong. he is our best holding midfielder.

I always figured Bert vMarwijk would show his true nature anytime now. Now I don't have to wonder anymore, he's a fool, no doubt about it anymore. The only reason we aren't world champions right now is because of Bert's stupidity in tactics and teamselection (selecting Babel, Braafheid, Schaars and Affelay ahead of Ruud, Pieters, Brouwers, R. Stam, Brama, hell, even Drenthe or Emanualson would have been better than Braafheid and Spain's goal wouldn't have happened, Im quite sure of it now after this media-controlled, media-initiated and media-propagandized decision).
What's next, the media are going to take Bert's position entirely? Since they're obviously already doing his thinking for him with their judgemental reports and interviews concerning de Jong. This has gone too far now.
So, vPersie will be out next? Because the media/fans feel like he hasn't done enough? And Kuyt stays in, cause he's always so political in his interviews and all the fans love him so much, this is getting disgustingly disastrous.
If I have to look at Kuyt not providing enough threat on the wings one more time and then the fans praising him for his wonderful workrate and defensive support (still losing the match with 1-0 in the process) I'm going to puke.
Posted from
Netherlands

I can only hope Liverpool keeps losing so that one day perhaps Bert will see what is so clear to me. If there are any players that need to be cut from the team it's Schaars, Affelay and Kuyt, in that order. De Jong is so much better and useful than any of these 3. But I just know we're going to see more of Affelay now, it's a racial political thing probably. I wish we could play with El Hamdaoui instead if we have to play with someone from that nationality anyway because of marketing reasons (more viewers and profit if you add a Marocco player, that's for example why you see a black girl playing Guinnivere in the new show Merlin, that's how this type of marketing works and creates absurd situations).
Posted from
Netherlands

Ah, OK, my emotions got the better of me, after reading the article I understand it's just a cooling down period, he'll be back, no worries.
But if Affelay takes his spot instead of VDV for the upcoming 2 matches I'll still be upset. Or we're going to see something like Kuyt and Affelay on the wings, Elia benched, and VDV in midfield instead of an injured Sneijder (who will get injured just before the games start), or something similarly idiotic.
What is my preferred line-up if de Jong isn't there and vPersie and Robben still injured?
—–Hunter——
Elia-Sneijder-VDV
—-MVB–de Zeeuw/Kuyt (assuming de Zeeuw gets back to his old level now, otherwise I'd still use Kuyt, but I'd never use Kuyt offensively)
Pieters-Brouwers-Heitinga-vdWiel
offensive subs: RuudHunter or RuudVDV/Kuyt/de Zeeuw or AffelayKuyt/de Zeeuw (because of injuries I'd still have them in my team, but not Schaars)
defensive subs: Kuyt, VDV or EliaBrama/R.Stam/Mathijssen depending on which defensive area needs strengthening
Posted from
Netherlands

There's some symbols missing in that "subs" section. Where you see 2 names connected, there should have been a substitution symbol between them.
Posted from
Netherlands

Oh, just in case anyone misinterprets my comments about Affelay as me not wanting him in Oranje because of racial issues, than you got my comment wrong. I couldn't care less, to me there are not even borders, that's not how I view the world. I was just showing that marketing people and PR-teams DO care and analyze this accordingly. The question is how big an influence do they have on the people who make the decisions, or who more accurately, pay the bills/salaries (including Bert's and control his future career one way or the other with the right connections in the mediatop for example).
OK, getting much to detailed, just wanted to let you know I have nothing against Affelay, I just don't think he's very useful if we want to win our first WC in 4 years from now, it's football related reasons.
Posted from
Netherlands

As a manchester City fan, thanks BvM ,super nigel will be totally refreshed after the international break, bloody brilliant, he's one of city's very best players and is playing some great football for us………..
just love his skill and passion….
Posted from
United States

De Jong was not playing football.
It was a criminal assault.
De Jong just deserves jail for many years.

After getting a chance to see the video replay (not having watched the game), my view is that De Jong's tackle was inherently reckless in that he slid through the player. It's an overstatement to call it a "horror tackle" but nonetheless it would normally get a yellow card as dangerous, even absent any injury. Whenever someone slides through another player and catches his supporting leg, injury is very likely to follow — DeJong clearly knew the risk.
Comparing it with the other wild tackle of the day, I thought that Henry's tackle on Gomez was at least more justifiable in that it looked like he was going for the ball and got there late when Gomez burst forward. DeJong doesn't really have a similar excuse, but it appears that he was trying to intimidate early in the game with a hard (and dangerous) challenge that ended up, not unpredictably, causing a serious injury.
I agree with BvM's decision to drop DeJong to send a message to the player, the team, and the rest of the world. The frustrating thing is that while DeJong has the talent to be a top notch defensive mid and super tackler, as he has often shown, he has now inexplicably crossed the line at least 3 times this year alone. It's poor judgment that is going to be his downfall – none of those dangerous tackles were necessary, and that was BvM's precise point when he commented on this latest one. DeJong is making himself a liability with his unpredictability.
It would be good for the game if not only the English FA but all leagues allowed post-game review to provide a consistent standard to games regardless of the ref, even if the ref doesn't pull out a card at the time. We don't need star players (Dutch included, e.g., RvP) getting injured from wild or reckless tackles. I'm all for allowing a physical game, but that doesn't mean dangerous tackles should be acceptable. If we had post-game review that actually changed behavior, we'd be rewarded with more daring and skillful play, fewer injuries to players we want to see, and more goals. Is that really a bad thing?
Posted from
United States

"Comparing it with the other wild tackle of the day, I thought that Henry's tackle on Gomez was at least more justifiable in that it looked like he was going for the ball and got there late when Gomez burst forward. DeJong doesn't really have a similar excuse,"
your comment VanX is absolutely contradicting yourself,
henrys tackle was justifiable because "it looked like he was going for the ball"!!!!!! he didn't get the ball did he?…"de jong doesn't really have that excuse"!!!! er how about the fact that de jong DID actually get the ball and it was his momentum that caused the injury!….you obviously have a hidden agenda against de jong and your comment is invalidated by your own argument!!!
Posted from
United States

@tony: The distinction to me is that DeJong's tackle was timed so that contact with the player was inevitable, even though DeJong could have easily made a tackle that did not run through the player. The fact that he may have contacted the ball is not important if he intentionally runs completely through the person and upends them.
It looked to me like Henry legimitately mis-timed his tackle because Gomez put on a burst of speed right before the tackle (maybe I'm being too generous here as it is harder to tell). By contrast, DeJong knew where the player was all along and it looked like he didn't care.
I don't have any agenda against DeJong — in fact, I have been a supporter of his from Hamburg and at ManC for a while. That's why it irritates me when he makes these poor decisions that end up tarnishing his image. Think about it — we are only a handful of games into the season on the heels of the notorious act in the WC, and already we have a second successive major incident involving DeJong. Is he trying to become the new Materazzi….?
Comments are closed