Cruyff: "AZ the best team in Holland"
April 12th, 2012 | by: Jan |

Comments(112)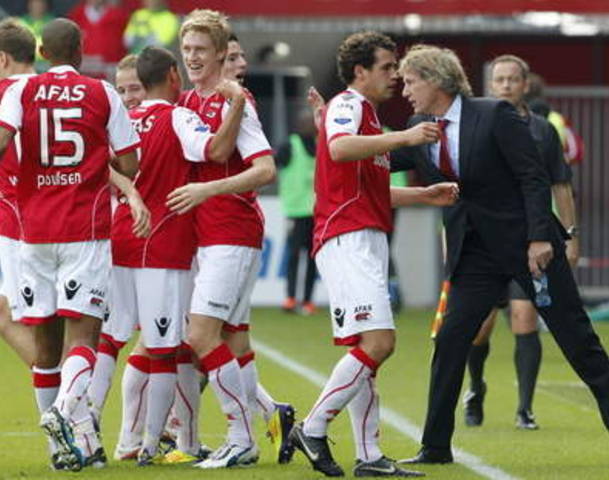 Leader Gertjan Verbeek on the right….
And Johan knows these things
.
But apart from JC, it's clear that we need to pay respect to AZ Alkmaar. Despite their horrible loss in Valencia (what the hell happened there???) they deserve this spot in the limelight. The Verbeek managed team plays Dutch School football, battle for the top spot for the third time in the last 5 years and reached the quarters in the EL. And with good football to boot!
They might lose out for the title this year, after having led quite some time but it's clear that AZ is doing something right.
The rise of AZ started many years back of course, when self-made billionaire Dirk Scheringa started to take over the club and used his financial wizardry to build AZ into a strong contender. When he crashlanded with his businesses and financial shenanigans, AZ was struggling for quite some time and was even without a jersey sponsor for a spell. Some people felt AZ would fall deep, as they did in the 1980s when the sugardaddy Molenaar bros left the club.
But, Scheringa and his staff had done something right. They made sure the foundations were all in place. The choice of coaches of the past 10 years made it clear, that AZ was all about the football and the structured solutions. If you work with coaches like Co Adriaanse, Willem van Hanegem and Louis van Gaal, it does mean you take your football serious.
And despite losing marquee players over the last seasons ( De Zeeuw, El Hamdaoui, Dembele, Schaars, Kew Jaliens, David Menses Da Silva, Lens, Ryan Donk) AZ managed to stay true to it's football vision and the Dutch School.
After success coach Louis van Gaal left, AZ decided to bring in Ronald Koeman (who despite his current successes at Feyenoord couldn't be named "success coach") who was asked to leave before the season was over. Not sure what happened there, but Dick Advocaat finished the season before Gertjan Verbeek was presented.
Ironically, Gertjan Verbeek failed to weave his magic at Feyenoord and was pushed out of the city with tar and feathers….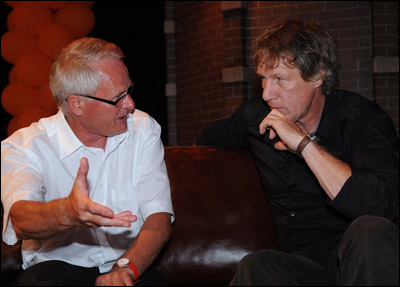 Foppe is teaching, Gertjan listens…
The hard task master and former amateur boxing champ was groomed for success at Heerenveen by mentor Foppe de Haan ( although Foppe is a totally different coach/person than Gertjan) and after a good spell at Heracles and Heerenveen, Verbeek was ready for the top. Feyenoord didn't respond well to his antics but at AZ they're really happy with the wild man. He recently signed on for another two years at the helm in Alkmaar.
Verbeek plays 4-3-3 with the center midfielder being the defensive one. An analysis of AZ's results learns that they actually create the least scoring opportunities and they also score a relatively low number of goals. The results AZ gets are based significantly on setpieces and distance strikes. The Swedish midfielder Rasmus Elm makes the difference. The set piece specialist scored 10 goals in the Eredivisie and gave 8 assists. Truely, the most valuable player…
AZ finished fourth last season, the best of the rest ( behind Ajax, Twente and PSV). With Mr AZ Stijn Schaars and goalgetter Sightorsson on their way out, the experts believed Verbeek would not be able to repeat that fantastic result. But despite the limited funds, AZ managed to create a winning team yet again. AZ has a balanced team, in which players know exactly what is asked from them and actually are willing and able to execute this. Under Verbeek, the key players are still improving. Holman, 27 years old, is still developing and makes a big jump to the EPL. Left back Simon Poulsen plays like a winger while central back Nick Viergever and Niklas Moisander are amongst the best in the country. One implication of the limited budget is a smaller squad. This resulted in loss of points in December when Verbeek was confronted with injuries.
Rasmus Elm is definitely the most valuable player but Adam Maher is the revelation of the season. Maher got his chance when Martens copped a serious injury and the lightfooted and gifted player demonstrated wonderful composure and vision and has had his first call up for the Dutch squad.
The biggest disappointment this season is Jozy Altidore. The 17 year old American international was once a big prospect and got signed by Villareal in 2008, but he kept on being loaned out as he wasn't able to stake his claim at the Spanish club. Technical director Stewart signed his fellow countryman as the replacement for Sigthorsson but the American has issues with the pass and move game AZ plays and is not strong playing with his back to the goal, playing others in.
AZ's perspectives are not too bad, as they do seem to have a creative and shrewd scouting team, but unlike Twente, PSV and Ajax, it does seem AZ is willing to let players go for the right price to keep the club going. Wernbloom was allowed to move in January ( 3 Mio Euros) and it seems that Elm is free to go whenever an Italian or English club shows AZ the money. Every player is for sale, it seems. AZ has a small squad and has played EL for a long spell, which will most likely ask too much from the players. It's quite likely that Ajax, PSV and Twente will leapfrog the sympathetic club from Alkmaar in the last weeks of the competition.
Questions for Verbeek:
You only wanted to sign for AZ if they demonstrated to have potential for growth. You clearly see that potential than?
"I work really well with management, board, staff and the players. We have a similar vision re: football and what we need to do to improve our game. I am really enjoying what I do here and the top sport culture at AZ is of high quality."
You did say recently you only wanted to be a coach for another couple of years?
"Well, what else can I do really? Bricklaying… building… I can't see myself working much longer in Holland though. There are not many clubs left where I'll fit. And that's why I love staying here. It feels as my club. If I've finished my deal here I'm 53 years old. I think I'll either go abroad or stay longer at AZ. There are no other options."
So, there is no "Dutch team manager" or "big European club" clause in the contract?
"No, I don't have that. I gave my word to AZ. I won't leave. Clubs can call but they need to wait till 2014. That is how I work. Clubs will need to get permission from AZ to talk to me."
In 2010 you said you didn't want to stay if general manager Toon Gerbrands would leave. How is that now?
"The same. Both Gerbrands and Earnest Stewart ( Technical Director) have pledged their ongoing commitment. I believe in loyalty and partnership. We work well together. This club is open. My first meeting here was with Marcel Brands. He told me honestly that he was on his way to PSV and that they wanted me to come up with ideas for the new technical director too. That gave me a lot of confidence in the club culture."
It seems you'll be busy this summer. It seems like a number of big name players are on their way out. Brett Holman and Rasmus Elm for sure. There is interest in Poulsen, Maher's name is on everyone's lips…
"I look at the team photos of the last 5 seasons and see so many different faces. 16 players have left from the squad Ronald Koeman started with in 2009. And this is what it will be like next season. I can't influence that side of it. Our scouting is top, our youth development is increasingly improving and we know what we want in terms of playing philosophy. With all due respect, the players are the least of my worries. If one goes, we'll find another one. We are looking at cheaper options, younger players, more homegrown."
Your ambition at the start of the second seasonhalf was: beating Ajax in the cup, finishing top 4 in the competition and beating Anderlecht in Europe.
"Our initial goal was to survive the winter in Europe. And we did. Then you need to create new goals. Anderlecht is a much bigger club than AZ, with much more cash to spend. But you do win games on the pitch, not in the board room"
AZ won the cup tie against Ajax in Amsterdam 2-3 but wasn't able to reach the finals ( this Easter weekend, it was PSV beating Heracles 3-0 and securing the trophy). AZ did beat Anderlecht of course and more than that… They made Valencia work in the second leg of the quarter finals and AZ is still in the race for the title.
One of AZ's issues this season is the lack of a killer in the box. After El Hamdaoui and Sighthorsson, American international Jozy Altidore is not that kind of player. Striker trainer Piet Keur ( of former Haarlem fame) works hard with Altidore and sub Benschop to get more clinical finishes. Verbeek: "Altidore started here with a lot of credit. He came late so he missed our preparations but now I need him to perform. The benchmark is high here and if he doesn't deliver his spot will go to Benschop."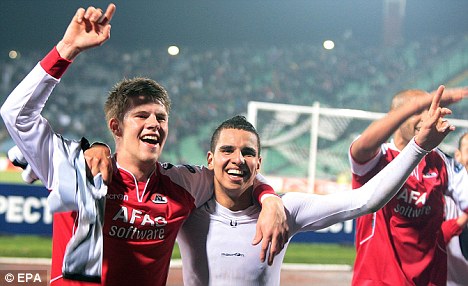 Adam Maher (right)….
Charlie Benschop has the physique of a real athlete and could well be AZ's new striker. Verbeek: "Charlie came into professional football relatively late. He missed the normal development of most players, and although he looks and runs like a sprinter, he will be prone to hamstring and other muscle issues. He was groomed at RKC in a 4-4-2 system while we play 4-3-3 which is a big difference for him."
Benschop: "The difference between RKC and AZ is huge. At RKC it was ok to lose games. Here, it's a sin. I feel like I'm still daydreaming too much. I have to moments where I need a little break. But Verbeek doesn't allow you those. At least, not in the game….."
With Pontius Wernbloom off to CSKA Moscow, Maarten Martens was finally ready to come back as the AZ Playmaker. The former Anderlecht prospect was out with injuries for a long spell. When Martens made his return against Ajax, he tricked Theo Janssen for all the world to see. Janssen didn't respond frustrated, as you would expect from any player, but actually gave Martens the thumbs up. Janssen the football fan instead of Janssen the ego-tripper.
Verbeek: "Wernbloom and Martens are different players. Wernbloom is more like Gerrard. Pushing and working and running…. Martens is more the stylish director, the elegant playmaker. He won't need a lot of time to have the love-affair with the ball back. Probably one of the most gifted players in Holland. But I needed to give Maarten ample time to return. He needs to be able to play without pain. Pontus is different. Is like a tank. I needed to take him off. Most players will play with a knock but Martens is the type that will take those in to his head, you know…. With Martens it's not his tenacity or work rate but his sensitivity to injuries."
Erik Falkenburg was signed from Sparta to give the AZ midfield body but Verbeek picked 18 year old Adam Maher to play next to Wernbloom (now Martens) and Elm. The multifunctional Maher looks frail but is strong and ruthless in the duels. Verbeek: "In the AZ youth, Adam played hanging on the right a lot. He can play on all positions in midfield. He can score, he can direct the play and he can play defensive mid too. Like Elm and Martens, Adam can perform all the tasks asked from him. Ideal to work with players like him."
Despite Maher's important goals, Verbeek feels the youngster is a defensive midfielder. "I don't want to call it that, though. For me, he's the starting point of our build up. Martens is more the false striker, playing in the hole, waiting for balls to come in. Maher is supposed to direct the play."
Verbeek playes with three lightfooted midfielders. Isn't that a problem? "It's not for Barcelona, is it? Or for Arsenal? I think you can play with these types of lads if you make sure you see a lot of the ball. I don't want to compare us with Barca but we do share the same playing philosophy and for now, it works."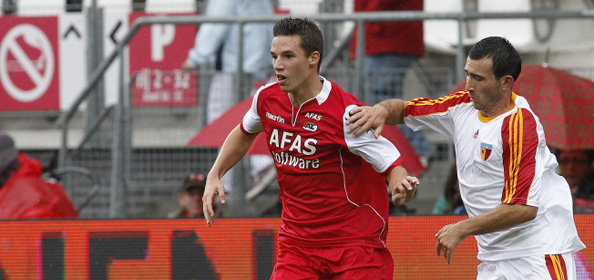 23 year old left-footed Viergever is a regular starter now for AZ
Subscribe

Netherlands World Cup Blog RSS Feed

Share
Comments

http://www.goal.com/en/news/780/fa-cup/2012/04/15/3038366/drenthe-dropped-from-everton-squad-for-loss-to-liverpool
He's a clown but a very talented one
Posted from
Canada

Brijnen, it could have been 10. Better save the goals for the 2 home games left. We win them both and we are champions.

So much for Drenthe growing up… Anyone know exactly why he got suspended by Everton for the semis?

Just watched the PSV game…good game for spectators, but terrible goalkeeping by Alvaredo wow! Some good shot stopping, but bad positioning, etc.
Dost with 28 league goals…i looked at the list of past players past 10 years in the league with 28 or more goals…
Suarez
KJH
KEZMAN
KUYT
Clearly KJH wasnt a fluke, but the other 3 havent replicated goal scoring form anywhere else so im not sure what it means.

@TFC Good point. I just looked and saw that Narsingh has 20 assists..wow that is godly! Really hope Ajax can come through with that signing in the summer. It would mean we'd have to get rid of/relegate either Sulejmani or Boerrigter to the bench though, both of whom have looked quite good this year.
Posted from
Canada

No Brijnen, Boerrigter and Sulejmani play on the left. Narsingh plays on the right. He is exactly what we need and it is the only way for him to know whether he is ready for the big leagues. For the sake of Holland we don't want a repeat of Elia or Babel. Let the players mature at Ajax and learn what it means to play week in/week out under tremendous pressure before sending them to the wolves outside Holland.

@Brijnen. How can Drenthe be a clown for arriving late in training? I don't understand these superstrict rules re training.
Anyone watched Tottenham today? VdV seemed shot, no speed and he seems like limping all the time. Tottenham is a very mediocre team.
Man I hate John Terry. Complete scumbag. I hope Barca demolishes Chelsea.

@OranjeAussie Yeah, you are right. the H2H league its about luck a litttle bit. But Im also first in the classic league and overall points. There is a slight chance one of you guys could overtake me, although its a big difference (80 points ahead).
Maybe next season we could have both H2H and classic league from the begining.
Posted from
Greece

@Jeff Sulejmani plays on the right usually but can play on the left. (see here: http://www.transfermarkt.co.uk/en/miralem-sulejmani/profil/spieler_36080.html) We'd have three capable wingers for only two positions so it is tough to figure who gets the boot since all are solid players.
@Balkan Drenthe is one of the biggest clowns in football. I love his talent but he needs to get his head screwed on properly to be considered a star. The talent is there, the off the field professional mentality is not. If the other players can make it to training on time he should be able to as well and Moyes can't be blamed for suspending him a match. I certainly don't blame him for that strike he was on when he was with Hercules last year, that team is bush league and even worse publicly humiliated him too. Anyways for an interesting read on Drenthe read this: http://www.sabotagetimes.com/football-sport/royston-drenthe-liverpool-should-read-this-before-signing-evertons-real-madrid-loanee/
Posted from
Canada

@J. well done mate!
yes, we should have both H2H and classic from the start.. regrettably I had far too many weeks that I completely forgot to update my team, that's the excuse I'm going with
@sol good points on Brouwers, thx for saving me the research! I'm convinced we need to try Brouwers with Heitinga.
I read somewhere Drenthe was on a family leave before he was late which is why he missed some matches.. can't find it back now. But still, it's hard to keep excusing him after constantly having issues everywhere he goes.

@Brijnen
The game could have been a much higher score – (Ajax vs De Graafschap)- Ajax were in it but clearly not at "full speed".
The opponents have some nice and individually talented players (IMO) but can only generate team cohesion sporadically. The goal scored against Vermeer was a classic glancing header into far side of the net from a very good low and hard cross. If I'm not mistaken Vertonghen was – only just – unable to block it, and Vermeer had no chance. It was a very good goal.
BTW Vertonghen seem to spend at least 1/2 the game up front and going forward – trying to score or assist – he does this very well by the way – and probably he covered too much ground in the match and was "a step" too slow to keep the clean sheet.
If anything (IMO) the problem Ajax is going to very soon have is too much potential and talent – they are getting to be a very deep team with very good players sitting.
OJF
(What an awesome problem…)

Brijnen, trust me I am the super Ajax fan and yes Sulejmani has played on the right but I do think that a pure classic winger on the right would give us options. Sulejmani favors his left foot so much that he is practically always coming inside. Don't get me wrong I love the guy because he is so talented technically and always plays so hard for the team but he is definitely not a right winger. He could be like Messi and in fact de Boer has tried him in that role. In any case, now that everyone is back I agree with Oranje fan, we have have a very deep team. And more youth coming up as the A1 are about to win the league again and jong Ajax is in the cup final next week. The B1 also won the Aegon future Cup. So all in all, we seem to be doing much better. The Cruijf plan is working.

now we just need to use some of that depth to be competitive in multiple competitions. for example: I'd like to actually make it out of the CL group stage. If De Boer hadn't been so stubborn about playing Janssen at DM, and then playing Anita at LB and RB while Enoh played DM, we probably would've made it through the group stage. Maybe next year he'll get it right

why try brouwers now he is 30 years old? i am not agree, i prefer use mathinsen and after ec use viergiver
after lens, best psv player yesterday was jetro willems. this guy can be our next left defender in few years ahead of pieters. what do you think?

For ajax fans: http://www.fifa.com/worldfootball/clubfootball/news/newsid=1613805.html?intcmp=newsreader_news_caption

@Jeff I know. You misunderstood what I was saying, I wasn't saying he was a right winger by trade I was saying that's where he plays virtually every game. The good thing about him is that he is very versatile.
A deep team is a good problem to have but I'm wondering who will get the short end of the stick. Don't know if anyone else here plays Football Manager (check it out if you don't, amazing footy simulation game) and I have enough trouble finding spots for all the attackers on my Ajax team because I bought Ola John, James Rodriguez, Jelle Vossen and Narsingh lol
@TFC The real reason why Ajax didn't make it out of the group stages is cause a briefcase full of Euros was sent to Zagreb from Lyon :@ (and I should add a very blind Portuguese officiating crew)
Posted from
Canada

@Brijnen there's no doubt that Ajax got screwed majorly that day, but IMO if we had been playing Anita in DM in those CL games, we probably would've gotten a win in at least one of the Lyon games, and I even think we could've gotten a result vs RM. The difference between Ajax with Anita play DM and Ajax with anyone else playing there is MASSIVE. It was obvious last season already, so the fact that it took SO long to put him there again (didn't finally get to play there until after both Enoh and Janssen weren't able to play there)

"why try brouwers now he is 30 years old?"
Cause I think experience matters a lot in these big cups. Especially in defence and def.midfield. Some examples I have to make me draw that conclusion, the way Italy won their 2006 WC, the way Inter won their CL cup in 2010, Ooijer's and vBronckhorst's performances at the WC 2010.
With Brouwers his (succesful) experience is particularly with German strikers, he's been playing 5 years in Germany and since Germany is in our group….
makes perfect sense to me.
It basicly shows that he's a tested veteran, not some untested unknown risk (like the names you mentioned in the sense that they're not tested against Germany's topstrikers and forwards, except for Mathijssen, but we don't have to choose between Mathijssen and Brouwers, we only need to choose who will be backup, Brouwers has very good experience being a backup as well, see how it starts making even more sense?).
Posted from
Netherlands

Everytime Brouwers's club (B.München Gladbach) has had to depend on him he was there for them, just like Ooijer was there for us when we suddenly needed him at the WC against Brazil (I think he did great btw in case anyone doesn't agree, Brazil was always going to score at least once against us no matter who was playing).
And there were these really big games were he hadn't played for a while and suddenly they need him and he gets the job done. For example, the game they won 3-1 against Bayern came at a time where he hadn't played for 2 months. Not every player can do that, be at their best when they've been on the bench for a while. He's actually played most of the big games for his club this season, mostly Bayern (also in the cup), Schalke, an excellent test of what he can do.
Posted from
Netherlands

cpZQrI I am so grateful for your article.Really looking forward to read more. Fantastic.

2UDK70 Very good article post.Much thanks again. Cool.

KEi1Db Enjoyed every bit of your blog article.Much thanks again. Fantastic.

hdxlCl Hey, thanks for the blog. Keep writing.

E8kxKA Say, you got a nice blog article.Much thanks again. Really Cool.

I think this is a real great blog post.Really thank you! Keep writing.
Comments are closed