Boulahrouz talks: EC2008 and Stuttgart…
November 28th, 2011 | by: Jan |

Comments(25)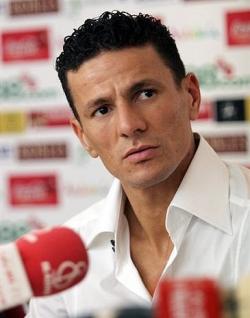 During the EC 2008 in Austria and Switzerland tragedy presented itself in the life of Khalid Boulahrouz. His wife delivered their beautiful baby girl Anissa – three months early – and the little child passed away in a Swiss hospital. "I was totally broken…."
Only three days after this tragic death, the Cannibal decided to play the quarter finals with Oranje against Hiddink's Russia. Holland lost after extra time 3-1. A wonderful tournament was abruptly over and Boulahrouz's life got a tremendous turn for the worse.
Looking back, this situation has had quite an impact on the team. "People ask me: was it smart for me to play that game… I don't know. Playing was easier for me, as I didn't have to think about it. But I was clearly not fit. I played a mediocre game and got injured even. Most players were struggling. I do believe this obviously didn't help Oranje. In any other circumstance, we would have killed Russia off. But hey…. I didn't plan this…."
The stories of those days are infamous by now. His mates Van Persie, Van Nistelrooy, skipper Van der Sar all spent hours with Boulah and his family at the hospital, skipping their night's sleep and a morning practice. You could tell Van Basten and Van't Schip didn't really know how to deal with this…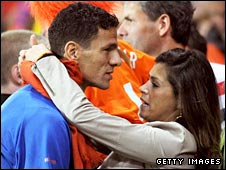 Khalid and wife…
Khalid – ex-Ajax, ex-RKC, ex-HSV, ex-Chelsea – was on top of the world, before that 2008 tournament. He was recognised as a top international and was looking forward to a return to the Bundesliga with VfB Stuttgart. His new club allowed Khalid all the time he needed to process this tremendous loss. " I suffered. When I came to the club I told them that I was not the same guy from HSV and Chelsea. They acknowledged that and said they wanted me anyhow. It's one big family there and they would support me in overcoming this. Technical director Heldt did everything he could to make my life better in Stuttgart."
"But I couldn't progress. I thought a few months would be enough but it wasn't. Heldt started to pressure me as the board was pressuring him. I made good money here and the club wanted a performance. I told him that I simply couldn't do it. My thoughts were with my wife and daughter and I thought I moved on, but I hadn't."
A physician would call it a burnout. "I'm not sure what to call it but I was empty. I didn't have the energy, I was simply spent. And most people had limited understanding. They want to help but it's not their world. Only Jochen Schneider was always there for me, the other director. His support was amazing."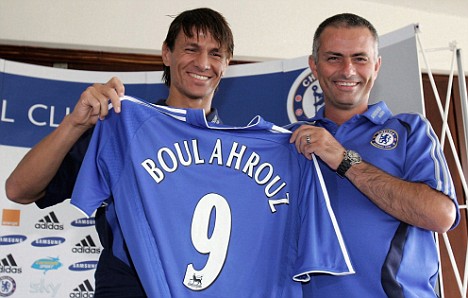 The Cannibal with the Special One
Boulahrouz did play as a starter in that first season but a year later, under coach Babbel, he only played six game as a starter. "He didn't like me. I had an ok season before, but Babbel had preferences. He liked certain players better and wasn't consistent in his management. That was annoying. Typical things: he started to tell the media that I was a prima donna. That I complained about my house in Stuttgart. The fans started to dislike me. I even got the blame for defeats while I didn't even play! One time, when I was back in the line up, I was late for practice. There was a road block and work in progress sort of thing and I missed that. So he kept me on the bench against Bayern Munich. Fine. But a week later Jens Lehmann was late for practice and no one said anything! So I told Babbel. And he got a red face, but Lehmann played that weekend. Then I knew, there is no victory for me here as long as Babbel is my coach."
Boulahrouz is happy this is all in the past now. "Listen, I'm a patient and strong guy. I don't give in. I know my qualities and my passion for football will always win." New coach Bruno Labbadia and Khalid click. "He has a Dutch football vision. It's like we play in Holland. Good build up, pressuring forward, trying to dominate. He didn't pick me in his starting line up either, at first, but working with him is great. The practices and training sessions are fun. I'm still here and play my games while most of the people that made my life not so good here are gone now."
The 19 year old even scored his first goal recently in 6,5 years! Against Kaiserslautern. Khalid is happy and the proud father of two children: daughter Amaya and son Daamin.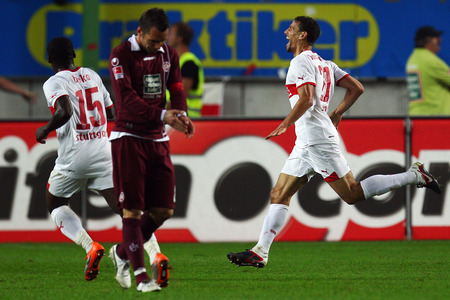 Khalid scores….
"I'm happy now. Anissa is in my heart but my wife and I have two healthy kids now… I am happy in Stuttgart and blessed to be part of Oranje still. I used to be very ambitious but since my Chelsea days, I know that ambition and happiness don't necessarily mix. I didn't like Chelsea. The club has a culture that doesn't fit with me. It's posh and full of bravado. I didn't like Mourinho's way of working and motivating. Germany, Holland…it's a bit more the way I like to live. There is more respect in Germany for the individual. In England, the tabloids rule and than there's all the little distractions there, the drink, the gambling… A tough environment. I couldn't settle. I'm happy to end my career here or maybe even in Holland somewhere. But I've stopped planning. I'll take every day as it comes and thank my little angel for the few days she was here to teach me those lessons."
Subscribe

Netherlands World Cup Blog RSS Feed

Share
Comments

A sad read but good none the less. I've always liked this guy because he elevates his level for the national team.
Posted from
Canada

Zis guy always give 100% for orange…i like his atitude

Super Article Jan – This guy Bleeds Orange ! Respect him a lot.
Posted from
Singapore

In case you want the latest Ajax episode in English – here's the story !
http://football.thestar.com.my/2011/11/29/ajax-members-council-tells-cruyff-commissioners-to-step/?utm_medium=twitter&utm_source=twitterfeed
Posted from
Singapore

@Carlos buddy true on bulah..he has a great heart.but i will not pick him in orange anymore,but he can be happy that BVM is the coach not me…A great guy…

Respect!
Posted from
Portugal

"but he can be happy that BVM is the coach not me…"
We can ALL be happy about that! And we are…
Posted from
United Kingdom

jajajajaja

Terrific article, Jan. Thanks.

Great article. I remember watching that game, after the results against Italy and France. So disappointing. That being said, how do you go and play a football match after losing a child, or having a teammate lose one? I think they tried to put on a brave face, but they probably would have been elsewhere. Respect to Khalid and his wife.
Tiju, sometimes it's best just to leave the "no more picks for oranje" comments out.Your feelings on a number of players are well known, no need to repeat them over and over again.

Great article, great attitude from Boularouz. He basically found out what his talent level is and live within his capabilities. He chose what is realistic and what makes him comfortable and happy in life.
He's not an automatic starter for Oranje but I would definitely take him as a sub because of his experience and attitude. We are not that deep in the RB position when VDW is out and he could be used against lower level opposition to relieve VDW.
Posted from
United States

I believe Boulah is a great center back. Better than right back.
Just realised that Gary Speed took his own life. Didn't get that the first time I heard the news. Man….

Just read that C Ronaldo might be out for the Ajax game and El Classico…

Is jan the same as Jan?
I think, with their group won, and the Classico on the next weekend, any player with minor issues won't be playing.
Do Jose and Frank have any sort of friendship? They were both at Barca for a number of years, will that have any bearing on the game?

The Ajax membership have asked the Board of Directors to step down. JC had already said that in the interest of Ajax, he's happy to "take his suit off" and it seems this will be fate for all 5 now.
But the other four won't, until they have had the formal request and an explanation.
Sometime in January the court will most likely appoint 5 interim directors to maintain the roles for the time being.
Not sure what this means for JC.
Van Gaal confirmed that a lot of water needs to go under the bridge before he walks in the door.
Cruyff did state that he will go to court to undo the appointments of Van Gaal, Turkenboom and Blind. As he wasn't involved in the decision as director, these appointments are not valid.

In case anyone missed from the last post:
ALSO, just made another EPL Fantasy league…
Its based on the classic points total not head-to-head. So now we have one of each.
Here is the code to join with:
797189-544923
Of course everyone/anyone is welcome to join – I have made it so it counts from Week 1.
If there are any/many newcomers who hadn't signed up yet then maybe I will change it to make it start counting now so we're all even, maybe request it from me if you want this.
Posted from
Canada

Hey guys been away for 2 weeks. catching up on everything thats gone on here has been great some great articles Jan and great discussions guys…. Great to be back.
@Steve – great work on starting the classic league I think it was needed..
Posted from
Australia

I agree with you guys, Boulah's a great guy and have lots of respect for him.
Someone needs to buyback all the shares on the market and turn Ajax back to a private club. Going public obviously isn't working for them…

OA welcome back mate !
Jalepino – I am working on buying back Ajax – got 20 shares now 200 million to go !!
Posted from
Singapore

@Jalepino
Exactly – private ownership is what is needed. Hopefully someone will see the potential that this club has – not just to win championships, but to produce and develop valuable ($$$$) talent. As a public company there are just too many conflicting points of view all trying to run the "show".
OJF

@Carlos: "Been and fellow board member Keje Molenaar said the members still supported Cruyff's technical blueprint" but they cannot cooperate with Cruyff and wanted him out. How ironic! We will take your idea, show you the door and will execute our own way (which in the statement above Van Gaal said that he would not adopt Cruyff's blue print). Can we throw these guys into the canal?
Posted from
United States

Hey Steve, didn't you say that past performance counted in our new fantasy league?
The software claims the coming matches will determine ranking and the games behind us apparently don't count?

Yea, we'll see after next week points get counted.. I might make the 'classic' version begin this weekend anyways as Jake is new (so his point totals will be way off if it's counted from week 1)..
So yea.. we shall see!
Posted from
Canada

Cool man. I made such a great run to number 5 in
our initial competition

Yeah i have the highest points in the league yet I'm still sitting 11th in the classic version I'd be top so that's a big difference.
I'm also ranked 172 000 out of more than 2.6 million.
Posted from
Australia
Comments are closed