Boring Barca and Ajax trashes Anderlecht
February 21st, 2011 | by: Jan |

Comments(67)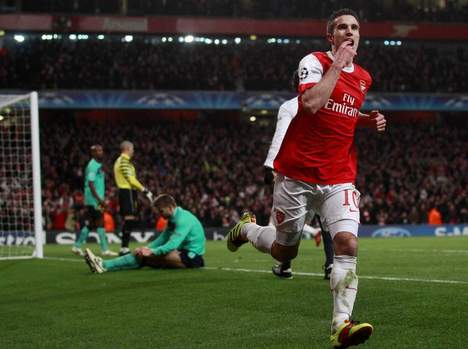 1000s apologies my friends… It is just so busy in my life at the moment. Exactly in a week inwhich our Dutch players performed so well… Robin van Persie, Van der Vaart and later Twente, PSV and Ajax…. It's sad that I didn't get to spend more time on this blog but at least I got to see some games.
And allow me to burst onto the scene with this comment:
I'm getting bored by Barca!
I'm sorry… For me it started already years ago when Ronaldinho was still in Spain and Craig Foster was having orgasms for everything the dentally challenged one did. I found Foster to be exaggerating but that then crossed over to the Spanish team and during the WC2010 the Spanish were saints and the Dutch were thugs and that built on my feelings for Foster but I will always – and I mean this – adore Barca and never hold it against them but… It does get boring. They play tika-taka as if there are no goals. They do need to sign Huntelaar! Or Van Nistelrooy. Or Drogba. Someone who says: give me the ball right now and I'll score it. The perfection they demonstrated against Real Madrid was cool because 1) we hate Madrid and 2) they scored goals.
But against Arsenal it basically bored the hell out of me, that perfect game they play, but where are the goals? Really?
Perfection is boring.
So when the lesser team – Arsenal – fought itself back into the game, with a brilliant Wilshere, and Van Persie finally got some tough chances ( and he always scored impossible goals, never easy ones), the game turned and I rooted for Arsenal.
The return in Camp Nou will be a match to watch. I'll need to set my alarm clock and I'll happily will. As JC said today: that could be the match of the year.
Johan Cruyff: "Barca had the best of the game in the first half because Arsenal used two holding midfielders, who were pushed to the center of the pitch. Barca used the flanks well and kept pressure on Arsenal. In the second half, Wenger did what any courageous coach would do. He switched to the Barca style with one holding midfielder and took Barca head on. Arsenal was simply more effective. But the evidence was clear: technically skilled football and good pass and movement always results in great football to watch. Arsenal won, but Barca wasn't played off the pitch. It could have been 2-2 or 2-3 even…"
And I have to say: I do believe Barcelona will crush Arsenal.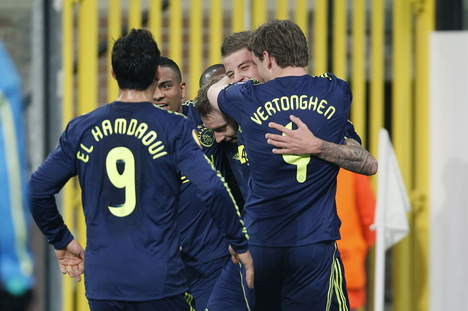 Over to Ajax. The Belgium players in Amsterdam were surprised to read in the papers that Anderlecht considered themselves faves in the fixture again Ajax. The Sons of Gods showed who's boss by trashing the Belgs in Brussels 0-3.
Vertonghen didn't get where his fellow country men found all that confidence. "it was a bit much. And they did start good, but after that missed penalty it was over. We played smartly. The return next week should be a walk in the park."
"This victory might have been a bit over the top," says Alderweireld," but we were the better team." The libero played a key role in the game. He scored the first and was instrumental in Eriksen's second and El Hamdaoui's third goal. The 21 year old needed to make way under Jol for a more experienced player like Ooijer but Frank de Boer doesn't want to know about it. De Boer: "And Toby showed today why."
Ajax is still inconsistent but the Ajax of De Boer has demonstrated more good football in two months than in five months under Jol. Sure, Ajax had some luck against Anderlecht, but his team did deserve the win.
Ajax positioning play was brilliant, with Cristian Eriksen – the young Dane – as the conductor. He had the assist on Alderweireld for the first goal, while the latter had a long pass for Eriksen to chase for the 0-2.
Subscribe

Netherlands World Cup Blog RSS Feed

Share
Comments

Robben is as good as Messi.
It's Messi/Robben
than Sneijder/Iniesta/Xavi/Scholes
than C Ronaldo/Rooney/Van der Vaart

http://www.youtube.com/watch?v=Dy_Pv2lHe_o&feature=player_embedded
This is why Messi disappointed against Arsenal!

I completely agree with Jan. That is what I was saying about Barcelona to everyone all the time. Everyone just worships them,especially Messi! I hate that!

i agree Jan. Even off the field those guys are boring especially Messi. He needs to talk some Cruyff language and quit being that guy who says all the right things.
Posted from
United States

I think you hit the nail on the head, Jan. Their game is great, but its the near religious experience that people have while watching thats really annoying. Messi this… Iniesta that…
Robben is as good as Messi, all the commentators focus on is his injury problems, and they criticize how he goes down easily.
Every player goes down easily, to get a call, not just speedy wingers and forwards, but even the burly central defenders and hard men in the midfield. A little pressure, down they go. No criticism.
I'm not sure if Scholes belongs with Sneijder and Xavi though. Maybe a few years ago…

Puhh. What is this anti-Barcelona crap? come on people.. Show some respect for the skills please. And no, I am not a "fan" ( I am just a fan for the dutch team). I support Barcelona over many teams though. The -money teams- like Real Madrid and a lot of Mancity and I can go on a long while. Show some respect, please for this team. I am critical myself but with respect, because Barca deserves it.
Posted from
Netherlands

Dont worry susanne,Barcelona gets enough respect.
We are saying that it is annoying because they get too much respect.

I agree with the sentiment…like all Oranje fans, we like to see teams play well, but nobody wants to see any team idolized…it takes the fun out of the game and gets tiresome.
And i do think Messi is a better player than Robben…Robben can do fancier tricks and moves, but Robben has never come close to scoring 40+ goals in all competitions…Messi is simply a machine, Robben (and Robin) is a magician, but Messi is a goalscorer.

@Jan: Scholes?
Posted from
Mexico

I don't think Messi is any better than Robben although Messi is normally fit so…all I can say is that Robben is up there with Messi
Posted from
Mexico

Am I wrong but was my friend Tiju being "punny" ? hahaha . "Tiju" mean that bro ?
Posted from
Singapore

Never ending kuyt saga
http://live4liverpool.com/2011/02/view-from-the-kop/is-he-a-dutch-delight-or-just-a-midfield-misfit

Who is this Tiju with a "little t??"
Posted from
Australia

off topic,
just went to discussion with a friend about FIFA ranking, orange sits second with only 164 point short against spain. With next two games coming, home & away against hungary, orange potentially get max 2440 points if they win, while spain potentially get max 2360 points against czech & lithuania, I bet czech can manage to beat spain at home with this current not-so-good form of spain (even a draw will put orange in number one spot without winning a title), let's wait in march—:>
Posted from
Australia

I mean if czech play draw against spain, and orange beat hungary, orange climb to number one spot.
Posted from
Australia

Tottenham is useless without van der vaart, they just miss out on chance to go third, lost 3-1 against blackpool
Posted from
Australia

The difference between Barca mentality and Cruyff mentality, is that cruff ask everyone to play for football only, while barca plays for catalonya being narrow minded in the catalonyan thinking and always searching for catalonyan football leaders…look at what the new barca president said the first thing he did as a president :is yohan cruyff position in barca legal? so what this means….it means the barca is a team for politics and not for football,
guardiolla has all this glamour because he is catalonyan, its impossible to win everything in the first year as a coach it means the one before him did everything RIJKARD is the man and not guardiolla, its just because he is lucky and catalonyan. we all witnessed how in experience he is against wenger in the second half of barca arsenal game….he did bad substitutions while wenger did right ones.
thats why i adore cruyff and the dutch football they play for the game for the whole world,they are playing football for the world without using any political reason
an no barca is not the best team in the whole world for the last century, feyonord 70 are much better,ajax 71-74 are much better, ajax 95 much better, eindhoven 88 are much better,ac milan 89 and 90 are much better
the dutch football is much better.

it me @ Leon i am the same

Barca is Cryuff with our cryuff barca doesnt exsist…i do agree that barca has catalunian menatlity…they will go worse once JC departs from barca…Guardioyolla is more focussed than rijkard.Rijkard was soft to players but Pep is not..his spirit is so high like maradona.he instills spirit to his players like cryuff does.he is open to cryuff's idea and he profit from that.

Oops, I forgot something, I copy-pasted this comment from Wissam in early January to bring up for when vPersie was on more than 6 goals in the EPL, who would have thought he would already be on 10 by now.
Not to annoy you of course Wissam, but when I read that comment I knew for sure vPersie was going to crush that number of yours, I had to copy-paste that and save for later.
By Wissam | January 7th, 2011 at 12:46 pm
RVP tried many flicks and tricks during the World Cup and he wasn't that successful. Ever since he got hurt in that stupid friendly against Italy, RVP's skills have declined. He scored 1 goal this season in the EPL, there are 17 games left. If he finishes this season with more than 6 goals in the EPL, I would then agree with all of you but if he doesn't, I would say Hunter should be the started for Oranje.
***
So Wissam, should Hunter or vPersie start against Hungary?
And at the EC probably?
Posted from
Netherlands

Van persie will not be available today because of knee problems, but wneger confirmed he will be playing the final this sunday

some reports saying : Barcelona has no objection in selling afellay this summer he recieved a good offer to sell him. their main concentration this summer to bring fabregas,Liverpool are interested and they will give an offer (10m this summer) also swap deal with alot of money ( in exchange with fabrigas ) to arsenal may also be available.

Sol, nice one! Tiju I wonder why Kuyt isnt a swimmer. he has lungs

Sol:
I do remember my number very well and I did concede that RvP proved me wrong. I also did mention that he won't score in any big game and he proved me wrong AGAIN in the Barcelona game.
Now, having said all that – I just don't see RvP fitting Oranje style play judging by WC performance and the fact that I rate Robben and Sneijder higher that RvP and thus Oranje should be built around them and not him.
You could argue and say that Robben's golden chance in the WC final was a back headed pass from RvP which is true, but I do still insist that Oranje is better off with a stronger / physical natural striker / finisher. To be honest, I think Ruud Van Nistelrooy is still my favorite.
If I was to choose an offense, here's who I'd go with:
Option 1:
Van Der Vaart – Affelay – RvP – Kuyt. These can play the passing game similar to Arsenal / Barca
Option 2:
Sneijder – Robben – Elia – Huntelaar. These can play the quicker dribbling counter attack game and Hunter would be an excellent ball poker in this system.
Posted from
United States

Yeah Scholes… I think Scholes is one of the best midfielders of the last 15 years…
Comments are closed