Boring Barca and Ajax trashes Anderlecht
February 21st, 2011 | by: Jan |

Comments(67)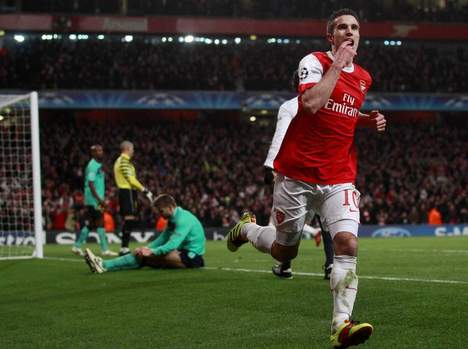 1000s apologies my friends… It is just so busy in my life at the moment. Exactly in a week inwhich our Dutch players performed so well… Robin van Persie, Van der Vaart and later Twente, PSV and Ajax…. It's sad that I didn't get to spend more time on this blog but at least I got to see some games.
And allow me to burst onto the scene with this comment:
I'm getting bored by Barca!
I'm sorry… For me it started already years ago when Ronaldinho was still in Spain and Craig Foster was having orgasms for everything the dentally challenged one did. I found Foster to be exaggerating but that then crossed over to the Spanish team and during the WC2010 the Spanish were saints and the Dutch were thugs and that built on my feelings for Foster but I will always – and I mean this – adore Barca and never hold it against them but… It does get boring. They play tika-taka as if there are no goals. They do need to sign Huntelaar! Or Van Nistelrooy. Or Drogba. Someone who says: give me the ball right now and I'll score it. The perfection they demonstrated against Real Madrid was cool because 1) we hate Madrid and 2) they scored goals.
But against Arsenal it basically bored the hell out of me, that perfect game they play, but where are the goals? Really?
Perfection is boring.
So when the lesser team – Arsenal – fought itself back into the game, with a brilliant Wilshere, and Van Persie finally got some tough chances ( and he always scored impossible goals, never easy ones), the game turned and I rooted for Arsenal.
The return in Camp Nou will be a match to watch. I'll need to set my alarm clock and I'll happily will. As JC said today: that could be the match of the year.
Johan Cruyff: "Barca had the best of the game in the first half because Arsenal used two holding midfielders, who were pushed to the center of the pitch. Barca used the flanks well and kept pressure on Arsenal. In the second half, Wenger did what any courageous coach would do. He switched to the Barca style with one holding midfielder and took Barca head on. Arsenal was simply more effective. But the evidence was clear: technically skilled football and good pass and movement always results in great football to watch. Arsenal won, but Barca wasn't played off the pitch. It could have been 2-2 or 2-3 even…"
And I have to say: I do believe Barcelona will crush Arsenal.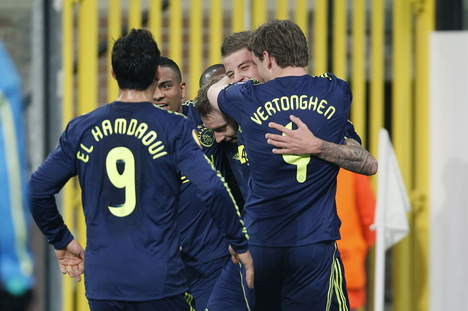 Over to Ajax. The Belgium players in Amsterdam were surprised to read in the papers that Anderlecht considered themselves faves in the fixture again Ajax. The Sons of Gods showed who's boss by trashing the Belgs in Brussels 0-3.
Vertonghen didn't get where his fellow country men found all that confidence. "it was a bit much. And they did start good, but after that missed penalty it was over. We played smartly. The return next week should be a walk in the park."
"This victory might have been a bit over the top," says Alderweireld," but we were the better team." The libero played a key role in the game. He scored the first and was instrumental in Eriksen's second and El Hamdaoui's third goal. The 21 year old needed to make way under Jol for a more experienced player like Ooijer but Frank de Boer doesn't want to know about it. De Boer: "And Toby showed today why."
Ajax is still inconsistent but the Ajax of De Boer has demonstrated more good football in two months than in five months under Jol. Sure, Ajax had some luck against Anderlecht, but his team did deserve the win.
Ajax positioning play was brilliant, with Cristian Eriksen – the young Dane – as the conductor. He had the assist on Alderweireld for the first goal, while the latter had a long pass for Eriksen to chase for the 0-2.
Subscribe

Netherlands World Cup Blog RSS Feed

Share
Comments are closed