Barca praises Cruyff, but can he do it for Ajax?
March 20th, 2012 | by: Jan |

Comments(96)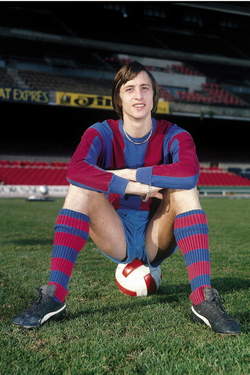 Michael van Praag is a big name in football management. The former Ajax chair is now chairman of the Dutch football association and involved with UEFA on a European level. The eloquent business man reflects on the Ajax situation of the last two years: "The whole of Europe was shocked when they heard what happened there. How can you appoint a new management behind the back of one board-member and a club icon? That is simply not done."
Van Praag is convinced that Cruyff doesn't deserve any blame. "Listen, Johan took responsibility by accepting the director's role. He put his name and reputation on the line to do the right thing and as a result was stabbed in the back. Appointing Van Gaal was the ultimate insult. Any director not realising that this was something you simply couldn't do should be a director…"
Recently, Van Praag was present at a management meeting with clubs like Inter, AC Milan, Bayern, Manu and Barca. The AC Milan guy asked the general manager of Barca: "What made you guys so tremendously good??" And the Barca man said: "It's the eight year we had Johan Cruyff at the reigns and his youth development vision." And the Barca manager added: "This is why we had eight self developed players in the CL finals and with more on the bench."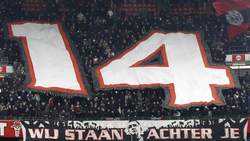 Interestingly enough, though, Ajax isn't doing so badly. As their youth team reached the finals of the NeXTGen series by beating Liverpool at home 0-6. And the Ajax 1 team is doing pretty ok in the Eredivisie, despite the many injuries (ok, this is something Frank de Boer will need to seriously look at!!) and the off-pitch shenanigans.
So, all in all, De Boer might be doing a tremendous job! Without Boerrigter, Sigthorsson, now Sulejmani, Van der Wiel and with many other injuries behind us (Boilesen, Janssen, Anita) and with a new goalie, Ajax is still on track to win the title.
And don't forget: if the ref had done a better job at Ajax-Real Madrid, Ajax would have gone through in the CL and would have drawn Hapoel!! And most likely would have won that!!
The football in Holland is getting more interesting by the week. The top 6 is so close. Feyenoord is finally on the way up. Thanks to Martin van Geel, Ronald Koeman and players like Karim El Ahmadi, Jordie Clasie and John Guidetti ( the latter offers the team the needed grit and hunger, while El Ahmadi and Clasie give Feyenoord some pizzazz in midfield).
AZ is doing tremendously well. Not just grabbing the points, surviving in Europe but also played some pretty sexy football.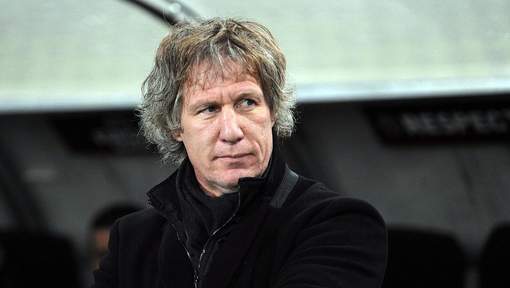 It seems that Gertjan Verbeek may have learned from his screw up at Feyenoord…
PSV is in a difficult phase. It's probably a good thing that Rutten moved on and if I was PSV I would NOT get Advocaat back ( the man is a money wolf and defensive and negative) but I'd give Cocu the key to the club. And leave him be for a while.
They spent some good money on players like Strootman, Mertens, Matavz and Wijnaldum. Now they need to spend money on defenders! And a good goalie.
Heerenveen is doing pretty good too. Always had great scouting and good youth development. Ron Jans is leaving a good side for Marco van Basten next season, with a tremendous forward three… Heerenveen could well keep these guys together for next season and make another step up.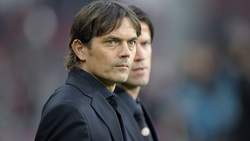 Twente had a difficult hick up this season as well. With Adriaanse being ousted for McClaren. Striker Janko left and Mr Umbrella Man will go back to 4-3-3 with Luuk de Jong as main striker. But as Twente has demonstrated over the last seasons, their scouting is impeccable and they'll bounce back from this and settle amongst the top ( Top 4) with Ajax, PSV and Feyenoord. And despite their loss to Feyenoord and their exit in the Europa League, Twente could still win the title this year.
So, with Oranje being top of the planet ( top 3 for years now) and our Eredivisie teams doing really well amongst themselves ( even if it's naive football at times) the only thing we need to tweak is our international performance at club level.
Because Oranje is still top! Despite the loss against Germany, I dare to say that any team with players like Robben, Van Bommel, Stekelenburg, Huntelaar, Van Persie and co. should be considered a top team.
Looking at players like Clasie, Fer, Wijnaldum, John and Narsingh you have to say that Holland simply keeps on presenting top players.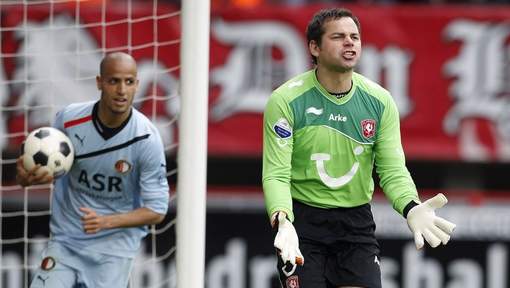 The only thing we need to improve is our physical and mental strength in international top duels.
And Feyenoord demonstrated this against Twente ( 0-2) when they – playing Barca-like – pressed Twente constantly, never allowing them to settle.
We can be proud of Ajax' adventures in Europe, this time around. They actually beat Real Madrid and they were equal to Man United, definitely the better team away. Well done!
AZ, Twente and PSV didn't do too shabby in Europe. PSV's defending in Valencia was shambolic and should be addressed! Twente lost against Schalke… Not a big disgrace in my book…
If we develop a bit more grit, a bit more hunger for the win, we will be able to better ourselves.
I learn a lot from Swansea in the EPL. They have the tiniest budget and no real big name players (although Vorm is on his way becoming one), but their tactics, discipline and desire compensate a lot. They beat Man City last week. They beat Fulham this week and are just below Liverpool in the standings. Number 8.
If they can do this in the EPL, Twente, Heerenveen, PSV, Feyenoord and Ajax should be able to perform in Europe. With the likes of Koeman, Van Basten, Cocu, Frank de Boer and….ok…McClaren to lead the way…
Subscribe

Netherlands World Cup Blog RSS Feed

Share
Comments are closed