Apologies for not being here for Eredivisie start
August 19th, 2011 | by: Jan |

Comments(102)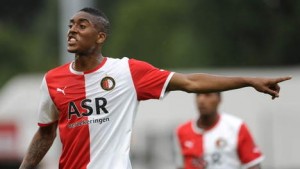 Fer: "I'll go to Twente…or no….wait…I'll stay…or…hang on…I'll go!"
Hello my dear friends, I owe you all a big apology.
I haven't been able to enter the fray in these rocky times. The reasons are very pedestrian and have nothing to do with football, unfortunately. I'm simply totally flat out with work and at the same time terminated from a job I held ( interim management) at a non-for-profit.
The politics in the place are disastrous and "they" decided to terminate me by end of August. Damn! Shoots a massive hole in my financials and your host with the most is not in a happy place. I'm terribly pissed off, angry, hurt, and concerned as I do not believe these people know what they're doing! It feels like I'm Bernd Schuster at Real Madrid
.
As a result, I missed the bloody Eredivisie start, missed most of the Premier League action, I only saw the Spanish Super Cup final and was appalled by Mourinho and his psycho antics!
C Ronaldo again didn't produce. Compared to Messi he's not even a poor man's Messi. He's a poor man's Elia, who's a poor man's Robben, who is a poor man's Messi.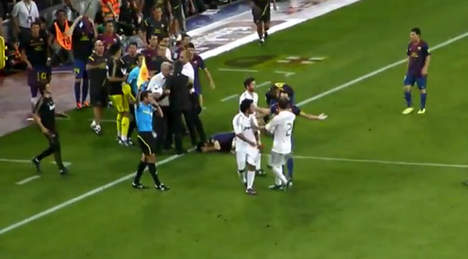 Jose is the Special One. Which means he can kick people and poke them when he loses games.
Let's quickly talk football: Feyenoord is off with a good start. You gotta give it to Ronald Koeman. He might have learned a little from his less than impressive stints at Ajax, PSV, Benfica and wherever else. Feyenoord plays fresh football, with without Ryo ( Arsenal), Wijnaldum ( PSV) and most likely Fer ( Twente??), I don't believe they have the consistency or width to actually compete for the first spots. But they surely play nice football.
Ajax impresses me. The football quality is old-fashioned good. Frank de Boer knows what he's doing. And to see Frank de Boer and Bergkamp on the bench with Blind and Davids on the stands is simply too good. Sulejmani will be the next big transfer and Daley Blind is impressive as center back. Vermeer is my only worry.
PSV underwhelmed. They have an ok squad, but Rutten might be simply too light for the job. But hey, I don't like PSV. I can't even get myself interested.
Twente and AZ will be outsiders. Twente relies heavily on Ruiz and if he lacks form or is suspended , Twente simply isn't as good. Chadli needs to prove it still and without Theo Janssen, Twente lacks the venom and pure class in midfield. But….Twente has Co Adriaanse! AZ is an interesting outsider.
For me, Ajax will win the title again and Frank might well build a great team for CL success. Maybe not a win, but at least some impressive football. Feyenoord will end up in the top 6 and Twente might have the legs to become number 2.
I focus my hope in Spain on Malaga and Valencia and the likes. Real Madrid has become the Dark Side for me. Mourinho and C Ronaldo together are too much to handle. While Barca has become otherwordly. The new dude on the right ( Alexis) is another Messi while Cesc in midfield turns the Bleugranas into the Harlem Globe Trotters of Football!
Exciting times ahead!

Jose kicks Cesc in the head
Subscribe

Netherlands World Cup Blog RSS Feed

Share
Comments

Lol..talking about size of talent pool of countries, my CITY Kolkata,which happens to be the capital of West Bengal (one of the 28 states in India) alone boasts a population of nearly 11 million..The whole of West Bengal has more than 90 million people and the country has nearly 1.2 billion citizens…Yet,we have never qualified for a World cup..Its all about the infrastructure,which nations like China and India so desperately lack!!
And yes,there are plenty of talents scattered across the subcontinent..We just need to focus on football and develop a healthy infrastructure to compete at the world stage. Alas,the monopoly of cricket has ruined this nation.

Abhirup, no offence, but I think any nation with a population over a billion should on ethic and moral grounds seriously consider trying to limit childbirth and improve standard of living for the inhabitants it already has.. lol, yes that means, less kids..

But indeed, sports popularity and infrastructure, together with population tends to decide where a country stands in a sport.
Posted from
Netherlands

india getting into football.. is my nightmare, lol.
Posted from
Netherlands

Hi Alex, I get your point, my apologies if I misunderstand you.
It´s a shame when Netherlands have a wonderful team, plenty of top class players even on the bench (like 1998) and these generations lost their opportunities.
My point is, Netherlands used to have great teams, but the players ambitions not used to be according of the potency of the team.
That's the first think need to be changed: believe in the potency and try to win the WC, and that's what BvM changed.
Maybe in 2014 we will not have a great team, plenty of top class players, but this 2010 team wasn´t too good either (like the 1998) and they reach the finals!
Not always the bets team win the WC, (the Germans are expert winning without the best team) !! I just hope to win the WC because lost 3 finals is so painful and unfair!!

about BvM and national team
http://soccernet.espn.go.com/columns/story/_/id/947437/ernst-bouwes:-the-changing-of-the-guard?cc=3888

Agree –
"I tend to concentrate on the way we're playing and my players' mindset – that's all that interests me. The opponent that this team really needs to fear is itself. "
Quote from Bert van Marwijk
After EURO 2012 – I hope Bert changes his minds and stays on a coach of Oranje – he really knows how to keep a "Dutchman" focused.!!!

Anybody know Vitesse Arhem team?? They are good? i have the feeling they have good young players…. is that true?
And what do you think about Rodnay Sneijder loan to Utrech and Castillon to RKC? i think Ajax is doing well to give experience to this young players in loan contratc. I hope this player can become in the next Ajaxs star!

@abhirup: That is not entirely 100% correct my friend. India actually qualified for the World Cup in 1950 but was banned from entering because they insisted on not wearing football boots and play barefoot.
True story. Just google it up

Van Marwijk: We've learned how to win
http://www.fifa.com/worldfootball/news/newsid=1496783.html
Posted from
Bosnia And Herzegovina

actually the fact is that they couldn't afford shoes!
Posted from
Bosnia And Herzegovina

@Finn: I know that story mate…Its my nation after all

Amen to Abhirup.
Finn its true we got a chance and that denial was pretty costly for our country.The fact is even in cricket they dont select the clever players.they look that whether the guy has idiotic pace.Although this game cricket doesnt requires brain and any fool can play it.The land is land of mediocre peoples.When the cricket team got some half clever players they won the WC.i mean Dhoni,Virat etc.
Posted from
United Arab Emirates

Just been emailed an apology from premierleague.com that our league is still been officially updated but these are the rankings after 2 matchdays. Now we can truly see how much importance we should give to each blogger according to their actual knowledge on football! Gutted to find myself 5th. (In case of a tie of point the game ranks the team with the more uncommon players selected as higher!)
1) EricOranje 101
2) IanWilkie 101
3) SteveM 99
4) JulianTako 99
5) SrinjoyvonRokkjaer 96
6) MihranMarkosyan 96
7) MarkGeschwind 93

PetervanderLoo 91
9) OranjeAussie 81
10) Primoscientists 79
11) PaulBartels 78
12) BartvanLeewuen 76
13) RamiEstephan 75
14) JadOranje 72
15) AhmedMazlom 65
16) Ajacied_23 58
17) JanRoskott 50
18) DaveHermans 47
Jan
, Jad
, Rami
, Bart
, primoscientists
, oranjeaussie
Eric
Posted from
Bosnia And Herzegovina

Srinjoy:
haha i appreciate your enthusiasm with the fantasy league, i love fantasy leagues…but this league has more to do with managing skills than football knowledge…fitting the best players into a budget is tough to do and while it does require skill, has little to do with football knowledge.
From the middle of the pack (#11).

Haha spot on paul..actually it takes extreme knowledge to build a squad with a limited budget because you need to know 20-25 players from each club by heart and you shud have seen each play atleast twice or thrice..so that you can fit in cheaper less known players that you secreatly know are quality and will perform when the stakes are high!
Posted from
Bosnia And Herzegovina

@Srinjoy: And I thought just like in the real world you just need more money than anyone else…

Srinjoy:
I see what you are saying…but some people may have great knowledge yet limited patience for analyzing the proper players for a fantasy team…i for one, even though i dont have a great deal of knowledge, needed to cut 10 million at one point and made some pretty rash decisions just to get it over with…in other news, earthquake in new york, and hurricane on the way AND robben and robin are both healthy…wtf is going on

I read the espn article. It has a very interesting ending which implies that Mourinho indirectly helped other countries but Spain for the Euro 2012. You discuss about football and population but there are many other factors as well, how good are the leagues/clubs, players development and how popular is the sport and so on. Passion is not enough and big population is not enough. Population is just one factor. I recalled that no team ever repeat Euro champions and the last team to repeat winning WC is the Brazil of 58 and 62. Losing 3 finals hurts a lot and like some people here, I'd like to see Netherlands win the WC once in my life time.
Posted from
United States

Good to see the fantasy league and I am very interested to see how everyone goes so do post the table every week after the games – Good Luck to all
Posted from
Singapore

Hey guys I currently sit tied for first. So if you have any questions about football I'm sure i have the answer

It's now official – Oranje tops FIFA rankings. Not a big thing, but a pleasant thing for sure

….and its official Oranje are fifa number 1
http://www.fifa.com/worldfootball/ranking/lastranking/gender=m/fullranking.html
Posted from
Greece

haha guys am just completing the fantasy table,am not premiere league follower,but will be as you made me getting enthusiastic to climb the ladder.
Posted from
Greece

Just what the dtoocr ordered, thankity you!
Posted from
Hong Kong

Please visit for beautiful skin n body player's:
Choosing a great rhinoplasty surgeon from the outset is the first step in ensuring your rhinoplasty goes smoothly and recovery goes well.
Our site can be an aid in hunting down the right rhinoplasty surgeon for you. please visit:
top rhinoplasty surgeons
Comments are closed