Andre Ooijer – anti hero disappointed…
May 21st, 2010 | by: Jan |

Comments(31)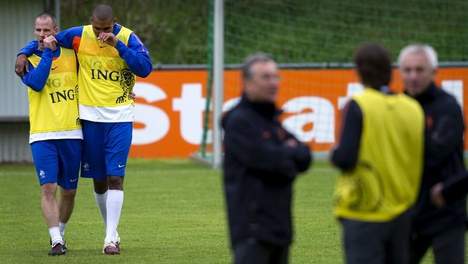 Even your humble blog-master has to really strain himself to write a post on Holland's least popular player. I don't think I ever dedicated a post to the lad. Arjen Robben, sure. Mark van Bommel? Many. Sneijder, Van Persie, Kuyt. They all score high on the list. But some players simply don't get the respect.
Not only that, most punters here like to see Ooijer go home. He has a lot working against him. There's the voice, to start off with. Like Gerald Vanenburg in the past. And Gerald could play! But when he did interviews with the squeaky voice, most fans lost it. Like listening to an interview with Mickey Mouse! Andre Ooijer doesn't fair much better. His style then… He doesn't have any. He's tall, lanky, clumsy and relatively unattractive (God, I hope these guys don't read this blog…).
He was developed at Ajax. Played with the big names in the youth system and as a result counts many top players as his personal friends. But where his mates dazzled the world, Andre was relegated to play for Roda JC. The most unattractive club in Holland, mainly thanks to the athletics court around the pitch. And the dialect, I suppose. Ooijer did make a move to PSV and became a cult hero there. In his prime, Andre was a solid defender. Mentally strong. A leader. And tough as nails. But his move to England – he was desperate to go – didn't work out that well. Not Arsenal, Liverpool or Chelsea for Ooijer. But Blackburn.
He returned home to his beloved PSV and lost his starting position rather quickly due to injuries. Fred Rutten: "Andre's years are starting to count. He isn't as fit as quickly as players in their mid-20s."
But, he did well for Oranje in the qualifications and one of Bert's strengths (and weaknesses) is his loyalty. Hence Ooijer's position in the squad right now. But will he make it?
And right on the day that Ooijer left for Austria with Oranje, he was informed that PSV won't renew his deal. "That was quite a message, yeah," Ooijer stuttered in Seefeld.
"The worst thing about is, is that I played my last game for PSV without realizing it. I love that club. I played there for ten seasons and loved every minute of it. Now, I haven't even been able to say farewell. That hurts, man." said the 35 year old.
Ooijer knew his coach Rutten had his doubts, but still. "I had some talks with certain club people and I wasn't too sure about my future, but I figured I could have value for another season. I'm not ready to retire. This farewell is too early."
Still, Ooijer can't take this pain too long. The defender isn't 100% sure of his spot in the squad and will need to focus on Oranje. "That's what I need to do. Switch my focus. If I do well for Oranje, my other issues will disappear. Other clubs will come. I have played all qualification games and need to demonstrate to Van Marwijk that I'm his man. And then, who knows? I want to play at least one more season. We'll see which club shows up. PSV did tell me they have a job for me as youth coach. That sort of supports me. PSV will always be my club."
Subscribe

Netherlands World Cup Blog RSS Feed

Share
Comments are closed