Andre Ooijer – anti hero disappointed…
May 21st, 2010 | by: Jan |

Comments(31)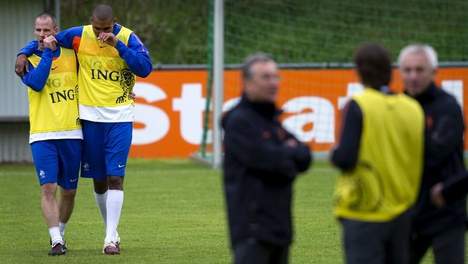 Even your humble blog-master has to really strain himself to write a post on Holland's least popular player. I don't think I ever dedicated a post to the lad. Arjen Robben, sure. Mark van Bommel? Many. Sneijder, Van Persie, Kuyt. They all score high on the list. But some players simply don't get the respect.
Not only that, most punters here like to see Ooijer go home. He has a lot working against him. There's the voice, to start off with. Like Gerald Vanenburg in the past. And Gerald could play! But when he did interviews with the squeaky voice, most fans lost it. Like listening to an interview with Mickey Mouse! Andre Ooijer doesn't fair much better. His style then… He doesn't have any. He's tall, lanky, clumsy and relatively unattractive (God, I hope these guys don't read this blog…).
He was developed at Ajax. Played with the big names in the youth system and as a result counts many top players as his personal friends. But where his mates dazzled the world, Andre was relegated to play for Roda JC. The most unattractive club in Holland, mainly thanks to the athletics court around the pitch. And the dialect, I suppose. Ooijer did make a move to PSV and became a cult hero there. In his prime, Andre was a solid defender. Mentally strong. A leader. And tough as nails. But his move to England – he was desperate to go – didn't work out that well. Not Arsenal, Liverpool or Chelsea for Ooijer. But Blackburn.
He returned home to his beloved PSV and lost his starting position rather quickly due to injuries. Fred Rutten: "Andre's years are starting to count. He isn't as fit as quickly as players in their mid-20s."
But, he did well for Oranje in the qualifications and one of Bert's strengths (and weaknesses) is his loyalty. Hence Ooijer's position in the squad right now. But will he make it?
And right on the day that Ooijer left for Austria with Oranje, he was informed that PSV won't renew his deal. "That was quite a message, yeah," Ooijer stuttered in Seefeld.
"The worst thing about is, is that I played my last game for PSV without realizing it. I love that club. I played there for ten seasons and loved every minute of it. Now, I haven't even been able to say farewell. That hurts, man." said the 35 year old.
Ooijer knew his coach Rutten had his doubts, but still. "I had some talks with certain club people and I wasn't too sure about my future, but I figured I could have value for another season. I'm not ready to retire. This farewell is too early."
Still, Ooijer can't take this pain too long. The defender isn't 100% sure of his spot in the squad and will need to focus on Oranje. "That's what I need to do. Switch my focus. If I do well for Oranje, my other issues will disappear. Other clubs will come. I have played all qualification games and need to demonstrate to Van Marwijk that I'm his man. And then, who knows? I want to play at least one more season. We'll see which club shows up. PSV did tell me they have a job for me as youth coach. That sort of supports me. PSV will always be my club."
Subscribe

Netherlands World Cup Blog RSS Feed

Share
Comments

just imagine a catastrophe scenario: boulah is left,ooijer goes to south africa. we are in the semis against england. heitinga cannot play because he's suspended. matthijsen and vlaar face rooney. vlaar gets injured after 45 minutes. ooijer replaces him. what the hell could he do against rooney?
Posted from
Hungary

@ferenc: That is indeed a catastrophe scenario

Fernec buddy, that could happen even in second round…
but one thing we should not forget that Ooiger never screwed us like kuyt did.Sorry Finn..he was a trustworthy diffender even though he never had the glamour of Stam,Ferdi and Terry..We must be thankful to him and he must understand the situation and should make the way for Bulah with out troubling BVM.
I dont think BVM is blind ,only the problem is BVM's "Thankful mentality",otherwise i am damn sure Bulah will be flying to SA.
B/w i dont think none of of qualifying opponents had messis,Ronaldihnos,Christianos,Nanis etc so it was not a good parameter to measure our diffence.Look at Defoe did to us in friendly….thats just warning…….
Posted from
India

@Orange Dutchman – lol at the 'silky sweet moves'. I'm not trying to bash Ooijer at all, but that is not a silky sweet move. All he did is touch the ball out of the way of the oncoming tackle (and looked like a clumsy defender doing it as well), and it just so happened that the two sliding defenders slid in just right to make it seem like a nice highlight reel clip. I think you need to watch more of Sonneveld's videos on our fantastic four to see what real silky sweet moves look like!
Still, on the topic of Ooijer, I have no problem with him going to SA as a backup defender. He knows the setup inside and out, he's a leader with the boys, and he's been solid for Oranje for a long time already.

Yeah, I don't know why people are so much against Ooijer. But that is always the case when players turn old, doesnt matter how good they might be or perform. When Henrik Larsson turned 35 many Swede's said "Drop him!" even though he was obviously still the second best striker in the nation, behind Zlatan Ibrahimovic.
Sure, Ooijer is not good enough to play in the starting eleven. He never has been. He doesn't do mistakes, but he will have a hard time stopping the very best opponents. But that goes out to basically all Dutch central defenders at the moment.
I think he could go as a backup defender. I don't mind. I think he's valuable at the training pitch, showing with his toughness that you can't just walk around, getting nervous of injuring yourself, no, you gotta give your best in training to be as good as possible when its time for a game.

And I have no clue why people want Boulahrouz to go to SA. His performance against Russia in Euro 2008 was just horrible and he was the main reason we didn't go through that day. His performance against Portugal in World Cup 2006 showed that his nerves can't handle that pressure. Totally idiotic yellow card in the eight minute, another one in 63rd. I don't feel at all more safe with Boula than with Ooijer.

Lerkot..i do agree that Bulahhruz is not a brillant footballer/your opionion he may be idiot but dont forget that Afaleey is another idiot too..Bula Plays with his heart for orange..He has more agility and speed than ooiger..We need that ,we have brains in Heitinga,Gio co..So we can accommodate him,We dont have another option so we have to take OOiger or Bulah..
Agree that he doesnt have the silky skills of Vanderweil,partially you are right on loss against russia.toatl team played with an arrogant complacency.it was a collective fault except Dejong and Znijder.But dont forget that he played against Italy,France and Rumania and we scored 9 goals..what else you want??…BVM know that Brapheid and Bulah are not at all comfort with the ball.it is like in between sea and Devil.You have to pick one..
Anyways BVM is the coach and he pick the 23.If i was the man i would have gone for Bruma/Brouwers instead of bulah and Ooiger
Posted from
India

Hamburg's coach has said that getting Afellay would be a great deal. Afellay hasn't ruled it out. Reports are PSV are trying to El Hamdoui with money made.
Ryan Babel injured himself in training this morning, I don't think it is too serius but it is a setback he can't have right now.
I don't like Ooijer, he did a job for us but that time is over. A solid defender in his prime maybe, but he is so old. I personally hope he gets cut. Heitinga and Mathijsen are the best we have now and Vlaar will be helpfull aswell.

But it is sad that he didn't get a farewell with PSV.
Maybe we should tell everybody he is cut, start him in our next game, he can have a nice farewill……and than cut him
.

@sonneveld – "Ryan Babel injured himself in training this morning, I don't think it is too serius but it is a setback he can't have right now."
Not to be too much of a bastard, but if this means that Lens goes instead of him it's possibly a blessing.
Posted from
United Kingdom

Sentiment and previous performances dont say anything, Ooijer doesn't deserve to play based on his qualities at this moment, he's not good enough anymore. leadership, loyalty talk is bullshit. We don't need someone to talk in the dressing room, we need a player, who can play on the field, without embarrassing himself.
Posted from
Netherlands

Right you are!

@Alex – I agree with you somewhat that sentiment and previous performances don't really count for anything, but I do believe they show that he's done it before for us not all that long ago, and I feel that he'd be able to raise his game to that level again if he was called upon. Also, the past experience means he's already completely familiar with the Oranje backline, and sometimes that's almost as important as talent. But anyways, I'm more of a attacking player kind of guy, so I'm by no means an expert on defense…

Good Words – Alex ! by the way – If babel is injured Ruud will get the call !
Posted from
Australia

ermmmm I am in Indonesia (Bali) not Australia
Posted from
Australia

have a nice time in bali,Carlos bro! my favourite place in planet earth
Posted from
Hungary

Unrelated to Oranje, except in how it will affect Van Persie, what do you guys think of Barcelona's imminent move for Fabregas? Will Arsenal accept it? What will happen if they do?
Personally I have a feeling that there's a possibility it may turn out like another similar move from Arsenal to Barcelona a few years back (I'm talking about Henry of course). Before moving Henry was injured more than not (pretty much describes Cesc this season), and after moving he never really achieved the same heights as he did at Arsenal. He was always second fiddle behind Eto'o and had to make do with being pushed out to the wings – not his preferred position. If Cesc does end up moving, how can he expect to achieve a place in front of Xavi and Iniesta? He couldn't in the Spanish side, so why would Barcelona be any different especially considering how much more established that pair is there. Or would he just be cover for when one of them is injured? Surely he wouldn't be satisfied with that role…
Another thing to consider is that maybe it'll turn out like Juve and Zidane in 2001. Before then Juve was going through a similar silverware dry spell, and their best player was undoubtedly Zidane – then Real came calling with a huge offer of money for their star player. What did they do? They sold him and used the money to buy three other great players to build their team upon: Gianluigi Buffon, Pavel Nedved and Lilian Thuram. What happened after that? They won the next two Serie A titles and made it to the CL final.
Either way, Arsene has his work cut out for him this summer transfer window – and I hope this time he finally goes for a few established stars to compliment his youthful stars. I can't go through another 'wait till next season'…

@Carlos – wait a minute… not only do we not have to take Babel, but we get to replace him with Ruud instead??? That would be great news! Talk about killing two birds with one stone!

hoping that engelaar, babel & ooijer being dropped. We already have boulah and gio over-the-hill but experienced guys in the team. How many Opa's do we need in the team to tame the not-so-young ones anymore? whatever happens, we are going to win!

Oh yeah, I forgot to include the article I read comparing Arsenal and Juve:
http://www.football365.com/story/0,17033,13320_6162383,00.html

I've noticed more and more players being left out of World Cup sides because of bad attitude, rather than a lack of skill. I think coaches want players who will stick together more than anything.

@ Tiju
Relating to Bouhlarouz's performance against Russia…perhaps it had something to do with his child dying days before that game.
In 2006 he should definately have gotten a red for the challenge on Ronaldo but it was Figo's atrocious dive that got him sent off.
Posted from
United States

Babel is hardly old- he's 24. And he has still proven more than Lens. Babel trains and plays against top level defenders. Until Lens does that I will always choose Babel over him.
Posted from
United States

i dont really mind if Oojier sticks around. you can see from all the photos that he is great to have around. if he stays there is a reason. if he is let go, fine, we all know why.
i agree with the theory that the team that sticks together like a band of brothers will have an advantage over a bunch of all-stars playing together… didn't Portugal only finally qualify once CR9 was injured? hmmmm.
@Caleb, my twin, as an Arsenal fan as well, i am actually not too worried about Cesc moving on. he will eventually and it would be nice to get to stop hearing reports before every major tournament and after every Arsenal loss throughout a season. i dont really bother with doubters who complain that Arsenal hasnt won any trophies recently and thats why top players leave, bla bla bla. i dont really come from the school of fan who thinks a teams value comes from its trophies – its because i enjoy the play. i would rather a team at least try to play great football and come 2nd or 3rd then watch a Chelsea or City buy a team who will plow their way to a trophy on bad calls and set pieces. in fact, i like Arsenal because they put out young players. there are lots of great players coming through with no better man then RvP to guide them, and would Cesc be as good has he not have played over 200 EPL matches and he just turned 23? hard to say.
also, had RvP not gone down, i fully believe Arsenal would be holding the EPL title right now.
@Primoscientist, wasnt it the night before the Russia match where boularouz lost a child?
also, in my opinion, if Babel has proven anything, its that other players should have a chance to prove themselves over him!
Posted from
Canada

Steve, couldn't agree more with you about arsenal the values/style of play it stands for, but I have to say that if Cesc left this summer it would hurt a lot more than when Henry left for example, because it was obvious that Henry was no longer needed because both van Persie and adebayor (ugh) were rapidly improving and often the team played better when henry was out injured rather than playing. Now with cesc that is a different story, there is no doubt that the team plays better with him and desperately need him. I have no problems with him going back to Barca, but in two years time not now.
…but back on topic: how about that kuyt guy eh? (just kidding, we don't need to revisit that again)
Posted from
Canada
Comments are closed