Oranje meets "300″: Erwin Olaf impresses!
May 16th, 2008 | by: Jan |

Comments(16)
What connects the Dutch football team, the testosterone fueled movie "300″ and brilliant photographer Erwin Olaf?
Oranje-fever. That's what. It's starting… We only need to get through the Dutch plsy-offs and the dreaded CL-finals and then Holland will turn Orange!
The AD newspaper commissioned Olaf to shoot pics of our heroes for their EC-special and the results are awe-inspiring.
I am probably infringing copyrights here, but I just have to publish these pics. I can only say: hats off, Mr Olaf, for a job well done!
If we will get to see only half that spirit on the pitch come June, we'll not only win the title but also eat, digest and spit out all our opponents. Including that Maniche guy, where ever he'll be in the summer….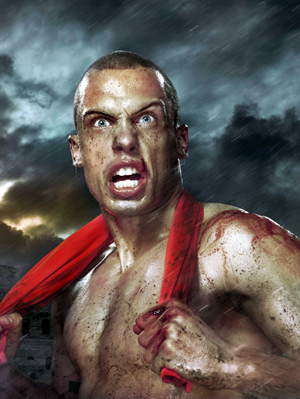 John Heitinga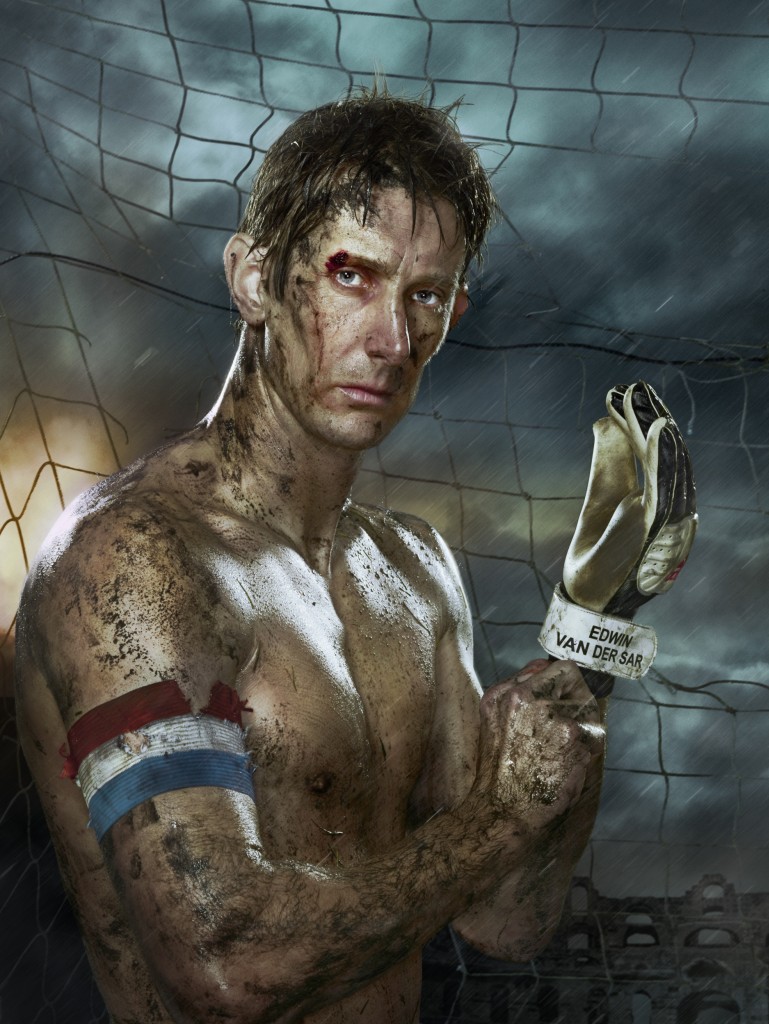 Edwin van der Sar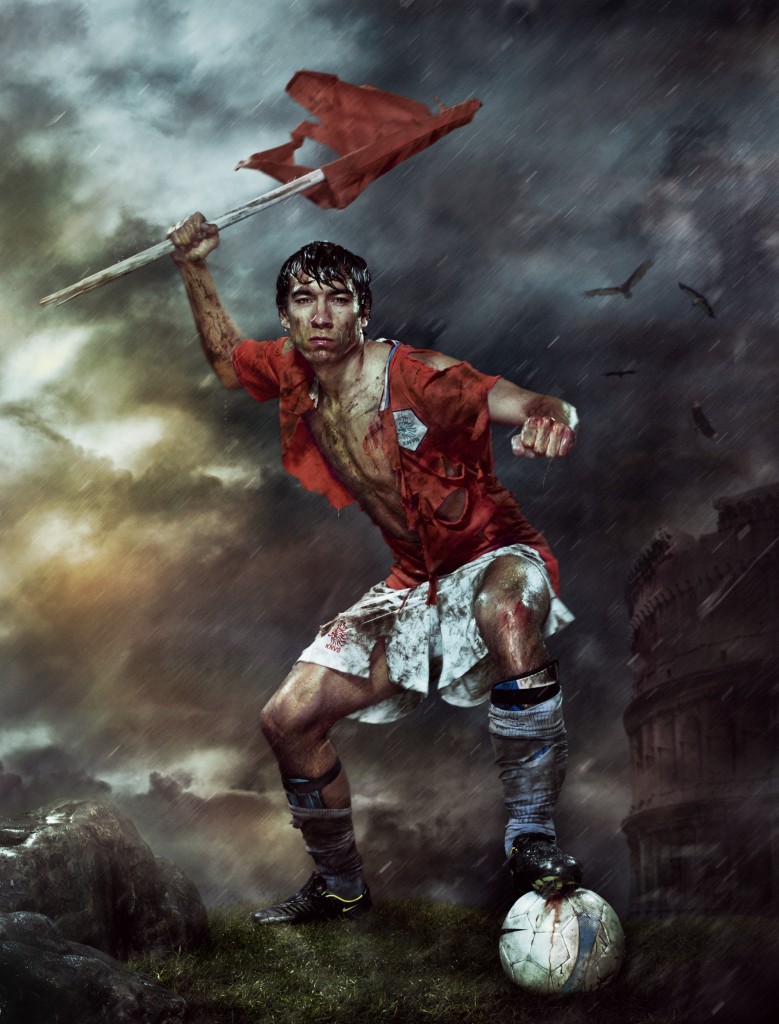 Gio van Bronckhorst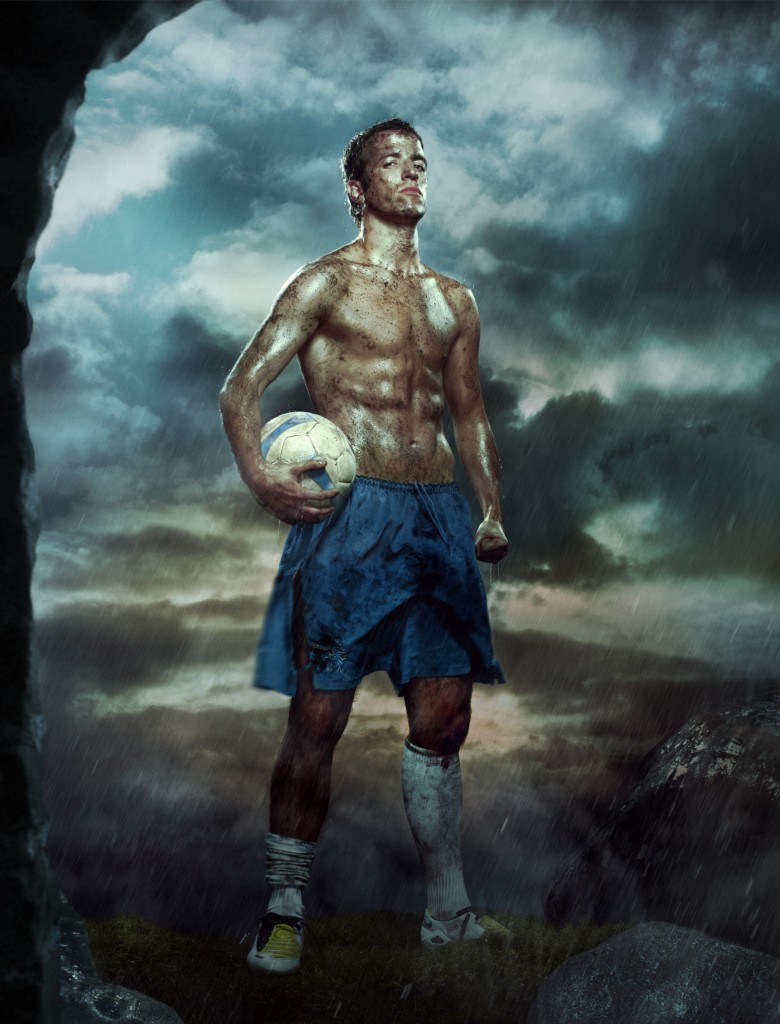 Rafael van der Vaart
Goose, buy that special! (by writing this I can maybe stop Mr Olaf for suing me using his pics on this site. Man I love his work…)
Subscribe

Netherlands World Cup Blog RSS Feed

Share
Comments

Wow, thats awsome… No Van Persie or Huntelaar though??????
Posted from
Australia

Well, very impressive pics of warriors.
Keep this spirit, guys !!!!!!
I wish the revenge against Maniche, Helder Postiga, Deco, Cristiano Ronaldo, Scolari and all these portugese cheaters §!!
Portugal : world champion of diving in the grass.
Posted from
France

The news is out, but I didn't want to push these beautiful pics from the top spot on our blog.
So, I'll give you the facts in this comment: Kew Jaliens, Danny Koevermans, Urby Emanuelson and Hedwiges Maduro are out for the EC!
Maduro lost out against the holding midfielder competition of Landzaat, De Zeeuw, Gio and Engelaar, Koevermans lost out against Vennegoor and Emanuelson can focus on the Olympics.
Jaliens is out, but…. Khalid Boulahrouz is back in
.
The Sevilla defender is fit and over his injuries. Van Basten realizes he might need a fierce "300″-like defender and wants to see during the trainings-camp how fit Boula really is!
Other news: Eto'o, Deco and Ronaldinho are allowed to follow Rijkaard to Camp Nou's exit doors. Ronaldinho will probably move to AC Milan. Deco says he will move either to England or Italy and Eto'o is in the picture at Spurs or Internationale…
At the same time, Cristiano Ronaldo hints at a move to "Spain". Which top team is in need for a new striker next season? Right…
Posted from
Australia

@agree with Marco on the choices he made…Boula is a surprise…guess we can always use him if we play Portugal, well see Ronaldo crying like a baby again!! YES!!
would hate to see Ronaldo go to Barca…
Jan; do you want me to buy for you this book of Erwin Olaf?? did not understand your comment
Posted from
Netherlands

Haha, great pictures. Very warrior like.
About the selection, about what I expected. And I agree with Goose that we could probably use Boula to be a bastard again if we play Portugal, and everybody loves seeing Ronaldo crying like a baby
Posted from
Canada

Van der Sar's is definitely the best picture by the way.
Posted from
Canada

Holland squad: Boschker (FC Twente), Van der Sar (Manchester United), Stekelenburg (Ajax),Timmer (Feyenoord);
Bouma (Aston Villa), De Cler (Feyenoord), Boulahrouz (Sevilla), Heitinga (Ajax), Mathijsen (Hamburg), Melchiot (Wigan), Ooijer (Blackburn);
Afellay (PSV Eindhoven), Van Bronckhorst (Feyenoord), Engelaar (FC Twente), De Jong (Hamburg), Landzaat (Feyenoord), Sneijder (Real Madrid), Van der Vaart (Hamburg), De Zeeuw (AZ Alkmaar);
Babel (Liverpool), Huntelaar (Ajax), Kuyt (Liverpool), Van Nistelrooy (Real Madrid), Van Persie (Arsenal), Robben (Real Madrid), Vennegoor of Hesselink (Celtic).

off topic, but if you want to relieve the EC88, here is a nice little overview of the tournament:
http://soccernet.espn.go.com/feature?id=530726&cc=5901
btw got to see Gullit in action the other day coaching the LA galaxy (they came to my town for an exhibition game)…they managed to lose, deservedly, to a lowly Canadian team, perhaps highlighting how much better of a player than a coach Gullit was.
Posted from
Canada

@Igor; yes, Gullit lost much of his stature after becoming a manager…just comes to show you that a great player doenst make a great manager per se….he was a great, great player…most underestimated
Posted from
Netherlands

Hi Goose, no I just wanted to let you know that as you live in Holland you have the chance to buy it. There's more pics in there. It's the EC-special (EK Bijlage) of the AD, that's all
.
I like the pics. A lot!
Posted from
Australia

Boulahrouz has never impressed me–I would rather see Kuijt play outside defender, based on his work rate and tenacity. As to the comments about Boul needed for "enforcement" purposes against Portugal, please remember World Cup '06. Boul was a big pain, played poorly, set a nasty tone that, together with poor officiating, send the game into a poor quality match. I believe his selection was a poor choice. We want the Dutch to win on skill, tenacity and teamwork, not by foul play intimidation. Until the Netherlands football program understands the importance of and develops gifted defenders, it will struggle in international tournaments. Think of that wonderful '98 team and the highly talented and determined back line. Ten years later, the Netherlands team back line is several notches below the '98 defenders group.
Posted from
United States

hi i am bit happy,
jaliens,kovermans,urby got dropped but maduro was bit unlucky
hope kuyt will follow them
go babel go ahead of that useless donkey(kuyt)
last time san marc made two mistakes
1-dropped hantlaar
2-benched nestel rooy gave chance for kuyt(haiselink is far better than kuyt as a striker)
this time
1-dropped drenthe( A pure mentor and matchwinner).
2-Going to make mistake again if selecting dirk kuyt
according to availabilty
my line up
14231
van dar sar
Melchiot,heitinga,ooiger, de cler
Englaar,De saaw
Afaleey,Van persie,Roban
Nestel rooy.
i hope the results will be
Vs italy ofcourse we will have ball possession final result will be
italy=2(header goals from luca toni and materazi)
Holland=1(nestel rooy/Znijder)
Vs France
france=3(can predict who will score benzema?,ribery? henry?
Holland=1
Vs romania
Holland =3 or 2
Romania=0
Goals from nestel rooy/hantlaar and znijder/vanpersie.
back to amsterdam on 18 june.

Hey – nice photos! Gio looks a bit of a skinny numpty though!!!
Great to hear Boulah's back – before he went to Chelsea he was Oranje's best defender. I've not seen him for Sevilla and I wonder if he's ever recovered from being frozen out. Still, if he has then it's great news because he's got a lot more about him than Mathijsen. Some of you lot were beying for a hard tackling, tenacious, grab the game by the scruff of the neck, Davids type player. Boulah's a MUCH better answer than Kuyt.
Sorry to see Maduro out – from what I gather De Zeeuw hasn't really done anything useful for a while and Engelaar's completely unproven at international level. Does De Jong merit going ahead of him too? Debatable. Maduro's done well for Oranje before, is young and has bags of potential. He needed to come to this one.
Koevermans is no surprise, Vennegor offers something different to Ruud and Huntelaar. Urby had no chance. I'm a bit disappointed about Jaliens, but I thought he'd be gone.
Posted from
Japan

To Igor – I don't think Gullit's a great manager, but I do think he's been unlucky. At Chelsea, he didn't do a bad job at all. He won an FA Cup in his first season as player manager (highly unusual in a top flight league), Chelsea's first trophy in 26 years, and got them 6th in the Premiership. He was sacked the following season with Chelsea in 2nd place. This was before Abramovich came. In fact, it could be argued that Gullit was a major reason Chelsea are what they are today. He attracted the glamour players from the continent and set the ball in motion. Gullit brought in Gianfranco Zola who regularly appears in the Premiership's top 5 players of all time. Ruud also signed Roberto Di Matteo, Frank Le Boeuf, Gianluca Vialli and Gustavo Poyet – all fantastic signings and some of the best players to play in the Premiership. He also signed Torre Andre Flo for next to nothing.
At Newcastle, he reached the FA Cup final. The following season he fell out with Shearer and that was really the end of it. Let's be fair, Newcastle are a bit of a joke club and as soon as you get on Shearer's wrong side you're buggered. He was sacked again without much of a chance to make a mark.
I don't know much about his Feyenoord stint but I gather it was a bit of a shambles – only finishing in fourth and Feyenoord don't seem to have recovered.
As for LA Galaxy – they were crap before Gullit came. He has an ageing pre-madonna who hasn't played his heart out at club level for years. Seem like the Newcastle of the MLS to me – think they have a god-given right to do well because they're a bid city, but make joke has-been signings and splash cash in all the wrong places. Once again, I can only feel Ruud's at the wrong club.
Posted from
Japan

@Bob; you cant have a team with all ballerina's, you need some 'butchers' aswel..i dont think a central defender needs to be very skilled on the ball per se…as long as hes strong and quick and good in the air its fine with me
since vBommel is not there this team needs anothers asshole
@Rob; all true, but Gullit is a laizy person and a laizy manager…think he could be much better than this
Posted from
Netherlands

@Rob, good analysis about Gullit. At Feyenoord he started well and he did get Kalou to play some great football. A lot of players were sad to see him go.
Erwin Koeman and Bert van Marwijk showed how hard it is to get Feyenoord back to where the belong(ed).
Posted from
Australia
Comments are closed