Oranje, it's now or never…
June 19th, 2008 | by: Jan |

Comments(24)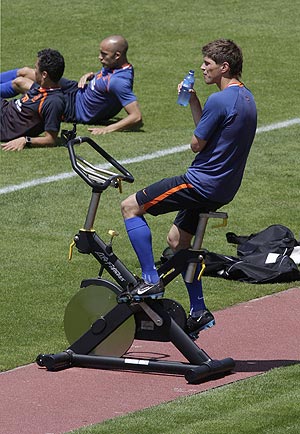 Huntelaar is training for the Tour de France: " Imagine, winning the title and the yellow jersey in one year!"
Oranje finished its entrees, but the group is still hungry. Holland wants the title and everything will need to be sacrificed to get it. Marco van Basten doesn't look back at the Group of Death but focuses on the task at hand: the quarter finals. And Oranje's perspective has changed: starting the tournament as an outsider, Saturday Oranje will be the favorite.
The players watched the Russia – Sweden match with anticipation and before the game most players rooted for Russia. Not only because of Hiddink but mainly because Russia seems to allow their opponents to play. And as everything seems to go Oranje's way, Russia it is!
On the first training after Romania, it was the A-group who had to work hard this time around. The players who defeated Chivu and co. were allowed to do some loose walking and games with the ball.
At the end of the training, Van Basten had an intense talk with Van Nistelrooy and Arjen Robben. Other than that, Wesley Sneijder displayed his wonderful form by scoring from every position and angle.
Although Sneijder has played a very tough and full year of top football, he doesn't seem tired. At all. When Van Persie is confronted with the issue of fatigue, he says: "What? Fatigue? At this EC? Man, it's eight more training session and three games! We all have lots of reserves left to give it our all."
Marco van Basten doesn't want to dwell to long on the remarkable atmosphere in the Dutch camp. The group feel, as Van Nistelrooy calls it. Van Basten: "Ah, you know…when you're winning, there is always good vibe."
Van Basten may try to put everything into perspective, one of his golden boys speaks his mind. Van Persie: "I can feel it in my gut, we will win the title. We are creating something spectacular and I want to be part of it. I feel as if we can't be defeated."
Wesley Sneijder doesn't need as many words: "It's now or never!"
Van Basten doesn't give anything away about the line up against Russia, but the feeling is that the Dutch team manager wants more depth in Oranje's game play. A return in the starting line up of Arjen Robben seems logical. Van der Vaart will move back to a holding position, probably resulting in Engelaar moving to the bench.
This would mean a line up with Van der Vaart, Sneijder, Robben, Kuyt and Van Nistelrooy: five creative, attacking minded players. Not done in international football, but Van Basten has demonstrated and hinted that he is happy to give it a go.
"I think Rafael and Orlando are comparable in their defensive play. Rafael will do what he has to do," were his exact words on the matter.
It seems Van Persie will have to start from the bench again, presenting Van Basten with an important joker in case the team needs it. Robin van Persie showed already how valuable he can be when brought on.
The Arsenal striker won't make trouble if this would be the case. Van Persie: "I accept any decision by the coach. I am confident he will do whatever is best for the team. I trust him unconditionally."
Subscribe

Netherlands World Cup Blog RSS Feed

Share
Comments are closed