Oranje, it's now or never…
June 19th, 2008 | by: Jan |

Comments(24)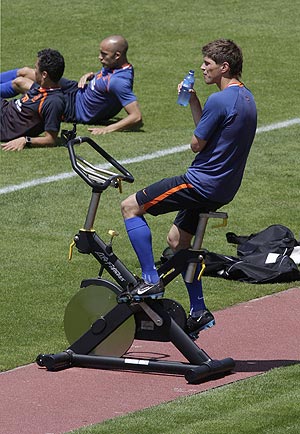 Huntelaar is training for the Tour de France: " Imagine, winning the title and the yellow jersey in one year!"
Oranje finished its entrees, but the group is still hungry. Holland wants the title and everything will need to be sacrificed to get it. Marco van Basten doesn't look back at the Group of Death but focuses on the task at hand: the quarter finals. And Oranje's perspective has changed: starting the tournament as an outsider, Saturday Oranje will be the favorite.
The players watched the Russia – Sweden match with anticipation and before the game most players rooted for Russia. Not only because of Hiddink but mainly because Russia seems to allow their opponents to play. And as everything seems to go Oranje's way, Russia it is!
On the first training after Romania, it was the A-group who had to work hard this time around. The players who defeated Chivu and co. were allowed to do some loose walking and games with the ball.
At the end of the training, Van Basten had an intense talk with Van Nistelrooy and Arjen Robben. Other than that, Wesley Sneijder displayed his wonderful form by scoring from every position and angle.
Although Sneijder has played a very tough and full year of top football, he doesn't seem tired. At all. When Van Persie is confronted with the issue of fatigue, he says: "What? Fatigue? At this EC? Man, it's eight more training session and three games! We all have lots of reserves left to give it our all."
Marco van Basten doesn't want to dwell to long on the remarkable atmosphere in the Dutch camp. The group feel, as Van Nistelrooy calls it. Van Basten: "Ah, you know…when you're winning, there is always good vibe."
Van Basten may try to put everything into perspective, one of his golden boys speaks his mind. Van Persie: "I can feel it in my gut, we will win the title. We are creating something spectacular and I want to be part of it. I feel as if we can't be defeated."
Wesley Sneijder doesn't need as many words: "It's now or never!"
Van Basten doesn't give anything away about the line up against Russia, but the feeling is that the Dutch team manager wants more depth in Oranje's game play. A return in the starting line up of Arjen Robben seems logical. Van der Vaart will move back to a holding position, probably resulting in Engelaar moving to the bench.
This would mean a line up with Van der Vaart, Sneijder, Robben, Kuyt and Van Nistelrooy: five creative, attacking minded players. Not done in international football, but Van Basten has demonstrated and hinted that he is happy to give it a go.
"I think Rafael and Orlando are comparable in their defensive play. Rafael will do what he has to do," were his exact words on the matter.
It seems Van Persie will have to start from the bench again, presenting Van Basten with an important joker in case the team needs it. Robin van Persie showed already how valuable he can be when brought on.
The Arsenal striker won't make trouble if this would be the case. Van Persie: "I accept any decision by the coach. I am confident he will do whatever is best for the team. I trust him unconditionally."
Subscribe

Netherlands World Cup Blog RSS Feed

Share
Comments

just heard a nice little trivia;
Oranje has played 6 times on june 21 , the last times was the 2-1 victory against the germans, we have never lost a game playing on the 21 st!
on a serious note; think it will be a 4-2 kinda game…dont think we can expect to keep a clean sheet with 2 team who are so lightning quick in attack
we play a simular kind of game, we dutch are just a bit better at all departments
Posted from
Netherlands

Your title "it's now or never" is a plagiarism of my comment in the previous article. But it's all good though…we are all here for the same cause…Oranje. Great article, Great insights, Great Job…Thank You!!!
Posted from
United States

What was :"Van Basten had an intense talk with Van Nistelrooy and Arjen Robben." about? Did you hear what was said? Hey Jan, are you in Switzerland with the Dutch Team, as part of their Press corps?
Posted from
United States

Nice to see vdv moving back a line and bringing on robben. Engelaar, even though I like his game and style, is just a bit sketchy at this top level.
Posted from
United States

I'm worried about vdv on that back line, to me Engelaar has provided the extra height to keep the defense out of trouble at the back, no matter how sketchy he was against France (ghost like was his performance) but his other two matches he held up very well and I quite enjoyed his play.
To me Van Basten should stick with the status quo, nothing against Robben or Van Persie, but they play so well when the defense is tired and are half a step behind the two lightning quick forwards. But that's just my opinion on the matter. As long as they keep the ego in check and play total football I'm just happy to be a supporter watching the action.
Posted from
Canada

i have feeling the dutch are going to play italy again if they beat russia.
Posted from
United States

Oranje will beat their former coach and the Ruskies and Spain will beat the Italians. Holland-Spain will be a great game!! Hup Oranje, laat de leeuw niet in z'n hempie staan!
Posted from
United States

hes going with the line he wanted to open the tourney with, and i think we have to trust MvB.
Also, as much as im jinxing the team, I think Russia is a team we can shake up the lineup, and if it isnt as efficient we can still walk away with a win. If you are going to try it, to make your team even better, you have to try it now or never.
Posted from
United States

I'm so glad that Russia are through. They played a great game against the Swedes. It should make for an attractive match. My only worry is the pace and speed of ball movement that the Russians have, i hope that the Oranje can handle it. I'm sure we will.
On another note, the final is on the 30th of June (something i only just learnt a few days ago) and that is my birthday!! It will be the best possible present if the Dutch are playing in the final and go on to win it. I think it's a good sign; i'm never dissapointed on my birthday.

Whoa
. Goose, you beat me with this trivia… I've got a posted waiting for that one, haha.
No, I'm not in Switzerland, but in Australia. After the night match I have a couple of dusky hours to copy, paste and make up posts (I steal from the AD, Telegraaf, NU.nl, VI.nl and other newssites).
Sorry for stealing quotes there
. I think Sneijder used it as well. Let's sue him, he's richer than I am.
I support Robben's come-back. Against Russia, we need depth and width. I have all the confidence in Raf who is my invisible hero of this team (like Gullit in EC1988).

I agree with Kyle. Even if Engelaars passing leaves something to be desired, his height works well in terms receiving the opposing team's goal kicks not to mention someone that is a scary site to run into.
As long as Holland fight for the ball as intensely as they did with Italy – they will win – the tournament, not just Russia.
HUP HOLLAND!
Posted from
Canada

Why are people criticising Englaar?! He's been quality in ALL THREE GAMES, especially his passing.
Posted from
Japan

We repeat the performance of 1988 against Russia!
Posted from
Hong Kong

Am I crazy to think Huntelaar should start against Russia , instead of the Great Van Nistelrooy (no disrespect, to him, of course, he is my favorite striker in the world currently). I say so because, Huntelaar has scored 33 goals in 34 matches for Ajax this season, he scores in every game he plays for the Oranje. Maybe he is not workaholic like Ruud but he scores everytime he plays. So I hope Van Basten will give some thought to that suggestion, but I know Ruud will soooooo not be happy, and the team chemistry will be destroyed.So I guess, the answer from him will be NO.
Posted from
United States

Van Nistelrooy's job isn't always about scoring. He'd said so himself: he's also needed in a support role, when the others have a better chance at scoring. I think his experience and his versatility make him a must in the game. It doesn't matter that he doesn't always score, it does matter that he can provide his skill for the team in other areas of the field when it's necessary, and he does that beautifully IMO.
Like our second goal against France, Van Nistelrooy made a brilliant move that allowed Robben to get the ball and get rid of 2 players at the same time to rush the left flank. And our fourth goal, where he was all alone up ahead with the ball, keeping the ball to pull the defenders to him, then passed it away at the right time so Van Persie was all clear to do as he wished (and he passed to Sneijder, who was practically free of being marked as well). When you already have so many top strikers in the team, there's no need for another pure striker. You need one that can do more than go for the goals.

And my opinion of Engelaar is that he still isn't ready against strong teams. He did only OK vs Italy. He was absolutely horrible vs France. I didn't bother watching NL vs Romania longer than the first 15 minutes because it was a snoozefest, but even if he did well again: who cares? Romania sucked that game. He needs to be on top of his game against strong teams that have strong midfielders, and so far he hasn't shown he can do that.

my guess is that Engelaar wont play… i cannot believe people writing that he played well… i think he was the weakest link by a mile during the last 2 games ;only against the old italian midfield did he get enough time to ' do his thing' ; the guy is just too slow
i think vBasten will play vPersie and will let vdVaart move on the Engelaar position
Posted from
Netherlands

I agree with the Pro-Engelaar camp. And Van Basten said it too: whenever a holding midfielder gets in trouble, nine out of ten times it's because his team mates up front either didn't put pressure on the opponent's build up or the mates don't make themselves available. Bassie said Engelaar played a so-so match against France, but it wasn't entirely his fault. And I concur with San Marco… Or…he concurs with me
He will play Robben from the start I think. Marco will want to use Robin maybe in the semis or final. Remember, he is still not 100% match fit. The Romania game wasn't important as such, so Robin could do the 90 minutes and take some moments rest. Against Russia, everyone needs to be 100%. Robin will get his chance. Anything can happen yellow card and injury wise.
Against Russia, we need depth. They leave space behind their defense. Lots of it. And they're left full back is a pretty good player so Kuyt starts on the right to keep him – Zirkof? – back. Robben left and Sneijder central.
When Robben or Kuyt are "empty", Robin will come on and steal the show, hahahahahahhahaaaaaa (mad scientist laugh again!!)

Engelaar or De Zeeuw? My opinion is – you can't test the reliability of DMF in the games against much wicker teams. Now those 2 r at the same level. The only thing E. already played 3 games and has been REALLY tested twice. It's his debut in tournament like this and in general, he quite succeeded. Also he has good understanding with De Jong and rest of the team (even France game wasn't so awful). Anyway, we gonna get all answers after the game against Spain(or Italy). But till this moment my choice is Twente' Monster!
Posted from
China

Van Basten – I think you are crazy to suggest Huntelaar starts instead of Van Nistelrooy

But seriously, Huntelaar was not very convincing for me in the Romania game. Too many loose first touches and not enough contribution in the build up play. I think he has a bright future but there is no way he should replace Van Nistelrooy.
Posted from
Canada

I think that Robben's true skill shines most when he comes on as a super-sub, like others have mentioned, to take advantage of the defenders tired legs. from the start i find that robben plays with "blinders" on too much, and forgets that often his teamates are better positioned than he his and he should therefore pass earlier. i mean there's no doubt that he's able to run the ball all the way down the pitch 8/10 times but what is the point if once he get there everyone is covered…on the flip side, he would be more effective by passing the ball early and opening up the opposition (remember, even robben can't run as fast as a passed ball).
otherwise, like Jan, i think that vdv has been the unsung hero of the team and that is maybe why he will the one to drop back into the holding role, his mentality (if not his skills) will allow him to adapt. but i don't think that this really suits him, and come on marco, do you really think that vdv tackles as well as engelaar? personally i'd rather see the same line up that started the first two games…engelaar may not have been spectacular but gets the job done most of the time and i think that the likelihood of russia winning is much greater if they score first, so why invite them to do so by changing the team's balance? like i said i think robben and van persie make excellent subs, and keep the pace of oranje's play high just as the opponents begin to tire. if we play all of the best right from the start who do you bring on to maintain that pace of play (which IMO is really what killed italy and france)?
but so far van basten's has been bang on with the strategy so let's hope it continues…
Posted from
Canada

@Jan; my friend..how come we cant seem to get an agreement on Engelaar..i mean; we both have seen the games, how come i see a player who just cant cope with the speed of play and you dont, i dont understand….
and im sure vBasten is trying to keep Engelaar as confident as possible so he will never critize him
@Irog; agree on vdVaart, he really plays for the team, a different role than at HSV..
Posted from
Netherlands

Guys…Engelaar is no Davids but he has played nice. Against Italy he was very strong and against France he had trouble but remember that he has only played less than 10 international games and it seems he has played for Holland for many years. He is a player that we shouldn´t be critizing like that because he has shown interesting things during the EC.

@MR; with all respect; but Engelaar only playing for Twente is not my problem…
so can anybody tell me what it is they like about Engelaar?? maybe an example from a game??…
cant understand
Posted from
Netherlands
Comments are closed