PSV grabs first prize; Oranje looks to Oz
August 24th, 2008 | by: Jan |

Comments Off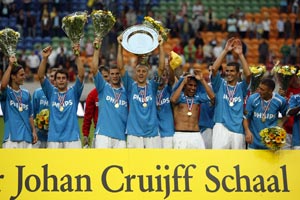 The Johan Cruyff Schaal (Dutch Supercup) is won by PSV, in a predictable match against a weakened Feyenoord. I haven't seen the match, but from what I read here and there, PSV won deservedly against a not-so-badly playing Feyenoord. In the first half, PSV seemed to be too hasty. Feyenoord could play along well and got some chances even. In the second half, PSV scored 2-0 to win the cup. Two headers, by Danko Lazovic and Olympic defender Dirk Marcellis.
Huub Stevens was satisfied with the team's performance in the second half. Gertjan Verbeek thought his team did surprisingly well, but had to admit that PSV was further in their progress than his injury-plagued Feyenoord. The former Heerenveen coach did have some criticism on the KNVB for picking the Amsterdam Arena for this match: "If they want the nation to take this cup seriously, why don't we play on a good pitch. The grass was too long, many players had trouble staying on their feet. I'm not saying we would have won on a better pitch, but at least the fans would have seen better football."
Oranje will prepare soon for the Sept 6 friendly against the Socceroos (yeah, that means I get to watch it!). The same 19 players were called up plus Ryan Babel, back from Olympic duties.
Subscribe

Netherlands World Cup Blog RSS Feed

Share
Comments are closed