Wonderful tribute to Jaap Stam
July 28th, 2008 | by: Jan |

Comments(8)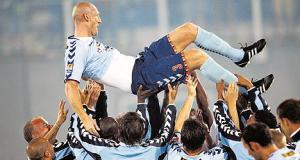 Jaap Stam said farewell to pro football in Zwolle, the city where his career started. Guus Hiddink, Dennis Bergkamp and Clarence Seedorf were present.
There was a real chance Stam's tribute game "fell in the water", as the Dutch say. Cruyff's testimonial was ruined by Germans ( 8-0 defeat against Bayern Munich with Ajax), Stam's had to be postponed for rain for almost three quarters of an hour.
The All-Star team of former Stam-mates (without Romario and Maldini) played against Ajax. They drew 3-3.
The players enjoyed themselves before the match as well. Ajax player Gabri saw his old Barca mates, coach Hiddink explained to his colleague Carlo Ancelotti that he really wanted to use the Italians in the second half and Stam made sure his mates were mentally ready for his last hurray.
Stam's team looked fresher than Ajax and took a 3-0 lead, thanks to Cocu – twice – and man of the match (!) Marc Overmars. Ajax fought themselves back thanks to Rommedahl, Leonardo and Slijngard.
Ajax didn't seem ready yet, after having played two simple prep matches against amateurs. The Sons of Gods suddenly had to face a team full of top class players.
Ogararu had an off day against the still very fast Marc Overmars while Patrick Kluivert almost scored a wonder goal after a technical trick.
Jaap Stam was happy. "I am so happy these people all came to Zwolle for me. And not just the players, I'm talking about the fans as well. I was never really happy with my career, there was always something higher to strife for, but this… This really gives me a great feeling."
Stam's future is a tad vague, still. "I would like to train the youth or maybe do scouting. For now, I'm happy I can do what I want for a change."
No more Jaap Stam on the pitch, but we will always have the "type Jaap Stam". What is that exactly, Seedorf? "A classic top defender, a dying race. A real pro. I am really happy Jaap can say farewell in this way. Wonderful."
A Tribute to Yip Jaap Stam:
Subscribe

Netherlands World Cup Blog RSS Feed

Share
Comments

I guess most of you will all hate me after this, but I have to say that I always thought Jaap Stam was a good and decent player, but never a great one.
I know from reading previous posts a lot of you rate him very highly. Personally, just never saw it. The tatoo thing, shaved head, all of a sudden the "hooligan" look, I don't know. He always thought he was awkward and a penalty waiting to happen. Maybe being a Liverpool & Ajax fan didn't help either.
Actually, in a way he is a bit of what we need at Oranje today. Can KNVB please sponsor some Barber no.1's and tattoos for the team or at the very least let Van Bommel back in to the team so we can scare the opposition a bit for a change. Van Persie and Robben swapping stamps with the other team after the game is hardly "it" at the moment…
Where is the "terminator"?
But he achieved great things on the pitch which is what counts. I salute him on his retirement and wish him and his family the best for the future, but he is not in my book in my all time starting 11 by a long shot.
He would however clearly be in the Dutch all-time tractor driving starting eleven though.

"He always thought he was awkward and a penalty waiting to happen. Maybe being a Liverpool & Ajax fan didn't help either"
That should read: "I always thought he was awkward and a penalty waiting to happen. Maybe being a Liverpool & Ajax fan didn't help either"
Sorry.

Finn, I'm with you there buddy. I agree. I think I posted something along the same lines some months back and copped some flak. He "acted" the tough defender, but in all honesty, he actually was a very good and solid defender of course… But, as Goose will remember, he was a shy and timid and stuttering farmer boy when he just made it into PSV
.
But, I'm a fan anyway
Go Jaap!

I think as a player he should only be judged on his playing, not whether he stuttered or what kind of car (?) he drove or whatever.
I rate him (like SAF) one of the best defenders we have had. Him and van Tiggelen were absolute NAILS and tree trunks! Both had a lot of speed too. Koeman,Rijkaard, Haan,de Boer etc were footballers not defenders per se. Right now we could do with another Stam. The only one who I think comes cose in speed n guts is Boulah. But there is still no comparison.
Posted from
Singapore

agree with Jan and finnster; although Jaap was a great defender i always thought he was overrated… guess he ' grew' into his imago (is that english??) like Davids did
i guess its interesting to know that Stam is a very quiet, down to earth person, maybe he needed his ' hooligan look' like a popsinger needs an alter ego on stage?
btw; people always tell me i look like Stam so he cant look that dangerous!! haha
but eh; he was a great defender (esp. for a dutchamn) and is still missed in Oranje
Carlos; very true on Koeman, Rijkaard etc.
Posted from
Netherlands

It was interesting to see those couple of pictures in the video where Stam still had his hair… very different!
Also, I'd love to see some highlights from his fairwell match, anyone know any links?
Posted from
Canada

@Caleb; you ask, we deliver!! haha
http://uk.youtube.com/watch?v=Oflo6l8oQms
(poor quality btw, think its filmed with a phone)
riots after the match
http://uk.youtube.com/watch?v=krHT25cefxY
grtz
Posted from
Netherlands

Thanks Goose! And after watching that first one I found a link to more highlights:
http://uk.youtube.com/watch?v=4z5gzJzAPV8&feature=related
Posted from
Canada
Comments are closed