Jaap Stam farewell match with Romario and Maldini
July 1st, 2008 | by: Jan |

Comments(19)


Arsahvin: "I'm sorry I never had to chance to play against Stam… NOT!"
Jaap Stam is one of those players who took the long and winding road to the top. Never acknowledged by the selection-masters of Zeist when he was young, Stam started his pro career at FC Zwolle. Went to Cambuur before making a name for himself at Willem II. There, he played full back and sometimes midfielder and impressed with his runs from box to box. At PSV, Stam was converted to center back and decide to invest heavily in his strongest asset: his mentality and concentration.
Stam was fast for such a big boy, a great header and physically strong. Another strength was the fact that he knew what his weaknesses were. Still, Stam was a much better player than most people think, but he stuck to his role: disarming the opponent and passing the ball to a better player. The fact that as a youngster, he was never seen as a talent helped him in his career. He always worked super hard to prove to his new employers and his criticasters that he could do the job. I still remember how he was called up for the EC1996 late before the tournament (another defender got injured). Stam was filmed how he went to the KNVB costume designer to have a fitting for his suite. Stam was shy, overwhelmed and humble. Stuttering before the cameras. He'd make his debut on the EC1996 on the big stage in England and never looked back. After PSV, the big man went on to play for Man United, Lazio Roma and AC Milan. His last employer was Ajax (not a bad resume), but he had to stop earlier than he wanted. The big, strong body and the focussed brain couldn't handle top football anymore.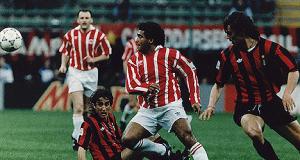 Romario: "I don't know Jaape Stamme but I just wanted to play in the FC Zwolle stadium again…"
On July 26, Jaap Stam will play his farewell match in the FC Zwolle stadium and a number of big names from the Haute Cuisine of International football will be there: Paolo Maldini (AC Milan), Romario (PSV), De Brothers De Boer, Jordi Cruyff, Phillip Cocu, Clarence Seedorf, Edgar Davids, Aron Winter, Dennis Bergkamp, Marc Overmars, Wim Jonk and Patrick Kluivert will be the other players in Stam's team, coached by none other than Guus Hiddink. Other international names that will support Stam: Pippo Inzaghi, Gennaro Gattuso and Allessandro Nesta.
Stam's Star-team will play Ajax, coached by Marco van Basten. Who knows, maybe Marco can outsmart Guus this time after all…
Subscribe

Netherlands World Cup Blog RSS Feed

Share
Comments are closed