Jaap Stam farewell match with Romario and Maldini
July 1st, 2008 | by: Jan |

Comments(19)


Arsahvin: "I'm sorry I never had to chance to play against Stam… NOT!"
Jaap Stam is one of those players who took the long and winding road to the top. Never acknowledged by the selection-masters of Zeist when he was young, Stam started his pro career at FC Zwolle. Went to Cambuur before making a name for himself at Willem II. There, he played full back and sometimes midfielder and impressed with his runs from box to box. At PSV, Stam was converted to center back and decide to invest heavily in his strongest asset: his mentality and concentration.
Stam was fast for such a big boy, a great header and physically strong. Another strength was the fact that he knew what his weaknesses were. Still, Stam was a much better player than most people think, but he stuck to his role: disarming the opponent and passing the ball to a better player. The fact that as a youngster, he was never seen as a talent helped him in his career. He always worked super hard to prove to his new employers and his criticasters that he could do the job. I still remember how he was called up for the EC1996 late before the tournament (another defender got injured). Stam was filmed how he went to the KNVB costume designer to have a fitting for his suite. Stam was shy, overwhelmed and humble. Stuttering before the cameras. He'd make his debut on the EC1996 on the big stage in England and never looked back. After PSV, the big man went on to play for Man United, Lazio Roma and AC Milan. His last employer was Ajax (not a bad resume), but he had to stop earlier than he wanted. The big, strong body and the focussed brain couldn't handle top football anymore.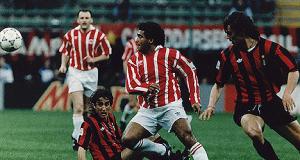 Romario: "I don't know Jaape Stamme but I just wanted to play in the FC Zwolle stadium again…"
On July 26, Jaap Stam will play his farewell match in the FC Zwolle stadium and a number of big names from the Haute Cuisine of International football will be there: Paolo Maldini (AC Milan), Romario (PSV), De Brothers De Boer, Jordi Cruyff, Phillip Cocu, Clarence Seedorf, Edgar Davids, Aron Winter, Dennis Bergkamp, Marc Overmars, Wim Jonk and Patrick Kluivert will be the other players in Stam's team, coached by none other than Guus Hiddink. Other international names that will support Stam: Pippo Inzaghi, Gennaro Gattuso and Allessandro Nesta.
Stam's Star-team will play Ajax, coached by Marco van Basten. Who knows, maybe Marco can outsmart Guus this time after all…
Subscribe

Netherlands World Cup Blog RSS Feed

Share
Comments

Romario: "I don't know Jaape Stamme but I just wanted to play in the FC Zwolle stadium again…" hahahaha…well done
I like Stam but he most be one of the most overrated(hyped) footballers in dutch history
you say he was a good footballer..i say he wasnt… i remember a tv programm (Harry Vermegen en Henk Spaan, the dutchies here will know) where as a joke Jaap had to give a cross on Harry Vermegen who was about 10 meters away..and Jaap couldnt get the cross in…it was pretty embarrassing
i have always believed that Stam was made better than he was by the media..he looked dangerous (and bald, or dangerous because he was bald) and was big
dont get my wrong; i think Stam was a great defender on national level and a decent one at internationaland and i think he has done great with the limited qualities he had
Posted from
Netherlands

Guys,
I think he was our best player at EC 2004 after Robben. His calm reading of a situation was most impressive.
Posted from
Australia

Guys,
I think he was our best player at Euro 2004, after Robben. His calm and composed reading of the game was always impressive.
Posted from
Australia

I actually liked Stam very much, we don't have a defender of his quality at the moment. Heitinga, Mathijsen, Boulahrouz are far behind Stam. Of course, at that time Stam had Fran de Boer as a support which was great for him but Stam was fast and was hard on opponents, that's something we don't have as you could see Arshavin and Pauvlychenko dancing around our defenders and not one of them gave them a hard kick. I like Marcellis very much, he seems to have a bright future.

Stam was OK for his time. He would have been a disaster and a penalty generator in todays game now that they are cracking down on holding (or are supposed to). He was far too clumsy, but in his day I thought decent but never great.
We need a big commanding CB but with a bit of skill also. Especially noe that we have to deal with dodgy goalkeepers. A Les Ferdinand/John Terry would be ideal, but I see no Dutch version unfortunately. Major concern in my book. Can't count on EVDS sorting out the slip-ups anymore.
Posted from
United States

He was one of my favourite defenders, mainly because of his attitude on the pitch. A Strong defender, looked… eh… ugly and could frighten attackers… Just by his presence alone, you had a stronger defence. No mister nice-guy. Matthijsen looks… like the ideal son-in-law…
Posted from
Netherlands

@lowiesje; ugly cause he was bald?? watch what you say!! hahaha
Posted from
Netherlands

Don't know why Alex Ferguson got rid of Stam at Man U. Stam was a tower of strength. I didn't read Stam's biography, anybody did?
Bald or not, Stam was excellent in ORANJE's defense.
Posted from
Singapore

Unrelated news – de Ridder joined his old Boss Steve Bruce at Wigan Athletic… great !
Posted from
Singapore

i'm sorry to say it but de Ridder suck.
Posted from
United States

Stam wrote something about Sir Alex in his biography. I don't think it was backstabbing, but he did spill some dressing room beans and Sir Alex couldn't accept that.
Funny man, Sir Alex. Now he said that Sar can take as long as he wants holiday-wise because he trusts that Edwin will know exactly what his body needs, etc etc. On the one hamd, he is a really good motivator, on the other hand he sometimes reacts like a jealous spouse…

Seems to me Sir Alex is very temperamental. I don't think Stam or Beckham have absolute spoilt brag character issues. Get in his bad books and you are not on the first team anymore. Think one of the reasons top players think a thorough lot before joining Man U could be because of the man. Sure you can win trophies but …
Interestingly, I used to be a fan on Man U in the 80s, 90s. Still is but not all that crazy anymore.
Posted from
Singapore

You can add Van Goal to Alex's shitlist. Once someone is there, time to look for a new club.
Posted from
United States

finnster:
Stam actually played in todays game. 1998, 2000 and 2004 hasn´t changed from 2008. He was great, with mental toughness and a rude guy. Hopefully Heitinga can fill that space inmediately because he has had his chances and now seems like if he doesn´t get perhaps Marcellis, Donk, Vlaar or other young guy like van der Wiel or somebody else will do it.

I remember Stam as that farmers' boy from the country. A hick. Timid, shy and overwhelmed when in front of the cameras. He would talk very fast and stutter. He was endearing in a way. I think he sort of got that "tough guy" look to protect himself a bit and became a hard-ass in order to survive in the macho world and dressing room in England. He's the typical example of the underdog, taking the long and winding road to the top with his mentality as his strongest point. Many young talents at Ajax, Feyenoord (De Ridder, Van Persie, Kluivert and many others who grew up without any setbacks on the pitch until they reach the seniors) could learn a lot from him…

@Jan; think you hit the right spot…Stam still does stutter a bit..that is also exactly what i mean wgen i say Stam was hyped…his persona got a bit 'rockstar'like…guess 'terror Jaap' the defender was the Ziggy persona of the farmersboy from Kampen
Posted from
Netherlands

True. I found it funny when I suddenly saw him with those tats and driving a jaguar! It just didn't suit him. He needs to be riding a tractor for work on his land in Kampen and then drive home in a..Landrover? I don't know…

Haha.Nice posts on Stam.I remember a commentary during WC98 in a Holland match where it was said that he was immensely popular in England and it was also said that "Stam" in Dutch language means tree-trunk which mimics his physique.It was possibly the Brasil game where Jaap played awful.I think he was a decent defender and served his country to his potentials.I am always a fan of people who make it to the top and was not born with silver spoons in their mouth.Adios Jaap.
Posted from
Australia

i believe he truly was one of the best defenders of his generation but still i think we might see a dutch defender become better than Stam in the near future, given the amount of talented players, if only Ryan Donk were to become more of a solid defender, he would have a physicall advantage over Stam, being more athletic an refined as a footballer than Stam. who knows watt will happen. Although i was a fan of Japie, he always did his absolute best and it paid off, he might have made a mistake now and then, but most of todays so called world class defenders don't seem so much better i tell you. have you seen Puyol against Germany, he now and then looked like an amature, or that Portuguese guy Ferreira, Mertesacker, Metzelder, Carvalho, Philipp Lahm, Capdevila, Thuram, Gallas, Barzagli, Materazzi……the list goes on.
Posted from
Netherlands
Comments are closed