Hot transfer news
July 1st, 2008 | by: Jan |

Comments(17)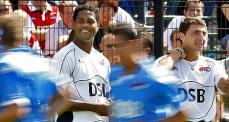 Deco will move from Barcelona to Chelsea. The Portuguese midfielder will be reunited with his Portugal coach Scolari.
Patrick Kluivert returns to Holland! He will move from Lille to AZ Alkmaar and will be reunited with his old Ajax and Oranje coach Louis van Gaal. Kluivert is not at AZ as a player though, but as student-coach since he's started the coaching-course in Zeist. Shota Arveladze – former Ajax and AZ striker – will be joining him.
Australian international and NEC player Brett Holman moves to AZ, as a player.
As mentioned in the comments before, U21 winger Daniel de Ridder will leave Birmingham City. The former Ajax talent played a couple of impressive games in the first team, but couldn't make in New York. I mean, Birmingham…
Adebayor hopes to leave Arsenal soon and play for Barca.
Eric Cantona wants to return to football as a coach. " I want to be the best coach in the world!". But he can't. Louis van Gaal is already the best of the world…
Ajax wants to sign Henrique of Barca on loan.
UEFA has major doubts about EC 2012 in Poland and the Ukraine. The latter doesn't seem to be on schedule.
Subscribe

Netherlands World Cup Blog RSS Feed

Share
Comments

Jan
de Ridder's luck changed when Steve Bruce left. He thought of de Ridder as another Giggs. When McLeish came on the scene and de Ridder did not get any playing time, he actually said something like this. "You are too technically gifted, you belong in a team like Arsenal or ManU." To which de Ridder reponded (typically Dutch) "OK get me a transfer there!"
I like de Ridder and he did remind me of Giggs those few games he played for the blues. He was always dangerous.
It also shows the different mentality of the Scots towards Football !
bring them on soon
Posted from
Singapore

if there was any quality player in birmingham city it was de ridder and sebastion larsson as well.
de ridder is typical winger in his early 20s i guess and if he gets time in the top level he can be among the best.
we have one righty in romeo castelen as well. i think he is injured
i wud love to see adebayor out and david villa in at arsenal
Posted from
Nepal

So, to which club De Ridder will move? Is he the new Overmars? I think he will play for the Oranje squad.
Posted from
Indonesia

Since when Kluivert was playing in France…and Lille of all places. But sheers to Kluivert…Great player!I saw him for the first time ov TV in the Champions League final against Milan.His goal…Priceless! At Barca, he formed a magic duo with Rivaldo. He was also great with Bergkamp for the Oranje.But I guess that was all the past!!!Well Thank You Kluivert, I was a great admirer of yours. Best of wishes as a coah…Maybe you can win the World Cup for the Oranje!
Posted from
United States

Wait…maybe I have to retract what I have said before. Obviously there is so much I did not know about Kluivert especially his personal life. I just reading Wikipedia when I read some stuffs I did not like. Maybe he is the Kluivert I did not know after all. He and Van Persie are in the same boat as far as past personal life goes.
Posted from
United States

De Ridder is a very good player with high technical skills, I saw him in the past with young Oranje.
He moved to Celta Vigo and they were relegated and then to Birmingham city and he was not having enough first team football, I hope he moves to some club where he could show his talent.

oops, looks like De Ridder already found himself a club (Wigan).
http://www.blues.premiumtv.co.uk/page/News/NewsDetail/0,,10412~1336621,00.html
Hope he impresses.

i don't want ajax to sign more foreign players, they should give the youth a chance or sign dutch players. psv is already like arsenal and inter milan, don't want it to happen to ajax.
Posted from
United States

I expect Van Basten/Schip/Blind to really develop the youth system in a better way. For now, the demands are to win the title and play CL football. This means getting quality players in from the outside and give the youth time to get ready. I can see Van Basten working at Ajax for a long time, like Sir alex or Wenger.
I wish De Ridder would go back to Ajax… Wigan… I don't know…

@Michel-Olivier: I totally agree with you. Ajax is known for its great youth academy and they have some players like Sarpong or Anita who need to play more often.
Kluivert will learn so much from Van Gaal. Louis has the Dutch mentality very offensive and when he is in problems he takes one defender off and puts a forward which I always liked about him.
I think De Ridder did a wrong decision when he joined Birmingham, if he had stayed at Ajax he'd have developed much more and maybe he could have gone to one of the top clubs but I hope he proves I'm wrong and good luck at Wigan next to Melchiot!!!. By the way what do you guys know of Zuiverloon? I was very impressed in the U-21 by him.

Zuiverloon started his career at Feyenoord and played some impressive games as a youngster for the club from Rotterdam. Like many others (Engelaar, Bouhatar) he was told to leave. He was send out on loan first and eventually ended up at Heerenveen (he is no longer "owned" by Feyenoord). Gianni Zuiverloon has everything a defender needs: fast, aggressive, better-than-average skills. But I think he suffered the same fate as other Feyenoord youngsters (as did Leonardo, Robin van Persie and others): arrogant, hard to discipline.
Through his different stints at smaller clubs, I do think he learned his lesson now, but he still is to eager at times, resulting in many cards, and he always seems to have his Frank de Boer moment of snoozing off during a match. If he keeps on working hard and improves his mentality he can come good. He is not a bad player in build up either…

I just read that Danish striker Jon Dahl Tomasson is said to return to Feyenoord. New coach Gert Jan Verbeek needed another striker next to Roy Makaay. Michael Mols signed on for another year and young talent Tim Vincken (right wing) should be fit again. Verbeek is still on the look out for another central defender, what with Ron Vlaar and Kevin Hofland being a tad injury prone.

Tomasson?
Let's hope it's not the same as with the Koller talks last time around.
Posted from
Netherlands

deRidder; useless player at international level
Posted from
Netherlands

What Holland actually needs is one or two good sports-psychologists who will help the players build strong mentality,fighing spirit and die-hard attitude till the last moment.Apart from those 2 idiots Oijer and Mathijen at the defence, I don't think there needs to be a massive change in the lineup.
Posted from
Australia

Idiots? Haahahaaaa
I think you're right there, Doc, but I also think the youth development system needs to be re-designed. Ajax (and other) youth teams will need to play stronger teams abroad and should be less spoiled!

Just read that Gianni Zuiverloon will move from Heerenveen to EPL side West Bromwich Albion, who promoted to the EPL last season.
Comments are closed