Where are they now: Orlando Trustfull
June 12th, 2010 | by: Jan |

Comments(71)
In the mid 1990s, Feyenoord had an interesting wave of young talents, like we see today. Instead of Fer, Wijnaldum and Biseswar the names were Gorre, Van Bronckhorst and Trustfull. Orlando Trustfull (39 years old now) was an elegant playmaker. Great ideas and ridiculously talented but lacking some real venom. He did play twice for the Dutch team and one game was crucial for Oranje.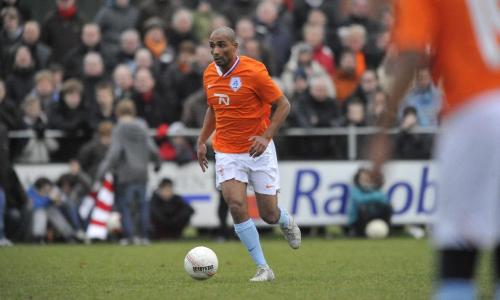 The former Feyenoord, Sheffield Wednesday and Vitesse player discusses his past, present and future.
PAST
"People still stop me in the streets to talk about my pass enabling Youri Mulder that winning goal against Belarus in 1995. That moment in De Kuip still appeals to the fans. It was a very important game. We needed to win it to get to the EC1996 in England. Rinus Israel was the assistant coach and he yelled at me to start preparing. The nerves shot through my body. I replaced Reiziger. It was still 0-0 and we couldn't get through. Ten minutes later, I gave the pass on Mulder and he slided in the 1-0. That was enough. I played again versus Malta but we won that game easily, 4-0. I sat on the bench a number of times, but I didn't do too well with Feyenoord and I had a certain Ronald de Boer and Dennis Bergkamp in front of me. Dennis was from another planet, so good. A player like him only comes around once every decade."
NOW
"I had to retire in 2002. I had too many injuries and problems with my body. I decided to have fun for four years. Travel, be with my children, you know. My wife Quinty has a busy career for television, so I was the stay at home dad. Taking my kids to sports, hockey for my daughter and tennis for my son. I loved it.
Now I'm back in football. Sparta asked me to come and coach a youth team. I'm a passionate coach, but I'm also very disciplined. I really enjoy it. I learned a lot from my coaches, now I can give back."
FUTURE
"The way inwhich Van Marwijk and staff managed Oranje during the qualification was very strong. I respect that deeply. We all know we can play football, but Bert taught them self-respect and the will to win everything. This team has the potential to go for gold, but hey…we Dutch will always say that, haha… But I do believe it's true. We don't have only Van Marwijk, but also Frank de Boer and Phillip Cocu! There is so much football know-how. I can't see why we wouldn't end up in the finals. I enjoy most if not all players, but my faves are Robin and Wesley. Both Holland's best player. Sneijder has it all. He can shoot, pass, dribble, he can use his left and right, he's aggressive… I really enjoy watching him play. He's the type of player the fans pay money for. Do people think he's a nuisance? Nonsense. Name me one player without an ego. They don't exist. And they need that ego to perform. Key is, that they perform. If it's team first, I don't care what Sneijder does… And if you see in which teams and clubs he played, he was always accepted. I see him at Inter, after they won their prizes, and you can tell that his mates adore him… Sometimes it seems aggressive and non-sympathetic but I don't think that's the case. He does have the famous girlfriend and he did go to Real Madrid. The media will seek you out. But I judge him on his game play and my Goodness, what a gem he is…"
Subscribe

Netherlands World Cup Blog RSS Feed

Share
Comments

at least neither rooney nor heskey will be top scorer.

still too early to say now… (well yeah, he predicted rooney or David Villa.
… just can't wait till the Danish match! so excited!!!
what guys would you predict? I guess 3:1
Posted from
Australia

England were poor. I've already expressed my surprise at not deciding the keeper earlier, and Rob Green has never been international quality. The biggest worry should be Rooney though, as Capello didn't have him playing right. He was dropping into midfield far too much. Completely different to how he plays for United.
My dream World Cup would be for Oranje to play Italy, Brazil, England, and Germany in the knockouts, and win the thing. So far to go yet – I can easily see Oranje having trouble against Denmark because their defence will be great. Starting to get nervous already.
Posted from
United Kingdom

Man, todays matches… Just a small recap of how terrible it was. I enjoyed them, but football wise.. Terrible. Im not going to discuss plays, because everyone has there own opinion. But lets be honest. If Holland played any of those teams today, i think they would have won with an easy two goal difference. I didnt expect much from England nore Argentina, but this? Englands wingers were nowhere, there defence was quite..weak.. i cant find the right words, and Heskey… Rubbish striker. But seriously, If England is seen as a favourite to win the world cup, what is Holland?
And Argentina's defence was terrible as was there mid field. Heinze.. Lol. And thats where the only goal had to come from? I think at one point Maradona played 5 attackers.. And Tevez, no insight on passing. Biggest example.. Argentina counter. 4 of there against 2 Nigerians. In one line.. And they dont score.. #
If either England or Argentina had dutch supporters, we would have wanted to fire our coach by now… With the dutch being as critical as the dutch are..
But then again, the most serious contestants are yet to come.
Man is this world cup taking up my life. Loving it.
Posted from
Netherlands

Prediction Holland Denmark 4-0
Posted from
Netherlands

Ja Man! We can do it!!
I have faith with Bert Van Marwijk. He's not someone that wouldn't let us repeat the same mistake as against the Russians. I've got a strong feeling this time..!
On the other hand, England 3 mistakes in my opinion:
1. Didn't play Joe Cole
2. Didn't play Hart as goalkeeper
3. Didn't bring Walcott to South Africa!
By the way, anyone know why Dirk Marcellis didn't make it in the squad? I've heard that he got great potential and had been named one of the best future holland defenders ?
Van Der Wiel played very good against Hungary. hope he can keep improving!
Posted from
Australia

Watched USA game at a packed bar…let me tell you it was freaking nuts in there! So happy for the draw…it looks like England may ha e trouble beating the USA in the world cup…1950, 2010…I think the English midfield and attack were impotent.

@Goose and others: Just a small clarification on the tipping. You get 2 pts for correct result + 1 bonus point for exact score.
So for example SA-Mexico ended 1-1. If you had tipped 1-1 you will get 2 for predicting a draw, + 1 extra for getting it exact right = 3pts. If you had tipped 0-0, you will only get 2.
It is as simple as that. And then in each batch of games there is a DPG (Double point game) which you get double points (i.e. max of 6 pts if you get it exactly right).
Everything is after official 90 mins only, and no penalties or extra time nonsense.

Wow. After all the hype, I thought England would steam-roll over the yanks. But, as I watched the game, it became evident, england is over-rated. Ridiculously over-rated. They can't pass. The wingers where useless, Gerrard? Lampard who? Why does Heskey bother? "Sure, King can play three games in a week and a half!"
I also though Capello was THE BEST COACH. I guess even the best can have a bad day.
Hype, Hype Hype.

I keep trying to think of how to classify the US style of play…i guess it us just grit…they never play flowing football, never beating the man…its just gritty, getting a shot off, a good header, last minute defending…like the win against Spain.
If you tie England and beat Spain…im just saying.

S Yan: I hope you're right about Van Persie being top scorer, because I think he will be too. I backed him at $19 with a $100 outlay… that would be a sweet sweet reward haha….and $100 for a struggling Uni student is quite a bit. Plus I put $100 on the Dutch to win the WC at $14 and the Netherlands V Denmark game to have over 4.5 goals.
If the Dutch play the way that we all know they can, then this struggling Uni student will be in the money to the tune of around $3000 come July 11 haha.
The only problem I see is that the Dutch team is almost too good offensively. That is, each and every attacking player contributes with goals consistently… If Van Persie was a traditional striker then i'd be much more certain of him picking up the golden boot, but he contributes so much, and sets up so much that the goals are spread around… He's not a traditional number 9, and that's great for the team, but not so great for the betting haha.
Posted from
Australia

Ayl your chances with Robin are pretty good. Since coming back from the injury he has looked hungry for goal. Those last few games in the EPL and the three friendlies, couldn't ask for more. Four goals in his last three games, Designated Penalty Shot Taker. He may even convince Wesley to let him shoot a few foul shots around the right side of the box, ala Ivory Coast06. So Robben wont play in the game versus the Danes, I'm fine with that. To everyone that wants him to sit till knockouts or 1/4, I'm starting to object to that idea. He wants to play sooooo bad, a happy Robben is somewhat essential. So how about this, lets give him the start against Japan, then sub him very early(30-45min). Then another start vs Cameroon with a little later substitution(45-60minutes). I would think that should warm him up just right, but more importantly not overwork him. Then the next step would simply be, play 360minutes of the rest of the tournament:}

Orange Dutchman: Yeah, i'm still quite confident, I really hope that he takes home the goldne boot. I was glad that Messi and Rooney were kept quiet, or at least off the score sheet, in their first games haha.
Posted from
Australia

Robin has 6 goals in his last 5 matches for netherlands and arsenal… before that he'd only subbed in 2wice and started once since coming back. who else has been this dangerous both in their leagues and internationally? not to mention how on fire he was prior to chiellini. wenger should sign that guy. i wish we could count 2nd assists (too north american? haha) as it is he is one over the only players to either score or directly set up at least 1 goal per game in at least a year.
i wanna know what ruud gllit rvp and JC were havin a laugh about in that photo from that AD website:
http://www.ad.nl/ad/nl/1001/AD-Sportwereld/photoalbum/detail/8/489522/20253/0/Oranje-opent-Cruyff-Court-in-township.dhtml
why did Inter win the first triple ever this season? wesley sneijder. some say mourinho, but was he not there last season? who than shall we say was the difference maker to push them over the top?
how about bayern? was it whiney ribery who brought the team that was 'not good enough for CL' to the final? no, guess who came in and kicked them through?
i hope robben rests until maaaaybe 1 match coming on a sub before the round of 16.
of course, i am still interested in seeing spain & brazil play, and perhaps wild cards germany/portugal/italy, but no one else has looked threatening at all so far to me.
HUP HOLLAND HUP!
peace
Posted from
Canada

I was just wondering something. I keep on hearing these silly un-Dutch like suggestions/arguments/cliché's like:
- if you want to win a tournament you have to start bad
- when ahead 1-0 you should be playing it safe like Argentina yesterday (completely ignoring that that's exactly what S.Afr. and England also did and failed with)
- a conservative defensive approach is more succesful than an offensive risky approach, win with ugly football, etc.
And other such remarks. What I was wondering is if these cliché's and in my eyes extremely damaging remarks to our team actually can hold their head above water if you hold them against the REAL facts? Somehow I get the feeling their only based on the 2 most undeserving defensive and boring cup winners in football history, Greece 2004 and Italy 2006. I get a feeling that if you really look at the facts, you'll notice that more WC winners actually started their WC campaign with a win.
I mean, that's the way Spain did it in 2008, and we all saw how well the conservative defensive approach by France and Italy worked out for them. And every time Brazil wins a WC it has ALWAYS been their offence that did it, not their defence. and they did it with attractive risky football. Not by parking the bus as soon as they get a 1 goal lead.
I'm tired of these suggestiong and afraid if it influences our team philisophy too much we'll do even worse than Italy and France did in 2008, cause unlike them, we CAN'T prevent goals (certainly not with Stekel in goal).
Sorry for the semi-rant but this has been bothering me since I heard another remark yesterday on Dutch TV regarding the Argentina match that they made the right decision defending the 1-0 lead instead of risking to go for 2-0. I believe they were very wrong in ther decision and just got lucky not ending up with 1-1 like the others who ended up with 1-1 trying that strategy. Extremely frustrating to see so many reporters still suggesting that Italy style is the right style for Oranje and use the Argentina-Nigeria match as an example. EXTREMELY worrying to me!
Posted from
Netherlands

Sol: I agree, but I think the teams results and actions in the past indicate that public opinion means little. We've continued to play our football philosophy in the face of oposition for years. I think we will be just fine. The Dutch philosophy seems to be one that will not bend or break under the weight of public opinion, and the people who count (the majority of Ducth supporters) would never allow it anyway.
I agree that those sorts of comments are damaging, but I don't think our team has become, or is becoming, anything like that.
That's what makes me so proud to be a fan of the Dutch!!!! Remeber France in 08?? 2-1 up, time to conserve the lead??? Hell no! Robben made it 3 within about a minute.
Posted from
Australia

Just checked, the last 4 WC winners ALL started their tournament with a win. I think what most mean to say is to start AVERAGE and then have a progressive upward line through the tournament. Which is something I can live with, but I'd change it to "try to save some of your energy and topplay for the harder games but don't hold back too much, don't peak too early, but also don't overdo it/overcompensate the other way". I guess if I thought about it a little longer I could put what I'm trying to say in better words.
Conservatism could still be the nail in our coffin as it was in 2008 for Italy (who were unwilling to take risks when they were 1-0 down to us), France (who were unwilling to take risks against Romania and ended up losing 2 vital points) and to a certain extent Romania (who were unwilling to take risks in the final groupgame against a Netherlands team that was already top of the group and playing with a B team, while Romania absolutely needed a win). We should learn from Spain's example (and our own successes against Italy and France) and recognize the fact that offensive play CAN take over now from the defensive strategies that have been more succesful before 2008 (2006 and 2004 mostly).
Posted from
Netherlands

Barcelona has paved the way.
Spain has walked it, and shown us the way.
We'll have to complete it.
Cause it's still OUR total football.
Posted from
Netherlands

edit: damn, should have included the dates/events I meant with those 3 lines above:
1. CL win Barcelona 2008/2009 (treble)
2. Spain's EC win 2008
3. Oranje's WC win 2010?
Hmmm, I see now I got my order wrong….well nvm
Posted from
Netherlands

Right Sol… Oranje paved the way, Barcelona bought it (Michels, Cruyff, Nees, Cruyff again, Koeman, Witschge, Cocu, De Boers, Litmanen, Kluivert etc), Spain adopted it and now we want it back!

Yeah, I think that there seems to be an attitude of 'well, if we haven't won with our attacking game so far, then it obviously needs changing', and I completely agree that statements like those are nonsense.
It's a classic pendulum effect. People over-compensate, as you said, in a reaction to what they perceive to be the wrong. Many people believe that our football phiosophy is limiting our success, so instead of proposing a medium, they go too far towards the opposite end of the spectrum.
Also, people fail to consider the team itself. I don't think our team would be as effective playing a catenaccio style of football; our player's are not, and were not developed in such a way. I think we would be more likely to fail if we adopted such a system.
I completely agree with you Sol. We should allow our strength to be the fulcrum of our philosophy and not follow the public tide. Maybe Italy and similar nations have needed to adopt a more defensive style out of neccessity. They don't have the players to successfully adopt a more attacking brand of football, and so they focus on their defensive strength…..
Either way, every team had better watch out for the Ducth. No 'bus parking' is going to keep the Orange tide out.
Posted from
Australia

PS. Even if defense was our strength, I would still feel betrayed if we played a defensively-minded game! But we are the Dutch, it won't happen… we're too good for that. We earnt our supporters that way!!
There aren't many national teams who 'earn' support through their style of play, and the Ducth should be so proud to be one of the few.
Posted from
Australia

Jan? Am I missing something? haha
Posted from
Australia

Oh, it's been deleted haha.
Posted from
Australia

888jj
Uggs become a hot fashion item in Canada and America for good reasons . It posses the quality of Comfort, warm-keep, durability and classic designs,especially ugg women's argyle knit boots . The winter in Canada can be extreme cold and long with thick snow covering for several months long which made a pair of snow boots to be necessary; on the other hand, babies also need uggs.We also provide Baby Erin UGG Boots . I believe you will also be interested in our Classic Ultra Tall Uggs . Maybe you will feel surprised that we also offer sandals.But we do: Ugg Amelie Suede Sandals . If you are looking to buy uggs online,you need to look no furher but choose ours!
Posted from
China
Comments are closed