Where are they now? Henk Fräser
June 18th, 2009 | by: Jan |

Comments(16)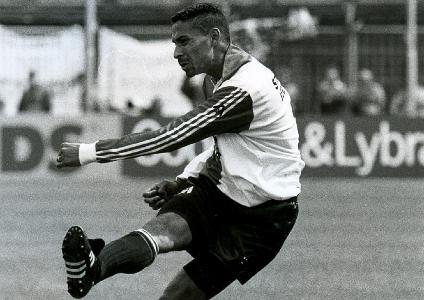 Henk Fräser (42) played six games for Oranje. Now, he was a successful youth coach at Feyenoord, went to be the assistant coach at ADO Den Haag and has recently signed as youth coach again at PSV. "I never really was at ease at Oranje…" Fraser sees opportunities for Oranje in South Africa. " I have a lot of faith in the combination Van Marwijk, Cocu and Frank de Boer."
Henk Fraser, like so many successful defenders, started life on the pitch as a striker. Developed at Sparta, he made his move to the top in Holland through sub-top clubs like FC Utrecht, where he was transformed into a fast but tough-as-nails defender. His biggest successes were achieved at Feyenoord where he formed a fearless duo with skipper John de Wolf in Van Hanegem's champions team.
THEN
"The results of my six internationals say it all. Three losses, three draws. It wasn't my level, really. I never felt at easy. Now, years later, I realize it was me. I haven't done enough to make it big in Oranje. It had nothing to do with the nation or my color. People speculated about that, but it was my attitude. I was starstruck. Nervous. I was a tough player but off the pitch I am shy and sensitive. I need to have a connection with the people I work with and at Oranje you can't achieve that during qualification games. That vibe grows during tournaments. It took time for me to settle in and in those three days together I couldn't find my bearings, really. That's why I stayed long at clubs I liked to work and never made it to a bigger club abroad. I wasn't interested. The money, I couldn't care less…
But still, I'm super proud of my six games in orange. When your career hits autumn, you realize you have played with an elite group. I started in 1989 under Libregts in a friendly against Denmark. I had to play against Brian Laudrup. Now, I was quick, but man…I needed a moped with that bloke. He was so fast. I was tense, but not because of the game or the opponent. It was more because I played with big name players. I respected my mates too much I guess. I blushed whenever Van Basten talked to me. These guys had just won the EC and were the best of the world at that time. My dad kept a scrap book for me and there I was, amongst Gullit, Rijkaard, Koeman and Van Basten. That's quite something."
NOW
"During my last season at Feyenoord I got injured to my knee. Serious injury and I had to quit pro football in 1999. Henk van Stee immediately asked me as his assistant at the Feyenoord A1. I never wanted to become a coach, but now I know never to say never. I like being a coach almost as much as being a player. I graduated for the Coach 1 course and won the championship with A1 twice. We had a tremendous group with El-Akchaoui, Leonardo, Buijs, Swerts and Smolarek. I coached the C group for three years and was asked to support Vloet as assistant coach at ADO Den Haag. It's the plan that I will move to PSV and coach the B-youth there next season."
"And I will go and do the Pro Football coach course next year. I do want to work as head coach in pro football. But I want to develop myself in a managerial and organizational sense. I won't take the fast track. I think you need time to develop as a human being to become a good coach. Most people remember me as the tough defender that I was, but off the pitch I'm a shy, introverted and modest bloke. As a coach, I try to respect my players, and they pay me back. Willem van Hanegem is my big role model. He was a huge player and respected me for who I was, a street-urchin' from Paramaribo. Who am I to look down on young players because I played nine years for Feyenoord?"
FUTURE
"I don't want to knock the current group, but I do think it's easier to get into Oranje than in my time. In my days, you needed at least a great season to make it, nowadays you sometimes see players in orange after three good games. I look forward to the WC. Lads like Van Bronckhorst and Van Persie are close to my heart. I worked with them at Feyenoord. Van Persie was a gutsy young talent when I was youth coach in Rotterdam. Looking at the recent games, Oranje has raised the bar. I have tremendous faith in Van Marwijk/Cocu/De Boer. Oranje has everyting on tactical and technical terms, but I do feel we lack power. Look at Chelsea, Liverpool and Manchester United. They win big games on the basis of their willpower and strength. Oranje lacks a bit in that department. But we can surely reach the quarter finals, and after that anything can happen…"
Subscribe

Netherlands World Cup Blog RSS Feed

Share
Comments

off topic,
I am super happy with the way italy got humiliated by egypt today, because now I am more confident that the orange can rape (sorry for using this bad word) both brasil and italy if we meet them next world cup:), not to take anything away from the egyptians, this team is really good and is showing some high tecnique soccer, as soccer fans we love this and we would like to see them now get back to zambia and algeria and beat them and qualify because we need all these quality teams in the wc next team to have an exciting competition, but going back to italy and brasil, I am happy to see their bad performances, italy looked like shit today, and their "almighty" defense shows its mediocre level once italy goes down and needs to recover a goal, their defense becomes as bad as any other team.
the funny thing is that you find italian newspapers and journalists coming up with the excuse that players are tired from the end of a long season, what the f?? don't spanish players play in a highly competitive league?? how come spain is not tired??
cant wait till italy and brasil get raped by the orange(hopefully) next year:)

People always underestimate Egypt, they have some great teamwork and no wonder they are always either Champions or Runners Up in the African Championships. We couldn't beat them in 1990 with Marco/Ruud/Frank/Ronald/Jan Wouters who at that time were all considered to be in the top 10 footballers in the world (Ask Henk Fraeser)
Posted from
Singapore

Alaa italy is a shitty team always i wonder such bad team won three worldcups.wohhhhhhhhh.unbearable and no justice
Posted from
India

Ok… You know what!! After reading this article, i've made up my mind.. The Oranje defense needs a complete tune up. I was wrong about Van Bronkhorst and Oijer. Oranje cannot win the world cup with those two Oldies.
Oranje players do not have the physical strengths.. period. RVP, Robben, Sneijder… most are so fragile…
Posted from
United States

@ Tiju
I agree 100% with you man, I always considered italy to have an anti football mentality, and guess what out of those 4 titles they have, they won two in 1934 and 1938, can you imagine how very few teams existed those days and how bad refrees were, maybe they used to play with a water melon intead of a ball those days:), so those world cups in the thirties are a joke!!!

TIju, they have won four times the WC and it is because they are highly competitive. They may not play beautiful but to beat them is pretty hard in any tournament. They always put the team first and play with all their heart…something that sometimes Holland has lacked. Any thoughts on that guys?

Well Egypt just schooled those annoying Azurri, and we schooled them last time around in EC2008. They don't look like world beaters to me anymore.
Besides their team is getting old.
In any event, watching Italy play is about as interesting as watching grass grow. The only player I like on that team is Gattuso. He plays old school Italian, always gives 150%, sings the anthem with pride like his veins are about to burst, and runs his socks off Kuyt style every game. You have to respect that.

@finn fuuny well said man.
@mario they won four worldcup with luck or in otherwords you can say fluke.thats football sometomes its cruel.and thats football.
but they play with their whole heart and will play for the team unlike orange.we need to respect that.
@finn agreed on Gattuso
Posted from
India

@alaa ; wouldnt count on it my friend ; this confederation cup says nothing about the WC ; its just a FIFA pocket filler (is that english?) and i can imagine players not giving their all…
im very worried about our changes at the WC ; we have so few players that play at a regular basis at the moment ; this summer will be crusial ; we need players to tranfer to teams where they will play each week (Robben , Huntelaar, Sneijder etc.) we have a goalie who hasnt played a game in 6 months, lets hope Jol picks him at Ajax next season… we have a mediocre defense at best… i really dont except any succes to be honest
about Fraser ; he was one mean ass**** at Feyenoord, he could really hurt a player with dirty tackles ; i always hated him for that
Posted from
Netherlands

It's true: there's true Frasers. The one on pitch and off pitch. The on pitch defender was a mean and tough as nails bloke.
I like Pirlo to actually. And Del Piero.

Italy can't play attractive football, it's not in their nature. Although they did very bad against Egypt. Chiellini made some horrible mistakes, and he's supposed to be their best defender. I just hope our guys at Madrid make good decisions about their futures.
Posted from
Netherlands

Gosh with all the doom and gloom mentioned here, you'd think we were talking about Portugal, Sweden or Argentina ?
With all those aged players we have and with those bench warmers we are still the first team to qualify out of Europe for the WC and we also are ranked 2nd in FIFA (ok no big deal but more heartwarming then being ranked 12-15. We could also go thru WC qualifiers undefeated.
ALL not too bad for such a "poor" team huh? Must be doing something right ???
Posted from
Singapore

Nothing wrong with our players, Sneijder, V.d.Vaart, Robben, Huntelaar, they're already top class players, only Madrid blame them for not winning anything while Real's defence was horrible and there was no real team formed by the coaches.
If Madrid want's to treat and dispose of the Dutch guys like garbage while they've only played for them for a few months, then let them have Ribery, villa, Ronaldo and Kaka, and go to a club where they are actually appreciated. I'd listen to Ruud on this one, he's absolutely right:
http://goal.com/en/news/12/spain/2009/06/18/1332697/ruud-van-nistelrooy-dutch-stars-should-leave-real-madrid
Posted from
Netherlands

Ramos is the real culprit behind this issues of the dutchies.i saw some of vandervaart with guti/gago/diara.none of them have half brain of vaart or znijder.Ruud was injured,Drenthe was out of contention,Roban only beacause of his world class individual skills and tricks he won matches for real.but the players like hunter,znijderand vaart needs some brilliant players arroud them.the asshole ramos always gave the chances to stupid players.so znijeder,hunter,vaart got isolated.znijder had som additonal problems also like injuries,personal problems etc.Perez is not good for the dutchies so
Ruud-Tottenham
Hunter-Bayern
Znijder-Intermilan
Vaart-Mancity
Drenthe- Mohanbegan(India)???????????????
Roban-Liverpool??????????????
Posted from
India

@carlos ; we have the easiest qualification poule in ever… being undefeated means very little but eh ; i hope im very wrong
Posted from
Netherlands

@Goose – yeah it's easy, but some of those teams would still cause trouble for many other "big" teams, especially in away matches. It's not easy to go to Macedonia and get a win – we saw this personally in our qualifiers for the WC2006. The fact that we've been playing great football and have been consistent is very encouraging.
I watched the Egypt vs. Italy game yesterday. Egypt plays a pretty good game, they did well against Italy. Italy's team is getting old and don't look very impressive. People are right about their attitudes though – working for the team first and having the right mentality is one of Italy's fortes. If Holland had had that attitude to match our skill, we would have many WC's by now!
By the way, at least one of Italy's 1930's WC successes was bought by Mussolini.
Posted from
Canada
Comments are closed